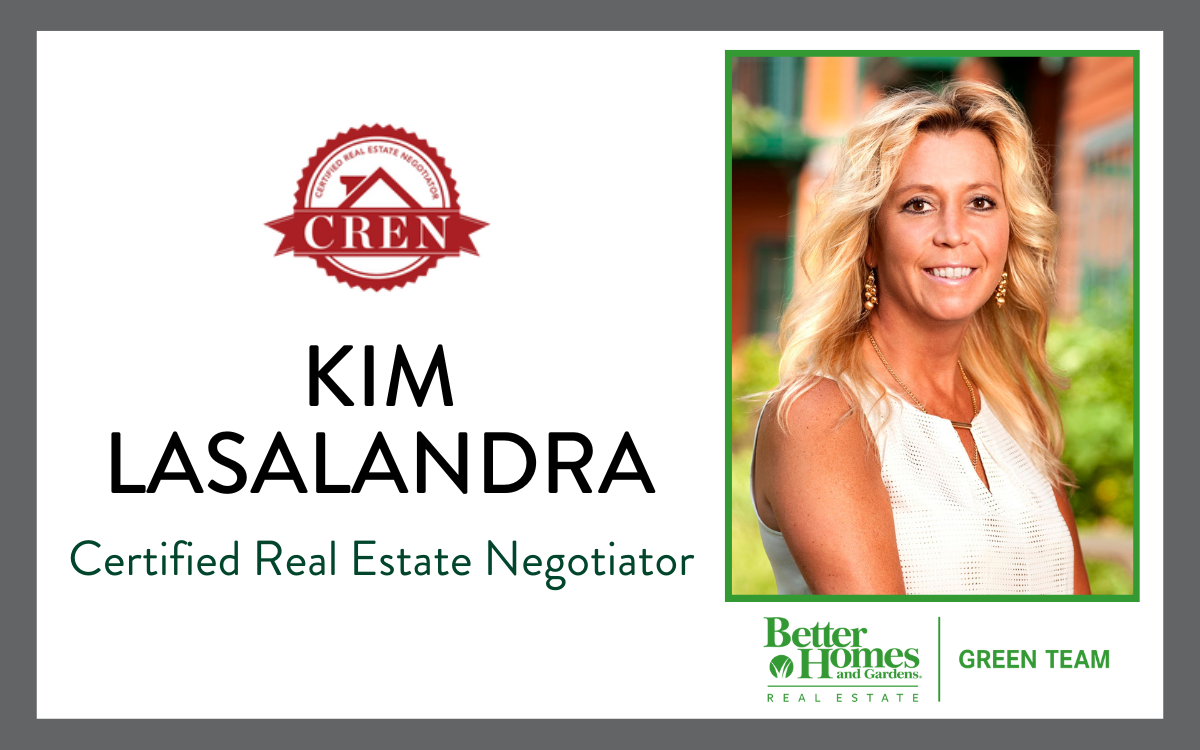 Better Homes and Gardens Real Estate Green Team proudly announces that Kimberly Lasalandra has received her CREN designation!
Kim has always strived to make meaningful connections with every client she encounters. Understanding her client's wants and needs guarantees that their experience with her is productive and successful. She is described by many clients and coworkers as an expert in her field. Additionally, Kim is known to be thorough in all of her deals and is dedicated to ensuring that she never misses the important details. These traits have been a huge part of her continued success as a Realtor.
According to NAR®, 83% of buyers and sellers consider negotiation skills very important. As an agent who is always looking for ways to expand her skills, Kim decided this designation would be an amazing asset to her clients. Furthermore, as a Certified Real Estate Negotiator she is prepared to tailor a specific negotiation strategy for both her buyers and sellers. With this knowledge, Kim is ready to negotiate the highest price for her sellers and the lowest price for her buyers. 
If you are looking for an Expert Realtor who is prepared to get you the best price for your current or future home, Kimberly Lasalandra is ready to help.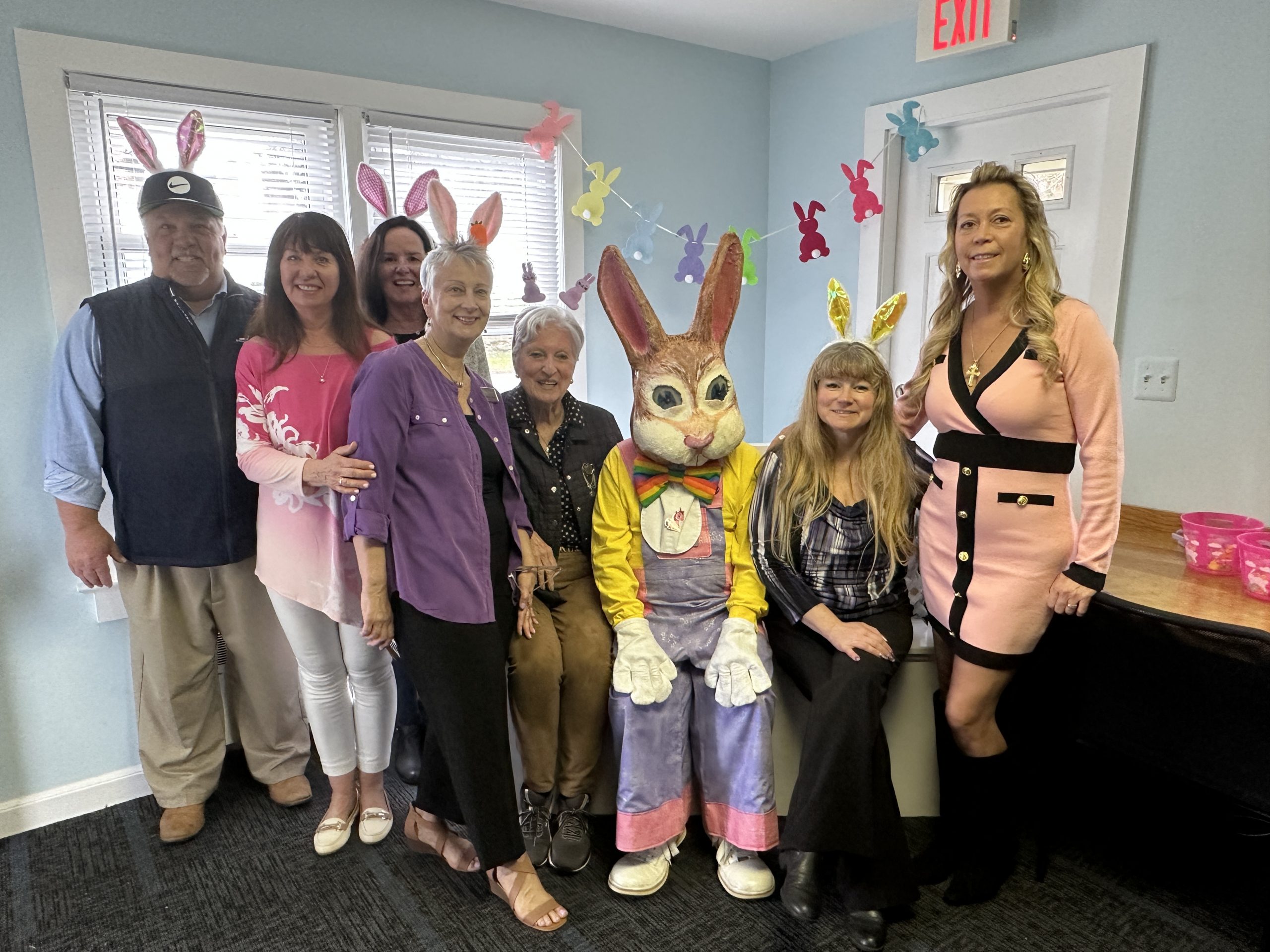 There's nothing as Egg-citing as a visit from the Easter Bunny!
When BHGRE Green Team learned the Easter Bunny would be visiting Vernon a little early this year we "hopped" right into action. On March 9th our agents, Joe Mackey, Kimberly Lasalandra, Toni Kreusch, Kristi Anderson, Amy Klypka, Charles Nagy, Barbara Tesa, and Peggy Bradfield all got together. They spent hours filling eggs for our fuzzy friend. They then spread them around during an easter egg hunt at our Vernon office on Saturday, April 1st. Once all the eggs were filled we could barely contain our excitement. 
Finally, the wait was over, and our team rushed to the office to see the magic that the Easter Bunny had created. When Barbara Tesa, Kim Lasalandra, Peggy Bradfield, Kristi Anderson, Vikki Garby, Heidi Hyland, Toni Kreusch, and Ted Van Laar walked through the door they couldn't believe their eyes. Despite the rainy weather, our office was full of festive Spring Vibes. There were decorations, treats, easter eggs, and The Easter Bunny himself! 
Soon enough it was time for the fun to really begin. When the children and their families arrived at our office it was time to start the egg hunt. You could feel the air buzzing with excitement as they ran through the rooms collecting as many eggs as would fit in their baskets. Our team and the Easter Bunny cheered them on the entire time. Once all the eggs were found the Easter Bunny was happy to sit for photos with the kids. 
Our team loves to see the joy that these events bring to the members of our community. This was an amazing experience for all of us and we can't wait until we host our next fun event!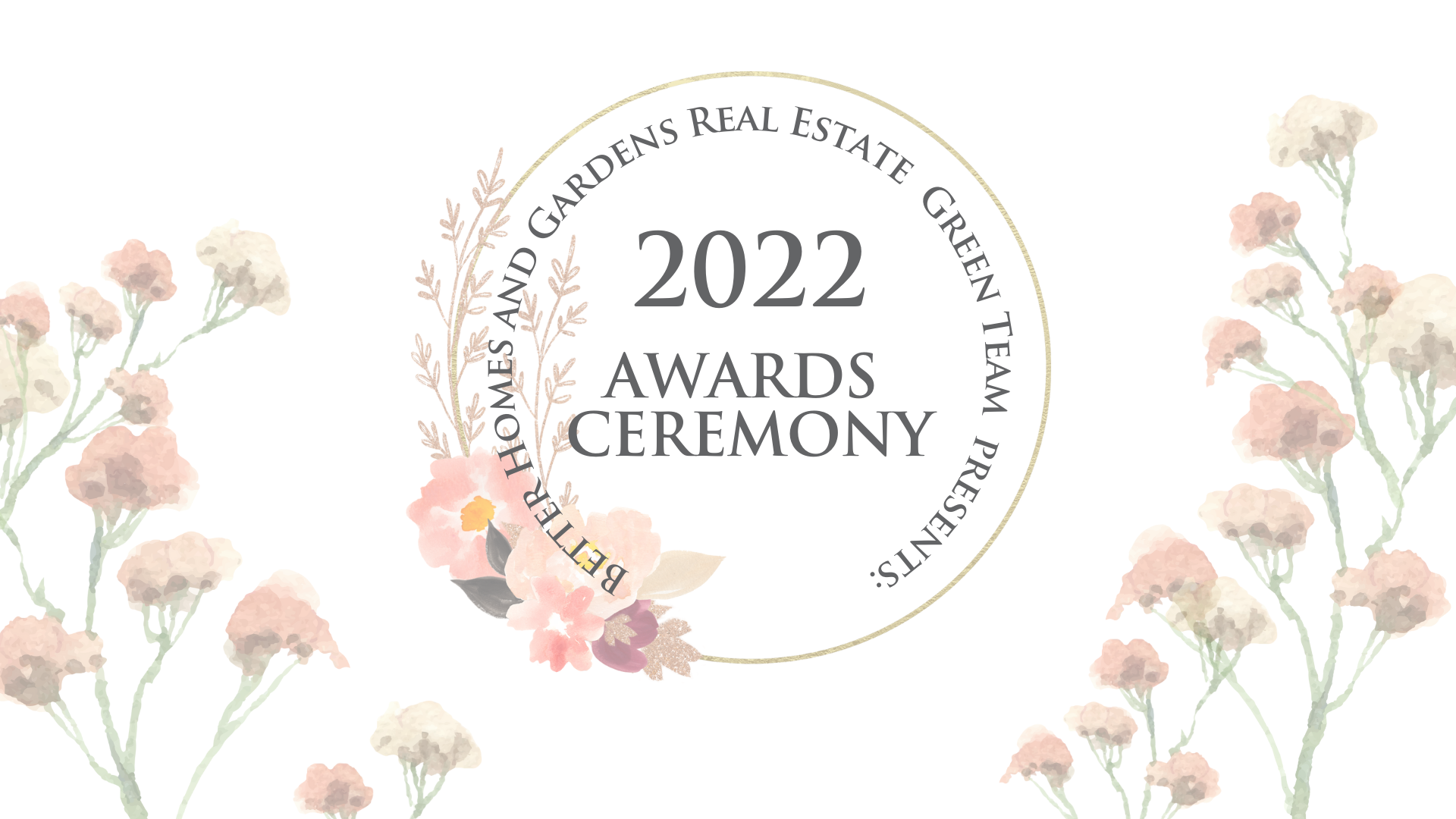 An afternoon to Celebrate one of our Most Memorable years yet
BHGRE Green Team's 2022 awards ceremony was held on March 3rd at the Warwick Valley Country Club. This year was full of transformation, learning, and success for our team and we couldn't wait to celebrate.
In May 2022,  Vikki Garby stepped into the position of Green Team Realty's new President. Since then she has invested countless hours of hard work into improving our company. Shortly after, our beloved Broker manager for our NY office, Lucyann Tinnirello stepped down. After being in this position since 2018 she decided it was time for her to begin focusing on working full-time with her clients. Carol Buchanan was chosen to take her place and has done a fantastic job as our NY office's new Broker Manager. 
Arguably our largest change came in July of 2022. After 17 years as an independent agency, the decision was made to affiliate with Better Homes and Gardens Real Estate. This opportunity was unparalleled; the marketing tools and training they provide to our agents give us a huge advantage in the business.
Getting the Afternoon Started…
Our President Vikki Garby started the afternoon with an inspiring speech. Since her promotion to president, she has made inspiring teamwork and improving the experience of our agents her priority.
Following Vikki's speech, our CEO Geoffery Green stepped up to take the mic. He extended his appreciation to our agents as well as our "behind the scenes" team. He invited our ASMs, Natalee DiMichele and Morgan Beattie, and our Broker Managers Carol Buchanan, Kim Lasalandra, and Krissy Many. As well as our headquarters team, Nicole McCormick, Britanni Gaucher, Ryan Fischer, Lora Chandra, Vikki Garby, and Jane Steinhoff.  These individuals keep our team running smoothly and help our sales associates be as successful as they can be.  
He also thanked Linda VanDeWeert, our "jack of all trades" as well as Lucyann Tinnirello, NY's former Broker manager. 
After Geoff's speech, our Marketing Director Nicole McCormick took over to start the awards.
The Emerald Elite, Yearly Sales Leader, and Citizen of the year awards go to… Kristi Anderson! 
Kristi's hard work and dedication to her clients and her career placed her at the top this year. She blew us away when she not only closed out 2022 with $12,422,350 in total sales volume but also was the top-selling agent in Vernon, NJ for 2022. She was proud to have helped 45 different families with their real estate dreams. 
With all these accomplishments, it's no surprise Kristi reached Emerald Elite status and received the Yearly Sales Leader award. Additionally, for the second year in a row, Kristi was selected as BHGRE Green Team's Citizen of the year. This award is given in recognition of their valuable contributions and outstanding support to their community.
Congratulations Kristi!
The Platinum and Team Player of the Year awards go to… Barbara Tesa!
Barbara joined our team in 2017 and brought her 20 years of exceptional real estate experience. Over the years she has continued to excel and has become one of our top Sales associates. Barbara has been described as an intelligent, responsive, and hardworking agent who will stop at nothing to achieve her client's goals. This professionalism and work ethic continue to set her apart from the competition and these qualities are what earned her the Platinum sales award for $8-11.99 Million in sales volume.
Additionally, Barbara also received one of the "Team Player of the year" awards. The recipient of this award is chosen by their peers to recognize their reliability, positivity, and dependability while exhibiting dedication and devotion to the agency and team.
Congratulations Barbara!
Gold Awards for $6-7.99 Million in Sales were presented to:
Kristine Many, Chris & Megan Kimiecik, Vikki Garby, Charles Nagy, and Ted Van Laar.
Silver Awards for $3 to $5.99 Million in Sales were presented to:
Tammy Scotto, Carol Buchanan, Nancy Sardo, Cara Dumond, Barbara Matchett, Ed Sattler, Tom Folino, Pip Klein, and Renee Williams.
Bronze Awards for $1.5 to $2.99 Million in Sales were presented to:
Robert Valentine, Linda VanDeWeert, Kimberly Lasalandra, Guillermina Tavares, Lucyann Tinnirello, Angela Murphy, Kathy Eubanks, Toni Vogel, Terry Gavan, Kathy Moran, Toni Kreusch, Britanni Gaucher, Vanessa Wight, and Jacque Kraszewski.
Team Players, Mentor, Citizens, Student, and Rising Stars of the Year…
Team Players are chosen by their peers, "in recognition of their reliability, positivity, and dependability while exhibiting dedication and devotion to the agency and team." Our sales associates selected Barbara Tesa and Brian Cisek as the recipients of this award for 2022.
Krissy Many earned her award for Mentor of the Year "in recognition of her dedication, dependability, and devotion to Her mentees."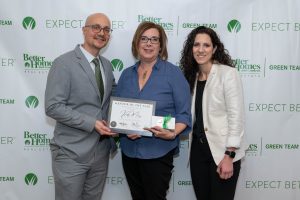 Citizens of the Year are selected in recognition of their valuable contributions and outstanding support to our community. This award was given to Walter Ross and Kristi Anderson to recognize all they do for their communities.
Pip Klein was presented the "Student of the Year" award in recognition of her dedication and devotion to expanding her knowledge.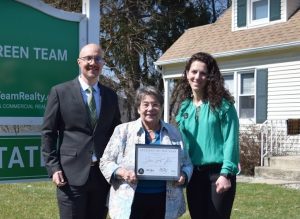 For the first time this year, we introduced the Rising Star award. This is given to agents to recognize their exceptional and ongoing growth in the Real Estate Profession. Barbara Matchett and Kathleen Moran were presented with these awards for their extraordinary success as newer agents. 
Additional Awards…
Joseph Mackey was presented with the "Smallest Big Deal" award for 2022. This award was given to recognize his dedication to even the smallest of sales, proving that this career is about relationships and building long-lasting connections.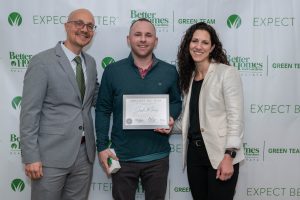 Teresa "Terry" Gavan was given the Legacy Award in recognition of the dedication she has shown over her 40-year career as a real estate agent. Afterward, she gave a wonderful speech recounting the amazing memories she has made over the years.
The Momentum Builder Award was given to Cara Dumond this year. This award is given to acknowledge "her ability to create the most positive and consistent momentum in her professional career while maintaining the same impetus reflected in many aspects of her personal life." During Cara's speech, she opened up about the many challenges she faced over the years. Her two children joined us for our award ceremony to show the support and pride they have for all their mother's achievements.
Finally, Vanessa Wight was awarded a certificate for the "Funniest Survey Answer". While preparing for our awards ceremony our associates were sent an "endless" amount of survey requests. Vanessa kept the entire team laughing with her humorous responses while completing them.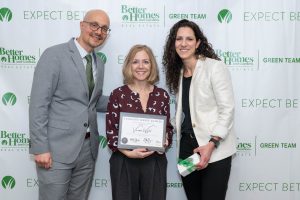 Time for food, fun, and friends…
Once the award presentations finished our team spent the rest of the afternoon celebrating. Despite the challenges, 2022 was an amazing year we won't soon forget.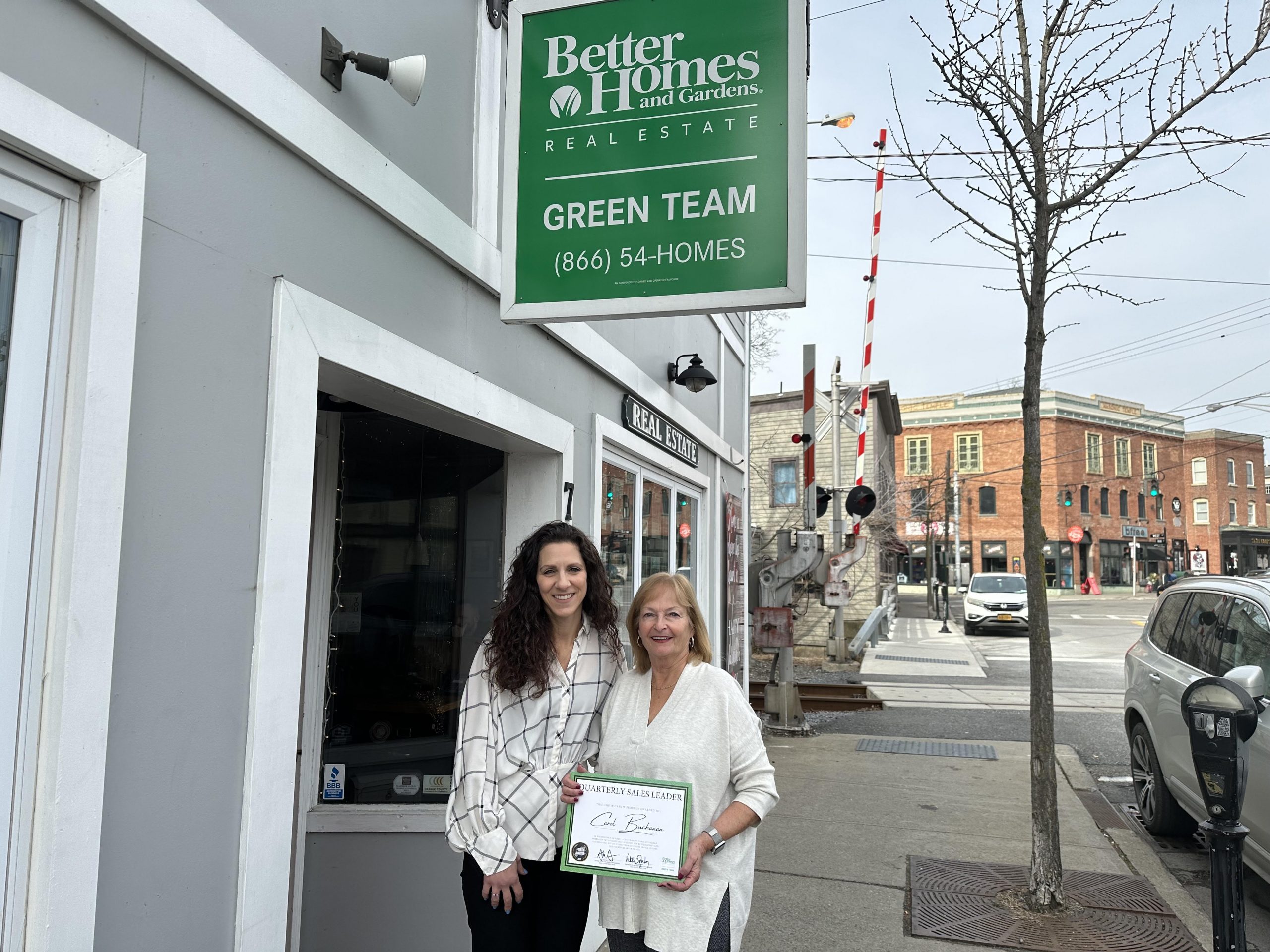 Carol Buchanan Is Better Homes And Gardens Real Estate Green Team's Sales Leader For The 4th Quarter Of 2022 In The NY Office.
The New York office of "Better Homes and Gardens Real Estate Green Team" announced that Carol Buchanan is the sales leader for the fourth quarter of 2022. From October 1st to December 31st, Carol brought in $2.9 Million in sales volume!
Beyond being Quarterly Sales Leader…
Carol brings with her over 30 years of business experience and a diverse real estate background. She began her real estate adventure while working for a company that managed sales and marketing of new construction developments. The passion she discovered while working there inspired her to go on to earn her Associate Brokers license. Following this accomplishment, Carol became the manager of several New Home developments throughout Orange County and Peekskill. 
After returning to working as a sales agent, Carol worked for large corporate real estate offices as well as smaller real estate offices. Additionally, Carol even spent time working as the Major Events Coordinator and Assistant to the Regional Director for Benjamin Moore & Co.
The skills Carol learned throughout these experiences helped her grow into the amazing realtor she is today. She is known for being a diligent and detail-oriented agent who is ready to help her clients overcome any obstacles that arise. In May of 2022, Carol was promoted to Broker Manager and has exceeded all expectations. 
A fabulous 2022..
Carol closed out the year with an amazing $5,746,675 in total sales volume. According to Vikki Garby, President of Better Homes and Gardens Real Estate Green Team,
"One of my first-ever transactions was a deal I closed with Carol on the other side. While she was not yet with the Green Team, she was as kind, professional, and supportive then as she is now as one of my most trusted colleagues. She always puts her clients' needs first and works tirelessly to help both her clients and her fellow agents. As a professional who has been in this business much longer than I have, I have a great deal of respect for Carol and am fortunate to work alongside her."
Congratulations Carol, we're wishing you another very successful year!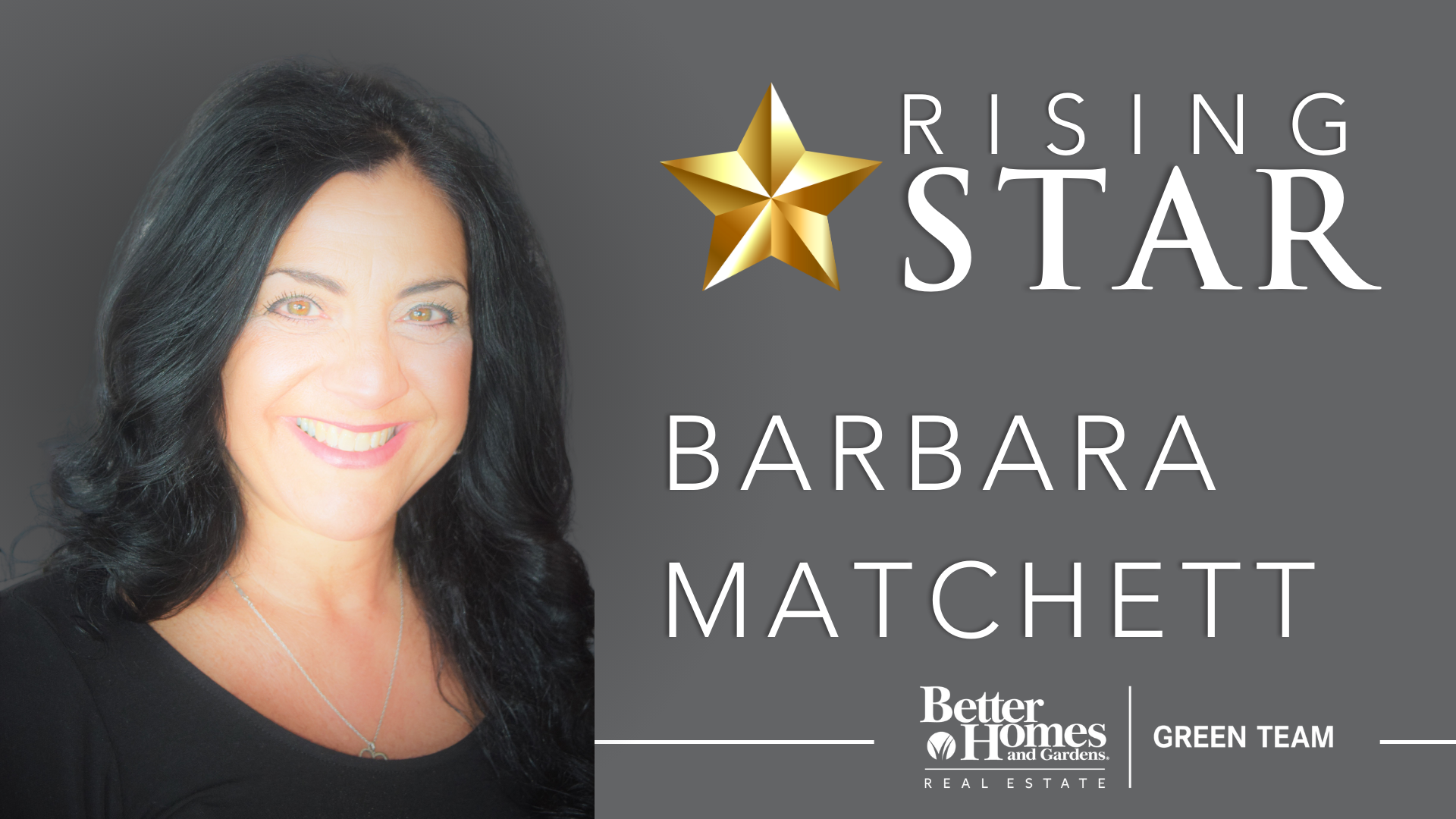 This week we'd like to feature Barbara Matchett as Better Homes and Gardens Real Estate Green Team's Rising Star.
Barbara received her real estate license and began working with Better Homes and Gardens Real Estate Green Team in March of 2021. It's no doubt that Barbara is a Rising Star in the industry. In just over a year of her real estate journey, Barbara had already amassed an astounding $2 million in sales volume. 
Her Accomplishments have only Continued to Grow 
As time went on she closed out 2022's 4th Quarter in second place for our NJ office. Additionally, in December 2022 alone Barbara blew us away with over $1 MILLION in closings. Her grand total for 2022 was $4.4 million, an accomplishment that few agents achieve this early in their careers!
Barbara recently hit 27 years as a personal trainer/instructor, and 12 years in fitness management. Through these years of hard work, Barbara learned to channel her passion into providing the best possible results for her clients. It's no question that Barbara has been able to utilize this same skill for her Real Estate clientele as well. Despite having some tricky deals thrown her way, Barbara was able to make it work. 
Putting Her Clients First
"Barbara was absolutely amazing. She stood by our side every step of the way as we sold our house. Even when things didn't go our way which was out of our control she immediately had another solution which ended up working out better for us in the end and we closed on our house about a month later. Barbara is extremely organized and very persistent.  Because of her, we were able to sell our home without all the stress that comes along with it. She will always put the needs of her clients first."      
-Jennifer Contrada
Barbara's positive attitude and devotion to her clients make her a pleasure to work with. It is no surprise that she is growing to be one of our top agents. We are proud to have her on our team.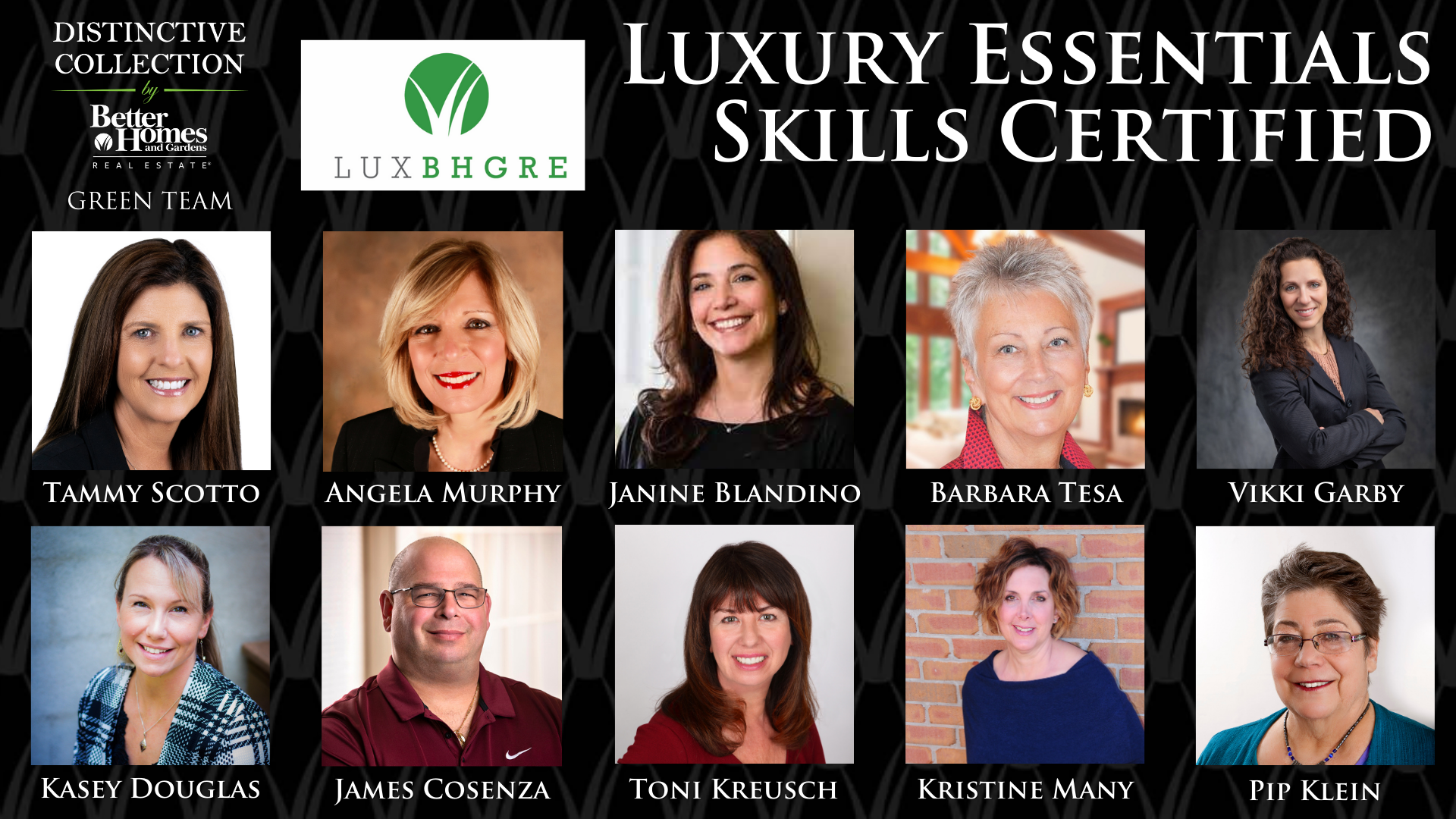 Almost Weekly Since Our Affiliation With Better Homes And Gardens Real Estate, Our Agents Have Been Given New Chances To Expand Their Knowledge And Improve Their Business.
Recently Better Homes and Gardens Real Estate offered our agents the exciting chance to become Luxury Essentials Skills Certified. Almost every Realtor in the business dreams about breaking into the Luxury Real Estate Market. Unfortunately, becoming a name in the Luxury Real Estate industry proves to be difficult to achieve. Few agents ever get the opportunity to have a single Luxury listing, let alone become experts in the Luxury market.
Distinctive Collection brings luxury to mind which is why BHGRE offers this high-end advantage;  you expect service and support from your real estate partner that is as singular and distinct as your position in the marketplace. It was obvious this class would truly give our team members a huge advantage over their competition. During this course, our agents were taught the language of Luxury. They were shown how to make a name for themselves and break into this niche market. Throughout the course, they honed their skills and explored ways to provide the best white glove service to luxury clients. Additionally, everything they learned would not only enhance their profitability but give their business a boost unlike any other.
Upon their completion of this course, our sales associates are ready to share the immense amount of knowledge they have gained. Additionally, they now have a luxury flag for their profile pictures so they can market themselves as luxury certified.
We Are So Proud Of Our Agents Who Went Above And Beyond To Obtain this Certification And Expand Their Knowledge.
Our knowledgeable real estate professionals in the luxury field are always ready to help you accomplish your goals. We serve Warwick,  Goshen, Monroe, Chester, Montgomery, and many other towns & villages in the Hudson Valley, NY area. Additionally, our luxury New Jersey agents are well-versed in many areas of Northern, NJ such as Vernon, Sparta, Hardyston, Hamburg, and more towns in Sussex, Bergan, Passaic, and Morris County. You can be sure these real estate professionals will give you the best luxury real estate experience possible.
Our New York Distinctive Collection Luxury Certified agents are James Cosenza, Tammy Scotto, Janine Blandino, Vikki Garby, Angela Murphy, Kristine Many,  Pip Klein, and Kasey Douglas!
Our New Jersey Distinctive Collection Luxury Certified agents are Barbara Tesa and Toni Kreusch.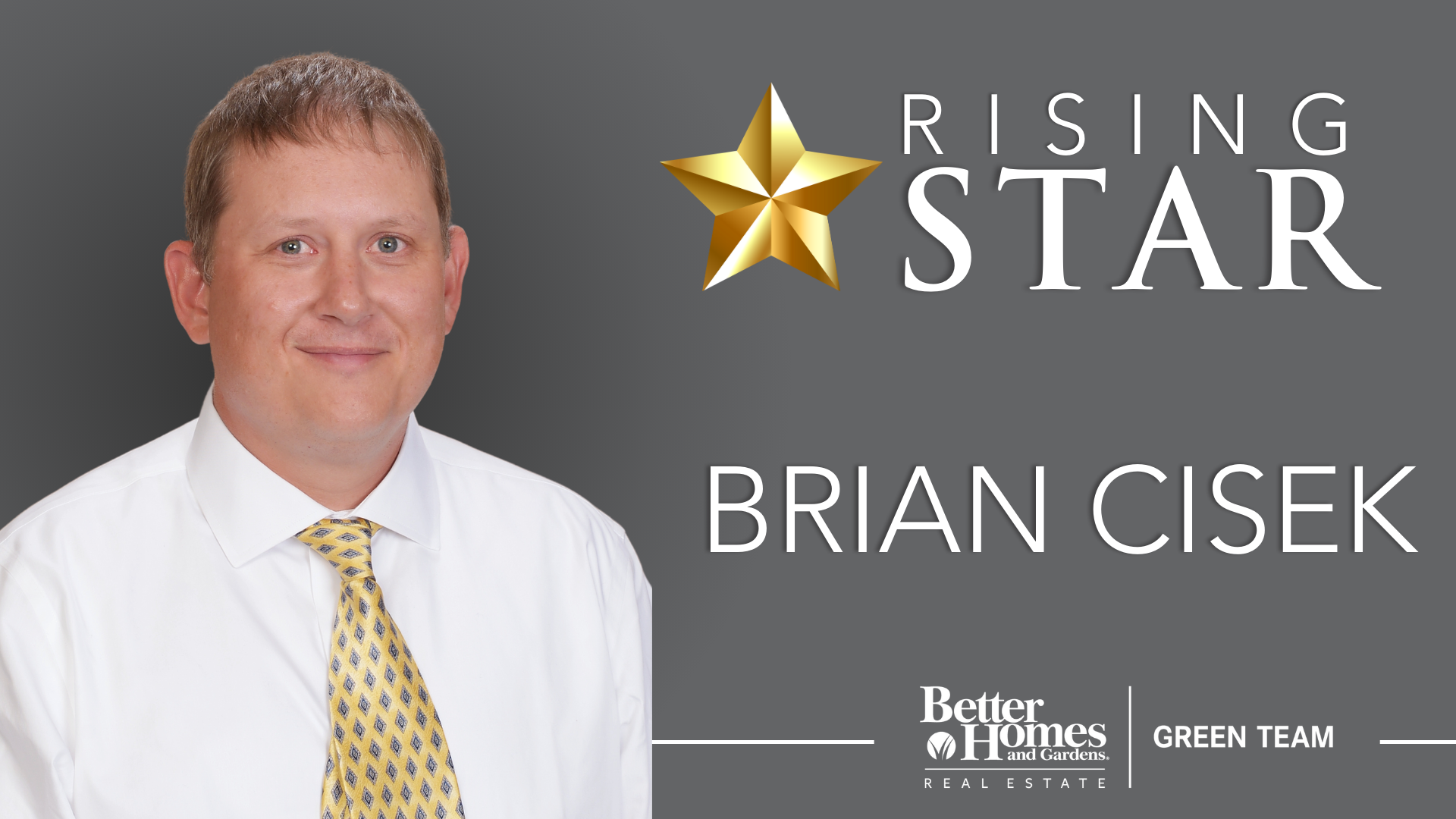 Our BHGRE Green Team Rising Star this week is none other than Brian Cisek!
We are excited to announce Brian as our Rising star this week and showcase all of his hard work and dedication!
Brian Cisek moved from Brooklyn to Greenwood Lake as a child. Growing up his father worked for the FDNY and his mother spent 15 years in the GWL library system. Living in Warwick for over 25 years Brian has extensive knowledge of the area and a strong dedication to his community. He joined the Warwick Lions Club and regularly takes part in the community events they host. Additionally, Brian is part of the Applefest Community Outreach program.
Beginning His Real Estate Journey
Brian spent 15 years as a semi-truck driver, for five of which he owned his own trucking business. After deciding it was time to make a change Brian received his license and joined our team in the fall of 2021. He immediately hit the ground running and began expanding his business. His desire to grow his knowledge and go above and beyond for his clients inspired him to earn his PSA Designation. Working with an agent like Brian, who is a Pricing Strategy Advisor can help ensure you are getting the best deal for your home. By building a thorough Comparative Market Analysis (CMA) Brian ensures his clients are getting what their home is worth. In today's market, this is an unbeatable asset. 
An Active Member of our Team
Since joining BHGRE Green Team, Brian has been an active member in community events we have hosted. He was front and center handing out cookies, cards, and travel guides at our 2022 Apple Fest booth. "It was a great event; it felt really good being a part of the team." He told us.
Brian also took part in our Furever Homes for Pets event later that same month. At this event, Brian worked with us to help raise money and supplies for the Warwick Valley Humane Society. 
Additionally, Brian doesn't slack when it comes to joining in on our office activities! From our Saint Patrick's Day bar crawl to wiping the floor with our Broker Geoff Green in a bowling match. Brian is always up for some fun!
A Realtor and A Friend
In September of 2022, after a long and difficult road to closing Brian went above and beyond for one of his clients. 
"I became a Real Estate Agent for days like this. After jumping through every hoop that exists we made it to closing and Juan and his family moved into their first home. After the journey ended I couldn't think of a better closing gift than to help them move in. Can you believe we had lobster for lunch! Juan is the most honest, understanding, and hardworking client I've had and I'm so glad to now call him a friend." – Brian Cisek
It would be hard to find as dedicated, honest, and knowledgeable a Realtor as Brian. If you are looking to buy, sell, or rent Brian Cisek will be there for you every step of the way!