An afternoon to Celebrate one of our Most Memorable years yet
BHGRE Green Team's 2022 awards ceremony was held on March 3rd at the Warwick Valley Country Club. This year was full of transformation, learning, and success for our team and we couldn't wait to celebrate.
In May 2022,  Vikki Garby stepped into the position of Green Team Realty's new President. Since then she has invested countless hours of hard work into improving our company. Shortly after, our beloved Broker manager for our NY office, Lucyann Tinnirello stepped down. After being in this position since 2018 she decided it was time for her to begin focusing on working full-time with her clients. Carol Buchanan was chosen to take her place and has done a fantastic job as our NY office's new Broker Manager. 
Arguably our largest change came in July of 2022. After 17 years as an independent agency, the decision was made to affiliate with Better Homes and Gardens Real Estate. This opportunity was unparalleled; the marketing tools and training they provide to our agents give us a huge advantage in the business.
Getting the Afternoon Started…
Our President Vikki Garby started the afternoon with an inspiring speech. Since her promotion to president, she has made inspiring teamwork and improving the experience of our agents her priority.
Following Vikki's speech, our CEO Geoffery Green stepped up to take the mic. He extended his appreciation to our agents as well as our "behind the scenes" team. He invited our ASMs, Natalee DiMichele and Morgan Beattie, and our Broker Managers Carol Buchanan, Kim Lasalandra, and Krissy Many. As well as our headquarters team, Nicole McCormick, Britanni Gaucher, Ryan Fischer, Lora Chandra, Vikki Garby, and Jane Steinhoff.  These individuals keep our team running smoothly and help our sales associates be as successful as they can be.  
He also thanked Linda VanDeWeert, our "jack of all trades" as well as Lucyann Tinnirello, NY's former Broker manager. 
After Geoff's speech, our Marketing Director Nicole McCormick took over to start the awards.
The Emerald Elite, Yearly Sales Leader, and Citizen of the year awards go to… Kristi Anderson! 
Kristi's hard work and dedication to her clients and her career placed her at the top this year. She blew us away when she not only closed out 2022 with $12,422,350 in total sales volume but also was the top-selling agent in Vernon, NJ for 2022. She was proud to have helped 45 different families with their real estate dreams. 
With all these accomplishments, it's no surprise Kristi reached Emerald Elite status and received the Yearly Sales Leader award. Additionally, for the second year in a row, Kristi was selected as BHGRE Green Team's Citizen of the year. This award is given in recognition of their valuable contributions and outstanding support to their community.
Congratulations Kristi!
The Platinum and Team Player of the Year awards go to… Barbara Tesa!
Barbara joined our team in 2017 and brought her 20 years of exceptional real estate experience. Over the years she has continued to excel and has become one of our top Sales associates. Barbara has been described as an intelligent, responsive, and hardworking agent who will stop at nothing to achieve her client's goals. This professionalism and work ethic continue to set her apart from the competition and these qualities are what earned her the Platinum sales award for $8-11.99 Million in sales volume.
Additionally, Barbara also received one of the "Team Player of the year" awards. The recipient of this award is chosen by their peers to recognize their reliability, positivity, and dependability while exhibiting dedication and devotion to the agency and team.
Congratulations Barbara!
Gold Awards for $6-7.99 Million in Sales were presented to:
Kristine Many, Chris & Megan Kimiecik, Vikki Garby, Charles Nagy, and Ted Van Laar.
Silver Awards for $3 to $5.99 Million in Sales were presented to:
Tammy Scotto, Carol Buchanan, Nancy Sardo, Cara Dumond, Barbara Matchett, Ed Sattler, Tom Folino, Pip Klein, and Renee Williams.
Bronze Awards for $1.5 to $2.99 Million in Sales were presented to:
Robert Valentine, Linda VanDeWeert, Kimberly Lasalandra, Guillermina Tavares, Lucyann Tinnirello, Angela Murphy, Kathy Eubanks, Toni Vogel, Terry Gavan, Kathy Moran, Toni Kreusch, Britanni Gaucher, Vanessa Wight, and Jacque Kraszewski.
Team Players, Mentor, Citizens, Student, and Rising Stars of the Year…
Team Players are chosen by their peers, "in recognition of their reliability, positivity, and dependability while exhibiting dedication and devotion to the agency and team." Our sales associates selected Barbara Tesa and Brian Cisek as the recipients of this award for 2022.
Krissy Many earned her award for Mentor of the Year "in recognition of her dedication, dependability, and devotion to Her mentees."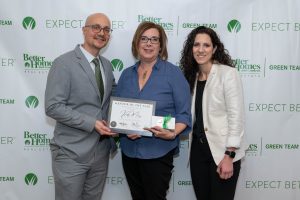 Citizens of the Year are selected in recognition of their valuable contributions and outstanding support to our community. This award was given to Walter Ross and Kristi Anderson to recognize all they do for their communities.
Pip Klein was presented the "Student of the Year" award in recognition of her dedication and devotion to expanding her knowledge.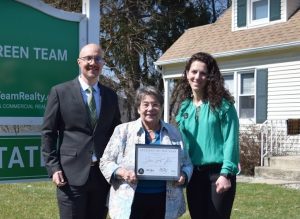 For the first time this year, we introduced the Rising Star award. This is given to agents to recognize their exceptional and ongoing growth in the Real Estate Profession. Barbara Matchett and Kathleen Moran were presented with these awards for their extraordinary success as newer agents. 
Additional Awards…
Joseph Mackey was presented with the "Smallest Big Deal" award for 2022. This award was given to recognize his dedication to even the smallest of sales, proving that this career is about relationships and building long-lasting connections.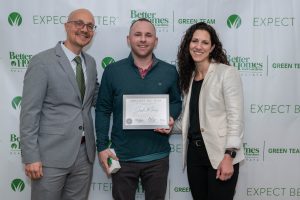 Teresa "Terry" Gavan was given the Legacy Award in recognition of the dedication she has shown over her 40-year career as a real estate agent. Afterward, she gave a wonderful speech recounting the amazing memories she has made over the years.
The Momentum Builder Award was given to Cara Dumond this year. This award is given to acknowledge "her ability to create the most positive and consistent momentum in her professional career while maintaining the same impetus reflected in many aspects of her personal life." During Cara's speech, she opened up about the many challenges she faced over the years. Her two children joined us for our award ceremony to show the support and pride they have for all their mother's achievements.
Finally, Vanessa Wight was awarded a certificate for the "Funniest Survey Answer". While preparing for our awards ceremony our associates were sent an "endless" amount of survey requests. Vanessa kept the entire team laughing with her humorous responses while completing them.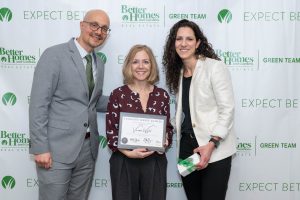 Time for food, fun, and friends…
Once the award presentations finished our team spent the rest of the afternoon celebrating. Despite the challenges, 2022 was an amazing year we won't soon forget.