Geoff Green, President of Green Team Realty, welcomed everyone to the November 2019 Housing Market Update held on Tuesday, November 19 at 2 p.m. He began the webinar with an overview of National Stats.
National Stats
Total Home Sales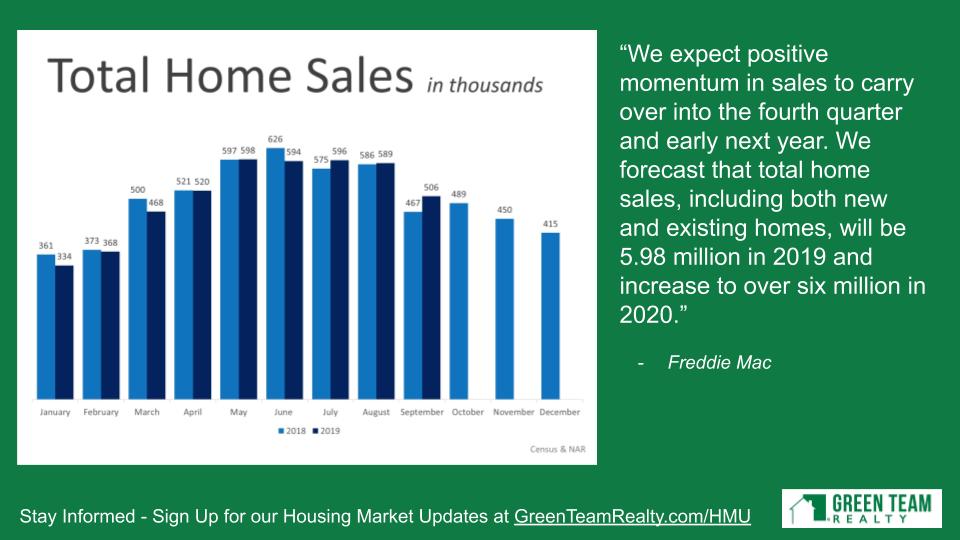 Geoff is looking for the bump locally because nationally it looks like on a year over year basis there was a bounce.  We were down in 2019 through June but then in July there was a little bit of a bounce in the Housing Market through September. It looks as though things are stabilizing a bit. We'll be watching.
Forecasted Year-Over-Year Percentage Change in Price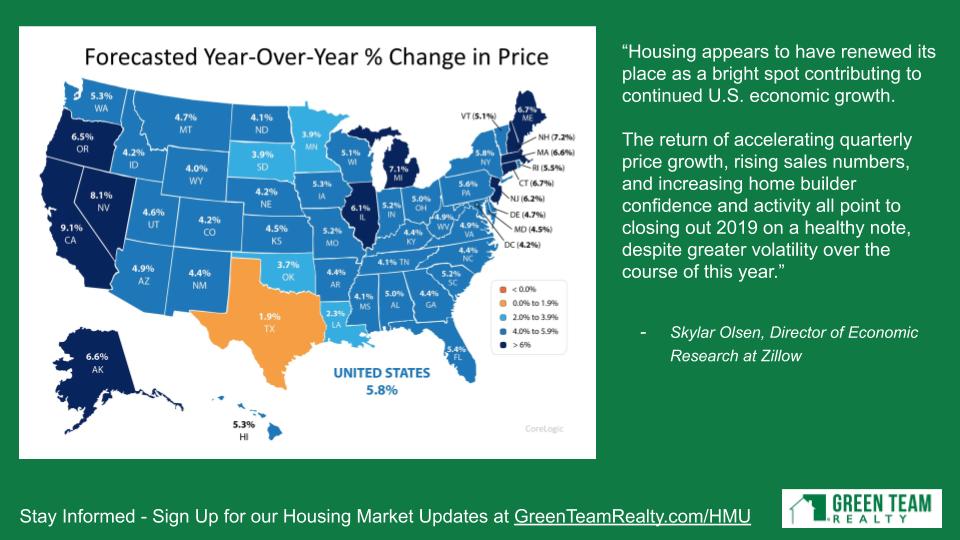 In this graphic, the dark blue represents the strongest projections; which states will appreciate at the highest level. Medium blue, where we are, is still very good for price appreciation over the next year or so.
Year-Over-Year Housing Supply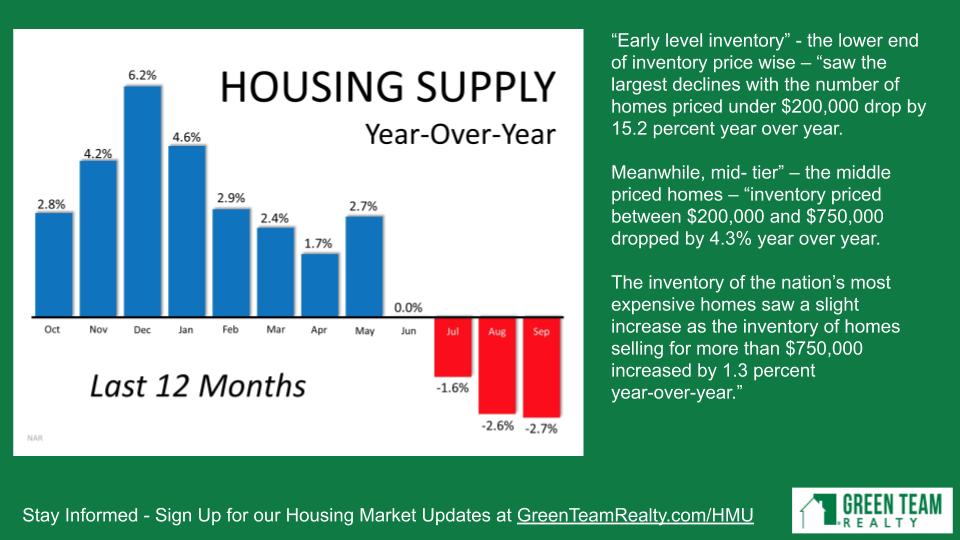 Geoff and panel, prior to the webinar, had been discussing how few homes there were in the market.  Needless to say, you can see that the housing supply year-over-year is tight at best. It is getting better, but is still tight. This subject will be included in the Panel Discussion.
2019 Projected Home Price Percentage Appreciate Going Forward
Looking forward to price appreciation as indicated by some of the thought leaders in the industry. They put out stats that indicate their thinking, and it appears that everyone is looking at a minimum of 2 to 3% price appreciation going forward into 2020. It seems that no one believes this housing market is going to fall apart in any way, shape or form.
Mortgage Rates and Mortgage Rate Projections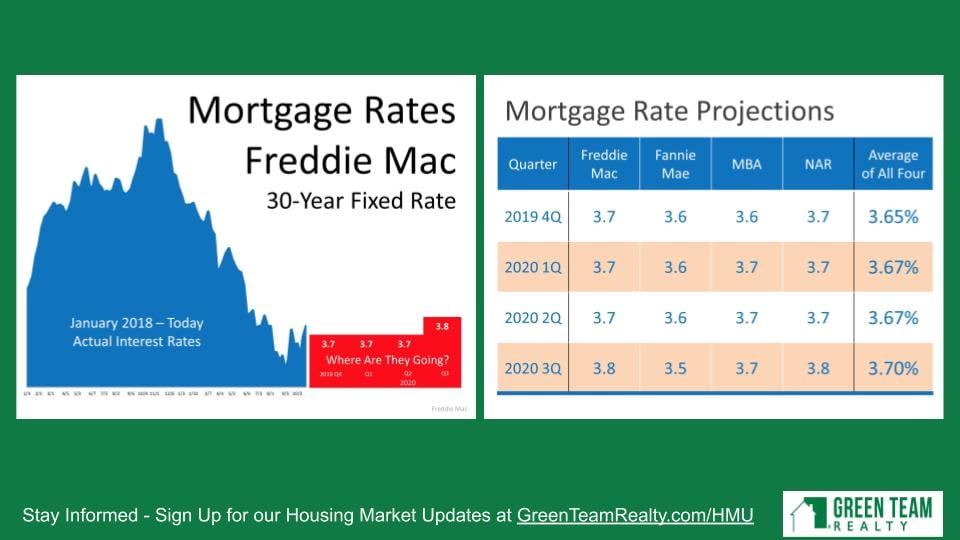 Mortgage rate projections beyond where we are now look very much the same.  It does not appear as though projections are really going up or down.
Orange County, NY
Units Sold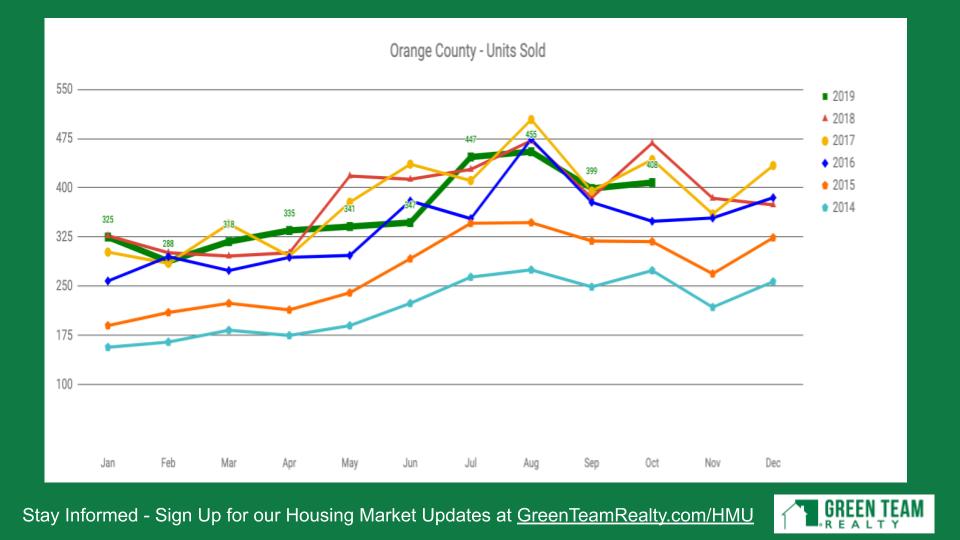 Units sold is what Geoff considers the "mother's milk" of all the analytics on the housing market. The green line represents 2019 and has pretty much been down year-over-year. The red line represents 2018. We only bounced above 2018 three times during the first ten months of this year. However, we're still at a very high historic level despite the year-over-year decrease.
Average Sales Price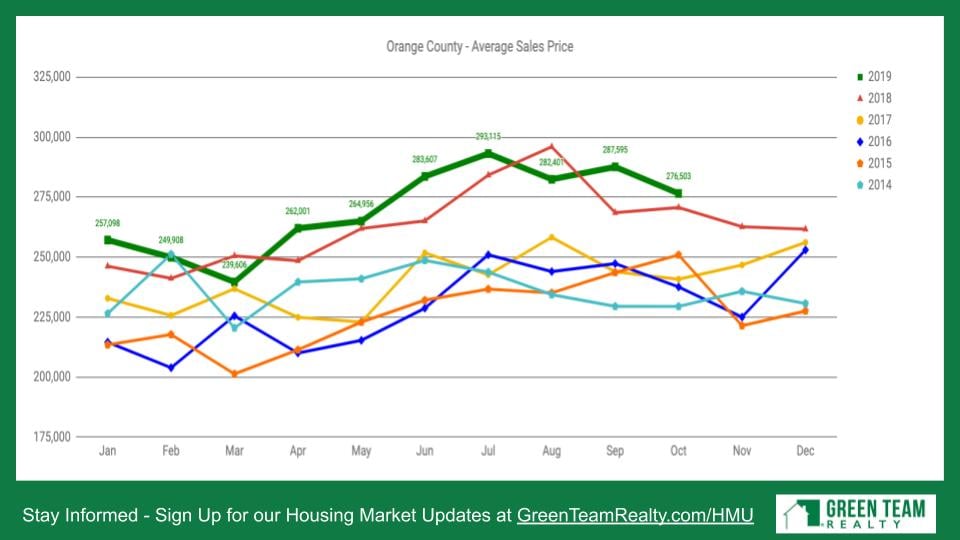 Average Sales Price is strong. The difference between this year and previous years in the year-over-year is pretty significant. Looking at just year-over-year appears to be a mixed bag. However, historically a very high pricing market.
Ask to Sold Ratio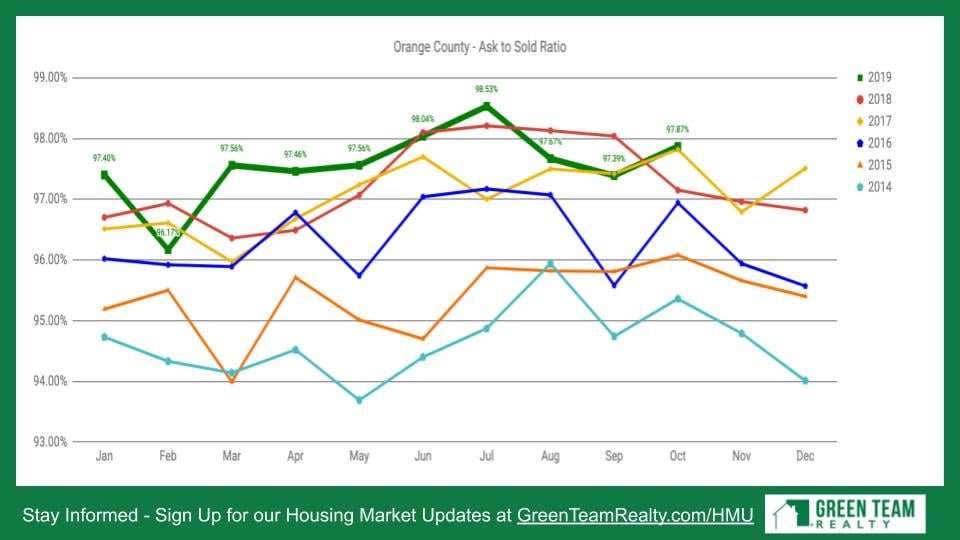 Ask to sold ratio is the ratio between the last asking price and the sold price of a home. It is still very strong. The higher the line, the closer to 100%, means that sellers have to negotiate less off their last asking price. Again, historically very high points, but nonetheless, appears to be cooling off just a little.
Days on Market
Days on market is pretty much lower, though we do see the green line intersecting with the red last month. That really hasn't happened previously. Again, another small sign of things cooling off.
Sussex County, NJ
Units Sold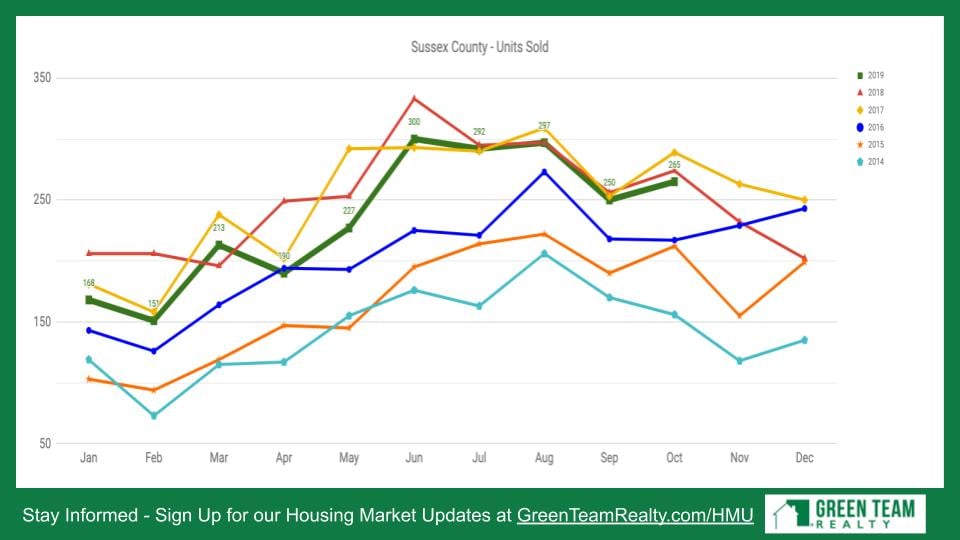 In Sussex County we're also seeing a mixed bag. The green line is bouncing up and down versus 2018 and 2017.
Average Sales Price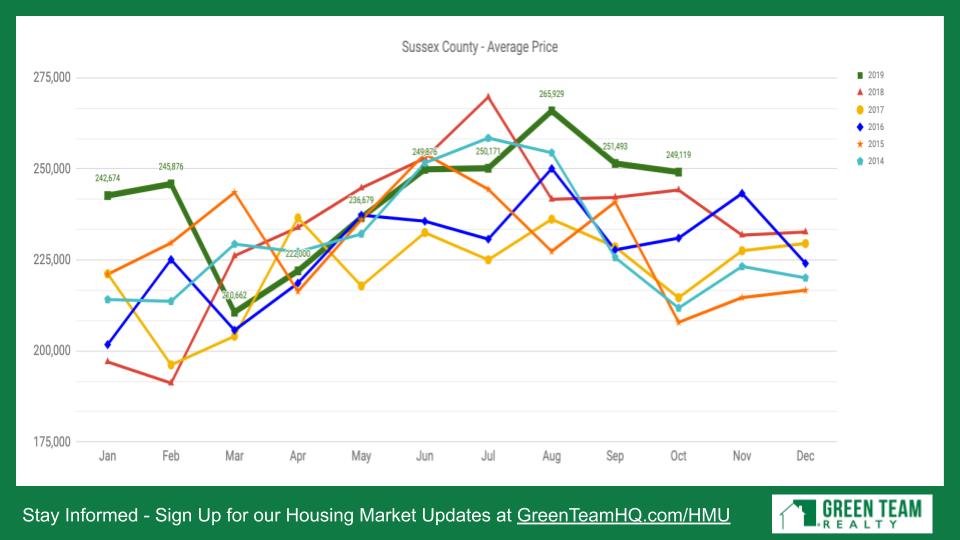 The graph indicates a pretty strong pricing market. Prices are about as good as they've been in Sussex in six years. If you're a seller, it is probably not a bad time to think about putting your home on the market.
Ask to Sold Ratio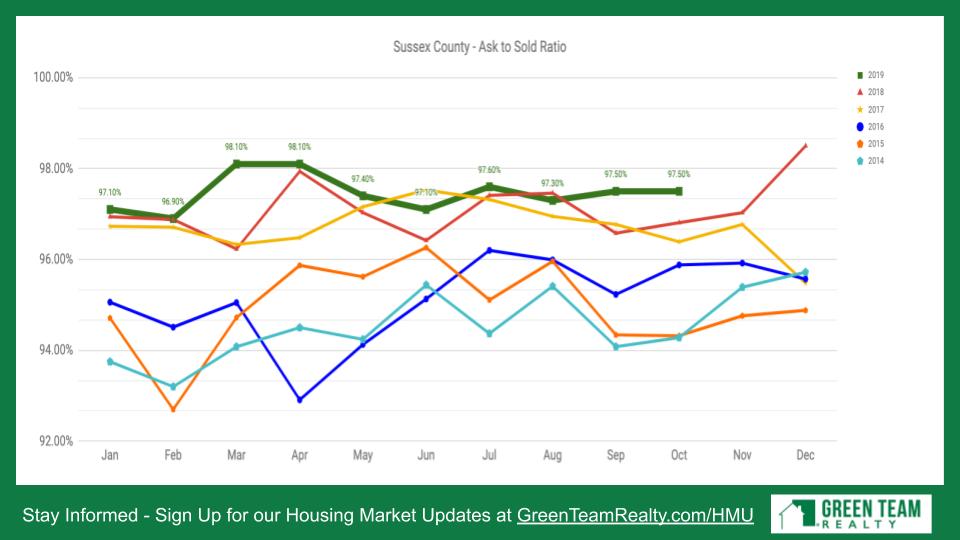 Again, the ratio between the last asking price and the sold price of a home. This is still very strong. If you're a seller would you prefer negotiating 2.5 points off your asking price, or almost 6 points? That's the difference between 20014, 2015 and 2016 and now. Geoff recalls those years as being difficult to get deals done.
Days on Market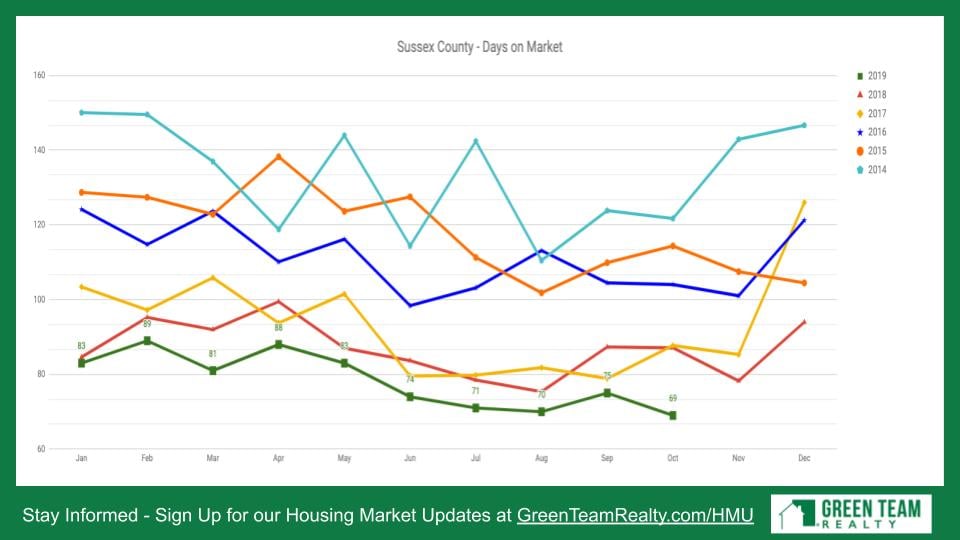 Here in Sussex County we don't see any intersecting lines. Though we have seen some close variances. It is tightening up a bit. We'll watch to see where that heads.
Housekeeping Items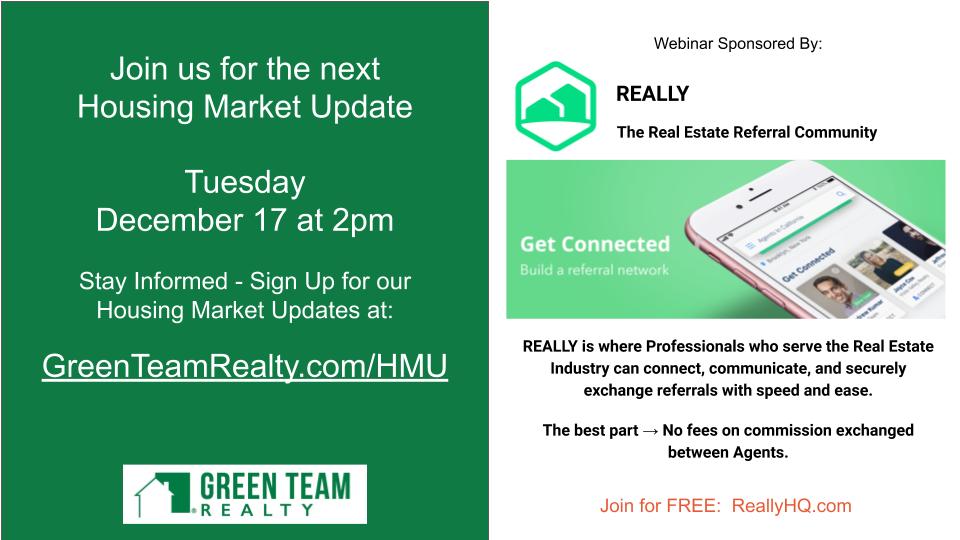 The next Housing Market Update will be on Tuesday, December 17 at 2 p.m You can sign up at GreenTeamRealty.com/HMU.
Thank you to our sponsor, REALLY, The Real Estate Referral Community. REALLY is where Professionals who serve the Real Estate Industry can connect, communicate and securely exchange referrals with speed and ease. And there are no fees on commission exchanged between Agents. Join for free at ReallyHQ.com
Meet Our Panel for the November 2019 Housing Market Update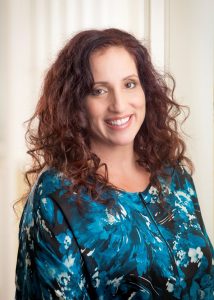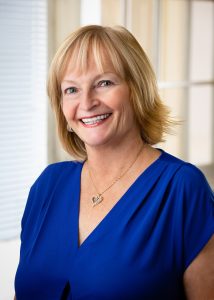 Our panelists this month are (left to right): Keren Gonen of Green Team New Jersey Realty and Carol Buchanan of Green Team New York Realty.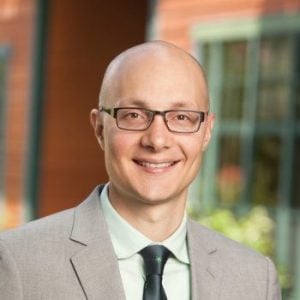 Our moderator is Geoff Green, President of Green Team Realty.
Thoughts on where the Orange County Market is heading in 2020
Geoff asked Carol where she sees the NY market heading. She believes 2020 is going to be an excellent year. Inventory is still down, there's no doubt about that. However, there are very active buyers out there, looking for a nice home in the price range they can afford. They'll jump on it right away when they find the right home. Inventory is a bit of an issue. But she thinks as more homes start coming on the market 2020 will be a fabulous year.
Geoff remembered that Carol joined the panel of the Housing Market Update about a year ago. And at that time she said that 2019 would be a strong year, although numbers seemed to be deteriorating. Geoff didn't know where those numbers were headed at that time. His experience as a real estate professional back in 2004 and 2005, when numbers dipped and didn't come back for 8 years, had him concerned. However, seeing numbers start to dip 18 months ago and now suddenly playing out and maybe coming back together, is a breath of fresh air. So, Geoff congratulated Carol for "calling it" during that HMU and is happy she's predicting a good year in 2020.
Thoughts on where the Sussex County Market is heading in 2020
Keren agreed with Carol. She thinks that one issue in Sussex County is that a lot of sellers are hanging on to their houses, just waiting to see what happens. Keren said that all homes priced properly are gone the same week that they're listed. She took some buyers out the previous Monday to look at some houses. Keren told them if they saw something they liked they needed to jump on it. They said, no, they wanted to look at some other houses. Two days later they came back to her and said they wanted to put in an offer. However, the house already had an accepted offer! She hopes they'll listen to her advice and not wait to put in an offer the next time they see a house they like.
Pricing a Home Properly is Key
Keren emphasized that it's important for all real estate agents and sellers to make sure the home is priced properly. If you're looking to sell right away, let your realtor know that this is what you want to do. If you want to sit on the market, they can do that, too. However, if you want to sell, this is the time to do it. In the spring, everyone else will be listing. Geoff agreed that during his 15 years in the industry the one thing that is always true is you have to price it right. It doesn't matter if it's in a down market or an up market or somewhere in between. If you don't price the property right, it's not going to sell, for many reasons.
Bank Inventory
Geoff always checks in with Keren on foreclosures. He asked if banks were still holding on to the properties, renting them out, or flipping them themselves. Keren said that banks are starting to release properties. Their only two strategies are: We're going to list high and see if anyone bites because the house is in good condition. Or, we're going to list really low and have everyone jump at it. Keren, who buys and flips homes, recently went to see a house. There were ten other people there during the half an hour she was there. The listing agent came back with "highest and best." She's sure the house will sell higher than it should have. Because there is not enough inventory listed low for the flippers, they're all going for it.
Appraisals
Geoff asked if either Carol or Karen was experiencing any problems with appraisals. Carol replied that she hasn't had much trouble with that. Basically homes are appraising with no problem. Geoff stated that about 2 years ago, when prices started to shift dramatically, there were a lot of problems with appraisals. Fortunately, that problem has gone away rather quickly. However, anytime the market turns on a sharp incline, appraisals will be a problem again. They can prevent buyers from getting the loan they need to move the transaction forward. It can be difficult for appraisers to get the comps. If the comps don't exist, new deals are coming in higher than the last one and the market's moving up, appraisers have to take a leap of faith. Many were hesitant to do that as the market hadn't increased in some time. Now that price appreciation has been going on for some time, it seems to be okay.
Keren said she's always there at appraisals and always has the comps that she gives to her clients. She also tells the appraiser about everything in the house they may not see. That might be foam insulation, updated electric, something in the basement or a whole house generator. She understands that appraisers add a dollar amount for that. That's been helping her appraisals come in at the correct price.
Lack of inventory in the sweet spot
Referring to middle of the range pricing, Geoff said it's surprising to see the lack of inventory. Only approximately 6% of the market is in the sweet spot, whereas there is much more inventory at higher levels. Even more significant is more inventory at lower levels (very inexpensive homes, homes needing lots of work, etc.).  Geoff thought it interesting and finds that as a society we're moving away from one-income households. Most households are two income. And they just don't have time to do renovations or be bothered with it. They want a house to be well located and in good condition. Otherwise, most people don't want too much to do with it. He asked the panelists if they agreed.
The importance to sellers of having a home that doesn't require buyers to do renovations and repairs
Carol absolutely agreed. She said looks do matter and when you go up to a home that's nicely landscaped and well maintained, people just jump on it. Most people are looking for a nice home they can put their own finishing touches to, but which is not overwhelming for them. Geoff said there are some interesting business models popping up around the country. Companies are financing renovations to help sellers get out and maximize their home's value. And they're not just providing the financing. They're doing the design, the build and the financing. It will be interesting to see how these models work out in the dense metropolitan areas they are starting out in. There is a real value to this. Some people will simply not buy a home unless it's in good shape and finished. So, if you're a seller, if you don't have the time and money to do the work, this might be an option.
Geoff has seen many agents, both in the Green Team and other agencies, who go out of their way to assist with that process of helping sellers get their home together and renovated. He talked about Keren literally rolling up her sleeves and clearing up a yard. While Keren isn't able to do that for everyone, it just demonstrates a willingness to help clients get a good result. He gives credit to all the hardworking realtors in the industry who go out of their way to make that happen. Carol agreed with that, too. A lot of realtors go above and beyond. Geoff said that it's a testimony to the industry and they deserve a lot of accolades.
Geoff's quote on Real Estate Professionals
We are the grease on the wheels of the housing industry. Without it, people wouldn't be getting as much money for their homes, or be able to make the moves that they do. You need the grease to keep the wheels turning – and that's us!
Keren definitely thinks that when your realtor is willing to go the extra mile for you, that's what really counts. Most of the people she's bought and sold homes with were actually people she talked to on a regular basis. Whether it was a Facebook or text message, or an invite to a party. It becomes part of your circle. People that you care for, people you spend time with. In the most stressful time of their lives, to be there and hold their hand and let them know everything will be okay, means a lot. For the client as well as to her, because they've allowed her into their lives.
One last question: Do you think home appreciation will increase in 2020 vs. 2019?
Keren absolutely thinks so for Sussex County. Houses that possibly last year or the year before listed lower are now listing higher and selling. She's pretty sure that trend will continue into 2020.
Carol definitely agrees and thinks that values are going up. No doubt about it!
Here's how to contact our panelists
Keren Gonen, Green Team New Jersey Realty – 551-262-4062 (cell): Call or Text. You can also Google Keren to find out more about her.
Carol Buchanan, Green Team New York Realty – 845-705-9162 (cell): Call or Text, Or email her at CarolBuchanan97@gmail.com
Thanks to Melissa Bressette, Marketing Director, Green Team Realty, for putting this webinar together.
We'll see you on December 17th at 2 p.m.