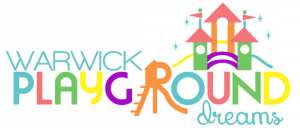 The Green Team celebrates the holiday season by recognizing the joy and beauty of homes and businesses whose decorations Light Up the Holidays and our communities.  It celebrates the ideals of giving and sharing that are at its core by raising money for local charities.  And this year, what better way to celebrate the Holidays than by selecting a charity devoted to children!.
Warwick Playground Dreams
Parent volunteers from throughout the Town of Warwick make up this non-profit organization.  Their goal, to raise the funds needed to replace aging equipment in Stanley Deming Park. Working with Play by Design of Ithaca, NY, the new playground will not only be whimsical and fun, but also inclusive, with ADA-accessible playground equipment.   The playground will also be community built.  It is hoped that local artists will decorate it to reflect the culture, history and beauty of Warwick.
Working together with the Village, schools,and Play by Design, volunteers are organized and ready, willing and able!  Unfortunately, building a creative, fun and accessible playground is expensive. So being selected as the recipient of donations from Warwick's Green Team Light up the Holidays event was good news.  And on November 29 there was great news.  The Light Up the Holidays team presented Warwick Playground Dreams with donations of $1,950.  With the continued generosity of Warwick's businesses, professionals and individuals, there will be more to come.
It Takes a Community to Build a Playground
"We were very excited and grateful when the Green Team reached out to us and offered to help us bring the community together in support of all of Warwick's children," said Hannelore Chambers, President of Warwick Playground Dreams. "It is so heartening to see other members of the community reaching out to help us raise awareness and get closer to our $300,000 goal.
As many other towns and cities before us have experienced, building a playground can also build a greater sense of community. How empowering for the children to see what a great thing can be created if everyone works together, and that this playground is being created out of love for them by their parents, grandparents and neighbors. Through our very close collaboration over the last year, many of our committee members have already experienced how strong bonds can be created all across the town between families who might not otherwise have crossed paths due to geography and different school districts."
You Can Be Part of this Wonderful Project
Light Up the Holidays Sponsors are helping to purchase materials and equipment needed to build the playground.  There will be challenging equipment for older kids, and equipment accessible and useful to children of different abilities.  The organization will soon be entering their second phase of fundraising efforts. Local groups, businesses and families will be able to sponsor specific playground components.  This will range from individual swings and slides to a proposed dual zip line and a wheelchair accessible merry-go-round.  
For more information on the Green Team's Light Up the Holidays event, visit https://www.greenteamhq.com/luh2017.  For more information on Warwick Playground Dreams, visit their website at http://warwickplaygrounddreams.com/.