The G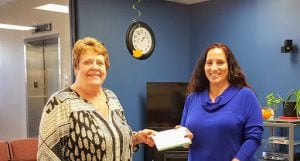 reen Team celebrates the holiday season by recognizing the joy and beauty of homes and businesses whose decorations Light Up the Holidays and our communities.  And it celebrates the ideals of giving and sharing that are at its core by raising money for local charities.
Meet the Vernon Recipient of Light Up the Holidays 2017 Donations
Keren Gonen of Green Team New Jersey Realty shocked Jane Damstra, Director of the Vernon Township Senior Center, when she told Jane that her organization had been selected as its designated charity. Jane's shock, however, soon turned to excitement as she started imagining what the sponsorship donations could mean to the approximately 200 seniors who come to the Center annually.  On any given day you can find between 38 and 50 seniors ages 60 and over at the Center.   First of all, some come for the lunch provided by the Senior Services Nutrition Program for a $2 donation.   And many are there to enjoy the activities offered by the Center.  Currently these include Zumba, shuffleboard, line dancing, Wii bowling and pool, cards, watching DVD's.  Almost all of these activities involve minimal cost, and don't provide the challenge and creativity that many seniors crave.
And now Keren has shocked Jane once again.  On November 30 she presented Jane with $1,450 in donations.  Furthermore, with the continued generosity of local businesses throughout Sussex County, there will be more to come.  
Local Businesses Can Make a Difference
Aging does not bring an end to creativity, to curiosity, to learning, to enjoyment of life.  Local businesses that sponsor the Green Team's Second Annual Light Up the Holidays Contest can make a real difference in the lives of Vernon's seniors. Because, now programs that Jane had only dreamed of can start to become reality.  
One of her top priorities is the purchase of two laptop computers.  They'll be used as part of a training program with tech-savvy high school volunteers. The volunteers will teach the seniors to use the internet to talk to faraway family members, pay  bills, and more. A group of talented knitters at the Center create items for donation to charitable causes. However, wool can be expensive.  Thus, another priority is crafting supplies, including wool needed for these projects.    Jane would also love to start a watercolor class.   And she'd like to bring in guest speakers and instructors.  Generally,  fees exceed what the program budget will allow.  Furthermore, there are other programs she wants to start – day trips for the many who are no longer able to drive themselves.  Trips to the mall, to see local theatre productions… The list goes on.
Brighten your community through Light Up the Holidays!
Local professionals, businesses and individuals can work with the Green Team to bring exciting new programs to Vernon's vibrant senior population.  And if what comes around goes around, there will be light and joy enough for all of us!  For more information about the Green Team and its Second Annual Light Up the Holidays Event, visit https://www.greenteamhq.com/luh2017/, and for more information about the Vernon Township Senior Center, visit http://www.vernontwp.com/services/senior_center/,