Thanksgiving Pie – A Green Team Tradition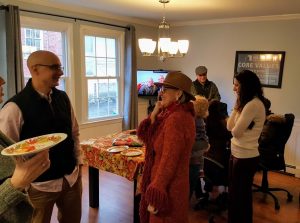 Thanksgiving.  It's a time of gratitude, friends and family; of turkey and all the trimmings.  And at the Green Team, it's a time to let clients know how much they are valued.  The Client Appreciation Program, or CAP, is the cornerstone of the Green Team's foundation.  The Green Team doesn't take its clients for granted.  Through the CAP program sales associates find ways to say "I appreciate you" throughout the year.  However, one of the highlights of the program is Thanksgiving Pie.  A Green Team CAP tradition,  clients are invited to come to the office for a casual party. And to pick up their Thanksgiving pie. Because this gift from their sales associate is a way of saying "Thank You."  Thank you for your business, your referrals, and your friendship.

Thanksgiving Pie… A "family" event for both the Warwick and Vernon Offices
Walking into either office you can feel the warmth and joy and know that you are welcome.  Pies are stacked high, waiting to be distributed.  Being a local brokerage, it's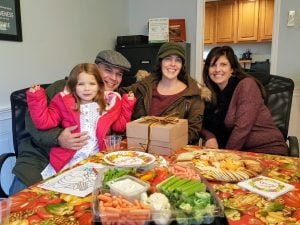 important to the Green Team to support other local businesses.  Thus Noble Pies has become part of the tradition. Their pies are baked from locally sourced ingredients when available. Cider, wine, donuts and more await the clients as they drop in to pick up their pies.   And, of course, there is laughter; lots of laughter!
Green Team Sales Associates agree that the Client Appreciation Program is something they themselves appreciate.  It keeps the focus on the people who are most important to their businesses:  their clients.  And events like this one bring everyone together, strengthening bonds between associates and between clients and associates.  Probably one of the best things is that two days later pies from the Green Team's sales associates will be sweetening Thanksgiving Dinners at many homes.  Again letting clients know how much they are appreciated.