2017 Green Team Momentum BuilderAward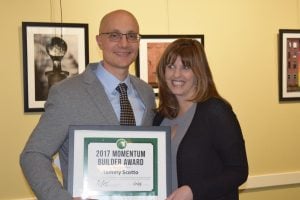 This is a very special award, given to the Green Team Sales Associate who has created the most positive and consistent momentum in their professional career and personal life.
The 2017 Momentum Builder Award was presented to Tammy Scotto of the Green Team's Warwick Office.   Just as Tammy persevered in both her professional and personal life, Geoff Green persevered in his belief in her.  To Geoff, it's all about the journey, and about not giving up, no matter where the road takes you.   According to Geoff, there are three components to success in the real estate business:  time, intellect and persistence.   Seems like sometimes the three may not align in the beginning.  But, as in Tammy's case, the intellect was there, her persistence paid off and eventually she had the time to put into her real estate career.
Tammy's Story – In Her Own Words
"Firstly, I want to say thank you to Geoff for giving me this award this year. I really do appreciate the acknowledgment. There are MANY other agents here at the Green Team that deserve to be standing up here right along with me, so thank you. When Geoff called to tell me he wanted to honor me with this award, he said he was really thinking about the year and was going to talk about "Overnight Success."  I said to him, "Are you sure you want to give this award to me? I've had my license for 19 years!"

19 years ago I got 2 licenses. One was my Real Estate license, the other my marriage license. I'm happy to say both are in full effect and going strong today. But, as many of you know, this means I have been selling real estate through all stages of family life. I was selling as a mom with infants, toddlers and now teenagers. I am anything but an overnight success.  Yet for me, that worked. My marriage and my family were and are number one in my life. But the reason I stuck it out with real estate is because it's the only job I know that allows you to control your own schedule. We can turn it on and off as life requires. Lord knows we work all hours of the night and weekends.  Yet we can also schedule around volunteering in school, sports events and other activities.
And the rest is history!
I've learned a LOT over these past 19 years.  But, to be honest, I've learned the MOST the past 4 years.  Four years ago I was selling real estate (very part-time) and working another job.  Finally, I thought maybe I should just let my license go. The company I was with was going to start charging a monthly fee that I was not willing to pay. So I thought about it and was just going to get out of the business. My husband said,  "Don't do that, you've had it this long, maybe look at other options".
So after a phone call to LucyAnn [Tinnirello] which led to a phone call from Geoff Green,  the rest is history.  In 2015, Geoff, LucyAnn, Jacque & I went to a Buffini convention in Philly and Geoff was talking about the Captain's Club.  He looked back and said, "Next year, right Tammy?"   I said, "Nah, 2017."  Well, I had that gut feeling I needed that ONE extra year to get my business really going. And with all of the tools that Geoff provides for us, I learned how to really ramp up my business. It means a lot to actually have a broker that wants you to be successful and that is why you will be stuck with me for a VERY LONG TIME!!!!!
Winning your own race…
Part of the Green Team mission statement says: "A Real Estate Agent that is highly productive is more likely to deliver excellent client service than someone who is not. Couple that with a Real Estate Agent who has the time and ability to lead a meaningful life, and you have the perfect environment for an exceptional client experience."
We're all different and unique in this room.  Some of us are go-getters right out of the gate. I was more of a Tortoise than the Hare….slow and steady…  But I'm winning my personal race and wouldn't give anything for the time I spent with my young kids.  Finally, whichever one you are, make sure you're doing it for you. I am living a meaningful life, have time to enjoy my family along the way and now I'm making a great living as well.  2017 was a great run and I'm looking forward to more years like it ahead! "