Green Team's Real Estate Market Overview
October's Market Review Meeting was held a little more than a week before Thanksgiving, and a little more than a month before we ring in a new year.  It's the perfect time to talk about goals that have been set, goals that have and have not been met, and goals that have been exceeded.   The Green Team's Warwick office is one of the top ten agencies in Orange County, with a goal of being one of the top five!  And the Vernon office, which opened its doors just 18 months ago, is already in the top 25 of all Sussex County agencies!   The Warwick office, as of October 31 it has already exceeded 2016's year-end total.  Green Team New Jersey Realty does not have a full year to compare 2017's sales to, but its anticipated year-end sales will clearly demonstrate a successful accomplishment for a new agency.
Exceeding Goals and Expectations
2017 has seen exciting goals being set and met by agents in both offices.  Mention Sales Leader Awards in Warwick, and there are two names that immediately come to mind:  Jennifer DiCostanzo, 2016 Sales Leader and First Quarter Sales Leader Award winner for 2017, and Nancy Sardo, winner of the 2nd and 3rd Quarter Sales Leader Awards for 2017. Jen has already exceeded her goal for this year, and Nancy is close to reaching hers.   Who will be the 4th Quarter Leader and who will be 2017 Sales Leader?  We can't wait to find out!  And, while these two battle it out, Chris Kimiecik, while new to real estate, has blasted way past his goal of $1,000,000 in sales.  Other agents have either reached or exceeded their goals, and others are still working towards meeting theirs.  In Vernon, Keren Gonen is a shining star!  Another agent new to the business, Keren set a very high first year goal of $3,000,000 – and she has already exceeded that!   These agents are excellent examples of the opportunities and possibilities that exist in our industry, as well as demonstrating the hard work, dedication and drive that it takes to reach and then exceed goals.  There are many other agents who are exceeding the goals they set for themselves for 2017.  Green Team's agents in both offices are working hard, constantly striving to improve their knowledge and skills, all while providing top notch service to their clients.  2018 looks to be an exciting year for all.
"How is the market?"
When a client asks this question, an agent's answer is indicative of their level of professionalism and knowledge.  This market review meeting focused on how to analyze local real estate stats to provide a clear and accurate portrait of market conditions to clients.
Local Market Reports – Sussex County, NJ
Average Sold to Asked Ratio
This is the percentage a house sold for under or over the last asking price (not the original price).
Sussex County:
With an average of 96.8%, the Sold to Asked Ratio in Sussex County in 2017 has been higher than any of the previous four years.  There has been a slight downward trend since July, but this can be attributed to a seasonal fluctuation.  Besides, October's average of 96.35% is still higher than any month during 2013 to 2016.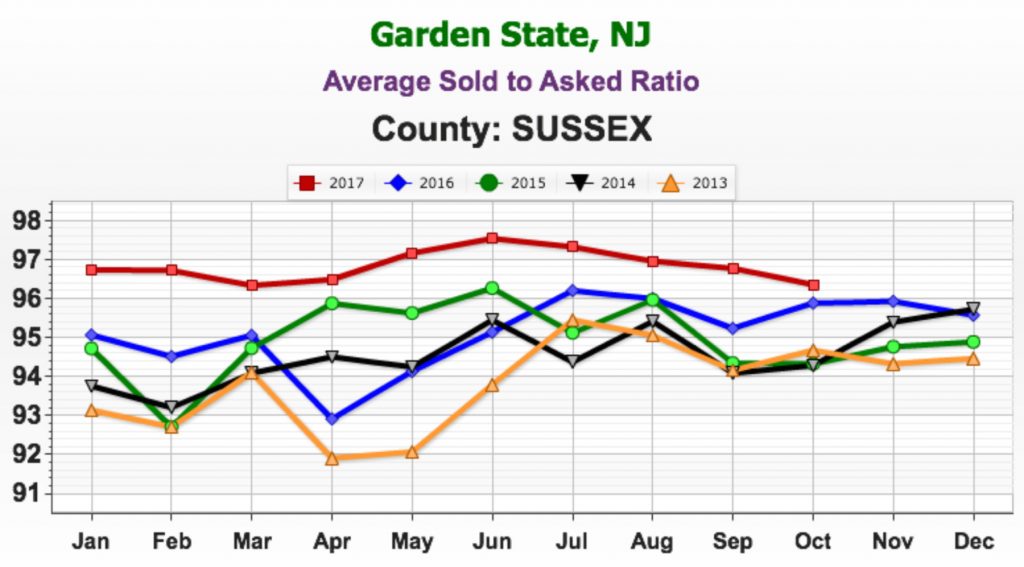 Units Sold
The term units here includes single family homes, condominiums, townhomes and multi-family homes with 1-4 units.
Sussex County:  Here again, the stats show that the 2017 market is hot, with more units being sold this year than in any of the years from 2013 to 2016.  There was a dip in September, but then a rise in October.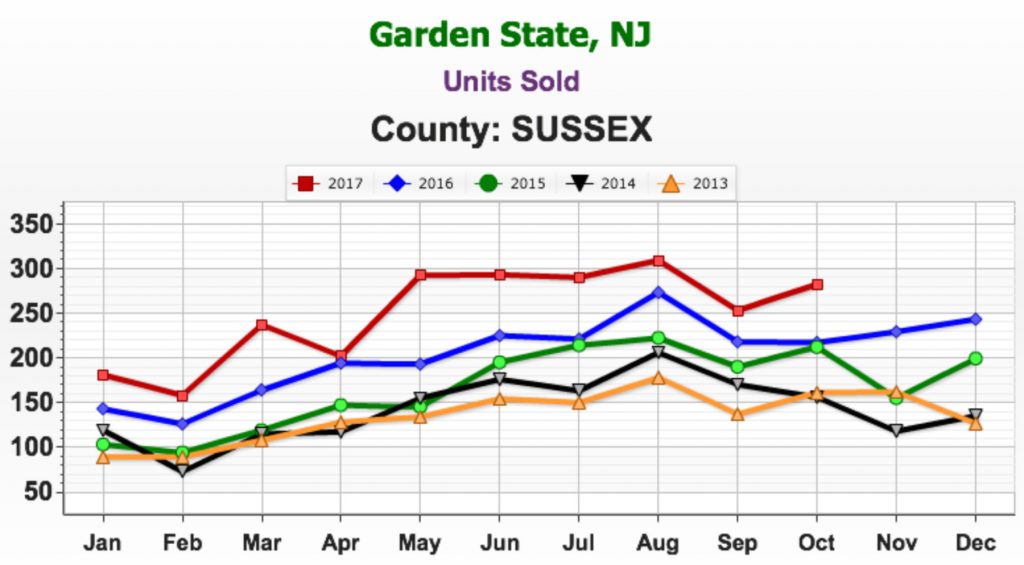 Average Days on Market
The faster things are selling, the hotter the market, so look for the lowest number on the graph as opposed to the highest.  In New York State, the calculation was changed so that it is from the List Date to the Contract Date, rather than to the Binder Date, which was the standard 3 years ago.
Sussex County:  With an average of 91.03 days on the market, 2017 once again proves itself to be a hotter market than the previous four years.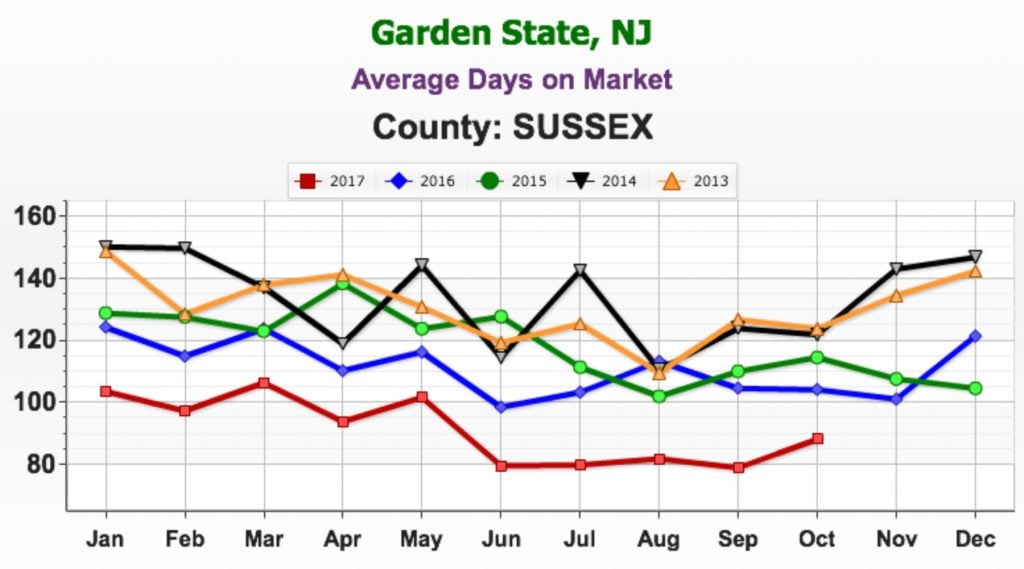 Homes that sold at 100% or more of last asking price
Sussex County:  In October the number dipped slightly below last year's October number, but still almost one-third of homes are selling at 100% of their asking price – or above it!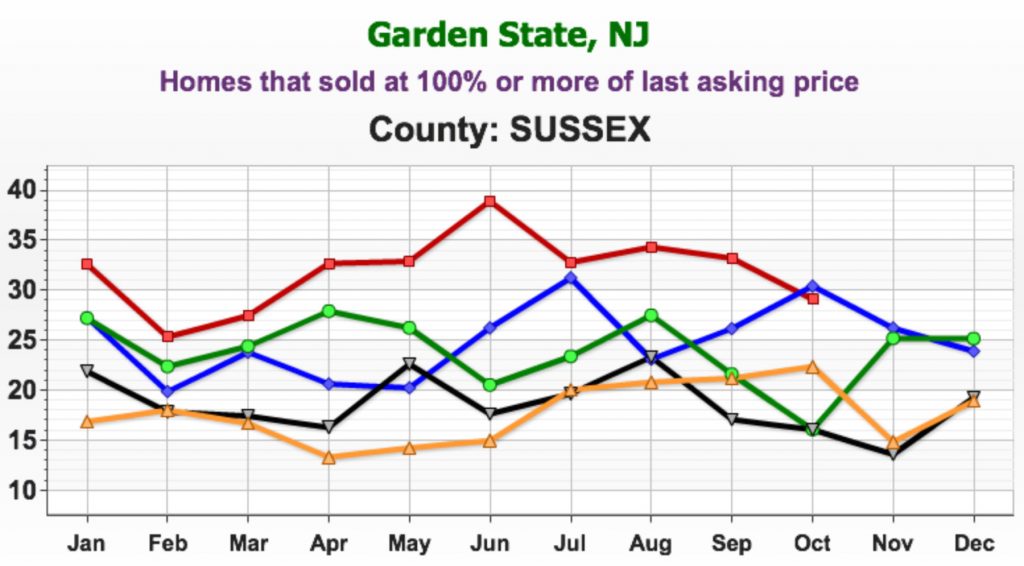 Average Price
Sussex County:  Despite the market being hot, prices have gone down since 2013, when the average price was $243,909. In 2017, it's $221,196.  In fact, on average, prices are lower this year than the last four years.  When pricing a home for a client It is essential to look at hyper-local comparables.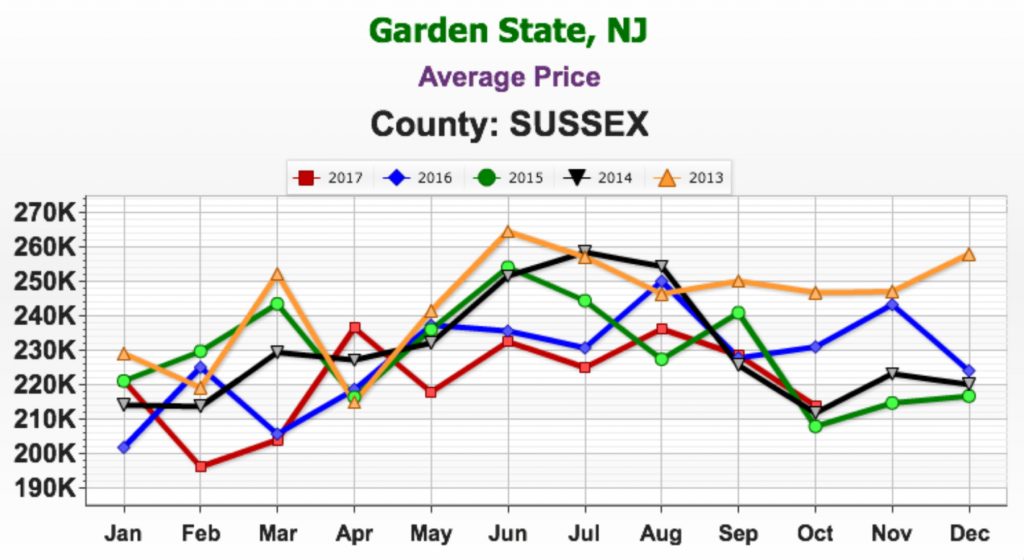 So, How is the Market?
After reviewing all of the data contained in the graphs for these categories for Sussex County and Orange County, the real estate market is Hot!!!  If trends continue their upward climb we can anticipate another great year in 2018.  Continue setting goals and let the market help you achieve the best possible deals for sellers, and find the best home, at the best price, for buyers.  
Our Next Market Review Meeting
Our November Market Review Meeting is scheduled for Tuesday, December 12.  As always, we look forward to keeping on top of our goals and discussing matters that are important to the success of your real estate transaction with our agents.  We'll then be posting information that we hope you'll find interesting and helpful.