Green Team Business Review – May 2018
The numbers tell a story all their own.  Despite the lack of inventory on the market, despite the specter of rising interest rates, loss of deductions due to new tax laws, etc., the Green Team is doing something very right and finding people buyers for their homes and finding homes for buyers!   Both the Warwick and Vernon offices have more than doubled their sales volume from a year ago.
Orange County, NY Real Estate Market Report – April 2018 Results
The May Market Update was held on Tuesday, May 8 on Facebook Live. It was moderated by Geoff Green, Founder of Green Team Home Selling System. Panelists included sales agents Vikki Garby from the Warwick office, Keren Goren of the Vernon office, Michael Giannetto from Residential Home Funding and Ken Ford from Warwick Valley Financial Advisors.
If you missed the original live event, click here to watch.  The discussion involved not only the housing market, but also perspectives on the economy.  Our guest panelists have a great deal of knowledge and expertise, and the conversation was informative, educational and lively.
You can also sign up for monthly updates by email on the Green Team website.
 We were experiencing technical difficulties:
Prior to the update going live, the following discussion took place:
The lack of inventory remains the biggest impediment to home sales, and the panel discussed the various reasons why people are reluctant to sell now.   Vikki Garby stated that there were more buyers this winter than last spring, but that there is not a lot to buy.  Cash buyers were coming in strong, with some people getting full asking price, or over.  Keren Goren stated that many people she spoke to were just hanging on, waiting to see what would happen in the market.
Geoffrey Green told the panel that he is often asked, "Should I wait, because prices are going higher?"   According to Vikki, sellers are worried about finding a home!  People move up here from other places and swamp the market, and people who want to sell but stay in the area are concerned.  Keren said that houses in Sussex are outdated, older than what buyers are looking for.  Geoff said, "At the end of the day, if you're moving and need to sell, try to sell and buy at the same time."
The conversation turned to "fixer-uppers."  Geoff felt that most buyers don't have the time, experience, and money to do renovation after buying a home.  However, he asked the panel if they were seeing more buyers willing to take on a fixer-upper.
Keren cited a buyer who was willing to take out a loan to put a new roof on a house where everything else had been done. He was willing to go that step.   Vikki stated there was not much to choose from and buyers trying to get into the area are having to be more flexible. Mike Giannetto stated that reno loans are now a big product and many people are taking the opportunity to fix up a house, put in new appliances, roof, etc., using equity.
Watch the video for more discussion, including a fascinating look into the world of economics and how the bond market impacts the interest rate that buyers may soon be paying.
Orange County, NY Real Estate Market Report – April 2018 Results
We are pleased to share with you the Housing Market Report for April 2018.  We break down local real estate activities and provide you with stats, graphs, and analysis of our local and regional real estate market.   In addition, we provide insight from some of the people most familiar with market trends:  sales associates, mortgage funding specialists and financial advisers.
Average Days on the Market
 The faster homes are selling, the hotter the market. Look for the lowest number on the graph, as opposed to the highest. The calculation in New York State is from the List Date to the Contract Date.
With numbers in for April, the average days on are the lowest they've been for this month for 5 years.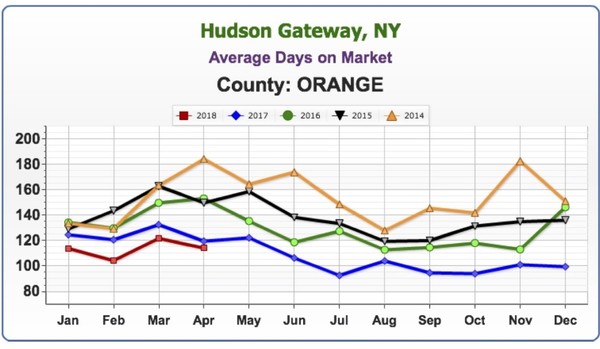 Average Price
 Here again we're seeing a trend.  Prices are coming in at their highest point for April in 5 years, at an average of $247,849.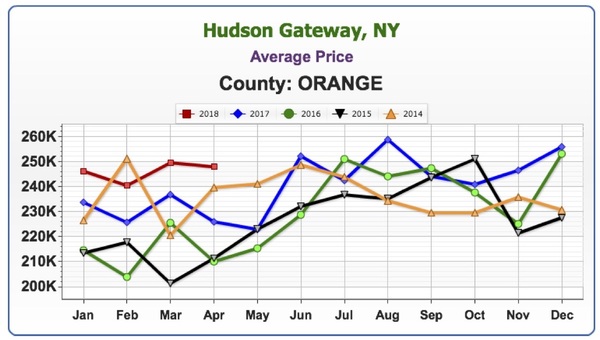 Average Sold to Asked Ratio
This is the percentage a house sold for under or over the last asking (not the original) price.
 The higher the percentage, the hotter the market.  This April the percentage dipped slightly below April 2016 and 2017, but sellers are still negotiating at approximately 3.5 points off the last asking price.  As mentioned last month, this is an average of all of Orange County, with some areas having a higher percentage, and some a lower one.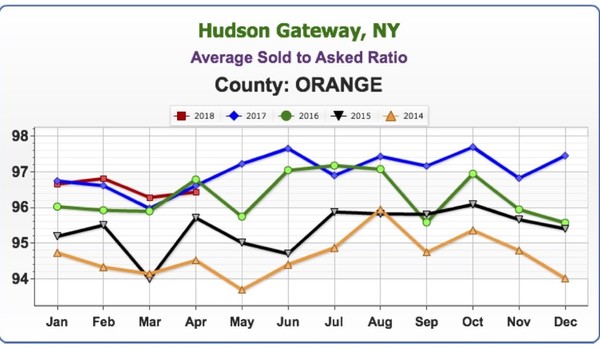 Homes that sold at 100% or more of last asking price
 Here again there was a slight dip below April 2016 and 2017, though the numbers remain higher than 2014 and 2015.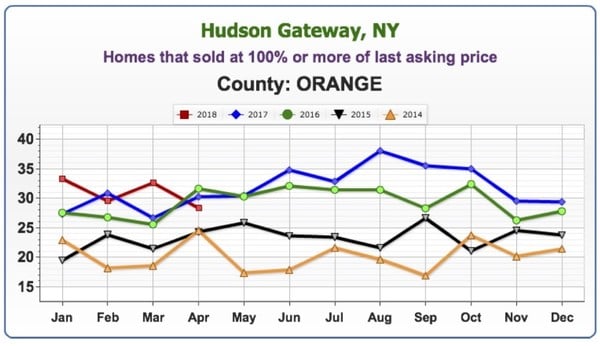 Units Sold
 Units sold seems to have flat lined; however, more units were sold in April 2018 than in the four preceding years.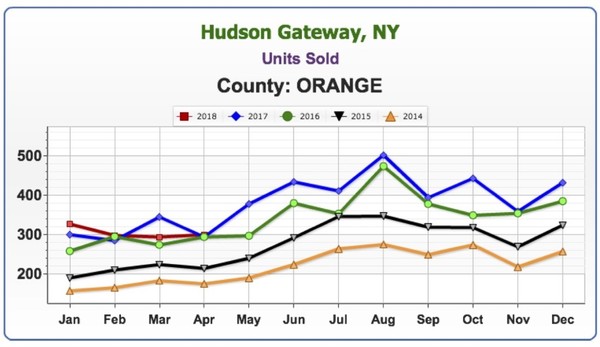 ---
We Keep You Informed:
The Green Team Shares this information and more each month during our Live Housing Market Update. Register to join the webinar and hear directly from our participating Green Team Sales Associates who share their personal take on how the marketplace is doing.
Each month we are also joined by industry experts who share insights into the current financing environment as well as broader economic issues affecting the housing market.
Check out our past Housing Market Updates. Then Register to join our next one on June 12th at 9am.
[embedyt] https://www.youtube.com/embed?listType=playlist&list=PL6MEM7EpyL0E5YdU249T_KsDQTukboj8E&v=AQYblgrxmIY[/embedyt]