Geoff Green, president of Green Team Realty, welcomed everyone to the October 2019 Housing Market Update. The webinar was held October 14 at 2 p.m. on Facebook Live.
National Housing Market Statistics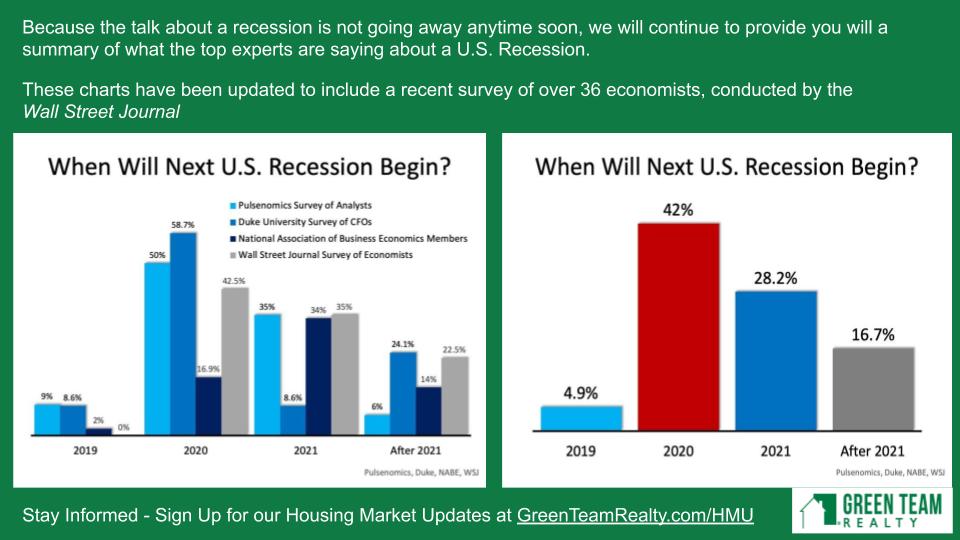 RECESSION RECESSION RECESSION
Everyone's talking about it. Geoff thinks probably the impending 2020 US elections have a lot to do with that as well. The simple fact is that more and more people are starting to think that it will happen. .Because of that, we need to address it. No matter how much less impact we feel this recession would have on the housing market than the last one was, it's still going to have an impact.
The above charts show a survey of different analysts and influencers in the economic world. Most think the recession will come in 2020. Again, it will be interesting to see the affect that the elections will have. Needless to say, the vast majority believe the recession will start within the next two years, 2020-2021.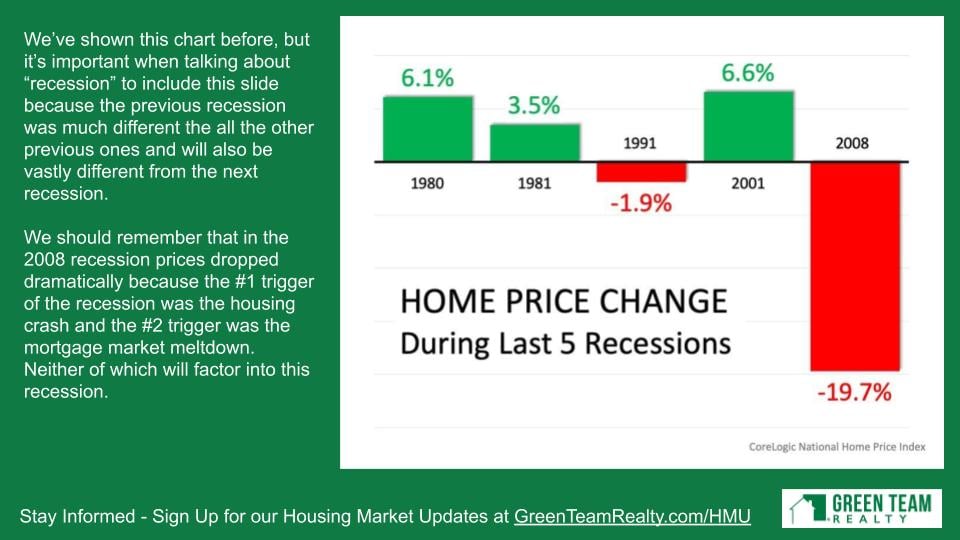 Recessions don't necessarily mean a bad housing market
A recession does not mean that there has to be a sharp decline in price. Or an overall reduction in home valuations. The last series of recessions dating back to 1980 and only two of them had negative price appreciation. That's important to note. Geoff believes that the bottom will not drop out like it did in 2008. That was a very scary time for the real estate industry. There are now a lot of economic fundamentals in place that should lead to a better downturn, if one were to come.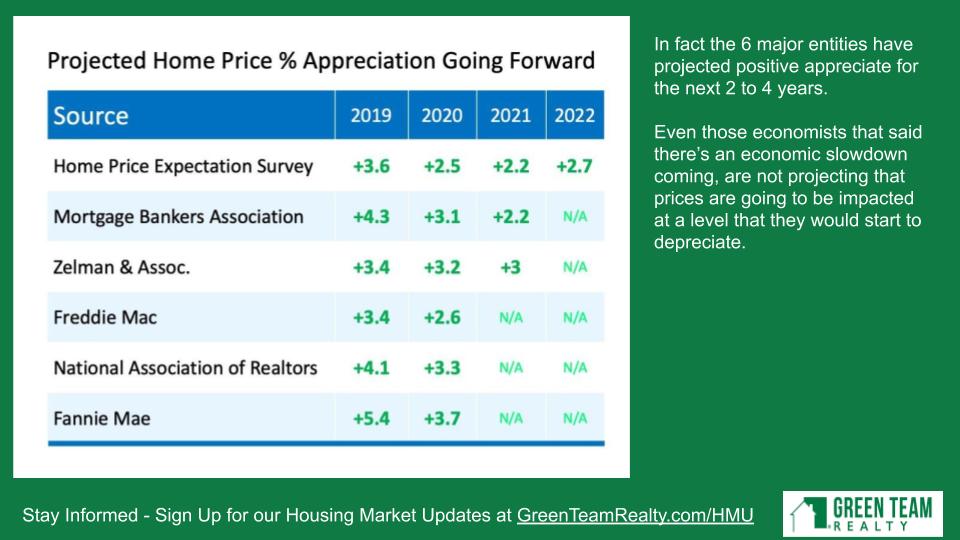 ---
Projected Home Price % Appreciation holding steady
Again, stake holders, influencers in the world of economics are predicting that not only will pricing on a national basis not go down, but it will continue to appreciate. Not at the pace seen in the last few years, but these numbers are probably healthier. The rapid market we were seeing wasn't going to last forever and could not be sustained. There is nothing wrong with appreciation slowing and growing at a slower pace.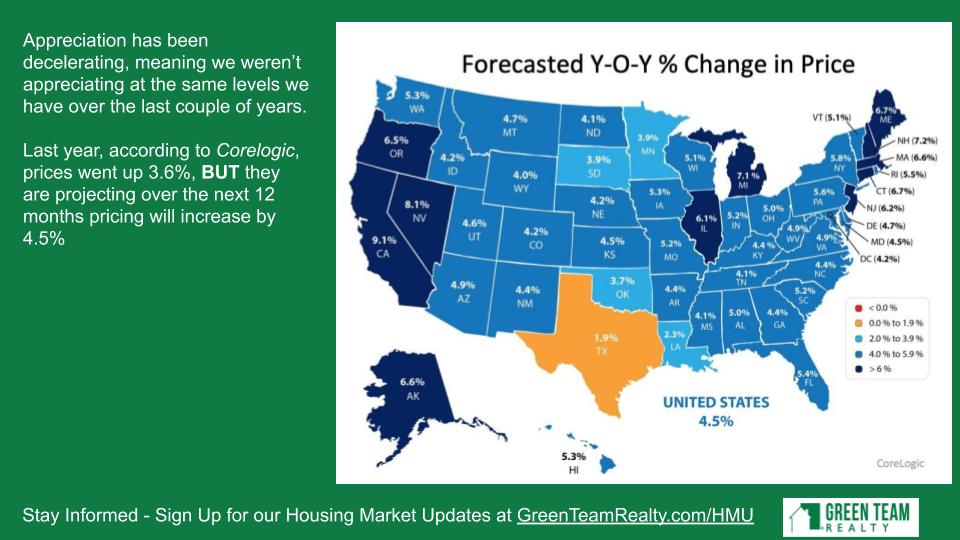 Regional projections
Corelogic shares its forecast for Year-over-Year percentage of change in price, according to markets throughout the U.S. From this it appears the northeast is looking good.
Local Housing Market Statistics
Orange County, New York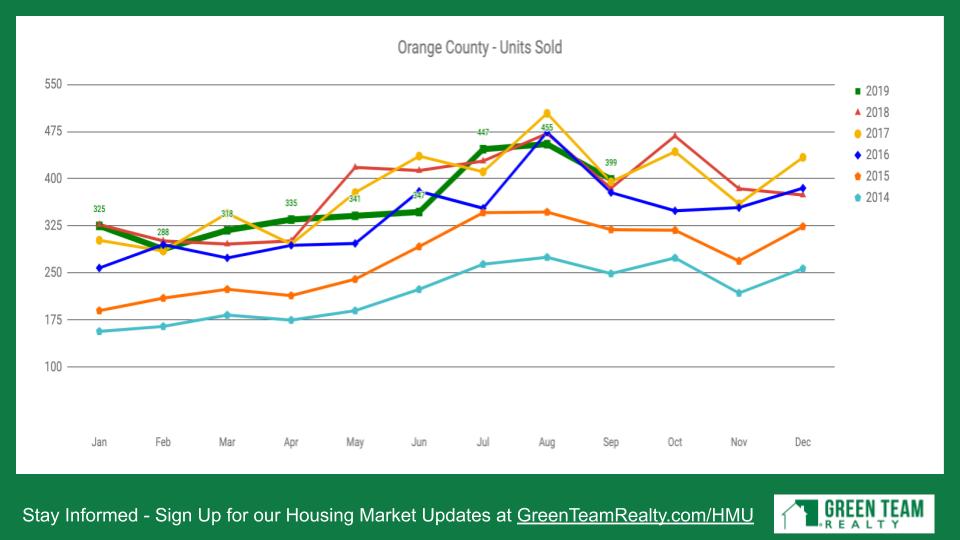 Geoff had expected the green line for units sold to be lower for the third quarter. However, it really held out very well. If you look at July, it was above all previous six years. August was a touch below. And September was even. So it was a good third quarter.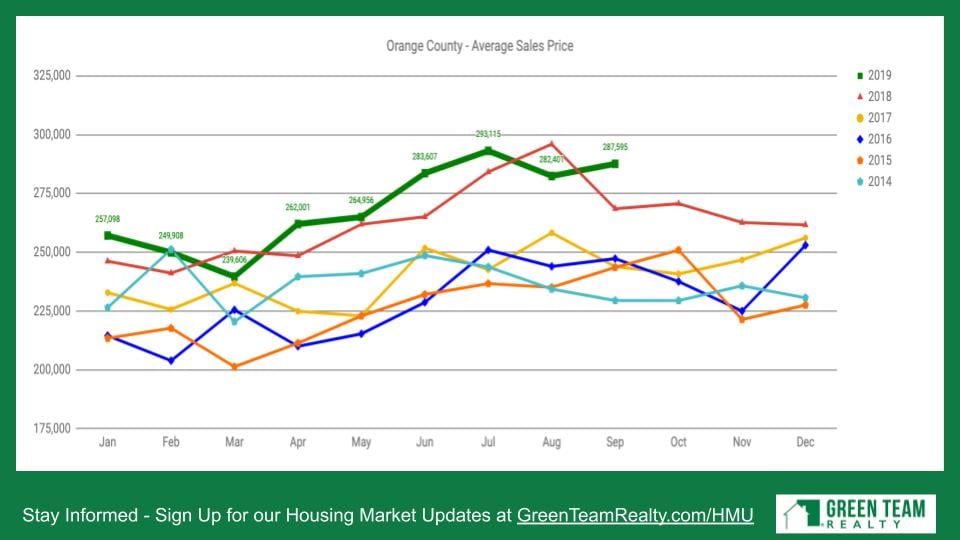 Average Sales Price is doing well. It's well above where it's been the last 5 or 6 years.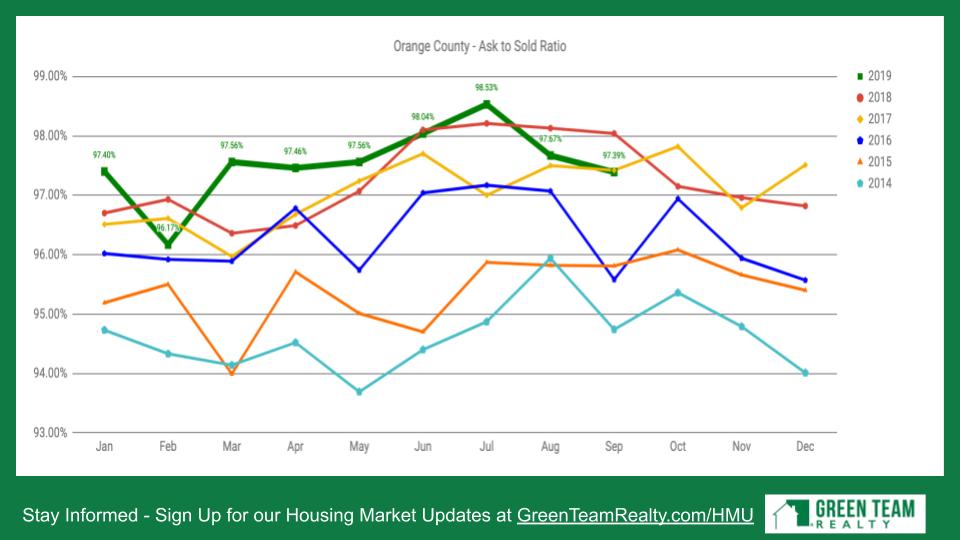 This is the last asking price versus the sales price.  The market is becoming a little more competitive. Sellers are having to negotiate a little more off their selling price. Again, as the market is cooling it's bound to happen. However, we are not seeing a precipitous decline here.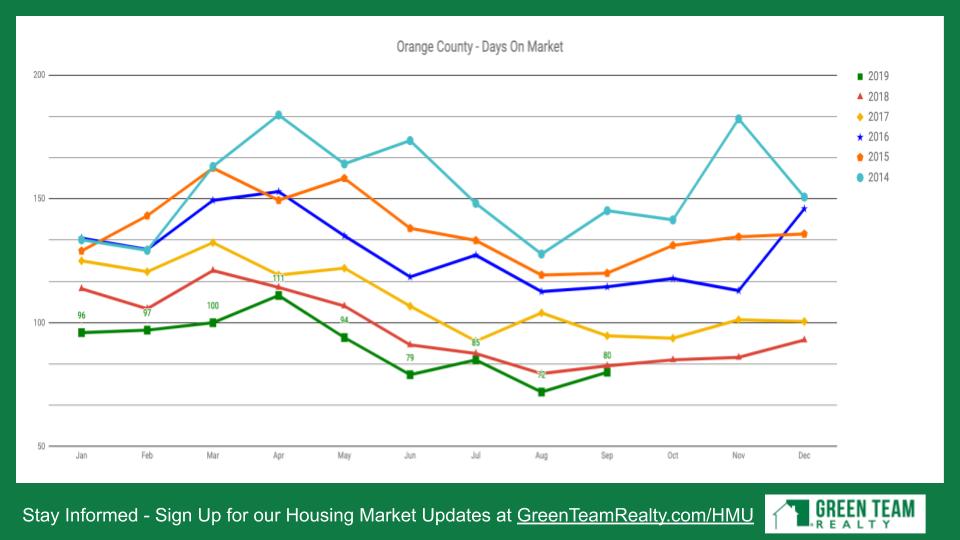 Days on market is still extremely low. Not one month dipped above any of the previous years.
Sussex County, New Jersey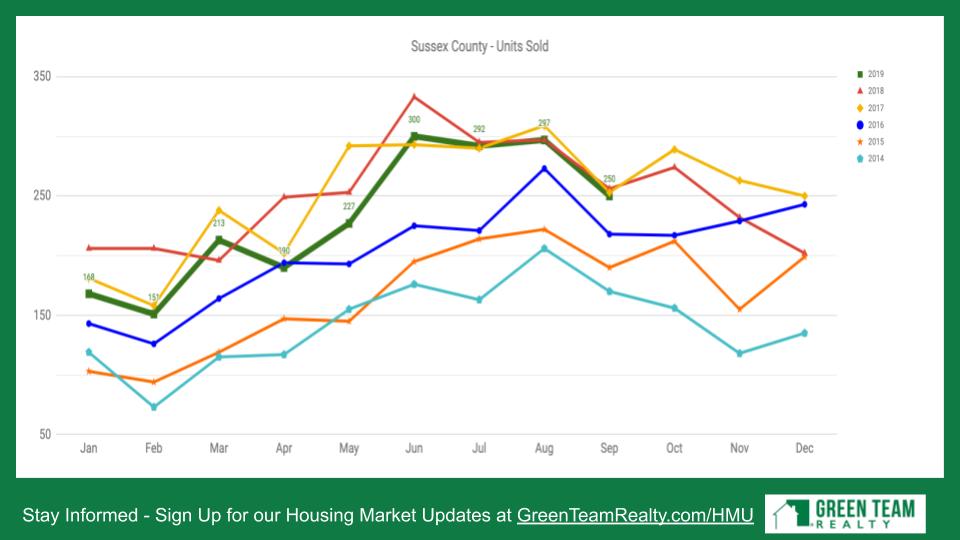 Although the year started out slower in Sussex County, it caught up in the third quarter. The third quarter was strong, which is  important.
Average price is holding pretty strong.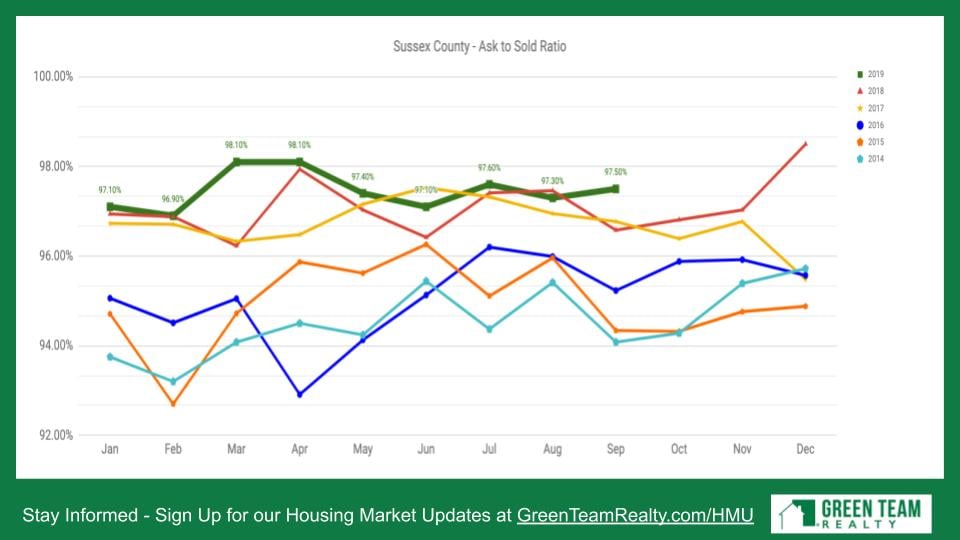 Despite a few dips, Ask to Sold Ratio is remaining at a very high level.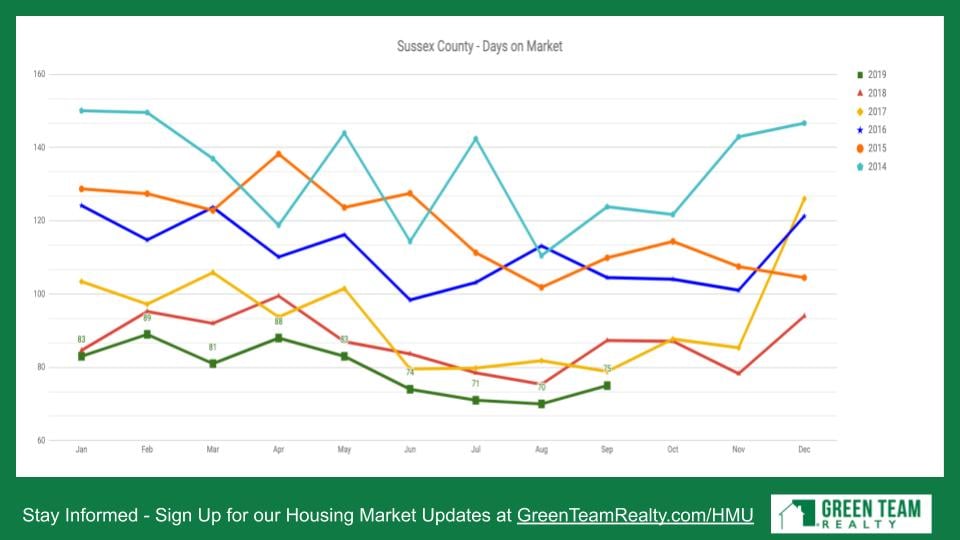 Days on market,  not one month has risen above previous years, showing that the market is still strong.
Life events determine buying a home, not market data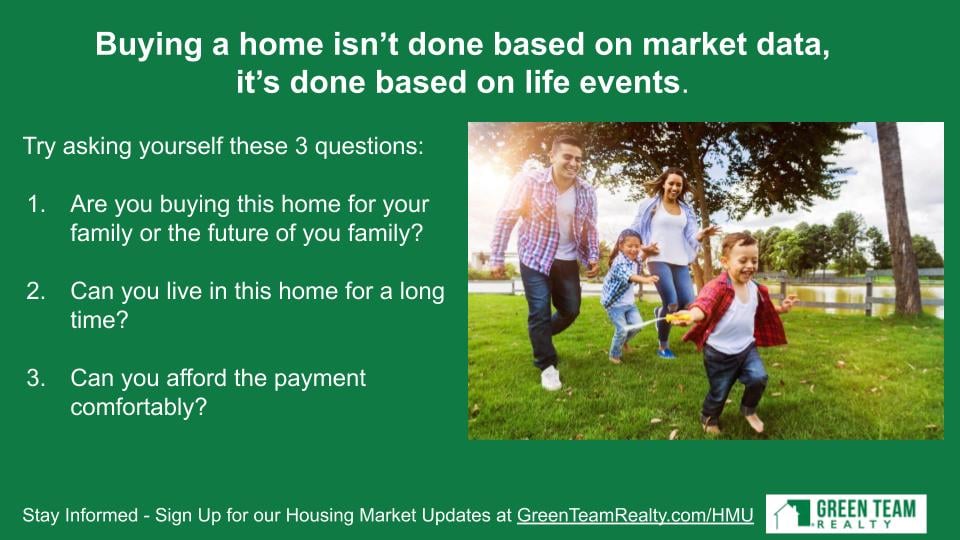 Buying a home is based on our life events and where our lives are going. This is good advice. As realtors we want you to find a good home in the place you want to be. If the above three items are all in check, it doesn't really matter what market you're in. You'll make a good decision and you'll buy a good home.
Housekeeping items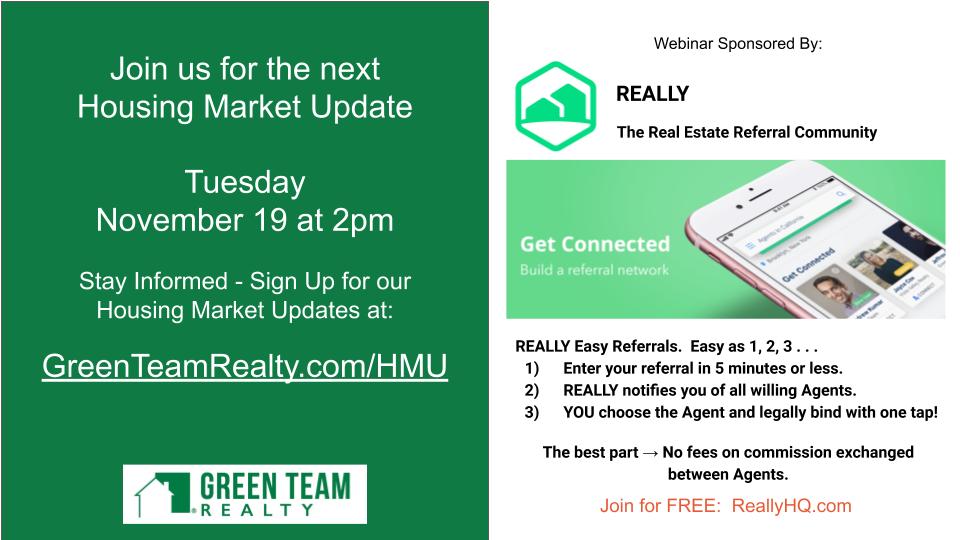 Sign up for Housing Market Updates at GreenTeamRealty.com/HMU. And thank you to our sponsor, REALLY. Join the Real Estate Referral Community for free at REALLYHQ.com.
Meet our Panel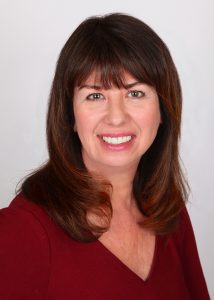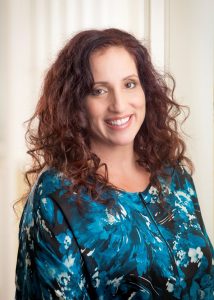 From Left to Right: Toni Kreusch of Green Team New York Realty and Keren Gonen of Green Team New Jersey Realty
The Fear Factor
Geoff started the discussion, asking about the fear factor. Should people be afraid? Should they hesitate? Keren replied that in her experience, people are always afraid of the unknown. That's one of the reasons people are holding back, whether selling or buying. However, what she did with one of her clients who was buying in Highland Lakes, was advise him to review the previous month's housing market update. After taking all the information in, that client put an offer on a property and wound up getting the house he wanted. Before learning more about the market, he had been apprehensive about even buying at that time.
Also, Keren reiterated that interest rates are really low and should be capitalized on. Whether refinancing, buying, downsizing, this is the time to do it. Geoff agreed that rates have been so low it's remarkable. Especially now, at the end of the day, Geoff's advice is that it's all about monthly cash flow. What is it going to cost me each month to live there? And do I have enough income minus my living expenses to be able to pay my mortgage, save for retirement, etc. So, financing really matters.
Toni agrees that people can purchase more house for their money and often pay the same or less if you are currently renting. By owning a home you're building wealth. What better way to save money as you move into your future?
Would a buyer's market not be the ideal time to sell?
It's hard being a broker because there are always two sides to a discussion: there are buyers and there are sellers. One would think if we were in a buyer's market then it would not be the ideal to sell. There would be lots of inventory, you'd be competing against other people, downward pressure on the price of your home, etc., as opposed to a seller's market. Geoff believes it is the right time to sell. If you're someone at or near retirement who has been thinking about getting out it is the right time. Even though we'll be seeing price appreciation for another few years, even if it goes flat or goes down a little, we're not going to see a roaring uptick at any point of time in the very near future. Pricing is probably as good as it's going to get. He asked if Keren and Toni agreed.
Keren agreed. And Toni said we're experiencing a special time right now, with low-interest rates and low inventory. It's a great time to buy and sell. From a seller's perspective, Geoff would advise sellers to put their home on the market now.
Is the Holiday Season not the ideal time to sell?
With Thanksgiving, Christmas, and Hanuka coming, these are low transaction months. Many people put aside their buying regimen during the holidays. Less people are identifying homes in November, December, January. However, one phenomenon Geoff has seen was the buyer who needed to buy a home in December. There wasn't a lot of inventory and they paid too much for a house because they had to buy. A few months later lots of inventory rolled out and prices were lower. As we head into the holiday season, there are still buyers out there who haven't found what they wanted yet. They don't care if it's December. They'll still want to look and will buy the right house..
More than most any year that he's seen since being in the business, Geoff recommends if you are a seller thinking about selling, if your home is ready, put it on the market. Don't wait until Spring. It's very busy now. Right now is a very good time. Toni said they still have people calling in and coming into the office who appear to be serious buyers, not just lookers. Keren stated that November has always been her biggest month. People looking in the winter are serious. You'll probably get less traffic, but the showings are going to be more serious. If it's priced right, there is enough intensity in the market to get transactions.
This is the time to buy – and the time to sell
Geoff predicted that if someone is going to buy a home and is planning on living there at least a 7-10 year period, they're fine. Even if the market goes down during that time, it's going to come back up and re-appreciate. The last downturn lasted a really long time. Looking at it on a hyper-local level, it lasted 8 years regarding pricing. It dropped precipitously in 2008 and did not restabilize until 2016. Eight years of price declines is rare in terms of the history of the housing market. He just does not see that happening this time around. While the market may continue to soften for some time, he doesn't think it will drop that low. And he believes it will come up relatively soft, compared to the rapid rise the last time. This follows the principles of physics. For every action, there is an equal and opposite reaction. The markets tend to do the same thing.
Geoff asked Toni and Keren if they agreed with the premise: if a buyer is going to live in a home 7-10 years, they should be just fine in terms of outliving any market turbulence. Keren did agree, and also reiterated that now is the time to sell. If you're looking to downsize and you're on the fence, this is it. We have good qualified buyers and low-interest rates but don't know how long this will last. Like Toni mentioned, sometimes you can purchase with a mortgage less than a rental. That's important to mention again because it is the time to buy and sell.
Suitable Housing clause
Geoff mentioned that you can structure your listing to make it subject to finding suitable housing. For example, if a retiree worried about finding housing after selling their home a suitable housing clause could be utilized.  However, you do have to give buyers reasonable terms on that clause. It is an option to discuss with your Green Team sales associate if this is a concern.
Selling in a bad market
Geoff recounted that a majority of his listings were during a really bad market. Listings would languish and go on and on, very different than the market we've been seeing the last 3-5 years here. To those buyers or sellers going through the transaction process, Geoff offers some advice. Sellers may have a home listed and haven't had any showings, or maybe many showings but no offers, or offers that fell through. Sometimes the reason that sellers are in that place is because the property is priced too high. A lot of people are not willing to admit it, but it is a fact. To those in that situation, what is going to matter most to you when closing is done is not the bottom line on the closing statement. It's going to be that it's over and done and you can move on with your life. Far too many people are trying to get an extra $5,000 or $10,000 while they're spending $1,000 a month on taxes, interest payments, utility costs, maintenance. That all adds up quickly. They're also not factoring their own well being, factoring in the stress that comes with the whole process. If you're a seller and you're thinking of selling, go for it!
Keren's thoughts
Keren agreed. She stated that sometimes sellers have it in the back of their mind that they are going to get "X" amount of dollars for their listing and they end up being listed for 6, 7, 8 months. As an agent, Keren believes it's imperative to make clear that we have several different options. If you are looking to sell quickly, this is where we need to be. This is your market value because as realtors, this is what we do day in and day out. For some sellers the home has sentimental value and they are also concerned about the bottom line. There's a thin line to walk when discussing price.
Toni's thoughts
Toni said that working with motivated sellers is helpful. So is aggressive marketing, which is done by your agent. And, if your home is not selling, you should certainly consider a price reduction.
Final thoughts
Geoff hoped that this discussion helps people in this position, who may be agonizing over whether to drop their price. Remember, if the house is priced right, you're going to get a good offer with reasonable terms. Buyers are looking to move on, too. They need a house, need a place for their family.
Reminder: The next Housing Market Update will take place life on Facebook Tuesday, November 19, 2019 at 2 p.m.
To reach our panelists if you'd like to buy or sell a property or learn more about the housing market
Keren Gonen – 551-262-4062
Toni Kreusch – 845-283-2450