2nd Annual Light Up the Holidays Contest
The Green Team's 2nd Annual Light Up the Holidays Contest and the generosity of our communities made the holidays  brighter for two local charities.   This year, Green Team's Warwick office selected Warwick Playground Dreams as its designated charity.  And Green Team New Jersey Realty in Vernon raised funds for the Vernon Township Senior Center.  Agents from each office hit the streets, the phones and their email, contacting local professionals and businesses and asking them to become part of this community effort.     Becoming either a Gold, Silver or Bronze Sponsor,  donations were made out directly to the charity, in amounts corresponding to the level of sponsorship.   The 2017 sponsors have a permanent place on our website and you can view them here.
This year the Green Team changed things up a bit.   Instead of one, there were now three ways to participate.  You could enter your home or business yourself.  Or you could enter a business or someone else's  home.  And this time.  the Green Team "elves"  drove around to take in the holiday decorations and also to take photos of homes they felt expressed the warmth and light of the season!  In each county, there were 1st, 2nd and third place winners, decided upon by committee votes.   Each winner received a framed certificate featuring a photo of their decorated home or business.
Presentation to Warwick Playground Dreams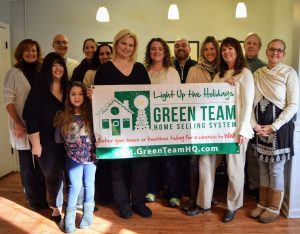 On January 10, members of the Green Team Home Selling System in Warwick were excited to present representatives of Warwick Playground Dreams with donations totaling $3,650.  This non-profit organization is dedicated to making sure that children of all abilities have access to playground components that will allow them to play together in a safe, inclusive environment. The playground, located in Stanley Deming Park, will encourage the free play and creativity necessary for both physical and cognitive development.  A true labor of love, the playground will be community built in the Spring or Fall of 2018.   To donate or volunteer, visit the organization's website.
Appearing in this photo, from left to right, are:  Donna Roberts, Adrienne Lepre, Geoff Green, Megan Cardenas, Keren Gonen, Jen DiCostanzo, Hannelore Chambers, Steven Lichtenberg, Kerri Fenton Foley, Toni Kreusch, Alan Norberg, Kim Lesley and, in front, Gianna Lepre.
The Orange County Winners, from 1st to 3rd place…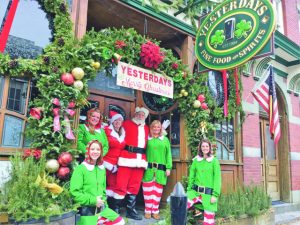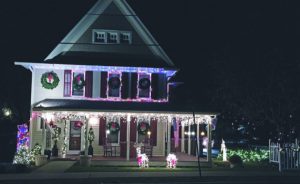 Presentation to the Vernon Township Senior Center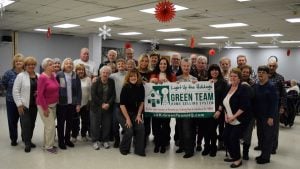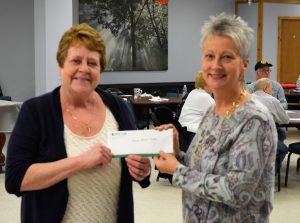 What better time to present donations to the Senior Center than at their annual holiday party!  There was a full house and joyous atmosphere as the seniors celebrated the holidays … and the donations totaling $2,750.  The money raised will help provide the seniors with new activities, craft supplies and other enhancements to the Center's programs.  Jane Damstra, Director of the Senior Center (pictured on the left, being presented with donation checks by Green Team New Jersey Realty's Barbara Tesa), has wonderful plans!  If you'd like to donate or volunteer at the Senior Center, click here for more information.
The Sussex County Winners, from 1st to 3rd place…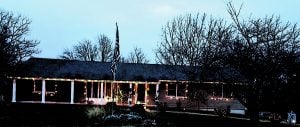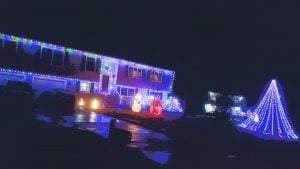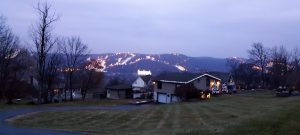 The true joy is in the giving…
And perhaps that is the most wonderful thing about this event.  Whether sharing your beautiful corner of the world, decked out in lights to celebrate the season… Or helping to raise money for a worthy cause,  or donating to that cause.  Or perhaps volunteering your time and expertise, maybe by helping to build a playground or teaching tech tricks to a group of seniors…  This is the true meaning of Lighting Up the Holidays!