Green Team Realty's June 2020 Housing Market Update addresses the economic impact of COVID-19 on the real estate market. However, we know that many individuals, families, and businesses have been personally impacted by the pandemic. To all those diagnosed with COVID-19, or who have loved ones with the virus, we wish you a fast, full recovery. To all who have lost someone to COVID-19, our thoughts and prayers are with you. And, while there are a lot of positives to report this month, we realize that many are suffering financial hardships, stress, and anxiety. These are very difficult times, but to quote Geoff Green,
Together we will persevere!
Geoff Green, President of Green Team Realty, welcomed everyone to the June 2020 Housing Market Update. The webinar was held on Tuesday, June 16 at 2 p.m. Geoff shares both national and local stats. Furthermore, he checks in with those who have "boots on the ground." Sales Associates from Green Team New York Realty and Green Team New Jersey Realty share what's happening in their respective states and communities. There are different regulations for the real estate industry in New York and New Jersey. Thus, there are differing impacts on what is happening in each state. In addition, our guest panelist shares information on the current mortgage market.
If you missed the webinar or would like to view it again, it's available here:
Meet the "Power Panel"
The June 2020 Housing Market Update panel shared their observations, experiences, and expertise in this Covid-19 market. Keren Gonen and Pam Zachowski with Green Team New Jersey Realty talked about Vernon and the Sussex County NJ market. Carol Buchanan, with Green Team New York Realty, discussed Warwick and the Orange County NY market. Laura Moritz, Director of Sales, Northeast Region at Classic Mortgage LLC shared her experiences with financing and refinancing in a Covid-19 market. Watch the above video to hear what the experts had to say.
Let's start with the jobs market and overall economy
To see where we were last month, click here for the May 2020 Housing Market Update.
According to CNBC,
The May gain was by far the biggest one-month jobs surge in US history since 1939.
Over 75% of job losses were temporary layoffs or furloughs. The Federal Reserve Bank's May report indicated there were news reports of large-scale hiring at companies like Amazon, Walmart, CVS Healthcare, Domino's Pizza, etc., due to increased demand.
The Wall Street Journal reported:
Employers added 2.5 million jobs, blowing Wall Street expectations out of the water. Economists had forecast a loss of 8.3 million jobs.
And on to the housing market
According to Ivy Zelman, CEO of Zelman & Associates,
Housing will fare better than expected during this severe downturn.
Home prices are expected to continue to appreciate through 2022, according to several respected industry experts.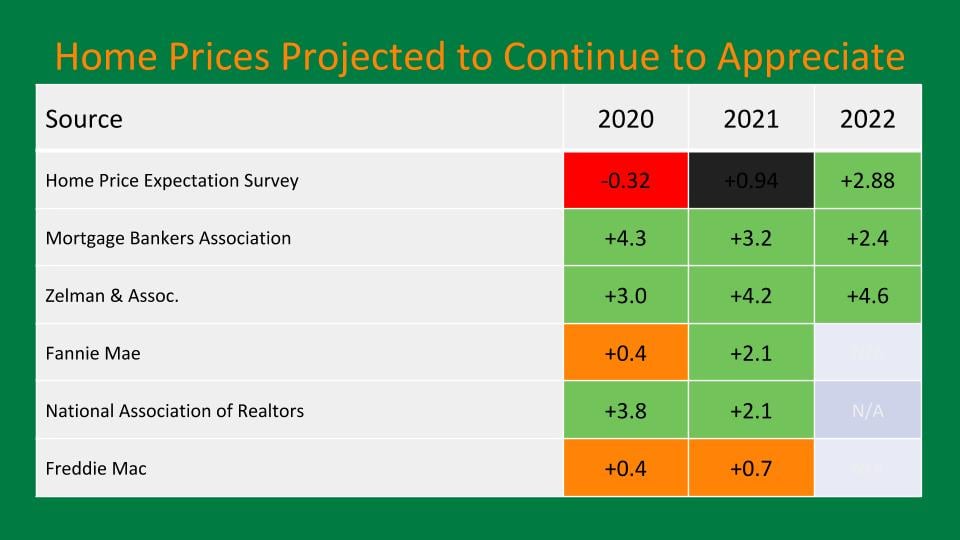 Mortgage Demand
According to Diana Olick of CNBC,
Mortgage demand from home buyers shows unexpectedy strong and quick recovery… The quick recovery has surprised most forecasters.
Pending sales and new listings are up from the previous month, according to Zillow's June report. People are becoming more confident in putting their homes on the market than they were in the early days of the pandemic. Foot traffic was practically non-existent.
The percentage of distressed property sales is at a very low number.  The projection is that it will continue to decrease, from 4% to 3%. What lead the last downturn in 2008 was that there were so many distressed properties. Another interesting fact is that most American's choose real estate as the best long-term investment, over stocks, savings accounts, and gold. This is another sign that confidence in real estate is high.
Mortgage rates
Freddie Mac's projections through 2021 indicate that rates will remain low. The availability of money drives pricing. Despite all the turbulence we've been experiencing, things are looking good in the real estate market.
National and Local Stats on Units Sold & Average Sales Price
On the national level, there was a big drop off in units sold in April, compared to the last four years. (National stats lag 30 days behind. We'll have May stats in the July Housing Market Update). Geoff fully expects the numbers to rise in June, July, and August, perhaps even surpassing previous years' numbers. Home prices continue to increase, despite the decrease in traffic, a result of supply and demand. There are simply not enough homes available for sale for all the people who want to buy them. Months of inventory is showing an uptick, though we're still far below having the 6 months of inventory that would indicate a normal market. We are in a seller's market, with lots of bidding wars and lots of homes selling above asking price.
In Orange County, New York, we have a bounce-back on units sold from April to May. The average sales price is staying level, but at a high level compared to previous years. Supply and demand should keep sales price high.  In Sussex County, New Jersey, units sold have been on an upward trend and never really came down. Average price is still up over the past four years.
"Housekeeping" Details: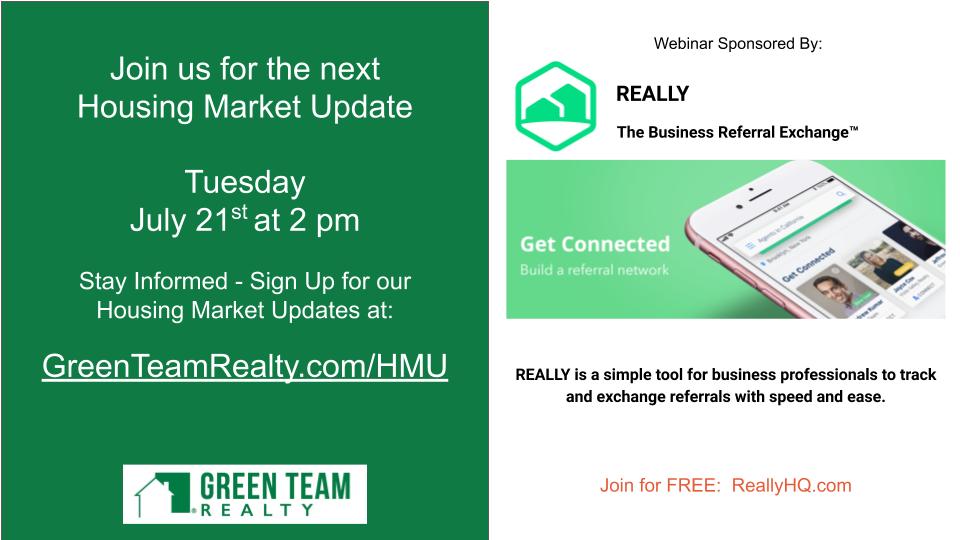 To reach any of the June 2020 Housing Market Update panelists,