July 2019 Housing Market Update
Geoffrey Green, President of Green Team Realty, welcomed viewers to the July 2019 Housing Market Update, held on Tuesday, July 16 at 2 p.m. He started off by presenting the most recent numbers.
National Housing Market Statistics
Pricing – Where are things headed?
Looking at year-over-year change in price, only one state, North Dakota, is at a 0% price appreciation change year-over-year. Pretty much we're seeing gains in price throughout the country. Idaho is leading the charge. The northeast is a little weaker than many other areas of the country.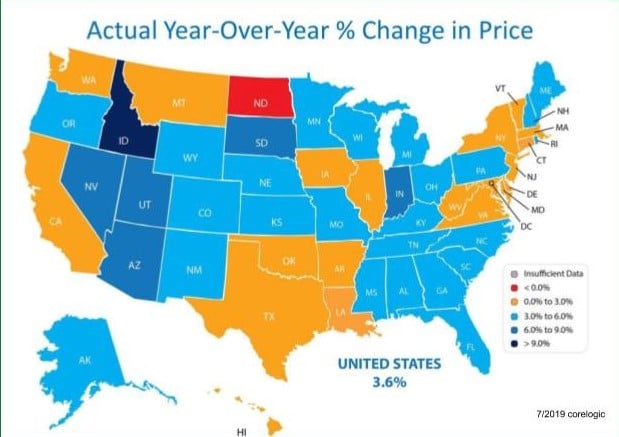 Corelogic is a substantial company that aggregates a lot of data from many sources. They are a player in regards to legitimate statistics in the real estate industry. Essentially they are predicting the year-over-year price change will  round out at about 5.6% which is up from the previous prediction of 3.6%. There is enough economic data to support the higher prediction.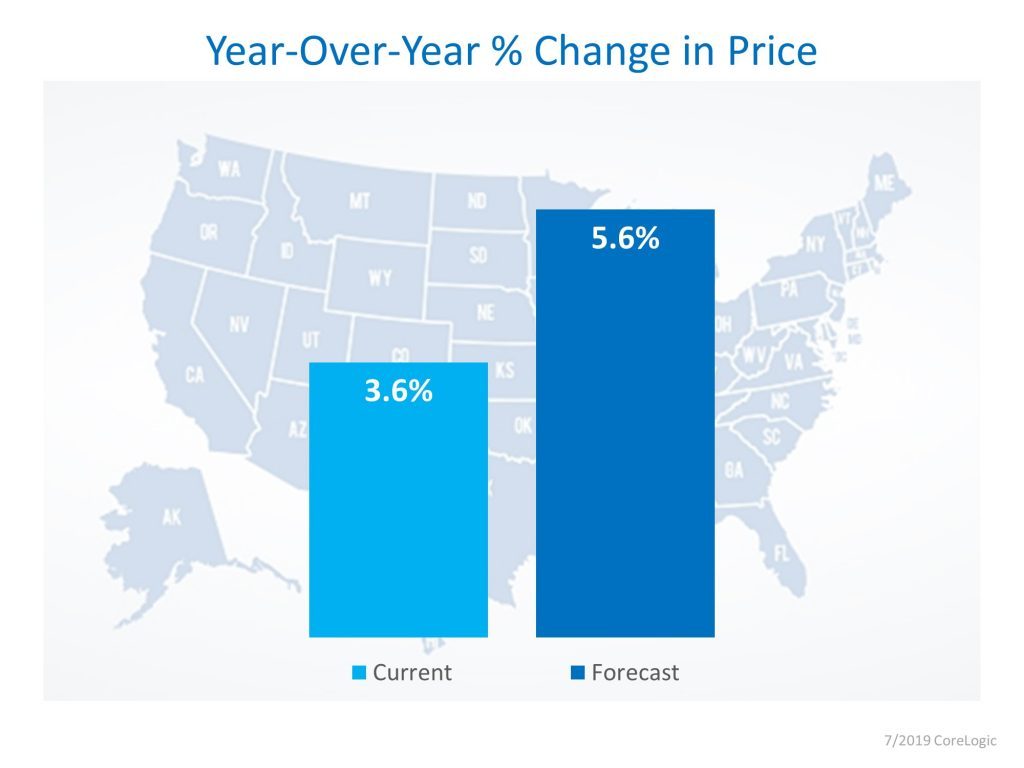 House Appreciation
Over 100 economists, real estate experts and market strategists made predictions on cumulative house appreciation by 2023. The Bulls predicted 27.7%, the Bears 6.7%, while all projections indicated 16.8%. It is significant that even the Bears, the most cautious participants, did see some level of appreciation.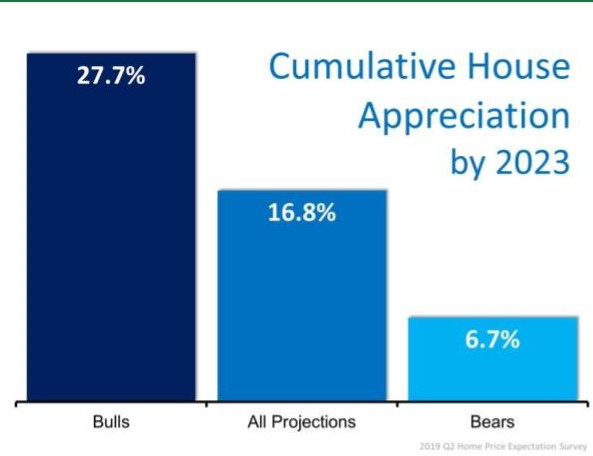 Optimism regarding future price appreciation
The most optimism lies within the middle income of the country.. The higher end is also optimistic. However, people at the lower income level are more pessimistic. The graph show historically how optimistic people in these income levels were, compared to where they are now. People in the upper third income group are a little less optimistic than they have been historically. Higher end sales seem to be dragging; there is a lot of inventory available.  Perhaps there is a correlation there.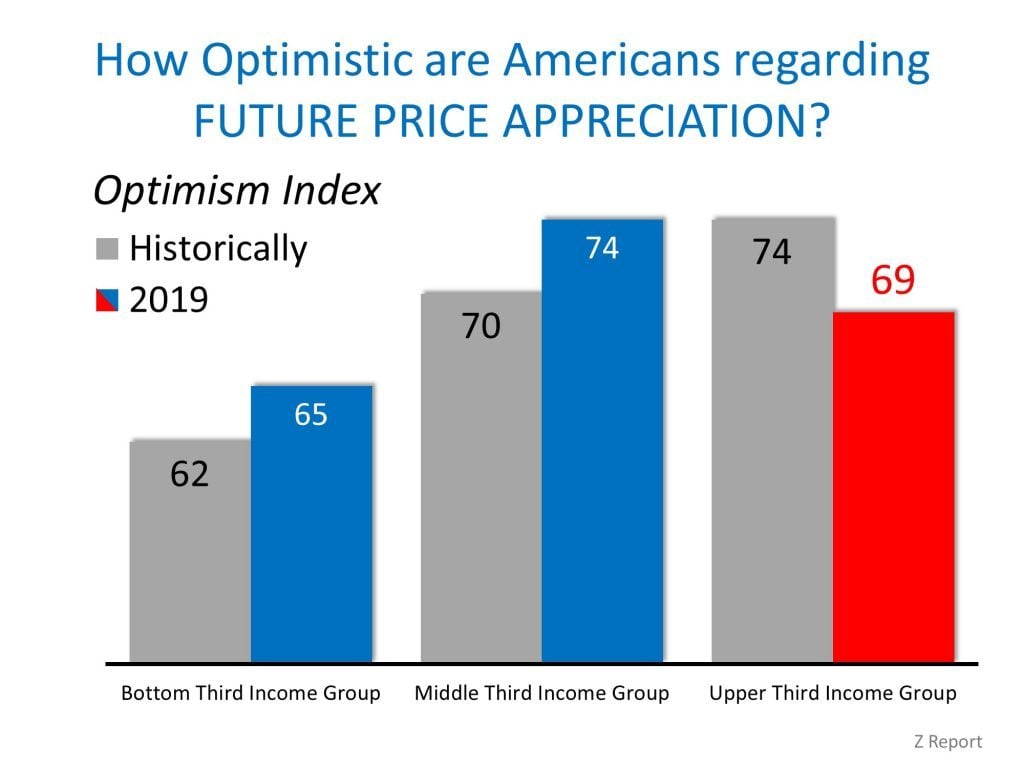 Seller Traffic
Traffic is up since February, and things are busy. The panelists will speak to this later.
February 2019                                                            June 2019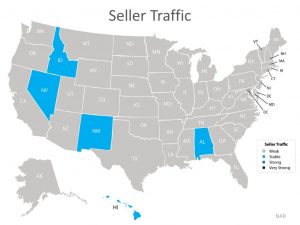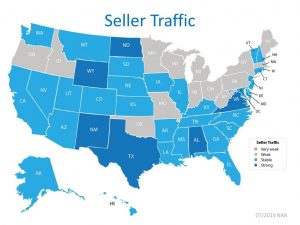 30 Year Fixed-Rate Mortgage Rates
30-year fixed-rate mortgages are at their lowest rate for 3 years, which is important. Mortgage rates have plummeted this year, leading many to anticipate the market will continue to increase as money becomes cheaper. The lower rates make it more affordable to own a home.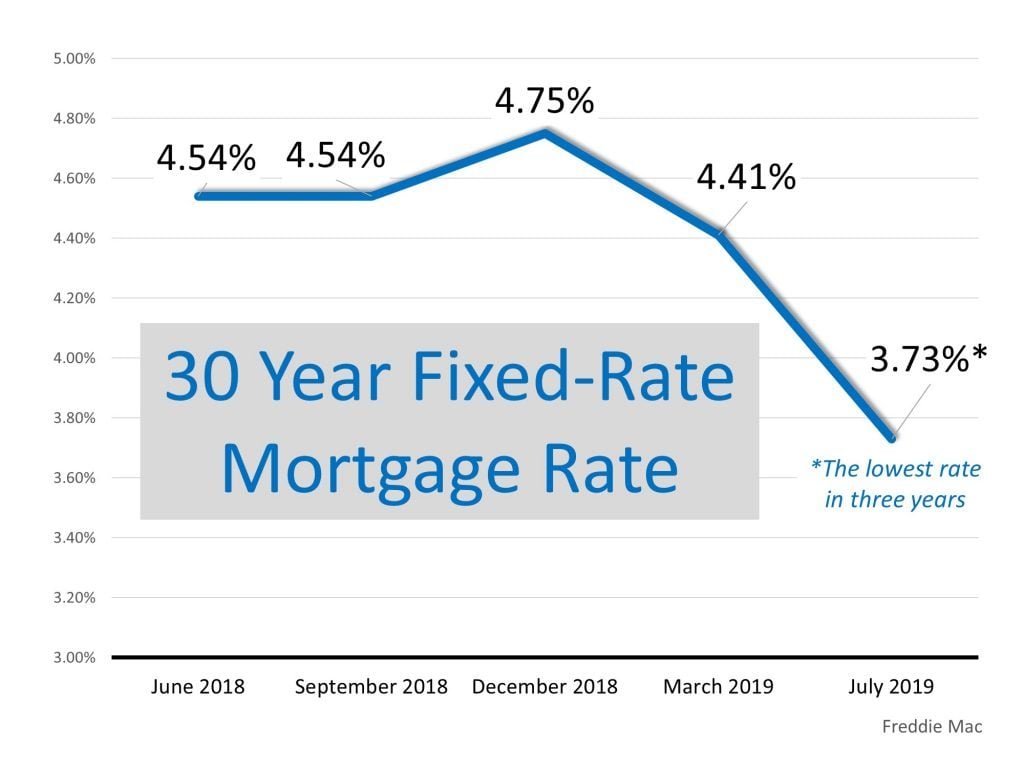 Quotes that tell us the second half of 2019 is on a path to be extremely strong
Danielle Hale, Realtor.com's Chief Economist
"Lower mortgage rates, higher wages, and more homes for sale have helped counteract rising home prices, and ultimately, made it so that buyers are able to afford more than last year."
Ralph McLaughlin, Deputy Chief Economist at CoreLogic
"With mortgage rates flat and inventory picking up, we expect more buyers to take advantage of easing housing market headwinds."
Sam Khater, Chief Economist at Freddie Mac
"The drop in mortgage rates over the last two months is already being felt in the housing market. In the near term, we expect the housing market to continue to improve from both a sales and price perspective."
Ivy Zelman and the "Z" Report
"Key metrics tracking existing home sales demand have been on an upward trajectory so far in 2019. This portends positively for our forecast for existing home closings to increase by 1% in 2019, despite a 3% decline though the first five months of the year."
Local Housing Market Statistics
A Quarterly look for the last 5 years of the Combined Counties of Orange, Rochester and Westchester, New York
Units Sold
How many homes are selling is what Geoff calls the "mother's milk" of the industry. With this bigger data sampling, trends can be more telling. There is no question that the market has been going down  The market has been softening when you combine the three counties. In fact, outside of 2015 it is the weakest second quarter we've had in four years.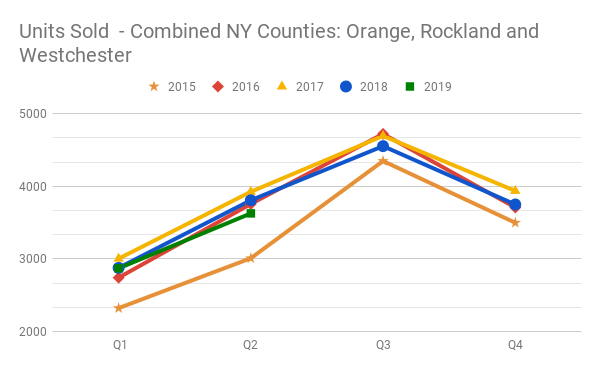 Average Selling Price
Prices are still strong, at or above the last four years per this chart. We should continue to see some appreciation, but Geoff does expect the numbers to get lower, despite predictions to the contrary by some others.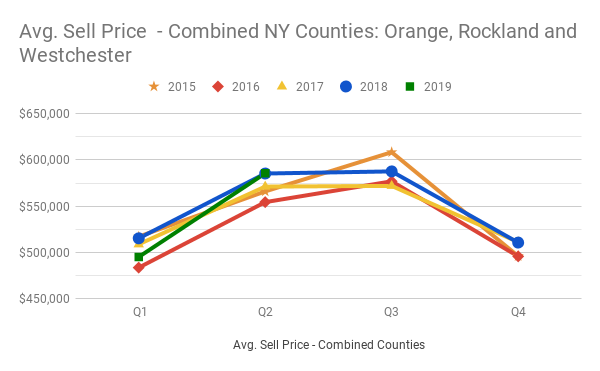 Average List to Sell Price Ratio
Basically this is the last asking price of the home versus what it sold for. The higher the number is to 100%, the hotter the market is. While it's down a little from last year, the percentage is still good. However, it does indicate a softening of the market.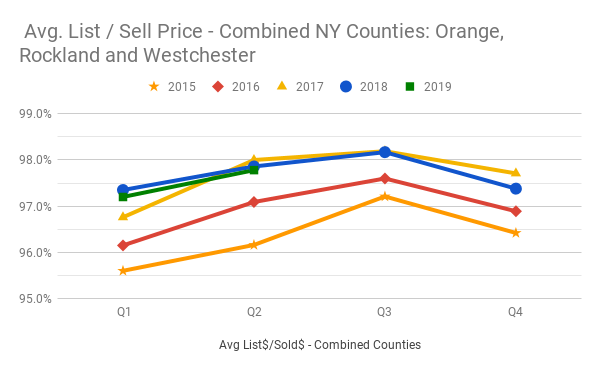 Days on Market
Here, the lower the number, the hotter the market.  Here you can see that this number is softening, too, as it intersects with where it was last year at this time.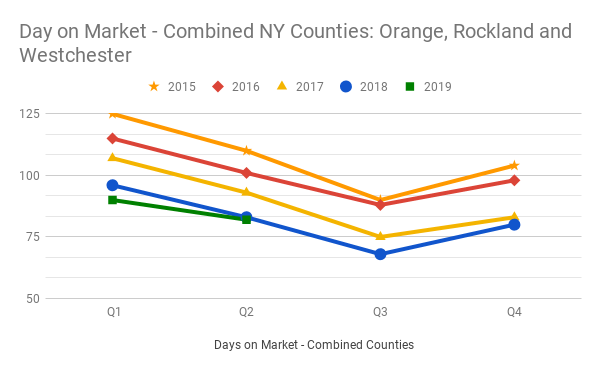 A Quarterly look for the last 5 years of the Combined Counties of Sussex, Morris and Passaic, New Jersey
Units Sold
Things are definitely a little bit slower on the New Jersey side. We're down significantly in the first two quarters of 2019 in these counties. We're only above 2015 and below the last three years. Again, indications of a softening market.
Average Price
Price was up first quarter of 2019, but we're now starting to see prices soften as the average price is near even with 2018 second quarter number.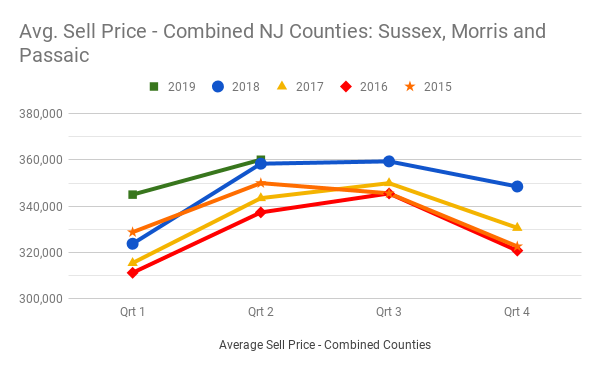 Average List to Sell Price Ratio
This number is going up,  consistent with what is happening in New York.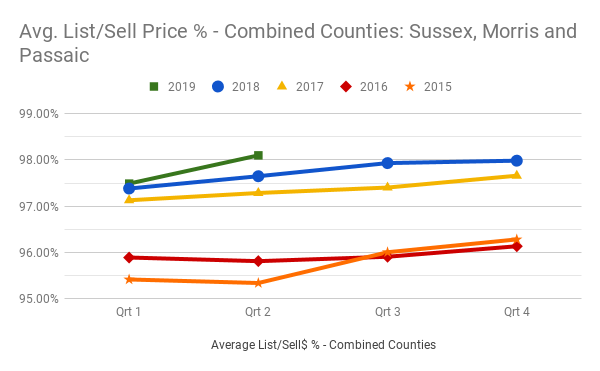 Days on Market
In New Jersey, there is a marked decline in days on market, as opposed to New York, where that number was inching up. This indicates a more competitive market.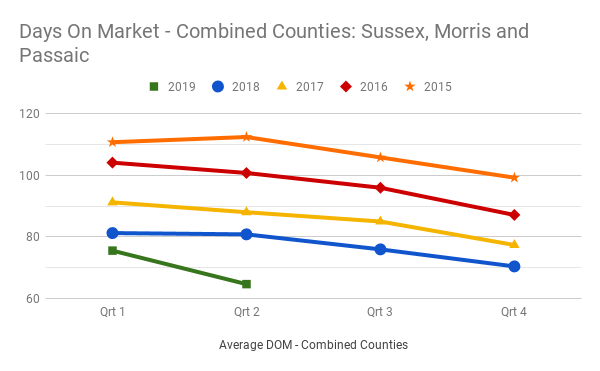 And now a word from our sponsor…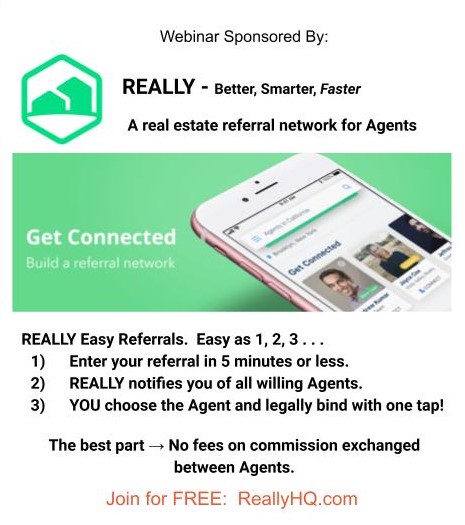 Meet our Panel
Geoffrey Green, Moderator, President, Green Team Realty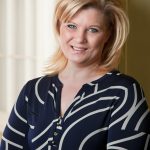 Jennifer DiCostanzo, Green Team New York Realty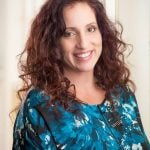 Keren Gonen, Green Team New Jersey Realty
Momentum
Jen feels very good about momentum on the Orange County side. She feels it's a great playing field for both buyers and sellers. Furthermore, having interest rates so low is an incentive for buyers. Some buyers who might have used cash are deciding to finance instead because of the low rates. We are fighting low inventory. But if the house is priced right and is in good condition, it's sold. However, it still is vital to get inventory up.
Keren finds buyers much more educated than in the past. But they are also hesitant. She thinks some of that stems from deciding if this is where they really want to be. If you're ready, have done your homework, then find a house, doubt can set it. Perhaps that it shouldn't be this easy. She's had situations where she's told buyers that this is a hot market and if they're interested they need to put an offer in that same day. Tomorrow the house will be gone. By waiting a week, they lost the house.
High End Market
Geoff asked Jen if she sees a lot of high-end inventory on the Orange County side. Jen replied that she's seeing more of the $500,000/$600,000 in her own inventory and others. There is definitely an increase in the higher end homes. However she sees that market starting to soften. New construction has an impact on pricing of resales. Therefore, the higher-end homes are feeling that hit from the competition. The new property tax implications also impact the larger, high-end homes. She believes that ultimately we'll see more downsizing.
Geoff responded that there could be interesting opportunities to buy high-end homes over the next five years for people who are looking for a weekend home or retreat. Jen has definitely seen an increase in purchases of second homes.
Geoff asked Keren about the situation in New Jersey. Keren feels that the stats on homes that haven't sold more than previous years is more from Passaic and Morris Counties. Keren does business in those counties and in ones further south, but a lot of high-end houses in Bergen are being rented. Keren is also finding buyers looking for a second home in the $400,000-$500,000 range. And while we might consider that high-end, to them it's just a home.
Bidding Wars
Geoff stated, "At the end of the day, we're still there. There are still bidding wars. If something  is priced right, it's in the middle of the market, it's well located, it's gone. There are multiple offers immediately."  Keren thinks that homes that are more affordable in Sussex County have had above priced offers. She still sees a hot sellers market.
Geoff asked Jen if she is seeing the same thing in New York, with intense bidding wars. Jen replied that, again, if the product matches condition and pricing, it's gone. Especially in the median price-points, Especially anything in the $200,000 to mid $400,000's.
Appraisals
Geoff then asked about appraisals, if they are coming in okay, or if they are not valuing. Jen hasn't had an issue with appraisals. She is starting to see some sellers' concessions inching their way back in. Providing a cushion for buyers, that's some equity there that they haven't seen in awhile. That's a good indicator.
Keren also finds that appraisals are coming in okay. She has also seen a lot of sellers' concessions. According to Keren, 90% of offers she puts in on the buyer's do get some concession from the seller.
Having done the Housing Market Updates for some time, Geoff finds that appraisals haven't seemed to be an issue for the past 12-18 months. However, he recalls that it was a problem a few years ago. As the market was really taking off as prices were jumping it was hard for appraisers to justify comps. It seems that that has evened off.
What are banks doing with foreclosures?
Geoff asked Keren about the situation with bank foreclosures, REO's. Whether they were releasing more inventory or hanging on tand renting them. Keren replied that they are flipping them, flips are not done well because work goes to lowest bidder. In the end it's the buyer who gets the short end of the stick. They've bought a renovated home, they're happy, and then she gets the call… This broke and this happened, but there is nothing that Keren can do at that point.
The panel turned the discussion towards the importance of trades people. Plumbers, contractors, etc. The more poorly done renovations there are, the more repairs will be required. Keren did point out that unfortunately there seems to be less people going into these trades. It can be challenging to find labor and materials are expensive.
Wrapping it up
Jen's final words…. "Keep buying!"  According to Geoff, rates are declining, inventory is pretty good. Units sold is trending down, prices are softening. So if you're a buyer, this is an interesting time.  And Jen pointed out that even if someone is not interested in selling at this point, it's a good time to refinance.
To contact the panelists:
Jennifer DiCostanzo – Cell #917-916-9995
Keren Gonen – Cell #551-262-4062
Next Housing Market Update
August 20 at 2 p.m.  Stay informed – sign up for our Housing Market Updates at