The January 2022 Housing Market Update took place on January 18 at 12 p.m. Geoff Green, President of Green Team Realty and Co-founder and CO of NuOp, hosts the monthly market updates. If you missed the live FaceBook and Zoom event, or you'd like to watch the webinar again, it is available below.
It all comes down to inventory – and the lack thereof
Geoff started the discussion with this quote from Bill McBride, Founder, Calculated Risk:
"It is possible that rising mortgage rates will slow the housing market… or the Fed might raise rates sooner than expected due to the recent pickup in inflation… but I believe one thing is certain: inventory will tell the tale!"
Inventory is at an all-time low throughout the U.S., down an average of 27% compared to December of 2020. As the industry survives on turnover, this is not good news. A normal market has 6 months' inventory, while we are currently at less than 2 months.
Buyer demand remains strong
According to Michael Lane, VP & General Manager of ShowingTime,
"Showings traditionally lag during the holiday season, but the data remains strong. The fact that every region showed a year-over-year increase indicates that buyers are undeterred… It speaks to their desire to keep searching for their next home."
Homeowner equity still strong, still surging
According to CoreLogic's Q3 Homeowner Equity Report,
"This summer, home price growth reached the highest level in more than 45 years, pushing equity gains to another record high."
Mortgage rate projections
Mortgage rate projections show rates slowly rising, but still remaining at historic lows. Maiclaire Boltonk-Smith, Senior Leader of Research, CoreLogic, says:
"So overall I do think that 2022 will be another strong year for housing. All be it a little bit higher mortgage rates and we do think home sales will continue to rise and actually  reach a 16 year high in 2022."
Other factors impacting the housing market
The discussion included Gen Z, a massive population in their late 20's, with many looking to buy homes. Some people migrate back to cities following moving to suburbs and rural areas. Geoff predicts that many people who left the City due to the pandemic will be moving back as the commute and home maintenance are more difficult than anticipated.
Nationally, existing homes sales are still strong, as is average home price, though showing signs of deceleration (not decrease) of prices.
Meet the panel
Joining Geoff is Terry Gavan of Green Team New York Realty and Kristi Anderson of Green Team New Jersey Realty. Also joining in is Michael Giannetto of CrossCountry Mortgage, to lend his expertise to the discussion.
A lively discussion ensued regarding what these real estate professionals are seeing on the ground, and their take on Geoff's prediction about homeowners returning to the cities, appraisal valuations, etc..
To watch the webinar, including current stats and the panel discussion, click here: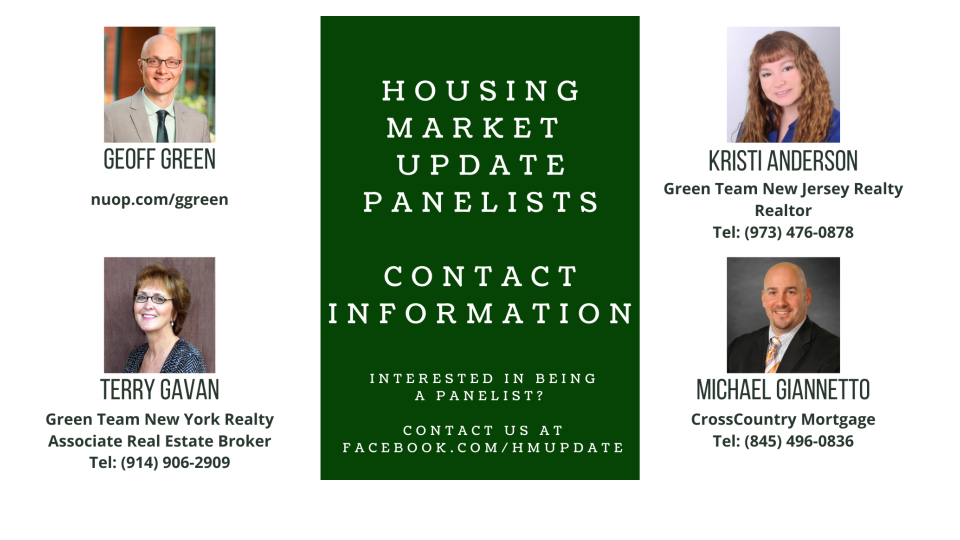 "Housekeeping" Items