Green Team's Launch Competition is all about inspiring sales agents to get back to basics.  It's about enhancing those skills that lead to the exceptional client service that the Green Team is known for. This annual event, with agents competing individually and on teams, is both fun and energizing and sets the stage for success each year.
The CRM is one of the most important tools an agent can use
The Green Team's custom-designed CRM (customer relationship management system) is one of the most important tools an agent can use.  It provides a way to input and keep all needed information in one place.  By keeping track of client information, activities pertaining to transactions and much more, the CRM can be an agent's best friend.  Most of all, it enables agents to refine their client appreciation programs, keep in touch with past, present and future clients, and maintain those relationships.
According to Geoff Green, agents who fully know and use the CRM can provide better service to their clients while getting better control of their businesses and their lives. The Launch Competition offers incentives for agents to really build outstanding client appreciation programs, using CRM as the mechanism.
First Place Winner, Third Place Winner and a Winning Team
For the first time, agents from both offices competed against, well, everyone for the top three places.  And it was a "friendly," albeit tight race, run by some very motivated participants.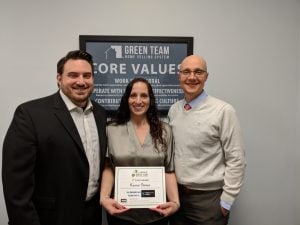 Keren Gonen of the Vernon office started 2018 just as she finished 2017…  on top. With the highest number of points, Keren won first prize in the individual category, and what a prize it is!  Provided by Jeremy Miller of First Home Bank, she received a full conference pass to Inman ConnectNY 2019, along with a three-night hotel stay for the four-day conference.  Keren is the first to admit she is highly competitive and motivated. However, there was another reason for her high score.
Last year Keren participated in Launch, competing only with her Vernon colleagues.  She did well, coming in third place, then stopped using those basic skills she had learned.  And found that stopping was affecting her business!  Consequently, she went back to using the CRM. As a result, she says, "All the information is there!  Instead of sorting through texts and emails, it's easy to keep track of everything, including notes."
Team work…
Furthermore, as captain of one of the Vernon office's two teams, Keren worked with a group of highly motivated agents. She stressed to everyone the importance of using the system, updating their databases, and maintaining them.  When newer agents hadn't yet grasped how to best utilize their CRM, Keren did training sessions with them. Keren's team went on to win the Vernon Office team competition and team members received gift certificates to a local florist.  Congratulations to Keren Gonen,  Heidi Hyland, Joyce Rogers, Cathie Witte, Kimberly Lasalandra, Ted Van Laar, Loida Claudio, Jamie Dalton, Yvette Saldana and Tom Shields. And thanks to Pam Zachowski's team for their participation in the competition.
Heidi does it again…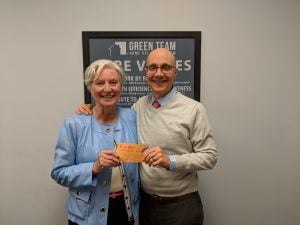 Heidi Hyland was definitely a major asset to her team, but her participation and efforts led to another win, as well.  She scored third in the individual competition and was presented by Geoff with a $100 gift certificate to her favorite restaurant!  Heidi is another highly motivated agent.  Last year she came in second place in the Vernon office's individual competition, and who knows how high she'll place next year!
Second Place … and another winning team!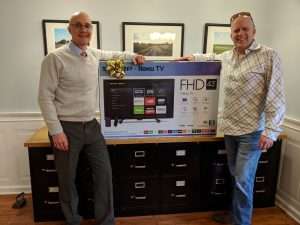 From the look of delight on his face, it's almost as though Dean Diltz of the Warwick office had strategized to come in second so that he could win this great 43" LCD TV.  However, we know that's not really the case.  Right, Dean?  And while he admits to using the CRM intermittently, during Launch his priority was to take stock of how it worked and update his records with the help of CSA Ali Yurchuck.
One of the things that kept Dean motivated during the competition was being fully vested in helping his team.  Angela Murphy led Murphy's Master Minds by being an upbeat motivator.  She kept on top of the team members, organizing social gatherings  so they would bond.  And when agents needed help learning how to input data,  there were CRM training sessions.  As winners of the team competition in Warwick, Murphy's Master Minds received gift certificates to a local car wash.  Congratulations to team members Angela Murphy, Dean Diltz, Terry Gavan, Nancy Sardo, Tom Folino, Toni Kreusch, Pip Klein,  Linda VanDeWeert, Jim Moser, June Cosgrove-Hays, Walter Ross and Jane Reilly.  And thanks to Jacque Kraszewski and her team for their efforts and participation!
The bar is set high for next year
Each year there is an increased commitment to Launch as shown by the numbers.   Winning scores have doubled since last year, and scores indicate that many agents have a better understanding of the CRM.  In addition, prizes offered this year provided an added incentive.  Most of all, no one loses when they participate in the annual Launch.  Each agent finishes the competition with a better understanding of the CRM and the Customer Appreciation Program so they can better serve their clients…  It's a win-win for everyone!