Geoff Green, President of Green Team Realty, welcomed everyone to the February 2021 Housing Market Update. The webinar, held on February 16 at 12 p.m.. examined the housing market on both national and local levels.
If you missed the webinar or would like to view it again, it is available here.
Meet our Panel
Geoff was joined by panelists Keren Gonen, Kristi Anderson, Barbara Tesa, and Pam Zachowski, all of Green Team New Jersey Realty. In addition, Michael Giannetto of Cross Country Mortgage joined the panel, sharing his expertise.
Let's Get National
"Existing home sales totaled 5.64 million in 2020, up from 5.6% from 2019 and the most since before the Great Recession." – NAR

"Home seller profits skyrocketed in 2020. Seller profit on typical sale in 2020: $68,843. Up from $53,700 in 2019 and $48,500 in 2018." – Atom Data
As Geoff has pointed out throughout 2020, sellers were the ones benefitting from that market. The amount of money made by sellers in 2020 was historic. Furthermore, price projections for 2021 signal an average of 5%. Historically, the housing market appreciates by approximately 3.8%.
Low mortgage rates have been driving the sustained market and affordability. The projections are showing that rates will start to climb from 2021 into 2022. However, the increases are not major. Predictions are a gradual increase to 3.2%.
Inventory at a historical low point
"Total housing inventory at the end of December totaled 1.07 million units, down 16.4% from November and down 23% from one year ago (1.39 million). Unsold inventory sits at an all-time low 1.9-month supply at the current sales pace, down from 2.3 months in November and down from the 3.0-month figure recorded in  December 2019. NAR first began tracking the single-family home supply in 1982." – NAR
Working from home
According to this 2020 Panel Consensus Forecast from NAR, there is a shift towards working from home since 2019. While down from 2020, the forecasts for 2021 and 2022 are at least twice as much as 2019. Geoff sees a restructuring of business models as employees and businesses see benefits of working from home.
What else are we talking about?
We're talking about the price of lumber and new home sales activity. Also, exiting forbearance plans, housing affordability, and equity benefit of price appreciation
All of these topics are discussed in the February 2021 Housing Market Update.
Housing Market stats on national and local levels
Existing home sales and prices were up, with inventory way down, making for a true supply and demand marketplace.
"Housekeeping" Items
 
Hear from our Panelists
Finally, the realtors, all from Green Team New Jersey Realty this month, and Michael Giannetto of Cross Country Mortgage, discussed what they are seeing "on the ground."
Again, if you missed the webinar, you can watch it now to hear the panel discussion. Just click here. And below is the contact information for this month's panelists.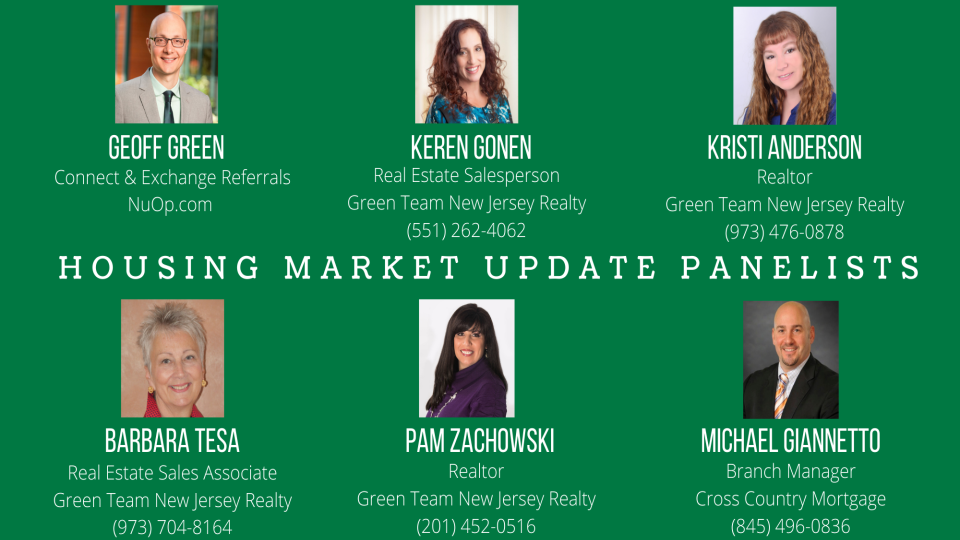 We'll see you on Tuesday, March 15 at 12 p.m.