The Green Team's December 2018 Housing Market Update was held on Facebook  Live Tuesday, December 11 at 2 p.m.  If you were unable to view the webinar live, you can watch it at your convenience here.  You can also sign up for future updates at GreenTeamHQ.com/hmu.
This month's panelists…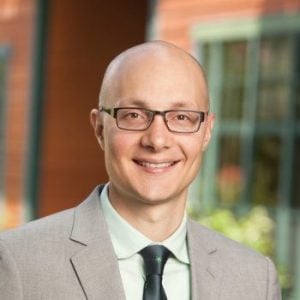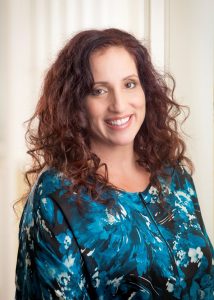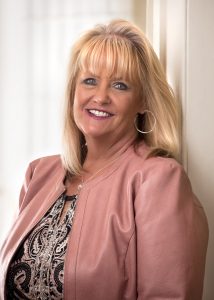 Geoffrey Green is the President/Broker of Green Team Home Selling System.  In addition to moderating the monthly webinars, Geoff also presents national statistics as well as local updates for Orange County, NY and Sussex County, NJ.   This month he is joined by regular panelist Keren Goren, and by Joyce Rogers, both from Green Team New Jersey Realty.
The National Outlook
Will home prices continue to appreciate through 2019?
Overall sentiment is that the housing market seems to be cooling off, so now  we're at the prediction stage, trying to foresee what will happen next.  Per the graphic, 99% of the 105 economists, market analysts and real estate experts consulted felt that home prices will continue to appreciate through 2019.  However, that does not mean that the market won't continue to slow; it means that the rate of appreciation will continue on a positive note. Most agree that it will continue to appreciate at a lesser value in the coming year.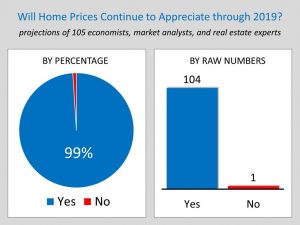 Will there be a sharp turn in the housing market?
Geoff Green finds this quote to be of great importance. Nobel Price Winner Robert Shiller is one of the thought leaders of real estate analytics. Compared to where we were in 2008, where almost 50% of transactions just went away within a two year period of time,  and where we are now, Shiller doesn't expect a sharp turn.  This point of view coincides with Geoff's observation's over the last several months.
Looking forward – Predictions of the experts on home appreciation growth over the next 3-5 years
This chart has been updated from November to include predictions of where things are headed in the future.  Some of the larger organizations that provide information to the industry are showing a slow turn to the downside.  And, important to note, there are no numbers indicating a reduction in price.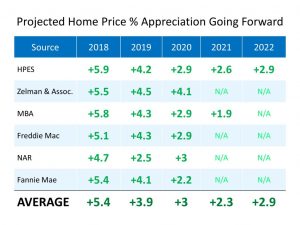 Corelogic's State by State forecasted changes in price
Price appreciation most often happens in the south and on the coast, where many people tend to move as they get older.  No projections are in the red for any state.   Historically speaking, most of the country is looking at a very substantial increase in terms of price.  The numbers are solid, and if this trend continues through 2019, it will be a very good year.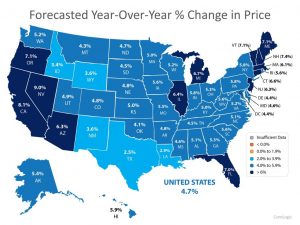 December 2018 Housing Market Update – Orange County
Units Sold
The red line representing 2018 shows there is not too much of a variance between this year and last year.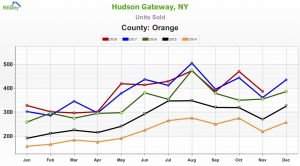 Average Price
Prices spiked during the summer and have been simmering down, coming a little closer to 2017's numbers.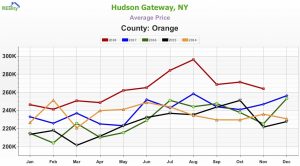 Average Sold to Asked Ratio
This number shows the price the home sold for versus the last asking price.   The higher the number, the hotter the market.  This is a mixed bag result from 2018 over 2017.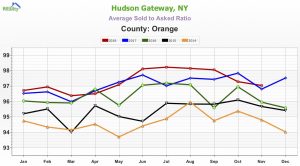 December 2018 Housing Market Update – Sussex County
Units Sold
There has been a bit of a softer market in Sussex County.  While 2017 appears to have been a more productive year than 2018, these two years are still showing solid numbers.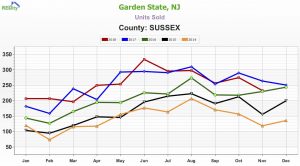 Average Price
Prices never made the comeback seen in Orange County.  However, prices did appreciate and held their own.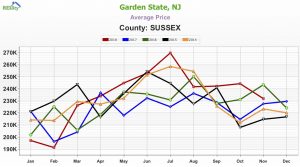 Average Sold to Asked Ratio
Again, a mixed bag, but historically good numbers, ranging from 97 and 97-1/2%, meaning that homeowners are only negotiating 2-1/2% off their last asking price.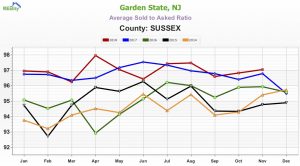 Panel Discussion
Geoff asked Keren her opinion of what we can expect in the new year.  Keren believes the new year will be very promising.  So far number are better.  As far as number of units sold in Sussex County in 2017, the banks were releasing many more REO's, so there was a lot more inventory.  Then they started holding on to them, often fixing them up, not always to the highest standards, and releasing them at full market price. Not everyone wants to purchase that type of REO, which may account for some of the difference between the 2017 and 2018 numbers.  As far as 2019, Keren feels the future is bright. Judging by what she has coming up, she feels we're in a very good place.
Geoff next asked Joyce for her take on 2019.  Joyce feels that inventory in Sussex County is very limited.  The foreclosures are not out there as before. Buyers looking to buy a foreclosure want a bargain, and they're not getting one now. Joyce is also now working the Jersey Shore market, and Geoff asked if she's finding the same conditions there. From Joyce's observations there is much more inventory, not as many foreclosures, the condition of properties is much better and prices are higher.
More questions for the panelists…
Geoff brought up an article he recently read,  about flippers cooling off, signaling to the marketplace that they're holding off as their returns have not been too good.  As Keren has pointed out, people turning properties in Sussex just can't get hold of the properties at the price point needed to do a good, profitable flip, as the banks are trying to do it themselves.
As interest rates have been rising, Geoff asked Keren and Joyce if this has impacted the buyers they're working with.  Joyce replied that her buyers have been happy with their interest rates.  While rates have gone up quickly, her buyers still are hungry to make deals.  Keren agreed.  Some buyers are afraid that the interest rates will continue to rise, so they are more anxious to close quickly.  They're not pushing as hard in negotiations for repairs and other items as they might have done in the past.  Geoff continues to stress that the rates are still historically low.  He feels the affordability factor may not be as drastic as some say.
Regarding sellers, Keren has found many who are hanging on, not sure if they want to sell now or wait to see what happens with the market.  She feels the market will start to get busy earlier in 2019.  Are sellers still able to hold out for their price, or do they need to start being more cautious?  This depends on personal circumstances and need.
Geoff then opened discussion on pricing homes.  All agreed that it never pays to overprice your home.  You can ask whatever you want, but it has to be within the market.  When properties don't sell, buyers question why.  Statistics show that the longer your home stays on the market, the less you'll make.  It just makes sense to price the home right.
Join us for the next Market Update
On Tuesday, January 15 at 2 p.m. the Green Team will again be going live with the market update.  With all the numbers in for 2018, we'll have a wrap up of how the year went, and where we're going.   Sign up for updates at GreenTeamHQ .com/HMU.