[et_pb_section fb_built="1″ _builder_version="3.0.47″][et_pb_row _builder_version="3.0.48″ background_size="initial" background_position="top_left" background_repeat="repeat"][et_pb_column type="4_4″ _builder_version="3.0.47″ parallax="off" parallax_method="on"][et_pb_text _builder_version="3.0.74″ background_size="initial" background_position="top_left" background_repeat="repeat"]Geoff Green, President of Green Team Realty, welcomed everyone to the December 2019 Housing Market Update held on Tuesday, December 17 at 2 p.m. He began the webinar with an overview of National Stats.
National Stats
Good News, Economically…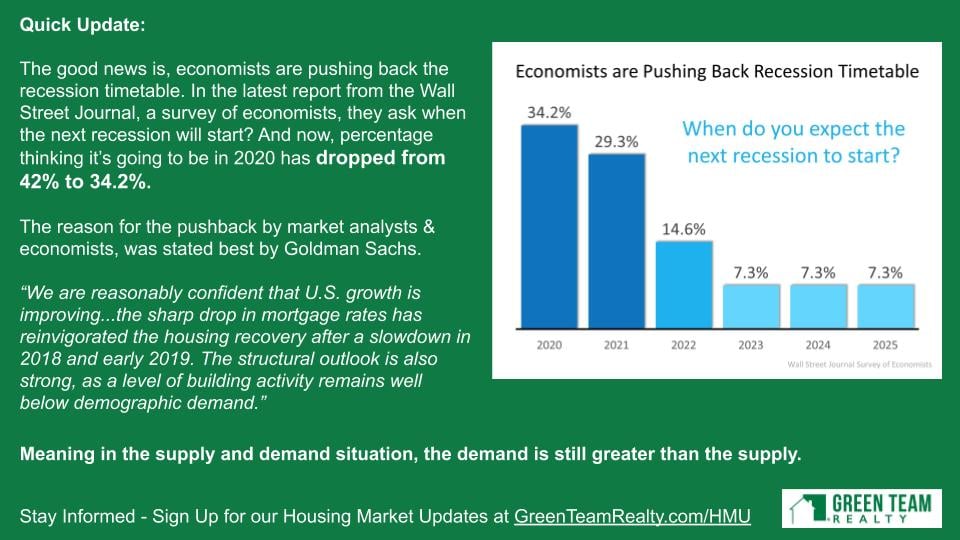 Good news on all economic standpoints, not just real estate!  Economists seem to be pushing back the recession timetable. It doesn't look as though many people think a recession will be happening in 2020. A few people think we might even see another five years before we have another recession. It may be that the answer lies somewhere in between.
Increased Purchasing Power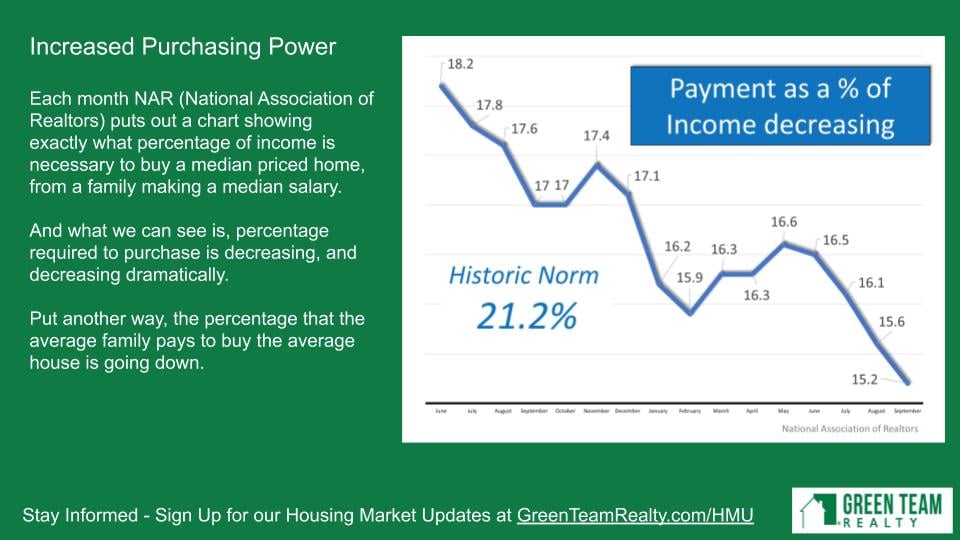 At the end of the day it comes down to monthly cash flow for people. It is almost irrelevant what the price of a house is. It's much more relevant what it costs on a monthly basis to live in a house.
While prices have increased, mortgage rates have gone down substantially over the last couple of years, making the ability for people to purchase that much greater.
In 2019 there has been a decline in the payment as a percentage of income, meaning that mortgage payment has gone down in relation to income coming in. Another consideration is wage increases. People are making more money over the last few years due to a strong economy. This has led to a sustained positive housing environment. It is now easier and easier for people to buy homes.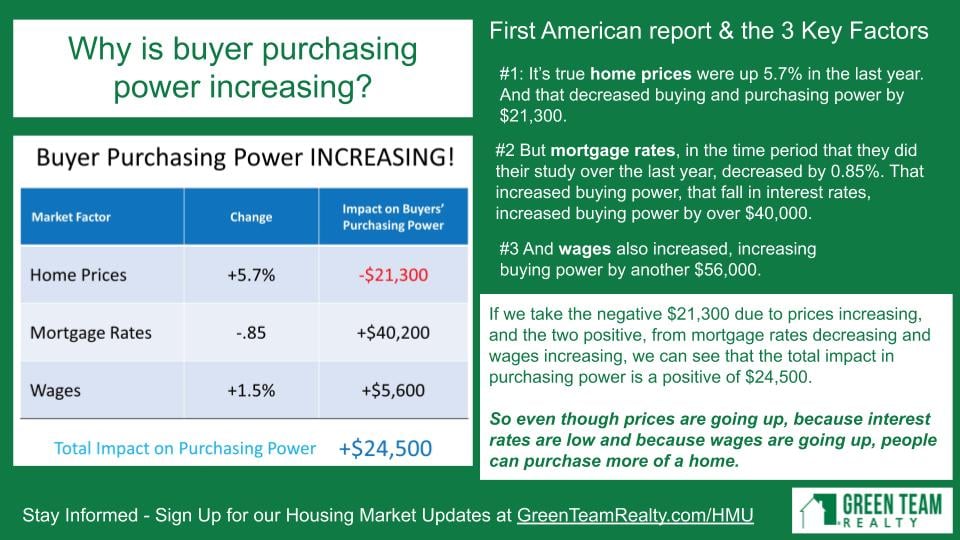 Americans are choosing real estate as safest investment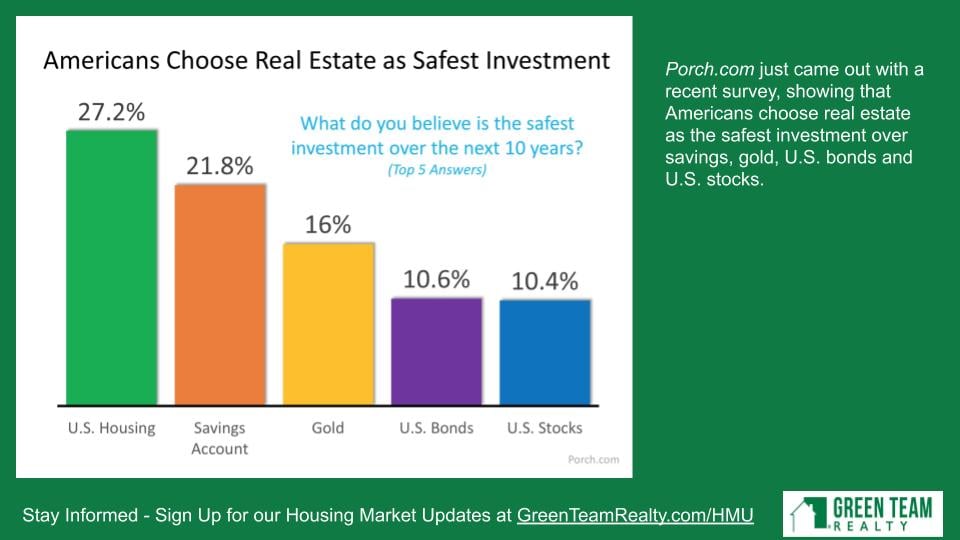 What are Americans thinking about home ownership? People perceive home ownership in a positive light with many benefits. Not just financially, but also in terms of family, stability, community, etc. People are thinking it's even safer to invest in a home than in a savings account.
Rental rates are out of control!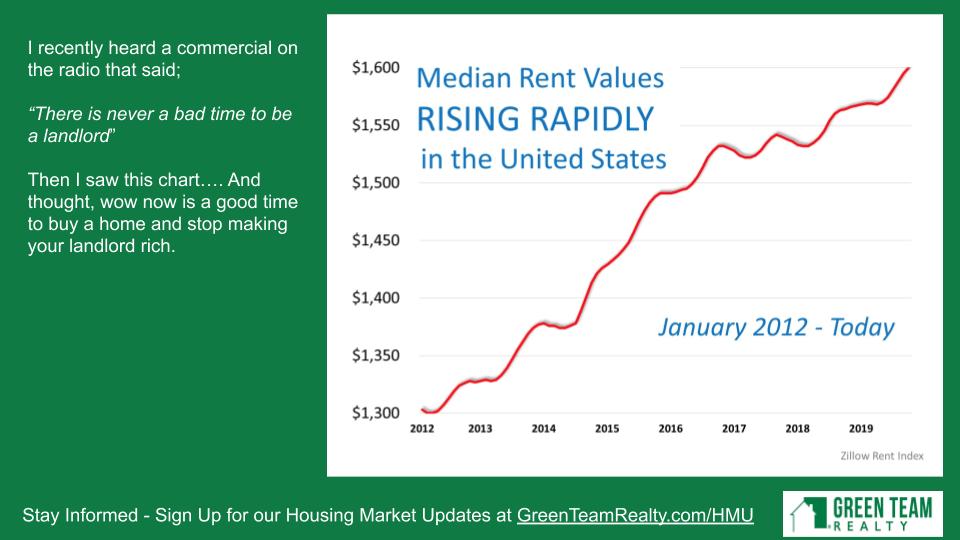 Rent rates have been out of control. Geoff is an owner of apartment units and it has been very steady. And he finds it remarkable how people will sometimes stay in place and not buy a home. People should jump into home ownership and engage, as there are so many benefits to it. Rent values are increasing, not decreasing.
Orange County, NY
Units Sold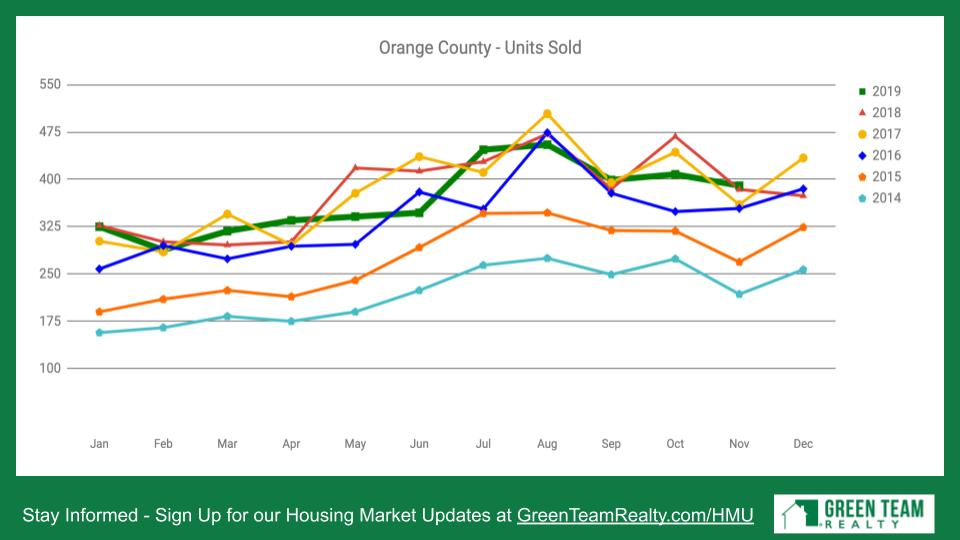 It's been a mixed bag this year – up some months, down some months. We were up again in November over the past 5 years.. When we have our Housing Market Update in January we'll be able to look back and review 2019 in its entirety. Geoff has no reason to anticipate any substantial surprises for December.
Average Sales Price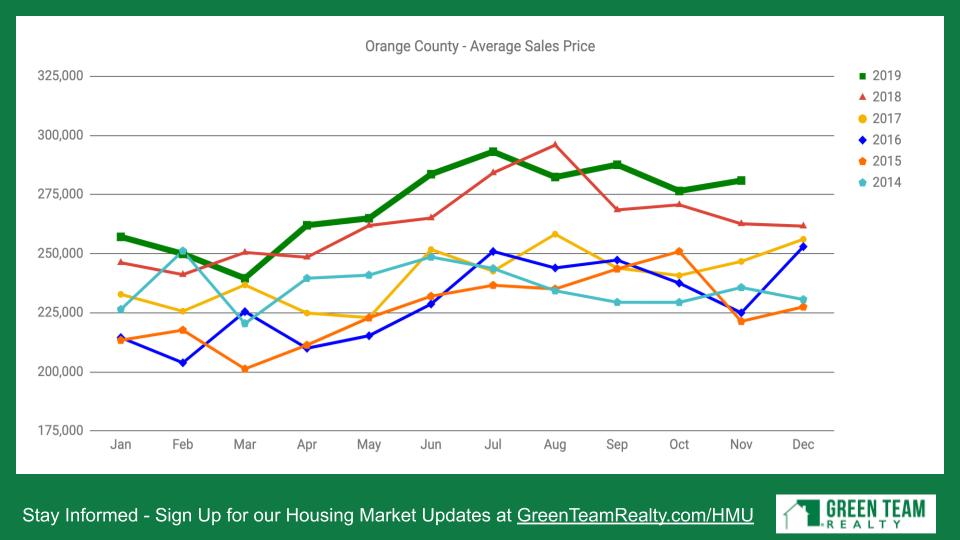 With the exception of March and August, it's been up consistently. And there is no reason to believe that the rate of appreciation shouldn't continue to increase modestly throughout 2020.
Ask to Sold Ratio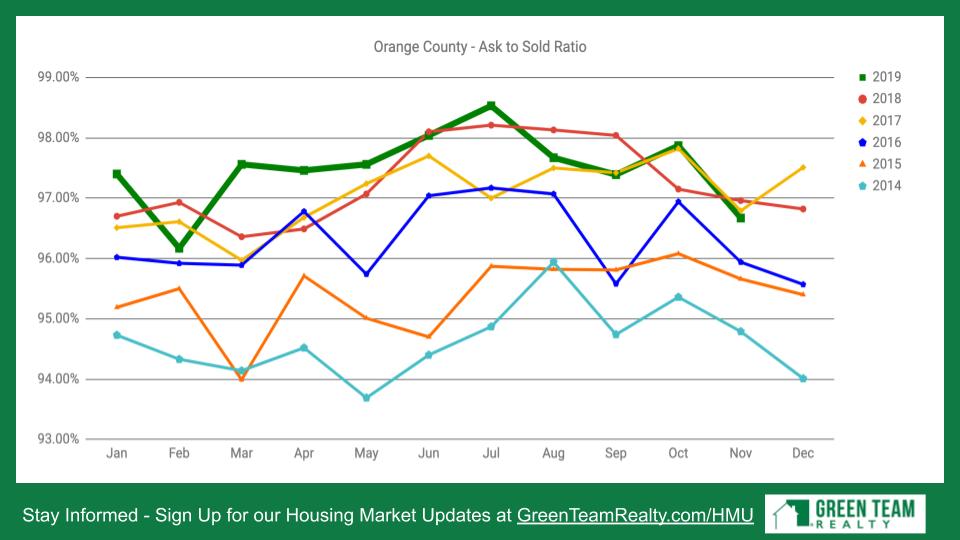 Ask to sold ratio is the ratio between the last asking price and the sold price of a home. It is at a very high ratio. It's was less than 2% in July, historically a very high number. And even though November dipped down to about 96-1/2%,  it's still a very good number. We are really talking about historical strength here. Even though there are some ups and downs, historically these are very good numbers.
Days on Market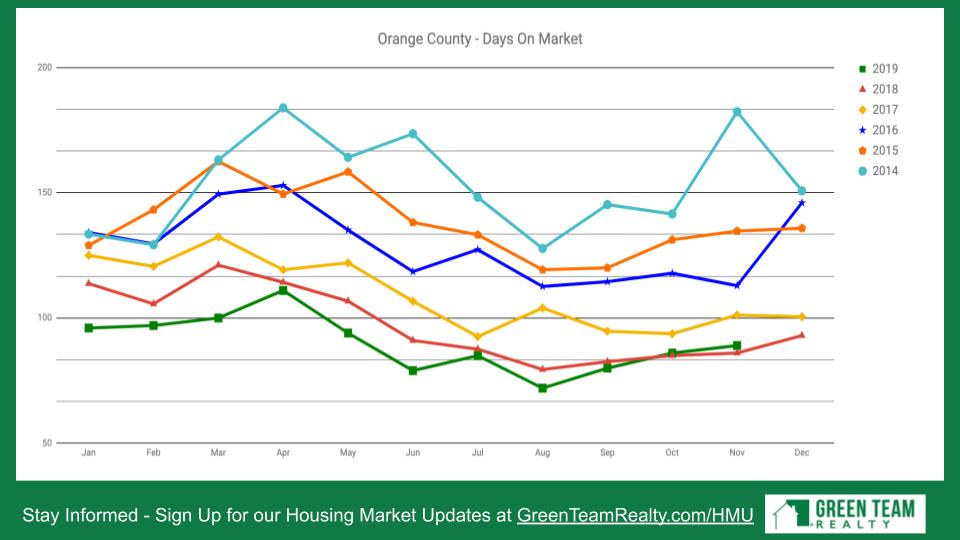 Days on market continues to be low, but it's ticking up a little now. According to the graph, the lines are converging a little in July and September and it appears to have crossed over in October and. This means that the market is cooling a little, but that's to be expected.
Sussex County, NJ
Units Sold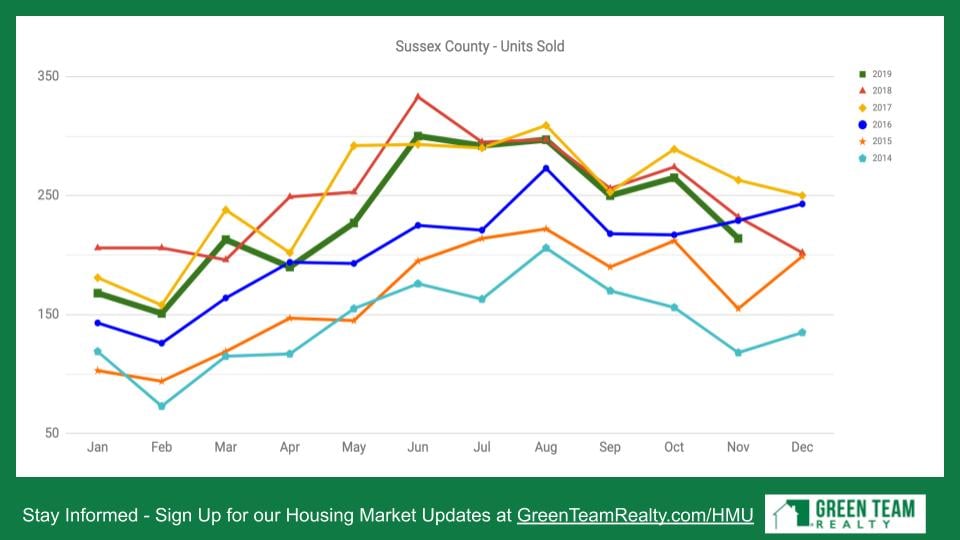 Still a bit of mixed bag, but not any month was the highest of the last 3 years. In November we dropped below the last 3 years. While not what we want to see, but it is what it is.
Average Sales Price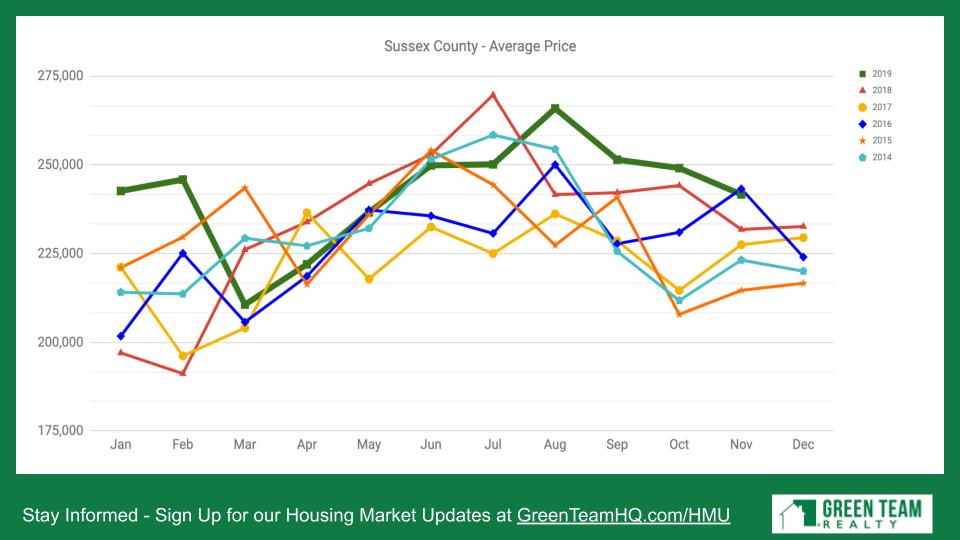 Average price is still pretty strong. It took awhile for Sussex County to come around in price appreciation. However, prices seem to be increasing at good level.
Ask to Sold Ratio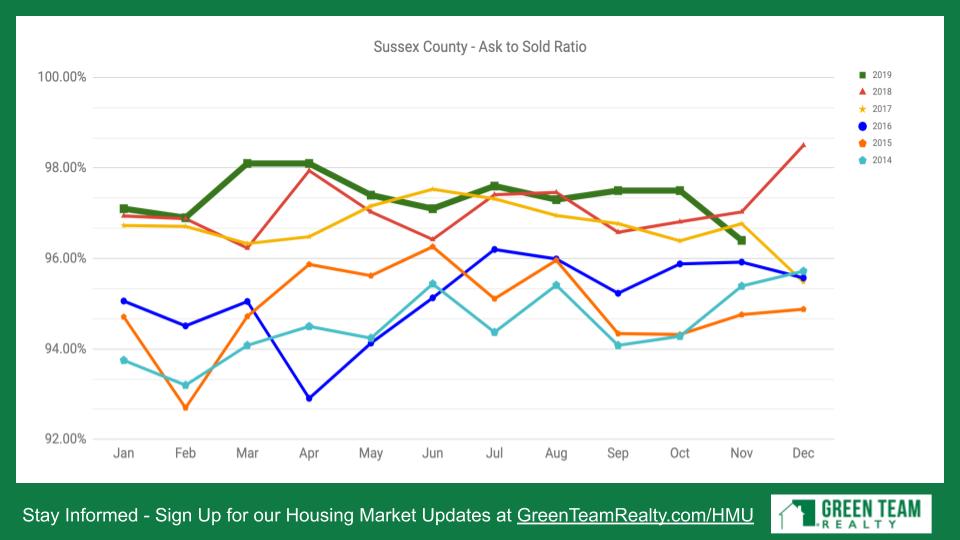 Again, the ratio between the last asking price and the sold price of a home. While not as strong as in Orange County, still very strong historical numbers.
Days on Market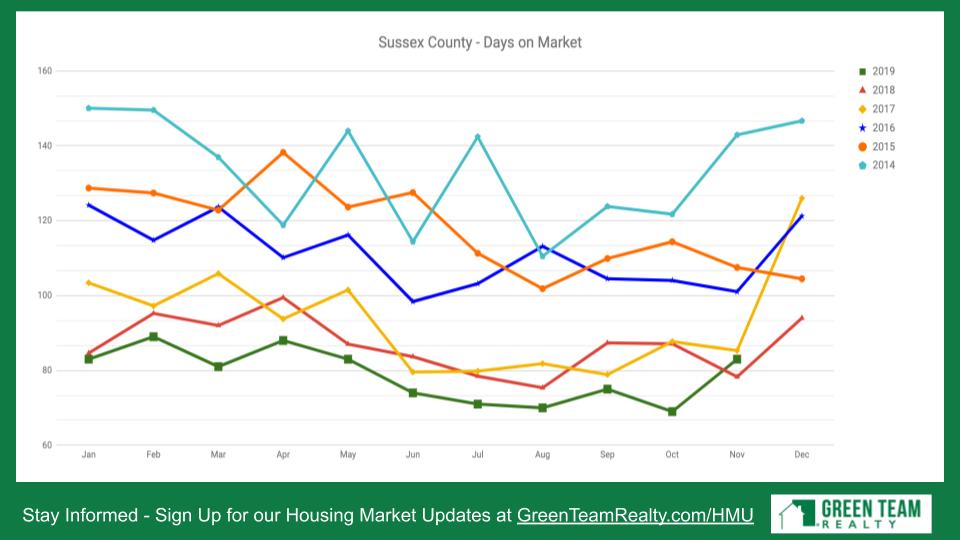 Sussex is showing a strong market. Again, in November there was crossover, indicating a slight cooling of the market.
Housekeeping Items
The next Housing Market Update will be on Tuesday, January 21 at 2 p.m You can sign up at GreenTeamRealty.com/HMU.
Thank you to our sponsor, REALLY, The Real Estate Referral Community. REALLY is where Professionals who serve the Real Estate Industry can connect, communicate and securely exchange referrals with speed and ease. And there are no fees on commission exchanged between Agents. Join for free at ReallyHQ.com
Meet Our Panel for the December 2019 Housing Market Update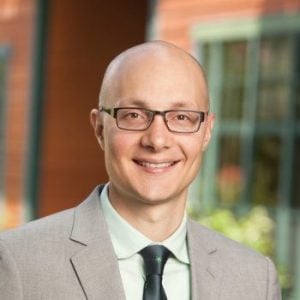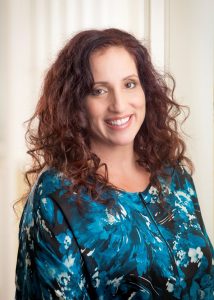 Our moderator is Geoff Green, President of Green Team Realty. Our panelist is Keren Gonen of Green Team New Jersey Realty
Keren has been a consistent panel member, present at each update. Geoff remarked that they've been doing this all year long, and it's been a year of trying to figure out where the market is heading. Yes, it has slowed down, but it's been a soft landing. It's been a strong year altogether.
Keren remarked that one of the reasons there were fewer units sold in Sussex County is that there were fewer units listed. Many sellers are deciding to hold on to their houses, on the fence about whether to sell. They want to see what the new year brings, even though their agents are telling them that this is the time to sell. Otherwise they'll be releasing their property when everyone else is. However, they're still holding tight.
The other thing she's noticed is listing prices that are way too high. For example, a house that should have been listed at $200,000 being listed at $250,000 .At that price it just doesn't make sense and won't sell. However, the sellers are still holding on. Geoff agreed that there are always overpriced listings. It's a human condition in any market place. There may be a higher percentage right now. Often people try to hold out for that higher price. He also agreed that lack of inventory is the biggest problem.
Geoff said that the sum total of circumstances hasn't allowed for rapid increase so maybe there will be a longer sustained recover and rebound to the housing market. Keren is working with sellers who will be listing during the first quarter of the year.
Keren's parting words of advice:
List your houses now, because we don't know what will happen!
Geoff agreed that right after the New Year is a great time to get going. It has been a wonderful holiday season with many transactions taking place.
You can contact Keren Gonen at 551-262-4062
By the way, Keren took part in this update from the airport, on her way to a two-week trip to Israel!
We'll see you on January 21st at 2 p.m.

[/et_pb_text][/et_pb_column][/et_pb_row][/et_pb_section]