This month the Green Team Realty Agent Spotlight is on Charles Nagy.
Charles Nagy resides in Crystal Springs with his wife Lynne. He enjoys playing golf and being involved in many of the other activities in the community. Through his pursuit of continuing real estate education, he obtained his certification as a Short Sale and Foreclosure Resource. Charles has been involved with different aspects of the real estate business for over 40 years. This includes the creation and sale of real estate tax-sheltered investment offerings; real estate management of high rises and garden apartment complexes; the development of raw land for the construction of residential homes and for 18 years, as a builder of residential properties. Consequently, it is no surprise that Charles decided to involve himself in the marketing and sale of real estate to prospective homeowners. With the wealth of knowledge and experience that Charles brings with him to the team of Agents at Green Team New Jersey Realty, he is able to deal with any issues that may arise in the course of selling homes which enables him to better assist buyers with their decisions.
Charlie is one-half of Green Team New Jersey Realty's Dynamic Duo!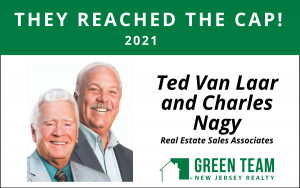 Their experiences in the real estate industry differ, yet they complement each other.  The other member of the Duo is Ted Van Laar. Ted's specialty is resort properties.   Back in 1979 Ted and his wife, Rosanne, became attracted to the beauty, lifestyle, and amenities offered in Vernon's resorts.  Through the years they have shared their love and enjoyment of Mountain Creek, Crystal Springs, and Great Gorge resort area with their three children.  They've also shared it with friends, family, and Ted's many clients. Ted has a reputation for integrity and honesty, as well as appreciation and understanding of the resort lifestyle.  Therefore, his clients like and trust his expertise, whether they're looking for a private residence, second home, or investment property.
For some reason, these two diverse backgrounds meld together to form a productive, successful team. Charles and Ted have also been recipients of the New Jersey Realtors ® Circle of Excellence Award multiple times between 2014 to 2021. In fact, in 2021 they each received the Silver Award for sales between $6.5 and $12 million. In addition, the duo has been quarterly sales leaders several times, as well as Yearly Sales Leaders. Most recently, in 2021, they each achieved their personal best in sales, earning them Green Team Realty Gold Awards.
We asked Charlie the following questions:
Before entering the real estate profession, what did you do?
I was a home builder, for 18 years. Before that, I was an owner of a small ocean freight shipping company. And before that, I formulated and sold tax shelter investments.
How and why did you become a real estate agent?
When I bought my home in Crystal Springs to retire, the realtor was an office manager for the company I purchased through. He recruited me. I already had my license from being a builder so decided it might be fun and keep me busy. I enjoy working with people.
What do you like best about being a real estate agent?
The diversity. For instance, the number of moving parts in this business is so varied there's never time to get bored. Each day is a new adventure. I thought for my background it was the perfect fit. It also gives you the freedom to run your own business. Besides, I love meeting and working with people to help them with their housing needs. It's very gratifying to see their excitement when they finally close on their née home.
What do you like least about being a real estate agent?
The disappointment you see in your client when you lose a house to a higher bid or due to some problem your client encounters.
What was your most memorable/unusual real estate transaction?
My first sale. I was competing with a broker/manager for the listing because he thought the seller was his client. I held my position that it was my listing which was backed up by the seller. Therefore, I wound up with the deal and successfully closed and earned my first commission. From there I never looked back. A less experienced realtor would have given in with pressure being applied. I held my ground. No one should ever allow themselves to be bullied.
What is it like being part of the Green Team?
I love it. We treat each other as teammates. You never have to concern yourself with others in the company trying to steal your clients. Everyone helps each other. The camaraderie is great. There's a goodly amount of social events where we can let our hair down and have fun away from the work. There is as much training as anyone can need and lead opportunities for all. It's just totally different than what I see from other companies I engage with.
How would family and friends describe you?
Happy, driven, successful, personable, honest, and fun to be with. A good husband, father, Grampa and friend.
What is your proudest accomplishment?
My family.
What does "home" mean to you?
Home is my personal retreat to a loving environment.
What advice would you give to someone thinking about selling their home?
I would tell them to be sure of the company they select to list with. Of course, I would give them all the reasons they should select us above the competition. Furthermore, I would give them references and testimonials, and examples of how we would market it. Essentially, I would walk them through the home selling process, because knowledge is power. An educated client is the easiest to work with.
What advice would you give to someone thinking about buying a home?
All of the above plus an overview of the market itself so they know what to expect and not get upset if they lose out on an offer. I would tell them patience is definitely a requirement when searching for the right home.
What advice would you give to your younger self?
Get into the real estate business.