A night to remember after a year we won't forget!
Green Team's 2021 Awards Ceremony was held on Friday evening, April 1, at Crystal Springs Resort in Vernon. Celebrating together was especially meaningful, after two years of virtual events.  COVID-19 created challenges, however, it also created opportunities. Green Team Sales Associates worked non-stop throughout the pandemic. Furthermore, they had to adhere and adjust to ever-changing COVID regulations while meeting the demands of the market; in so doing, many Green Team Associates achieved their personal best in sales. Thus, new categories of Sales Volume Levels were created. For all categories, Green Team New York/ New Jersey Realty recognizes the dedication, determination, and excellent client service that resulted in these sales volumes. These sales volumes resulted in Green Team New York Realty being #1 In Warwick NY. And Green Team New Jersey Realty #1 in Vernon NJ.
And the Sapphire and GTNJR Yearly Sales Leader Awards go to… Keren Gonen
The Green Team New Jersey Realty 2021 Yearly Sales Leader has been in this category several times before. Not only is Keren Gonen the 2021 Yearly Sales Leader, but with over $22 Million in sales, Keren is the first Sales Associate to reach the Sapphire level. This new level was created to recognize those with a sales volume of $20 to 30 Million. It is no surprise that Keren has earned this recognition.
Keren works hard, and it shows. She has been the sales leader at GTNJR for the past 8 quarters. In fact, Keren was the Yearly Sales Leader when she joined Green Team New Jersey Realty in 2017. Then, in 2020 she joined the MVP Circle with over $10 Million in sales volume. In addition, Keren received the 2021 NJ Realtors® Gold Circle of Excellence Award. Not surprisingly, she is in the top 20 agents in Sussex County.
Keren has been featured in Top Agent Magazine and recognized in a National Honors Program by Broker★Agent Advisor.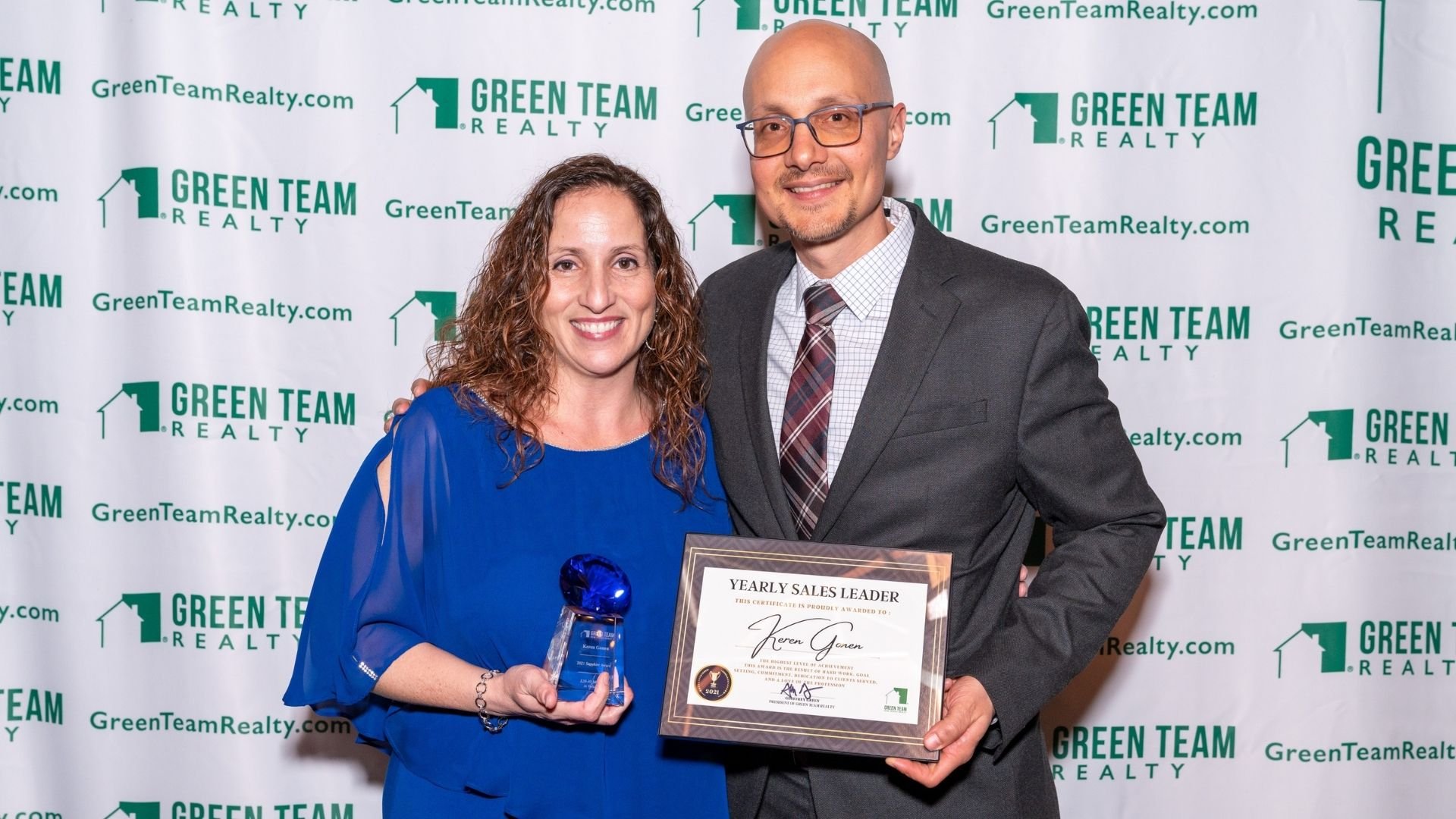 And the Diamond, GTNYR Yearly Sales Leader, and Momentum Builder Awards go to… Jennifer DiCostanzo
Jennifer DiCostanzo has been the yearly sales leader every year since joining Green Team New York Realty in 2016. In addition, she became the first Green Team Sales Associate to receive the MVP award for over $10 million in sales. In fact, Jen has achieved MVP status three times to date. She even surpassed these achievements with a sales volume, for the 3rd Quarter of 2021, of over $10 Million; she is now the first to achieve the Diamond level, for a sales volume of $15 to $20 Million.
Jen is among the top 20 selling agents in Orange County for 2021, which puts her in the top 1%. She is a Sales Representative Specialist and Accredited Buyer's Representative. In addition, she has achieved Pricing Strategy Advisor and Seniors Real Estate Specialist designations. Jen has been featured in Top Agent Magazine. Furthermore, Jen has been named a Real Estate All-Star by Hudson Valley Magazine for the past two years.
In addition, Jen received the Momentum Builder Award, which reads:
" In recognition of her ability to create the most positive and consistent momentum in her professional career while maintaining the same impetus reflected in many aspects of her personal life."

Platinum Awards for $10 to $15 Million in Sales were presented to:
Tiffany Megna, Green Team New York Realty, was Green Team Realty's 3rd Top Producer of 2021.  Kristi Anderson, Green Team New Jersey Realty, was the 4th Top Producer. And Nancy Sardo, Green Team New York Realty, was Top Producer #5.
Gold Awards for $5 to $10 Million in Sales were presented to:
Tammy Scotto (GTNYR); Charles Nagy (GTNJR), Theodore Van Laar (GTNJR); Carol Buchanan (GTNYR); Kimberly Lasalandra (GTNYR/GTNJR); Karen Gauvin (GTNYR); Kristine Many (GTNYR); Tom Folino (GTNYR); Vikki Garby (GTNYR); Pip Klein (GTNYR); Pam Zachowski (GTNJR); Angela Murphy (GTNYR); and Barbara Tesa (GTNJR).
Silver Awards for $3 to $5 Million in Sales were presented to

:
Lucyann Tinnirello (GTNYR); Toni Vogel (GTNYR); Walter Ross (GTNYR); Toni Kreusch (GTNJR/GNYR), and Kasey Decker (GTNYR)
Bronze Awards for $1.5 to $3 Million in Sales were presented to:
From Green Team New York Realty, Linda Vandeweert; Rebecca Hundley; Cara Dumond; Guillermina "Gidget" Tavares; Chris Kimiecik; Robert Valentine; Ed Sattler; Kim Lesley, and, from Green Team New Jersey Realty, Jaime Dalton.
Team Players, Mentor of the Year, and Citizens of the Year:
Team Players are chosen by their peers, "in recognition of their reliability, positivity, and dependability, while exhibiting dedication and devotion to the agency and team." The sales associates of Green Team New York Realty selected Britanni Gaucher as their Team Player and Green Team New Jersey Realty sales associates selected Charles Nagy as theirs!
Tammy Scotto earned her award for Mentor of the Year "in recognition of her dedication, dependability, and devotion to Her mentees."
Finally, Citizens of the Year are selected in recognition of their valuable contributions and outstanding support to our community. This is a very special award, in that each winner will have $500 from Green Team Realty to be donated to the charity of their choice. Green Team New York Realty selected Wayne Patterson as their Citizen of the Year. Kristi Anderson was selected by Green Team New Jersey Realty as their Citizen of the Year.
Thank you to our sponsors!
We could not have held such a fantastic awards event without our wonderful sponsors!
First of all, a special thank you to Amy Green, Guaranteed Rate, our Diamond Sponsor. Next, thanks to our Platinum Sponsors! They are Michael Giannetto, CrossCountry Mortgage; Douglas Stage, Stage Law Firm; Gregory Romaine, Homestead Funding Corp., and Daniel Bounds, Chase Bank. Our thanks go to Gold Sponsors Chad Barris, Family First Funding; William Askin, Askin & Hooker LLC; Gary S. Goldstein, Esq., and Micaela Gandarinho, Seely & Durland Insurance. Finally, we thank our Silver Sponsor, George Tsakanias, VHT Studios.
Wait! There are more acknowledgments…
Inside Sales Associates
The Inside Sales Associates play an integral part in providing leads to sales associates. The Green Team ISA Team is Giovanni Lasalandra, Director of Business Development; Kevin Many, Sandra Medina, and Jimmy Cosenza.
In addition, Kevin Many received an award in recognition of great achievement for exchange opportunities for the NuOp platform, with over 500 Ops exchanged in 2021.
And where would we be without our phenomenal support staff…
Behind-the-scenes support is essential to providing our sales associates with the resources, training, tools, and services they need to best conduct their businesses. Geoff Green acknowledged the hardworking Green Team HQ support staff: Broker Managers Lucyann Tinnirello, Carol Buchanan, and Kim Lasalandra; Lora Chandra, Director of Operations; Andy Clough, Digital Marketing Support; Diana Clough, Controller; Nicole McCormick, Director of Marketing.  In addition, we have Morgan Beattie and Natalee DiMichele, Agent Service Managers; Linda Vandeweert, Sign Installation Manager; Susan Wynn, Copywriter; Jane Tuomala, Marketing Assistant; and Brittani Gaucher, Agent Service Representative.
Team Up for Hope
Geoff asked the Board of Team Up for Hope, a non-profit organization he co-founded and chairs, to talk about what the organization has accomplished. Team Up for Hope is made up of an all-volunteer group of Green Team sales associates and staff. Locally, the organization addresses the challenges of mental health, drug use, and suicide by raising money for non-profit volunteer organizations at the forefront of addressing these issues. Team Up for Hope also produces webinars that bring in experts and advocates to provide knowledge, resources, and answer questions on these issues.
Globally, as the invasion of Ukraine began, Team Up for Hope began raising money for a relief organization in Poland assisting the refugees and will continue to do so. A webinar is planned with that organization so that we can all see the many needs that exist. Please visit the Team Up for Hope website and Facebook page for updates, to learn more about our organization, how you can help, and how to donate.
After the award presentations, the party got started…
DJ Chris Paul got the party started and kept it going as Green Teamers hit the dance floor. After a year of challenges, hard work, and dedication, it was wonderful to be able to celebrate with friends.