Upon retirement, this well-respected teacher and coach decided to turn his attention to a new career – real estate.  When Tom joined the Green Team, Geoff Green said, "There might not be a better person to get into Real Estate in the Warwick market than Tom Folino. A true example of someone who has a huge network, is extremely likable, and always acts with integrity. What people might not know about him is that he is extremely diligent in his follow up and a very smart guy to boot. We are extremely blessed that Tom has decided to join our company."
Geoff's predictions are coming true.  In his first year as a sales associate with Green Team New York Realty, Tom received an Honorable Mention Award for 2018, for achieving $1.5 to $3 Million in sales volume. And, while awards are good, the true reward for Tom is knowing that he has gone above and beyond for his clients. It's now the former teacher who is being "graded," and by the looks of it, he's getting straight A's!
A Special Transaction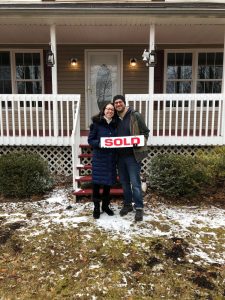 A very special transaction was with Claire and Nick Previdi. Claire was a former student of Tom's at Kings Elementary School. They purchased their first home in Chester, NY. Tom was also the listing agent for this home!  This property was listed on December 4, 2018, and closed on January 18, 2019.
Client Testimonials
Barbara and Rob Lattimer –  Warwick, NY 10990 — May 2020
Thomas Folino: Realtor Extraordinaire We recently purchased a condo in Warwick long distance. Tom guided us through the process with patience, professionalism and so much more. The Home Inspection needed to be done. We were 1200 miles away. Tom oversaw that. Major repairs were needed for the heating and a/c system. He supervised that work. Since we have taken ownership we have received texts from Tom letting us know all is well. It is obvious Tom loves his job and genuinely cares for those he serves. Thank you, Tom Folino!
Don Denmead –  Warwick, NY — March 2020
Tom did an outstanding job in guiding me through the sale of my rental property. He was able to uncover multiple buyers even though the property had not been officially listed. Additionally, he explained the process and helped with the paperwork which optimized the time it took to complete the sale. I would recommend him to a friend and plan to use him again when I decide to downsize in the future.
Greg Maher –  Warwick, NY — March 2020
I have known Tom Folino for roughly 20 years as he was my former elementary school physical education teacher. When I learned Tom was doing real estate I knew he would be the right person to guide me through my first home purchase. I wasn't wrong. Tom was knowledgeable, compassionate, and understanding of all the questions I had. He regularly called to make sure I had everything I needed. I'm pleased with my new home and glad we could close in nearly 4 weeks. Job well done !!!

Evelyn Rosado –  Greenwood Lake, NY — December 2019
Thomas is responsible, dedicated, respectful. He's someone you feel comfortable working with. I'm very grateful I was able to count on him. I would definitely highly recommend his services.

Troy Edwards & Dashika Stewart–  Monroe, NY — October 2019
Working with Thomas Folino was the best choice my fiancé and I could've ever made in choosing a real estate agent. We were both first time home buyers looking to relocate out of NYC. Thomas was so kind and patient each step of the way and assured us that everything would be fine within the process. He even went out of his way to connect us with a local mortgage broker who did a phenomenal job. We ended up closing on a three-bed condo in Monroe that we absolutely love. I would totally recommend Thomas to anyone and will for sure use him again. If he ever retired I would ask him to be my agent again one last time. 2019

Patricia and Thomas Lorgan –  Warwick, NY — July 2019
We've known Ton Folino for over 40 years and both had the pleasure of teaching him. We were able to see his growth into an outstanding young man. Tom also became a teacher, and once again, we saw his growth as both a teacher and coach. He was our son's basketball coach, and he was our other son's supervisor as a swimming instructor. Tom was a wonderful and caring role model for not only our sons, but for all those who were fortunate enough to come in contact with him.
As a realtor, Tom continues to be just as outstanding. He worked tirelessly for us as we sold our home. Living in the same house for over 50 years and raising our 2 sons there meant we had some long-lasting memories, which were not easy to give up. Tom guided us through all those emotional times, and he made the transaction of going from homeowner to home seller as smooth and caring as possible. We had complete trust in Tom, and as always, never disappointed us. Whatever the highest rank possible for a realtor, Tom Folino is a deserving candidate. I wish all those who decide to sell their loving home to be as fortunate as we were to have Tom guide them on their emotional journey. Simply put, Tom Folino is the BEST !!!!
Brian Cisek –  Warwick, NY — Mar 2019
Tom was very professional and easy to work with. He found me a great place in the location I wanted.
Miriam Stanford-Cusack–  Greenwood Lake, NY — Mar 2019
We happened on Tom while wandering beautiful Warwick and knew from that moment he would be amazing! He is so patient and genuine. Tom found us exactly what we were looking for and was personable and informed. The whole process was practically stress-free and I love the place we found. I would recommend him!!
Mary Cusack–  Greenwood Lake, NY — Mar 2019
Tom was knowledgeable, honest, always good-natured, and very hard working. He never stopped looking for possible places that might meet our needs and he did accomplish it. Tom found a beautiful place that exceeded our expectations. He negotiated a great price for us as well. Tom was always available when we had questions or requests. We had had previous experiences with realtors and Tom was a breath of fresh air!!! We'd recommend Tom without hesitation to anyone in the future!!!
Claire and Nick Previdi –  Monroe, NY — Jan 2019
We are so pleased with our experience working with Tom to purchase our first home! He guided us through the entire process and was always available to answer any questions we had while responding quickly to calls and texts. I couldn't believe how fast we closed on our house! Tom worked hard for us and always made sure we felt comfortable and understood what was happening at every step along the way. He immediately put us at ease as first-time homebuyers with his kind and personable nature. We highly recommend Tom for anyone looking to buy a house!

Joe LaBarca –  Greenwood Lake, NY —
Jan 2019
I met Tom Folino from Green Team Realtors when I decided to sell my home. Tom was very personable and upbeat about the process. Our home went up for sale in July and closed in Nov. He worked hard on selling our home and his marketing skills and negotiations were the best. We had lots of conversations about selling the house. He listens to all that is said to him He is fantastic. BIG Thank You, Tom. With his help, we are also in our new home 2500 miles away in Nov. also and I highly recommend Tom if you are buying or selling a house
Nicholas Mazzella – Warwick, NY —
Dec 2018
I am so thankful to Mr. Folino, he really helped me find and get a place that I absolutely love, answering all questions, and putting in the time needed to help me. He was always in my corner from start to finish keeping me up to date and informed about any available homes and getting showings. Tom's a hell of a real estate agent and will give you nothing but the best in service and work his tail off to get you what you're looking for. Truly a pleasure to work with.

Kathleen Cisek – Warwick, NY —
Dec 2018
I've never worked with a real estate agent as skilled and kind as Thomas Folino. He didn't waste my time with rentals that weren't for me, and found me the perfect house for rent based on the guidelines I gave him from price, number of rooms, to the bright kitchen. Tom knew exactly what I needed without my embellishing. As a woman, sometimes agents take advantage & waste time, but I'm happy to say Tom is not one of them! I was very happy with my experience. Tom was very thorough and helpful with any questions I had regarding paperwork, state regulations, rental procedures, the house, landlord & neighborhood. He helped me put in a strong application and the landlord chose me. With this competitive market, when I buy a house in the future I will definitely contact him. Thank you, Tom!
Joanne Haberlin and William Schwartz – West Milford, NJ —
Dec 2018
Mr. Folino is the epitome of professionalism. He had a great knowledge of this area and several others. Tom also had the patience of a saint with my husband and I being so unsure of what exactly we really wanted. He stuck with us found us exactly what we needed and when this lease is up we will be using him again hopefully to purchase versus rent this time. I would highly recommend using him to anyone renting or purchasing!

Alberto Mata – Suffern, NY —
Dec 2018
Mr. Folino is a great human being. Always ready to help in any way he can. I will highly recommend him as your realtor. He will always go above and beyond to satisfy your needs.

Scott and Victoria Cable – Washingtonville, NY —
Nov 2018
Tom did a great job of helping us purchase our first house. He is a great negotiator and does a great job of communicating with the listing agent to expedite the whole entire process. He was very knowledgeable and informative which was fantastic since this was our first home. Tom is always there for us, responding to text or calls quickly no matter the time or the day! We went through other realtors before Tom and once we met Tom it was night and day in quality of service. I will recommend Tom a thousand times over!
Amanda Calabrese – Warwick, NY —
Jul 2018
I just wanted to reach out with some positive feedback regarding one of your agents, Tom Folino. I'm not sure if this is the best forum to send this to you, but wanted to start somewhere. My husband and I have been working with Tom since April and he has shown us nothing but dedication, hard work, positivity, and communication. Tom made himself available to us even on his own personal time and followed up with every question in a very timely manner. I have had a few experiences with other realtors and Tom, by far, has exceeded all of these other experiences. Although we haven't bought a home yet with Tom I would not hesitate to use him in the future and would highly recommend him to everyone looking for an agent in Warwick, New York. Please let me know that you received this email and would love to put this in a more formal letter if that would be helpful. Thank you for your time, Amanda Calabrese
This post has been updated 6/16/2020