Green Team Business Review – March 2018
February's numbers are in, we're nearing the end of March, and the Scoreboards show the possible contenders for the first quarter sales leader awards.  Based on actual numbers for January and February, the Warwick Scoreboard has Vikki Garby in the lead, followed by Nancy Sardo and Lucyann Tinnirello.   In Vernon,  Joyce Rogers leads Charles Nagy and Ted Van Laar.   In Warwick, total sales volume is down slightly from January/February of 2017, while Vernon's total sales volume is up by over $700,000 from the same period in 2017.  However, if projections are correct, March will see sales volume increase in both Orange and Sussex Counties.  March may also see shifts in the Scoreboard tallies.
This month's business review meeting marked a Green Team first.  The market stats were reviewed on Facebook Live (facebook.com/greenteamhq), giving agents and clients alike the opportunity to participate in real time.  Geoff Green moderated the review, with panelists Angela Murphy and Terry Gavan commenting on the Orange County market and Pamela Zachowski providing commentary on the Sussex County market.  Melissa Bressette, Green Team's Marketing Director, also participated, with questions regarding the impact of rising interest rates on home sales.
Sussex County, NJ Real Estate Market Report  – February 2018 Results

We are pleased to share with you a Housing Market Report from February 2018.  We break down the local real estate activities and provide you with stats, graphs, and analysis of our local and regional real estate market.  You can sign up on our website (www.greenteamhq.com) for monthly market updates.  This month the market review was held on Facebook Live.  You can visit our Facebook page to view the video, as well as informative posts.  (www.facebook.com/greenteamhq/videos)
Average Days on the Market
The faster homes are selling, the hotter the market. Look for the lowest number on the graph as opposed to the highest. 
At 90.89 average days on market, this is the lowest number for February since 2014.  According to Pamela Zachowski,  Green Team New Jersey Realty agent, if buyers don't act quickly, they're losing houses.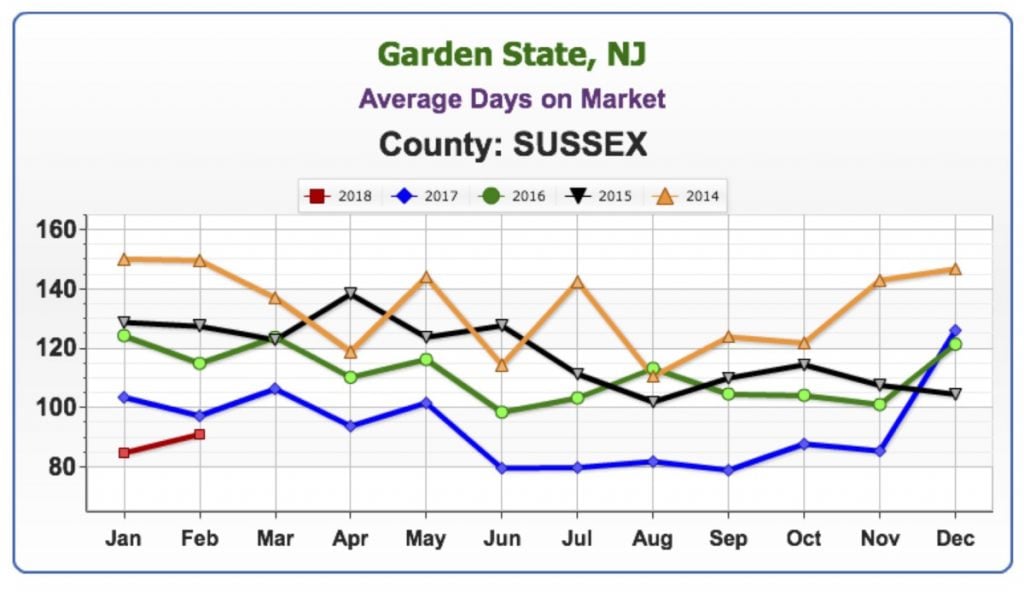 Average Price
The average price is still below every other year, despite the positive signs in the other categories.  There is a tremendous amount of pre-foreclosure and foreclosure inventory and a lot of low priced homes.  Banks are starting to unleash some of these homes that they had held on to, not wanting to take too big a loss.  Pam finds there are a lot of foreclosures on the market, caught in a long process of investors buying and flipping them.  Buyers see the low priced homes and expect turn-key homes to be available at the same low prices.  Again, it's important to use hyper-local comps to get a real sense of what homes are going for.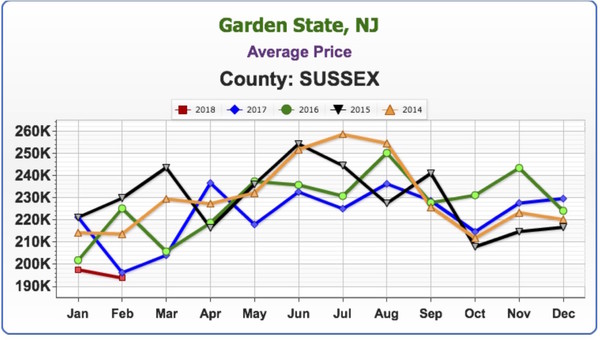 Average Sold to Asked Ratio
The percentage a house sold for under or over the last asking price (not the original price)
The higher the number, the better the market, and this number continues to rise. The average sold to ask ratio for February, at 96.82%, is higher than any February since 2014.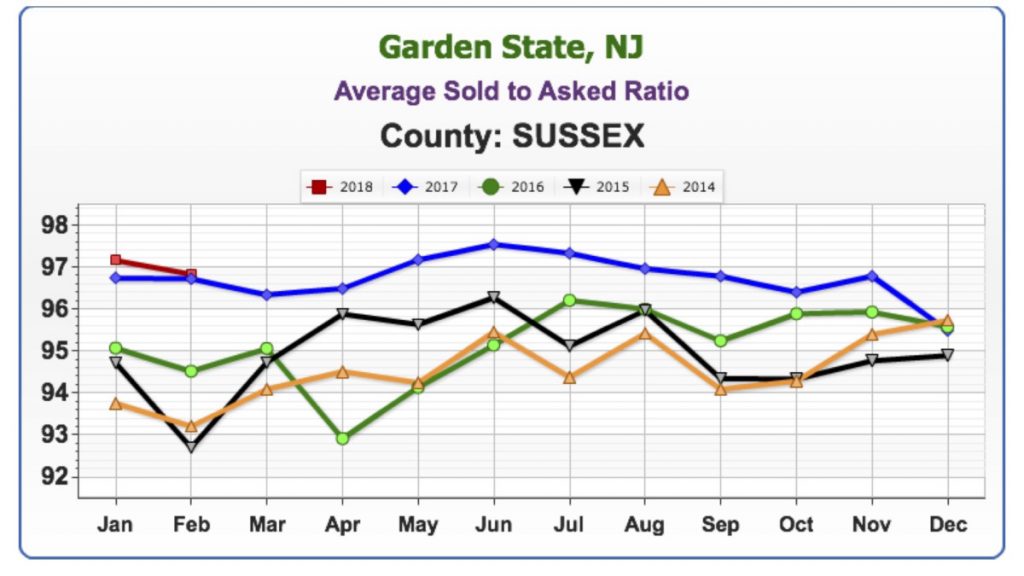 Homes that sold at 100% or more of last asking price
This number is rising quickly.  The higher the number, the hotter the market!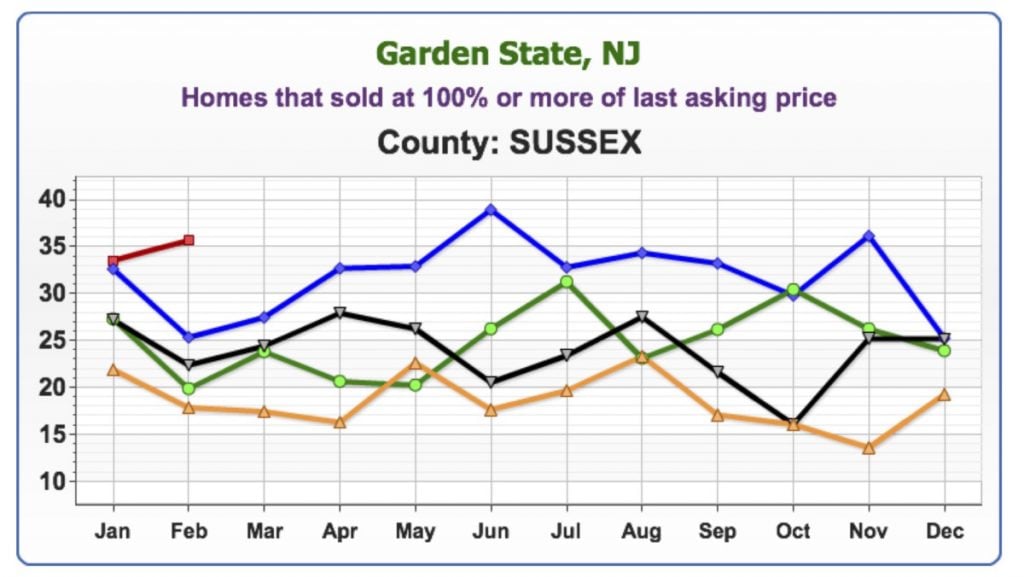 Units Sold
Numbers are up over the last 5 years.  In 2014 only 1700 homes sold in all of Sussex County.  In 2017, that number has almost doubled.  February 2018 numbers are higher than February in the previous four years.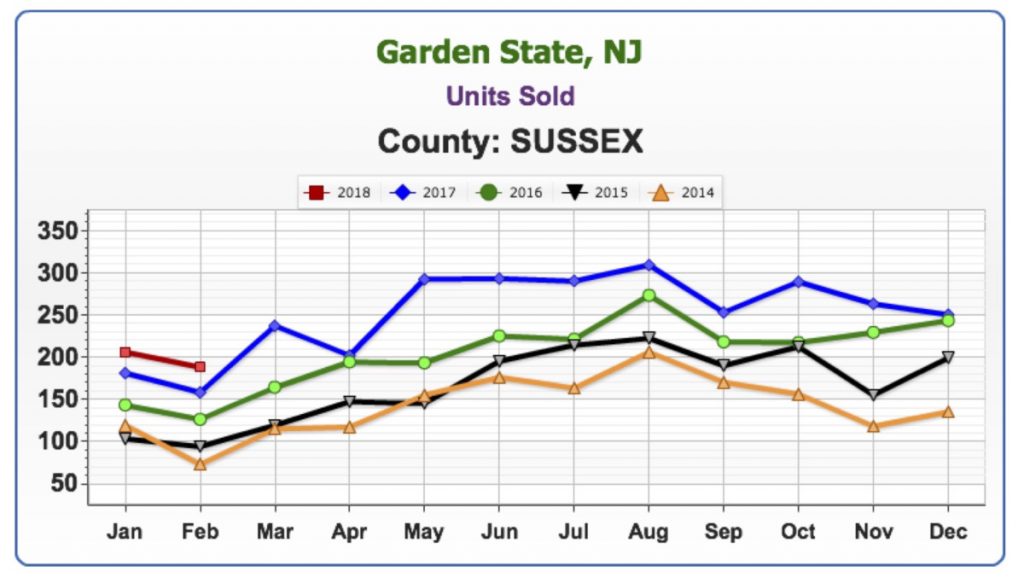 Note
Melissa Bressette, Marketing Director for the Green Team, asked what impact rising interest rates were having.  According to Angela Murphy of the Warwick NY office,  despite rising interest rates, good connections with mortgage lenders can ease buyers' minds and work with them on financing homes.  Rates are still pretty low and affordable.   If homes are priced correctly, there is usually a $10-$15,000 spectrum from asking price to where it's sold.  Comps of sold properties are more important than comps of properties that are for sale.