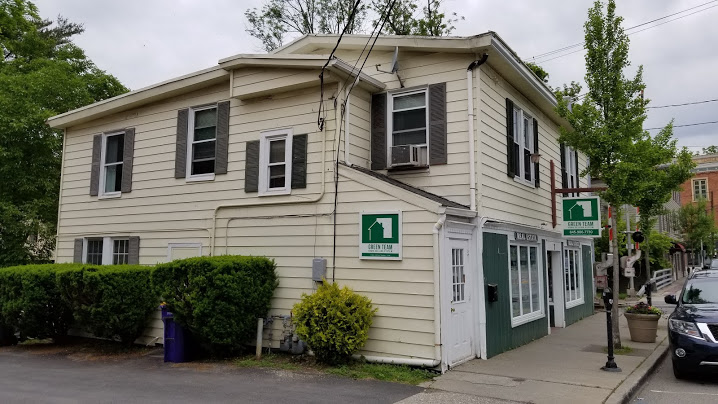 7 Main Street, Warwick NY – Before the Renovation
Raising the roof at Green Team New York Realty was just one of the improvements made to its building at 7 Main Street in Warwick, NY. Geoff Green, President of Green Team Realty, would walk around downtown, admiring the beautiful buildings and the renovations taking place. Then he'd glance over at the Green Team building, knowing it needed a major face lift.  In addition, there was the issue of the four roofs. Yes, the building basically had four separate roofs just slapped together over the years. Geoff took aerial photos with his drone which show the poor state these roofs were in.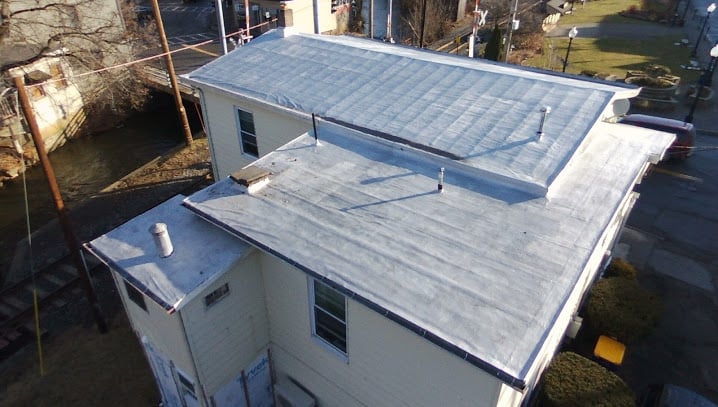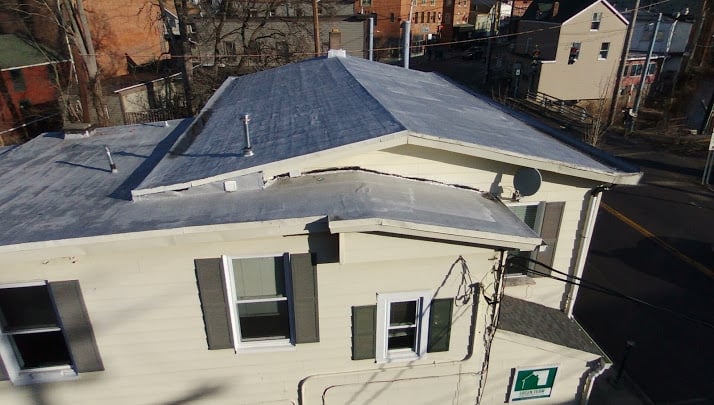 Making It Happen
Geoff relays the story beyond the renovation below:
I would have done it 10 years sooner, but I simply didn't have the money.  My wife Laura and I saved for many years to make this renovation happen.

There are aerial shots I took with my drone showing the poor state of affairs for the roof. The solution that you see now is all credited to our Architect Christopher Collins.  I am extremely grateful for Chris' work on our building.  We originally had a different plan from a different architect and it just simply wasn't as good of a plan as what we now have.  The building would not have looked nearly as good as it does now.   Chris was a God send.
Up on the Roof
Geoff talked about the team put together to put Christopher Collins' plan into effect.
Russ Tellier was the contractor who did the large majority of the work on the 7 Main St building along with his friend Wayne Cosh.  Russ was good enough to let me GC the project so that I could save some money and ultimately make it happen.  Russ and Wayne did a fine job.  As one would expect with a restoration job of this size it also required an electrical upgrade of sorts.  All of the electrical work was done by Ralph & Tommy Edwards.  In fact, one year after the major portion of the exterior renovation, Ralph and Tommy just finalized a new service line to the building.   The building was painted by Christopher Colin, d/b/a "Chris The Contractor".  Chris also did a fine job, and he continues to do all sorts of jobs here and there for us on this building and many others that we are involved in.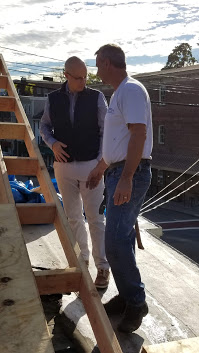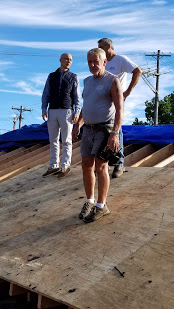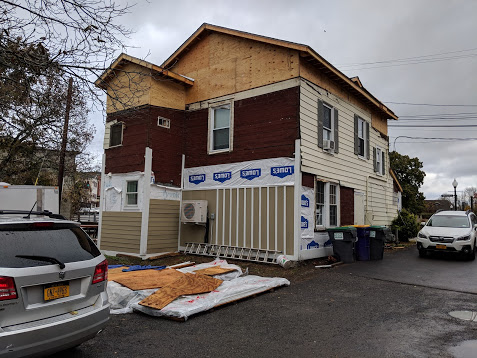 A Labor Of Love
Geoff's love of construction and renovation started in childhood. And it continues to this day.
I am not really sure why, but my history has been to purchase older properties in need of repair.  Pretty much every building my wife and I own has undergone some major improvements at one point or another.  Early on in my career I would be on site swinging the hammer.  By way of building tree forts with my Brother Matt as a kid, I learned enough about construction to be able to maintain our investment properties.  However, at this point I have built a great team of contractors who allow me to pick my spots, oversee what I need to in order to cut cost down, etc. . .

I have to say this is a labor of love for me.  It literally goes back to my childhood days of building tree houses and skateboard ramps.  It was fun waking up early in the morning, putting on a tool belt and going out to build something.  But now after about 1 hour of labor I now get aggravated and say to myself, "what the heck am I doing".   So I now tend to leave the labor to the guys who do it best.
One thing is certain. Now, when Geoff walks through downtown Warwick, he can take pride in the Green Team New York Realty building at 7 Main Street. Because it is now one of those beautiful buildings he so much admired.