Geoff Green, President of Green Team Realty, welcomed everyone to the July 2020 Housing Market Update. The webinar, which was held on Tuesday, July 24 at 2 p.m., examined the housing market on national and local levels, in light of the impact of various economic factors resulting from the Covid-19 pandemic.
If you missed the webinar or would like to view it again, it is available here.
Meet the panel
Following a review of the national and local stats, Geoff checked in with the panel. Sales Associates from Green Team New York Realty and Green Team New Jersey Realty shared what was happening in their respective states and communities. Covid-19 regulations on the real estate industries in New York and New Jersey have differed, with varying results. The July 2020 Housing Market Update panelists were Keren Gonen, Pam Zachowski, and Kristi Anderson, who discussed the Vernon and Sussex  County, NJ market. Toni Kreusch shared her experiences and views on the Warwick and Orange County, NY market. Additionally, our guest panelist, Ken Aulicino, Mortgage Loan Originator with Family First Funding, shared his expertise and experiences.
First, though, here are some of the stats presented by Geoff.
It's all about jobs, jobs, jobs
The consensus of various experts was that the US would add 3,000,000 new jobs in June. However, the actual number of jobs added was 4,800,000. While that's a good number, there is more to the story. The Bureau of Labor Statistics reported that the unemployment rate for June was 11.1%. In March, just before Covid-necessitated shut-downs, unemployment was at 4.4%. In April, it shot up to 14.7%. Then in May it declined to 13.3% So it would appear unemployment is trending downwards. However, it's just not that simple.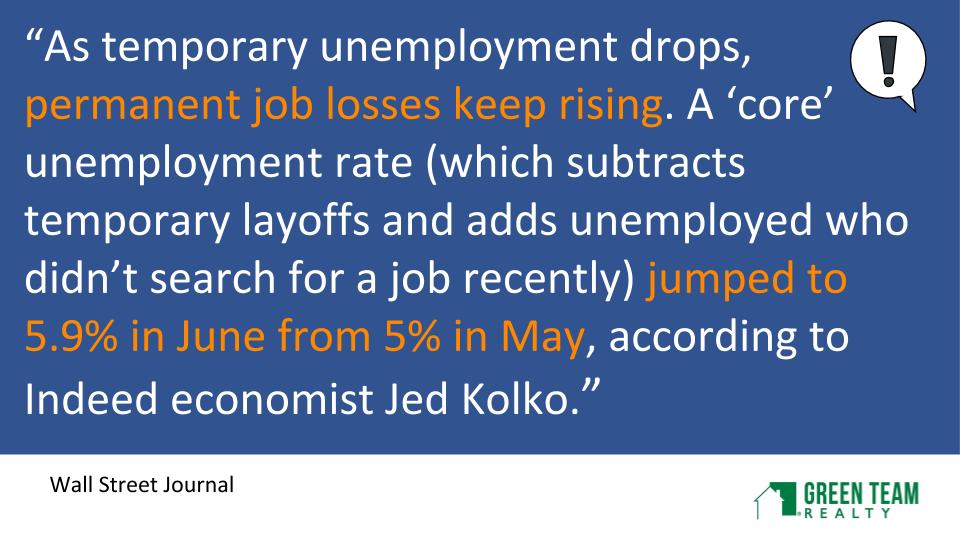 The core unemployment rate is trending upwards. Geoff took a look at historical core unemployment rates to bring things into perspective. How many companies will actually be bringing jobs back?
Real Estate Metrics
Forbearances & Foreclosures
Geoff predicted that we'll be hearing more and more about forbearances and foreclosures in the media. Of all active forbearances past due, 77% had at least 20% equity in their homes. Of these, 59% had 30% or more equity. According to Geoff, not many people will walk away from the equity they have in their homes. As long as pricing stays intact and doesn't plummet, many homeowners will do their best to stay in their homes and keep their mortgages going.
Showing Activity
According to Showingtime.com, showing activity is up big time. Year-over-year, the showing index is up nationally by 21.4%. Inventory has been a problem for a while, but it's exacerbated now. The long term average of households currently on the market is 2.4% Currently that number is down to 1.2%. How does this impact pricing? It is all about supply and demand.
To learn more, watch the webinar
Watch the video to hear what the experts had to say, as well as to see Geoff's full presentation on national and local economic and real estate trends. To compare with what was happening last month, click here for the June 2020 Housing Market Update.
"Housekeeping" Items

Contact our Panelists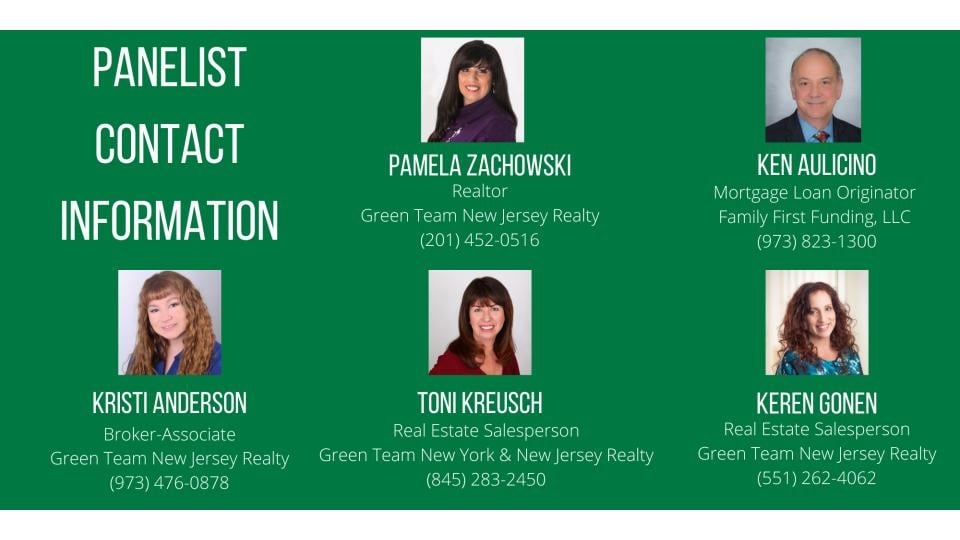 Remember to join us on Tuesday, September 15th at 2 p.m. Sign up for updates now at GreenTeamRealty.com/HMU