Geoff Green, President of Green Team Realty, welcomed everyone to the December 2020 Housing Market Update. This webinar, held on Tuesday, December 15, at 2 p.m., examined the housing market on both national and local levels.
If you missed the webinar or would like to view it again, it is available here.
Meet the Panel
Panelists included Keren Gonen and Pam Zachowski of Green Team New Jersey Realty, Toni Kreusch, and Karen Gauvin of Green Team New York Realty. Michael Giannetto of CrossCountry Mortgage LLC joined them.
2020 – The Year in Review
What a year it has been! The real estate industry has had a strong year. The housing market has experienced a "V-shaped" recovery. Furthermore, according to Realtor.com, it continues to ascend based on demand, supply, price, and time on market.
There are no signs of an impending foreclosure increase.  In fact, the number of mortgages in forbearance is decreasing.
Are prices going up too fast?
Geoff Green addresses this question, using actual and historic appreciation factors. However, it all comes back to supply and demand, as shown below. The less inventory you have, the more demand and prices go up.

Lawrence Yun, Chief Economist at NAR, explained why there is no comparison between today's market and the frenzy of activity seen in 2006, which led to the recession. You can view his full quote in the December 2020 HMU video. Also, the good news is mortgage affordability based on household debt service as a percentage of disposable personal income. Furthermore, mortgage rates are projected to remain low in 2021, and home prices continue to increase.
The new Winter 2021 Buyer and Seller Guides are now available on the Green Team Realty website.
Click here and scroll halfway down the screen to request your guide.
Housing Market Stats – Nationwide and Local
Existing home sales have risen, and home prices continue to soar. Of course, inventory continues to plummet. Locally, average prices have soared. The panelists discussed the impact of current market conditions on both buyers and sellers, and what they are seeing in their businesses. You can see the panel discussion here.
"Housekeeping" Items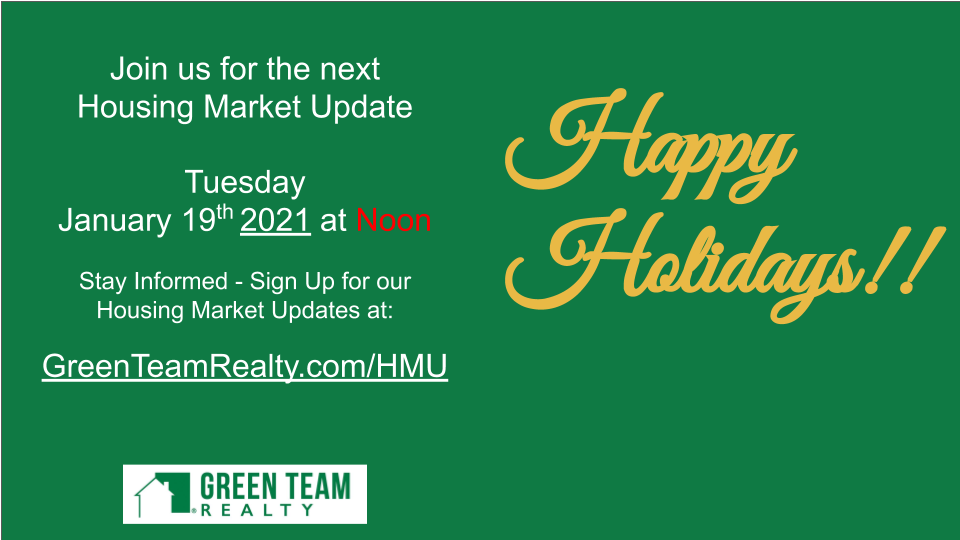 Contact our Panelists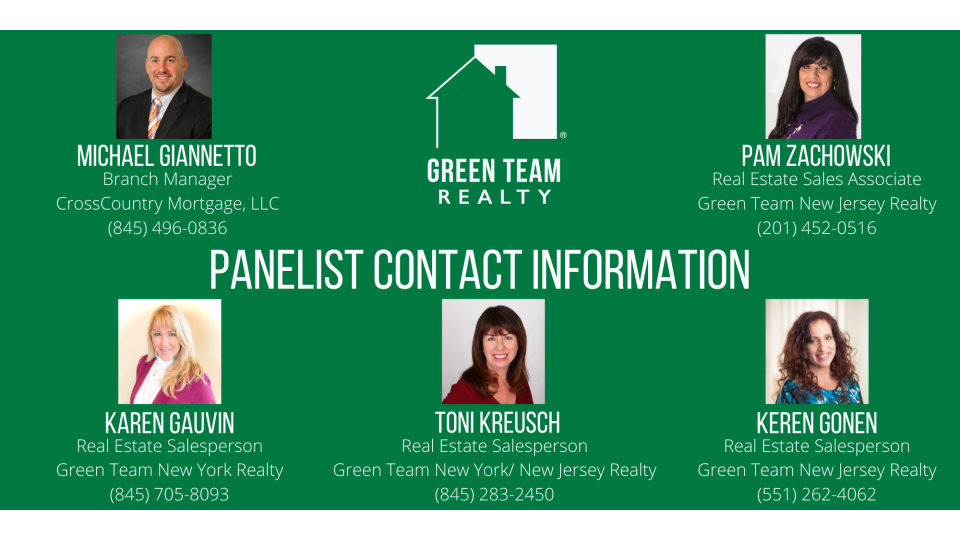 We'll see you on Tuesday, January 29, 2021, at 12 p.m.