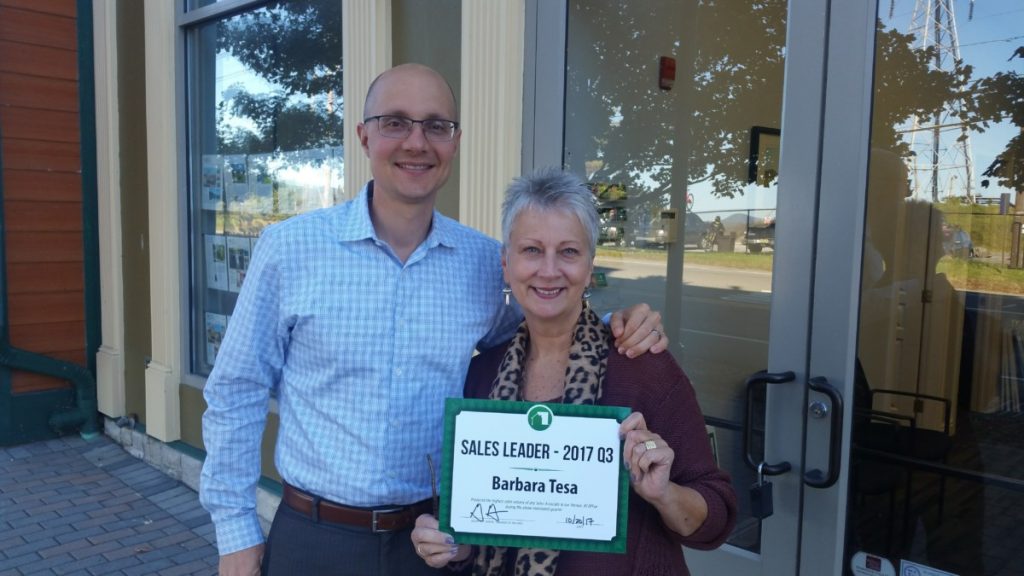 VERNON, NJ – (November 1) Green Team New Jersey Realty in Vernon, NJ is proud to announce that Barbara Tesa is the recipient of its Third Quarter Sales Leader Award.
Though relatively new to Green Team NJ Realty, Barbara is no newcomer to the real estate industry. She brings to the Green Team over 20 years of professional experience in residential and commercial real estate management and 8 years as a successful licensed real estate agent in New Jersey. Barbara's professionalism, knowledge and commitment to her clients is evident in the numbers: 4 out of the five transactions she had for this quarter sold in under 30 days!
When asked what her motto for success is, Barbara promptly replied: "Your Property…My Priority!" She went on to explain, "I believe the strongest asset I have personally is really listening to what the client has to say and making it my priority to deliver for them. When listing a property, besides having a great rapport with the sellers, I feel marketing is key. Coming on board with Green Team New Jersey has provided me with so much opportunity to broaden my marketing skills, it has paid off. The added plus at Green Team is the positive morale and encouragement here; it's such a pleasure working with a Broker who is hands on and truly takes an interest in each agent's performance. Happy to be part of the "TEAM"!"
According to Geoff Green, "This is Barbara Tesa's first Green Team Quarterly Sales Leader award, and I am more than confident that it won't be the last. In fact, I think it will be the first of many. Barbara is a consummate professional who is always looking to improve her craft of selling homes. We are extremely blessed to have Barbara in our Agency and we look forward to assisting her to many future Quarterly Sales Leader awards."
Barbara and her husband, Rudi, bought and sold several homes in Bergen County before discovering the magical combination of resort living and the natural beauty of Sussex County at Crystal Springs, where they currently reside. As a realtor and long-time resident there, Barbara has worked with many clients buying or selling in Crystal Springs, as well as surrounding areas. So, you can add expertise in Resort Homes to Barbara's list of qualifications, along with membership in Garden State Multiple Listing Service, National Association of Realtors and the Sussex County Association of Realtors.