Kristi joined Green Team New Jersey Realty in 2019, bringing with her over 18 years of experience. That year, she became a Captains Club award winner with $3-$5 Million in sales. In 2020, with $10.8 Million in sales, she was in the top 1.7% of all agents in Sussex County. In addition, she was named to the Green Team MVP Circle. Furthermore, Kristi received the New Jersey Realtors® Silver Circle of Excellence Sales Award that year.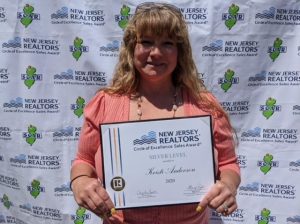 And, with over $12 million in sales for 2021, Kristi has achieved Green Team's new Platinum production level.
Kristi is now licensed in New York as well and has joined Green Team New York Realty.
The Broker-Realtor® is an Accredited Buyer's Representative. In addition, Kristi has Short Sales and Foreclosure Resource Certification. This busy mom of four still finds time to volunteer with the Vernon Township School District's SCA. She is also a dedicated, hardworking volunteer board member of the Vernon Chamber of Commerce.  What's more, Kristi has also started volunteering for the Highland Lakes Community Ecology Committee.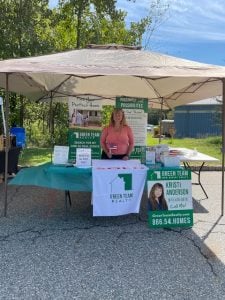 Before entering the real estate profession, what did you do?
I was in banking for several years then I worked as an Account Service Representative for a pharmaceutical Data Company. It was interesting but sitting at a desk all day was just not my cup of tea. I love the diversity being a Realtor offers
How and why did you become a real estate agent?
I bought a house and thought the whole experience was really cool even though there were some bumps in the road and it took us 5 months to close. However, I went and got my license, and here I am 20 years later still loving it.
What do you like best about being a real estate agent?
The excitement of making people's real estate dreams come true. I love the feeling I get every time!  There is nothing else like handing them the keys and seeing that big smile on their face.  Priceless!
What do you like least about being a real estate agent?
Telling a client disappointing news. Unfortunately, it happens in this business and you have to assist your clients through the triumphs and turmoil.
What was your most memorable/unusual real estate transaction?
My client was buying a property and there was a discrepancy in the land of about 2 acres. The attorney notified everyone at closing and they decided to sue each other and we went to court. The judge said this is a joke and told the sellers you will sell the property to these buyers at this price and that is it. A month later we closed. They happily still live there.
What is it like being part of the Green Team?
There is always someone there to help and their client appreciation program does not compare. I love seeing the smile on my client's faces when I hand them their Thanksgiving pie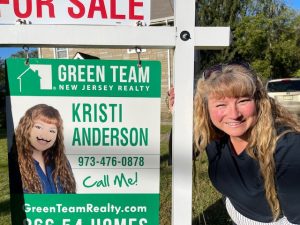 How would family and friends describe you?
Hardworking, tenacious, easy to talk to, problem solver, dedicated, sincere, transparent, and most importantly honest!
What is your proudest accomplishment?
When I was in banking they had a program for employees that if you went above and beyond for a customer it would be made into a commercial. I had a client come in after hours and he needed to cash his check and was flying out early in am. I basically took his check and cashed it out of my account through the ATM. He informed my manager and we made a commercial and it was on national TV. They even played during the World Series.
What does "home" mean to you?
Home means family to me. A place where you feel safe, where you belong. Where you feel stable and secure.  Homes is the base of where memories begin. 
What advice would you give to someone thinking about selling their home?
There is no better time to sell.  Covid has really made people appreciate the value of owning a home which has helped the values rise.
What advice would you give to someone thinking about buying a home?
Real estate is the best investment you can make. Not just financially, emotionally also. It is yours and you should be proud of that accomplishment. Rates are still low, so I would get in before they go up.
What advice would you give to your younger self?
Work smarter not harder. Get your license sooner. lol