Agents and staff of Green Team Realty gathered together on January 18 at the Warwick Country Club to celebrate a year that was momentous in many ways. Geoff Green welcomed everyone and outlined some of the year's milestones.
Among them, a new home for Green Team New Jersey Realty and a beautiful renovation of the Warwick Office.  Add to that the many new sales associates that have joined Green Team New York Realty and Green Team New Jersey Realty.  
Growth was an important topic. Through dedication, hard work, support, creative marketing and consistent training programs,  many Green Team sales associates saw their businesses grow. And both offices saw sales volume increase. In fact, Green Team New Jersey Realty became #1 in Vernon (based on a comparison to all GSMLS offices in the township by closed sales volume for the period of 1/1/18-12/31/18). This achievement is made even more impressive considering GTNJR first opened its doors in 2016.
Award Presentations
Geoff Green believes in acknowledging and rewarding both growth and achievement.  And what makes the award presentations so special is the support and pride that the whole Green Team family shows to the recipients.
Yearly Sales Leaders & 4th Quarter Sales Leaders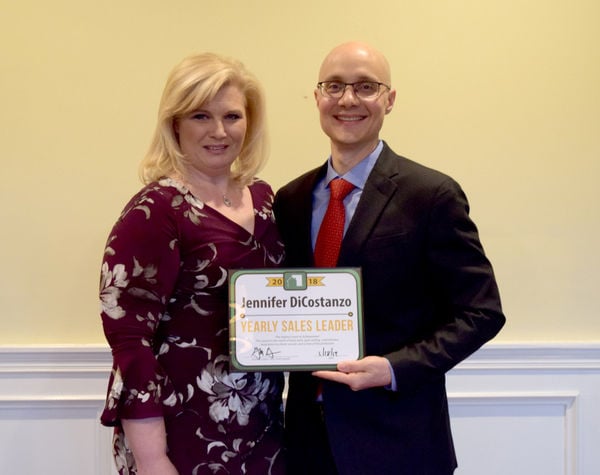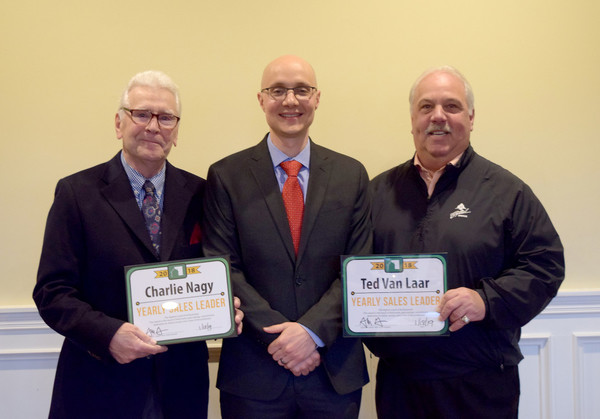 For the third year in a row,
Jennifer DiCostanzo
has earned the Yearly Sales Leader Award.  And she also received the 4th Quarter Sales Leader Award for 2018. (photo left)
In the New Jersey office, the team of
Charles Nagy
and
Ted VanLaar
also received both the Yearly Sales Leader and 4th Quarter Sales Leaders awards. Charles ad Ted were also the 2nd Quarter Sales Leaders in 2018. (photo right)
---
President's Club
As several sales associates achieved between $5 and $10 Million in Sales Volume, a new award category became necessary.  Meet the charter members of the President's Club.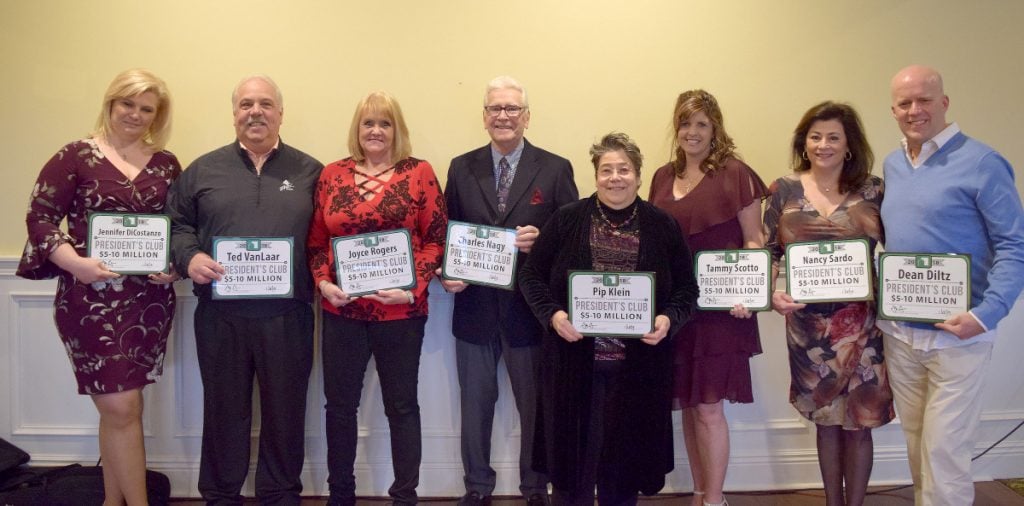 From Left to Right:  Jennifer DiCostanzo, Ted VanLaar, Joyce Rogers, Charles Nagy, Pip Klein, Tammy Scotto, Nancy Sardo and Dean Diltz.
---
Captain's Club
This established award is given to those who do $3 to $5 Million in Sales Volume.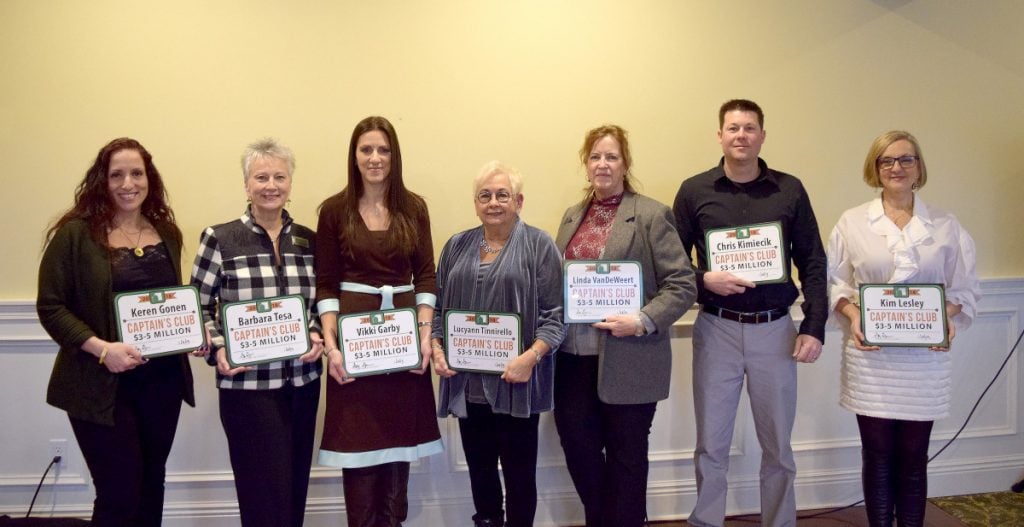 From Left to Right:  Keren Gonen, Barbara Tesa, Vikki Garby, Lucyann Tinnirello, Linda VanDeWeert, Chris Kimiecik and Kim Lesley.
---
Honorable Mention
This new category was created to acknowledge those Sales Associates who had $1.5 to $3 Million in Sales Volume.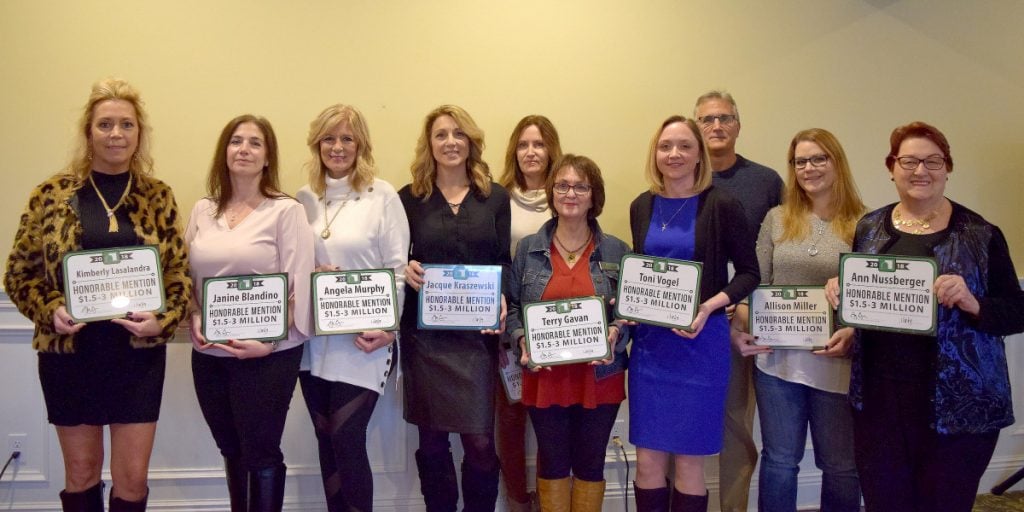 From Left to Right:  Kimberly Lasalandra, Janine Blandino, Angela Murphy, Jacque Kraszewski, Mary Lynch, Terry Gavan, Toni Vogel, Tom Folino, Alison Miller, Ann Nussberger.
Not shown:  Julianna Green, Toni Kreusch, Connie Marines, Denise Schmidt.
---
The Momentum Builder Award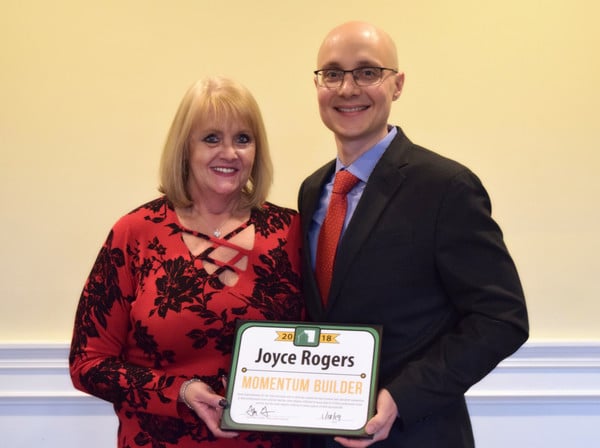 Each year Geoff selects a sales associate who has demonstrated hard work and determination while overcoming obstacles.  Someone who has come through a tough spot in life and turned challenges into great success; not just in real estate but in life.  A person who shows no signs of going backward. Because it's all about building momentum towards a brighter future. This year's Momentum Builder is
Joyce Rogers
of Green Team New Jersey Realty.  She is a single mom with an amazing work ethic.  Her hard work earned her a place in the President's Club.  It also enabled her to achieve her goal of buying a house, exactly where she wanted to. She's no longer in commuting distance from the office.  However, that isn't stopping Joyce from being part of the Green Team family. She's now in a long distance "relationship" with the office.  Something made possible by Geoff's advancement of a tech-based office that allows people the freedom to work from wherever they choose.
---
The People's Choice Awards
The winners of these awards are selected by their peers.
Citizen of the Year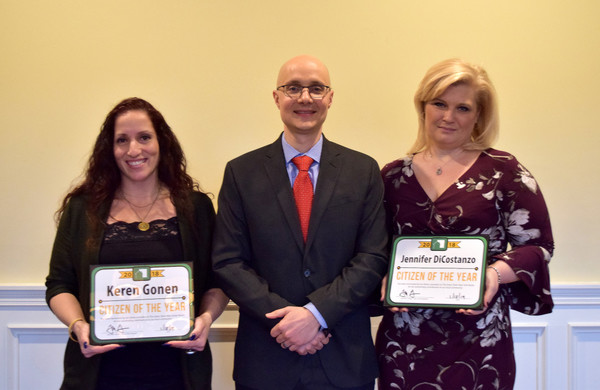 Recipients of this award are nominated by their co-workers.  Both have made outstanding contributions to our local communities.  This is the third year in a row that
Jen DiCostanzo
has been named Citizen of the year by the Warwick Office. Jen originated Light up the Holidays for the Green Team, to raise funds for local charities.  The program has evolved into
Team Up for Hope
.  This is an initiative to raise funds and awareness of the local affiliates of NAMI (National Alliance on Mental Illness) and bring attention to mental illness in our communities.  She is also the organizer of the holiday gift baskets for a family sponsored by the Green Team through the local food bank. And
Keren Gonen
has been named Citizen of the Year by her peers in Vernon for the second year.  Keren has been instrumental in raising funds for the local charities.  She is also extremely active in the Team up for Hope program.  These women truly believe in giving back to the community and put in the time, effort and commitment to make things happen
Team Player Award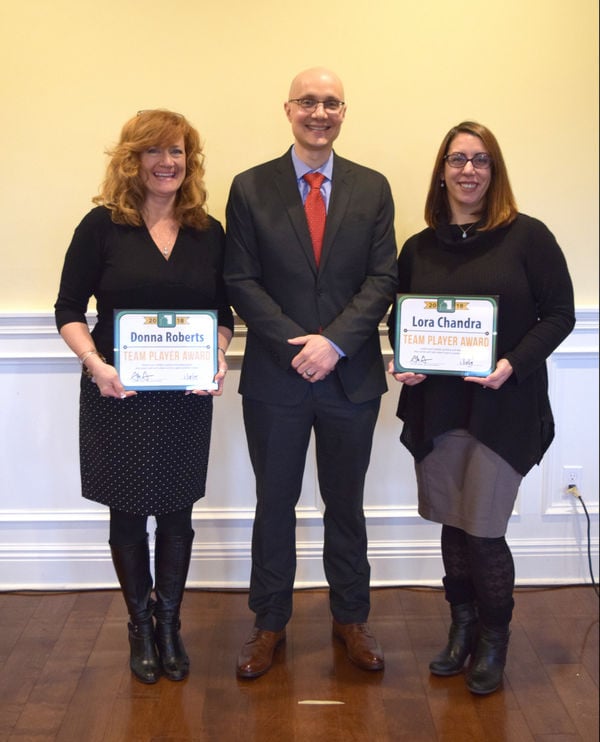 Recipients of this award were deemed the most reliable, positive and dependable.  Furthermore, they work well with others and have great problem solving skills.  It's no coincidence that the award went to the Agent Service Managers of each office.  Donna Roberts was voted Team Player by her peers in Warwick.  And Lora Chandra received this recognition from her co-workers in Vernon.
---
And a special thank you goes to…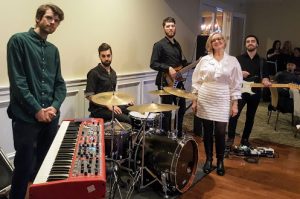 The 2018 Awards Ceremony was sponsored by
Amy Green
, Vice President of Mortgage Lending, Joe Moschella, Regional Manager, and Mark Slepian, Home Renovation specialist, all from
Guaranteed Rate
.
In addition, we had another special treat…  The Kim Lesley Band had us dancing the night away.  The genuine affection that members of the Green Team share is part of what makes Green Team Realty so special.  Most importantly, people support and help each other and celebrate each other's successes.  And this wonderful event was the perfect way to launch into 2019!