Excitement is building at Green Team New Jersey Realty, which launched in September of 2016.  In less than two years it has become one of the top 20 real estate agencies in all of Sussex County.  Furthermore, it is now one of the top 5  agencies in Vernon.  Its formula for success is simple.  Follow the systems and training set up by Geoffrey Green, founder of the Green Team Home Selling System in Warwick, New York and a partner in the New Jersey Office.   Then put together a dynamic team of realtors who take to heart the Green Team's commitment to exceed client expectations.
JOYCE ROGERS – FIRST QUARTER SALES LEADER, GOING FOR BROKE(R)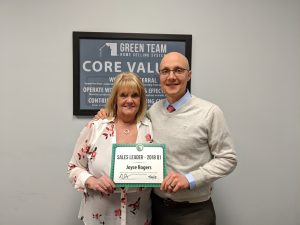 For Joyce Rogers, the first quarter of 2018 has shown what can be accomplished when someone sets a goal and keeps going until it's achieved.
Joyce became the Sales Leader at Green Team New Jersey Realty for the first quarter of 2018. For Joyce, there is a great deal of  personal satisfaction in joining the ranks of those who taught her.  And, in this case, surpassing their sales.  It has meant a lot of hard work, something Joyce is used to.  She makes herself available to her clients whenever they need her. She appreciates the ability the Green Team affords to be able to work from wherever you are.  She's even closed a deal in Shoprite's parking lot. Joyce feels she is hitting her stride and, while this is her first time achieving this goal, it is most likely not her last.
What makes Joyce's achievement even more laudable is that she was going for her broker's license at the same time.  She began in December 2017, taking classes twice a week and studying hard and in March got her broker's license on her first try!
Geoff Green describes Joyce as "driven," and as someone he knows can make happen whatever she wants.  Joyce appreciates Geoff's support and his vision of the telecommuting model, as well as the camaraderie that sales associates have with each other.  They work well together and help each other.  And we applaud and congratulate Joyce on her double achievement, looking forward to seeing what comes in the future.
Meet Jared Kunish
Every new sales associate who joins the Green Team brings a unique background and skill set.  And Jared Kunish is no exception.   With his background as a hedge fund trading manager, Jared's professional knowledge of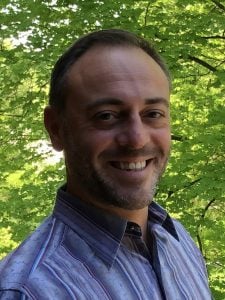 interest rates and housing market trends was a definite plus. But Jared was looking for more than the fast-paced, stress-filled life he'd been living in the financial world.  Rather, he was looking for a quality driven life.  One to share with his three children.  He began following his passions, expanding his knowledge base.   Woodworking, making furniture with his own hands, helped ground him.  So did being an amateur chef.
Becoming a real estate sales agent in Sussex County and a resident of Crystal Springs seems like a natural progression to Jared.  He's far away from the rat race. And he enjoys working with people, helping them find the place that will bring them happiness.  Jared enjoys making things as easy as he can for his clients