As a homeowner, it's always tempting to dream about the next big project you're going to tackle. The possibilities are endless. Should I renovate? Should I refinance? Should I stay? Should I move? The list goes on and on. One of the things you're probably wondering is "How much is my home worth?" To find out, click here.
In today's housing market, it's actually a great time to shift your thoughts toward selling your house and moving up into the home of your dreams.
Here's why:
Inventory is on the rise, but there's still an overall shortage of houses for sale (less than a 6-month supply found in a more normal market), so homes are going under contract quickly. In fact, the National Association of Realtors (NAR) Confidence Index reports that right now homes are only staying on the market for an average of 27 days. That's less than one month, an even more accelerated pace from the 36-day trend we saw last spring.
The same report also indicates there are more interested buyers than active sellers today, which is one of the big factors driving home prices higher. (1)
Average # of offers received on the most recent closed sales 2.3 offers. (2)
Appreciation Is Strong:It Might Be Time to Sell
There's no doubt that today's housing market is changing, and everything we see right now indicates it is time to sell. Here's a look at why selling now is likely to drive the greatest return on your largest investment. 
Home values have been appreciating for several years now, and prices are expected to keep climbing over the next few years, but they are not projected to continue to increase at such a high rate.
Here's What That Means for Homeowners
The latest Home Price Expectations Survey (HPES), forecasts an average annual appreciation rate closer to 3.2% over the next five years, which is more in line with a historically normal market (3.6%). The good news is, there's still time to take advantage of the current strength of home prices by selling your house now.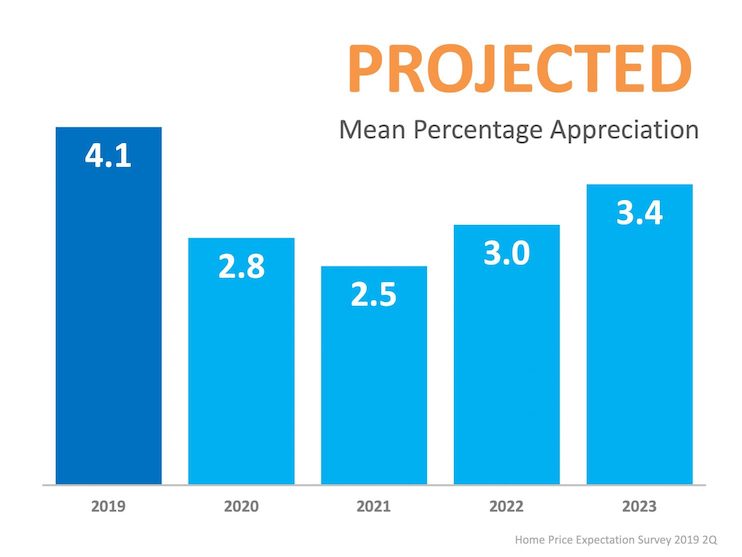 Looking at the projections as they stand today, 2019 is slated to drive the strongest appreciation as compared to the upcoming few years. With average home prices still on the rise, the pace at which they are predicted to continue increasing will likely soften by 2020. (1)
SOURCES: (1.) KEEPING CURRENT MATTERS (2.) NAR 2018 BUYER AND SELLER SURVEY