Th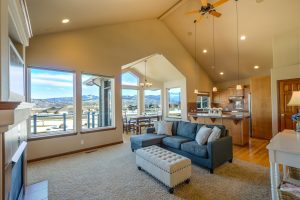 e prospect of staging their home for sale gives some clients "stage fright."  They don't want to take down their family photos and collectibles.  Moreover, they feel their home looks great the way it is and that will help the sale!
How Staging Can Help Sell Your Home
Home staging is a vital step that should not be overlooked or dismissed in the preliminary discussions of getting ready to sell. However, there are different "Stages" of Staging that will ultimately give your home "High Octane" power when entering the market.  Showcasing targeted areas, giving attention to WOW factors, are key components. Your realtor will strategically guide you for your grand debut to the market.
A Picture is Worth a Thousand Words
Staging has become the new norm that will warrant interest and offers from buyers in short time.  Remember, the goal in selling your home is to get the highest value the market will support in the least amount of time.  Buyers expect to see their lifestyle fit in your home. It's no longer just for high-end custom properties.  Its purpose is to capture positive attention and leave an impression on the market.   Buyers see first with their eyes. Then their heart, followed by an offer. You only get one chance at a first impression- make it worthwhile for you!
The Importance of De-Cluttering
Your home, once entered into the MLS, will be seen on the largest of online platforms.  A "Show ready" home is well worth a few revisions.  Enhance your home by painting to balance tones and freshen.  Then put away any and all personal collections and the family photos.  De-clutter, de-clutter, and de-clutter are the simplest things to do, yet among the most important, and will have a big impact when your home is professionally photographed.
Keep in mind, putting these items away is just temporary and also provides added privacy when opening your home to buyers and viewers, both online and in person. Focus all your attention on the house .. and NOT what's in it!    You want prospective buyers to leave your home excited and envisioning their needs and lifestyle, not wondering if they know you or your family from the photos displayed or distracted by the elaborate collection of vintage dolls or sports memorabilia.
So no need for stage fright. Put away those photos and priceless collectibles.  If you follow these simple steps you'll be looking forward to a great opening of your very own show-ing!