Area Highlights
A quick view of the most influential metrics in Monroe.
Discover the Town of Monroe, New York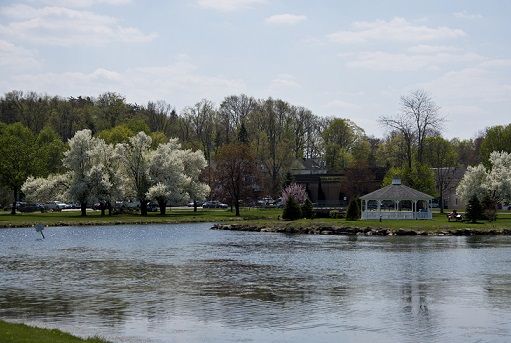 The Town of Monroe has a rich and fascinating history, dating back to the 1600's, when Dutch and English settlers made their way to this place that had lands good for farming, plenty of water, good access to the Hudson River, and surrounded by mountains in the Ramapo Valley. The Monroe Historical Society has done a wonderful job of documenting Monroe's history through photos and stories of the town as it was and as it grew into the town we know today.
Cheese, dairy and mining were once thriving industries here, and it was in Monroe that the cheese processing called Velveeta was born. Today Monroe is home to numerous businesses and restaurants, and is in close proximity to Woodbury Common Premium Outlet with over 220 upscale outlet and factory stores. Also of note is Museum Village, a living history museum that lets visitors experience life in the 19th century. The playhouse at Museum Village is home to the Muddy Water Players, who perform four shows a year.
The Village of Monroe is home to Smith's Clove Park, located in the center of Monroe, has 80 acres of developed and undeveloped land. There are hiking trails, a skate part, dog park, and a 2600 sq. ft. recreation building. In addition, there are fields for football, and minor and major baseball. Further there are courts for handball, racquetball (indoor), tennis, roller hockey and volleyball. Then there is Mombasha Park, which features nature trails fashioned by Boy Scouts. There is a playground, and fields for baseball and soccer. Additionally, the park serves as an aboretum. It was established by the Town of Monroe Conservation Commission in 2017, to promote the importance of trees to health and environment.
There is a strong sense of pride and community, as shown by its annual community events. From Monroe Clean Sweep, Earth Day Celebration, the Memorial Day Parade, Summer Concerts, the Farmers' Market, Independence Day Festival, Carnival, Film Festival, Wine and Cheese Festival, Cheese Festival to the 9/11 Memorial Ceremony, these events bring the residents of Monroe together, creating wonderful memories for all.
Monroe is part of the Monroe-Woodbury Central School District. Elementary schools include Central Valley, North Main,Pine Tree, Sapphire and Smith Clove. Students then attend Monroe-Woodbury Middle and High Schools.
Just 40 miles from New York City, Monroe provides that wonderful small town feeling while also providing convenience and easy access to the City. For anyone who prefers not to drive, for your convenience Coach USA commuter buses serves several Manhattan locations.
Properties in Monroe
View our selection of available properties in the Monroe area.
Inside Monroe
Check out the latest demographic information available for Monroe.
Overall Cost
VS National AVG
Housing Cost
VS National AVG
Entertainment Cost
VS National AVG
Utilities Cost
VS NAtional AVG
Crime Rate
VS National AVG
Monroe Schools
Learn more about schools near Monroe complete with ratings and contact information.
The Best in Monroe
Browse through the top rated businesses in the most popular categories Monroe has to offer.
Dine
Drink
Shop
Perk
Sweat
Groom
Wag