Join Our Team
We Take Care of Our Agents.
We Take Care Of Our Agents
The Green Team's business model is simple but powerful: to provide its Agents with unmatched administrative support and cutting edge technology, thus allowing them to deliver the most attentive, efficient and results-oriented customer service to both buyers and sellers alike. No other Real Estate Agency in the nation provides its Agents with as much behind-the-scenes support for them to focus on their clients and making money.
As the diagram shows, you're backed by a team of professionals. It's why The Green Team mantra to consumers of "Hire A Team Of Professionals For The Price Of One Agent!" is not just preached, but practiced.
Whether you're a seasoned Realtor or a newcomer to the profession, you know the details and minutiae involved to complete just one transaction.
As a Green Team Agent, we provide you with an administrative team for FREE to MAXIMIZE YOUR PROFITS. A team that takes care of the little things for you.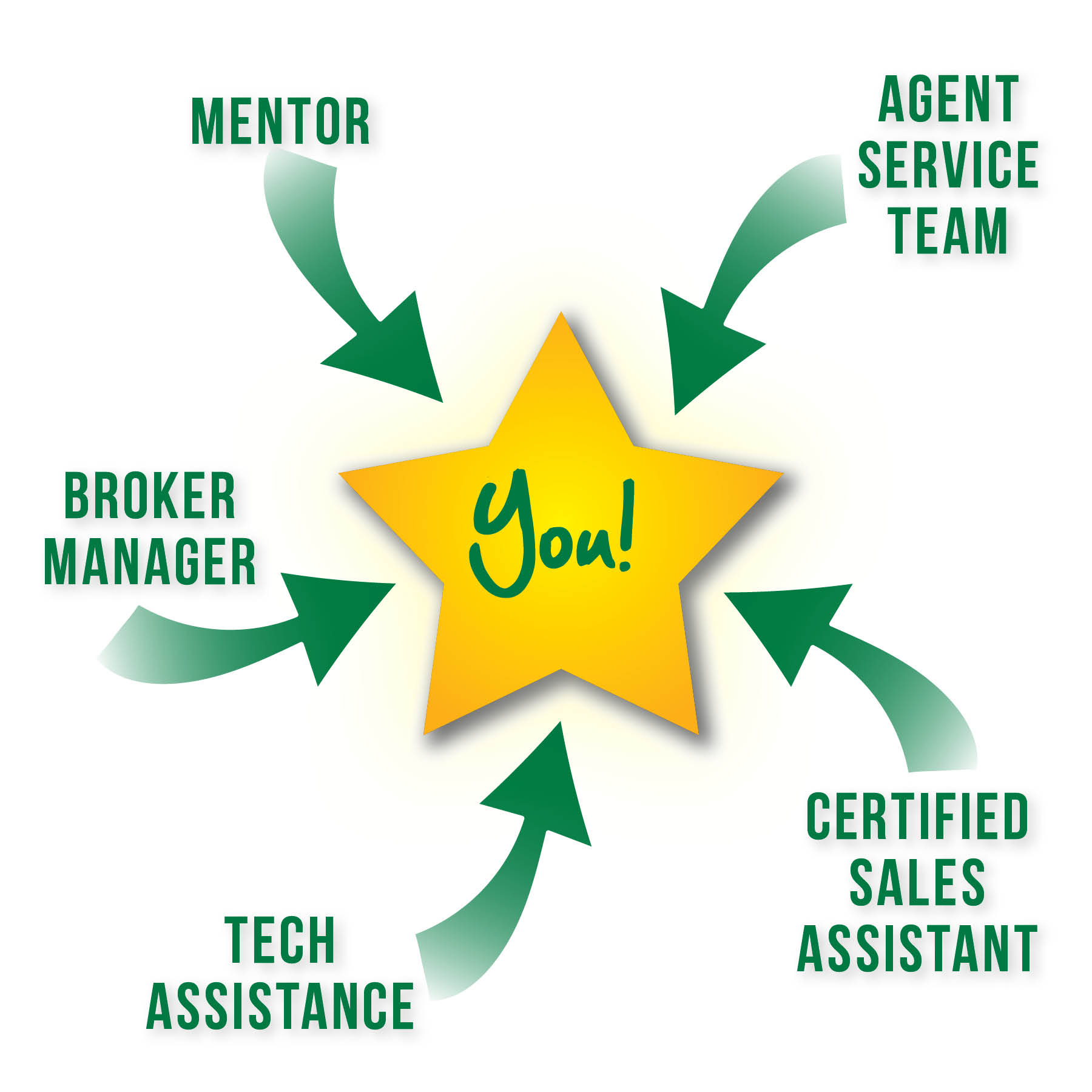 The Green Team also provides its Agents with a step by step system for lead generation, client service, client retention, and Agent support, and our "Green Team Cloud" is like no other in the industry, providing you with complete technological resources at your fingertips 24/7.
And we do this all without charging our Agents desk fees, or unreasonable commission splits. Our commission structure is one of the most competitive in the industry.
By joining The Green Team, you will truly be able to become the Realtor you want to be – earning a great living doing something you love, and enjoying a balanced lifestyle in the process.
The Green Team Commission Plan has three basic components
The goal of our commission plan is to put as much money in the pockets of Sales Associates as possible.  This empowers the Sales Associates to reach their financial AND personal/family goals.
Commission Splits
A Real Estate Brokerage is only as good as the Sales Associates who work there and that's why it's the central focus of our commission plan.
CAP Program
After a Sales Associate contributes the set amount to the Company Dollar out of their commission splits in any calendar year, that Sales Associate will then receive 100% of all Gross Commission Income earned for the remainder of that calendar year.
Additional Revenue Opportunities
Sales Associate Mentor

Recruitment 
To learn more about what a career with the Green Team has to offer, complete the form below or you call your local Green Team Office at any time.