We Take Care Of Our Agents
At Green Team Realty, we have professionals working to help our Sales Agents.
Each and every day trained professionals assist our Agents in becoming the best that they can be.  Our Certified Sales Assistants (CSA) and Agent Service Managers (ASM) handle a myriad of essential tasks and details.  Broker Managers offer support to help with details involved in successful transactions. Our in-house marketing team delivers the training and tools to generate leads and build great Agent brands. They combine creativity and know-how to promote our Sales Agents.
With all of that said, don't take it from us.  Please take a moment to hear what some of our Agents have to say about our support programs.
The Green Team Commission Plan Has Three Basic Components
The Goal Of Our Commission Plan Is To Put As Much Money In The Pockets Of Sales Associates As Possible.  This Empowers The Sales Associates To Reach Their Financial AND Personal/Family Goals.
Commission Splits
A Real Estate Brokerage is only as good as the Sales Associates who work there and that's why it's the central focus of our commission plan.
CAP Program
After a Sales Associate contributes the set amount to the Company Dollar out of their commission splits in any calendar year, that Sales Associate will then receive 100% of all Gross Commission Income earned for the remainder of that calendar year.
Additional Revenue Opportunities
Sales Associate Mentor Program

Recruitment Incentives
To learn more about what a career with the Green Team has to offer, complete the form below or you call your local Green Team Office at any time.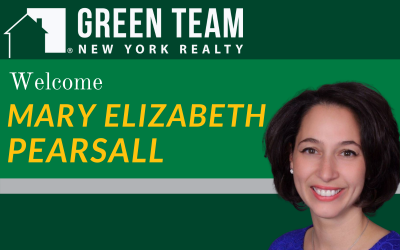 The Green Team is proud to announce that Mary Elizabeth Pearsall has decided to join our Warwick, NY team. We're excited to have her on our team and look forward to helping her grow!  Please join us in Welcoming Mary to The Green Team New York...