The September 2021 Housing Market Update was moderated by Geoff Green and held on September 21 at 12 p.m.
The entire webinar is available here if you missed it live or if you'd like to watch it again.
Where things are… And where they're headed
This quote from Odeta Kushi, Deputy Chief Economist, First American, sums up what's happening:
"We are seeing some signs of softening in the housing market, but context is important here… We're still very much in a sellers' market, but we are seeing some early signs of softening."
Geoff presented statistics that support this statement.  Context is very important. Firstly, before the pandemic the market was robust. Secondly, the impact of the pandemic on the market was tremendous. According to ShowingTime's Monthly Index, the number of showings is softening. However, it's still higher than before the pandemic. Thus, the market remains strong.
Statistics presented on the percentage of homes selling over list price confirm that the market remains strong. Furthermore, new monthly listings are increasing over pandemic levels.
Affordability
Homes are becoming less affordable. But, they are not unaffordable. Affordability takes into account wages, cost of living, etc. However, affordability is still high compared to the stats of the last 30 years. In addition, rental prices have soared, making buying a home a more desirable option. Percentage of income needed for mortgage payment increases as home prices continue to climb. However, it still remains below the 25% required by mortgage lenders. It is still a good time to buy!
Five reasons today's housing market is anything but normal
Geoff went over the stats for the following categories:
Mortgage rates
Annual home price appreciation
Monthly inventory of homes for sale i
Days on market
Average number of offers received on closed sales
According to George Ratiu, Senior Economist at Realtor.com,
"I expect an unusually busy fall season. Sellers are putting homes on the market. Normally, this activity happens early in the spring."
National Housing Market Stats
Year-over-year numbers for existing home sales, average home sales price, and months supply of inventory support a softening of the market.
"Housekeeping" Items: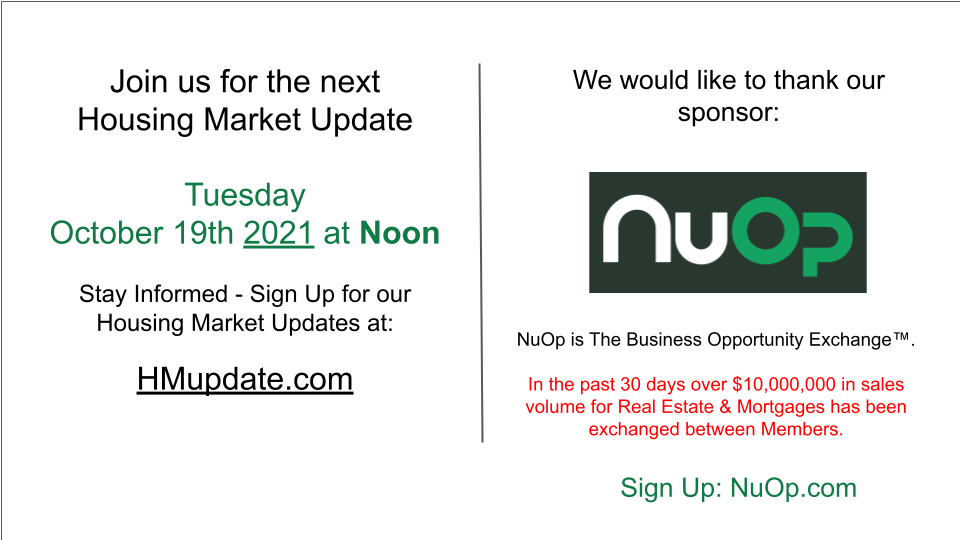 The September 2021 Housing Market Update Panel
Geoff introduced the panel of experts. They are Carol Buchanan, Associate Real Estate Broker, Green Team New York Realty; Rob Lang, Realtor, with At Home Kansas, and Laura Moritz, Classic Mortgage.  Panel members discussed their take on the above information, based on their experiences and what they are seeing in their businesses.
To view the entire presentation and panel discussion, click here
Panelist Contact Information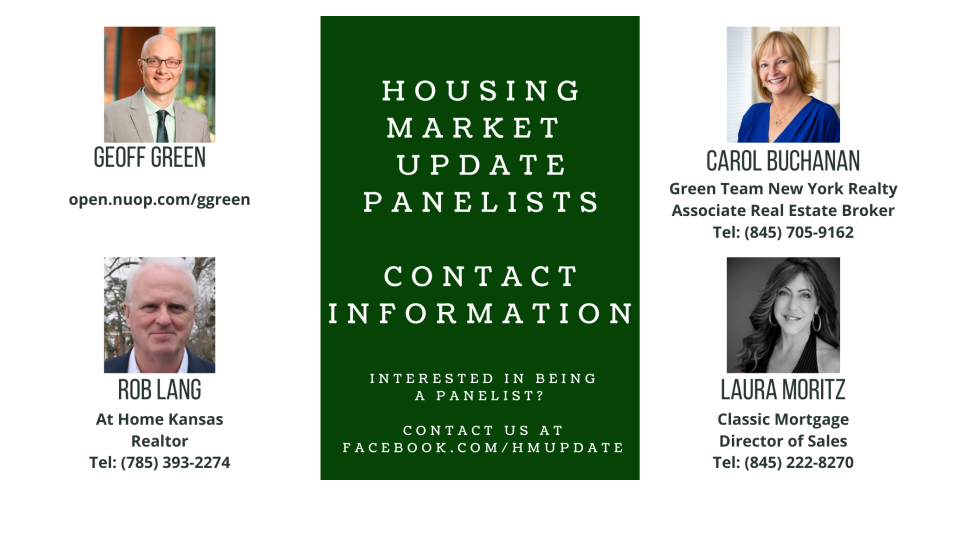 Sign up for Local Updates at