Geoff Green, President of Green Team Realty, welcomed everyone to the January 2020 Housing Market Update held on Tuesday, January 21 at 2 p.m. This first housing market update of the year provides a review of 2019, as well as a look forward.
Click Here to Watch the recording of the live Housing Market Update
National Stats
Housing Market Predictions for 2020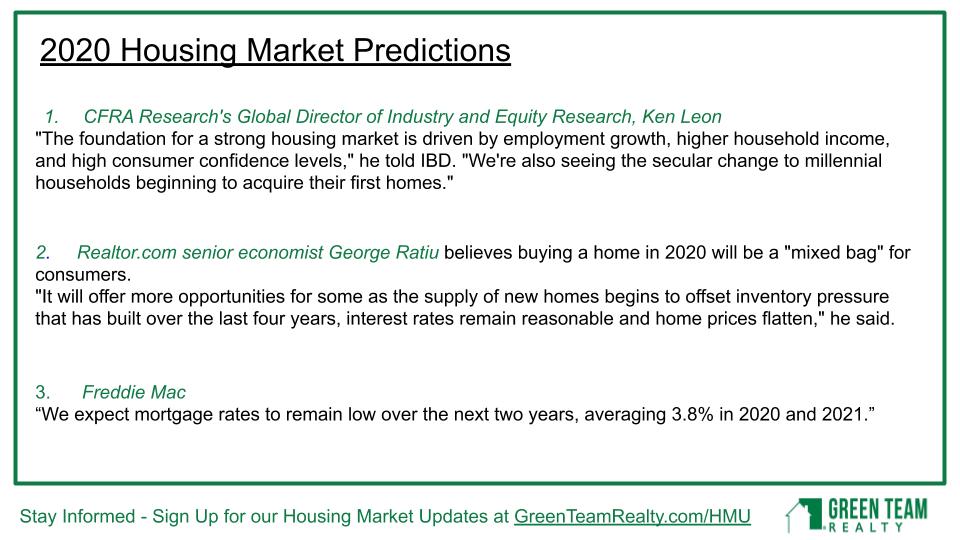 Influencers in the industry have made predictions as to where the housing market is headed in 2020.  Ken Leon, Global Director of Industry and Equity Research of CFRA Research says there is a strong foundation for the housing market driven by employment growth, higher household income and consumer confidence levels. In addition, he also believes that we'll start to see millennials beginning to acquire their first homes.  There are more millennial buyers than any other generation right now.
George Ratiu, Senior Economists of Realtor.com sees a mixed bag. Supply of new homes begins to offset inventory. We'll still be talking about inventory issues, but interest rates remain reasonable as home prices flatten. We're not seeing that flattening of home prices in our area at this time, but its reasonable to assume the growth of price appreciation will slow in 2020.
Freddie Mac expects interest rates to remain low for the next two years, a good thing.
The Positives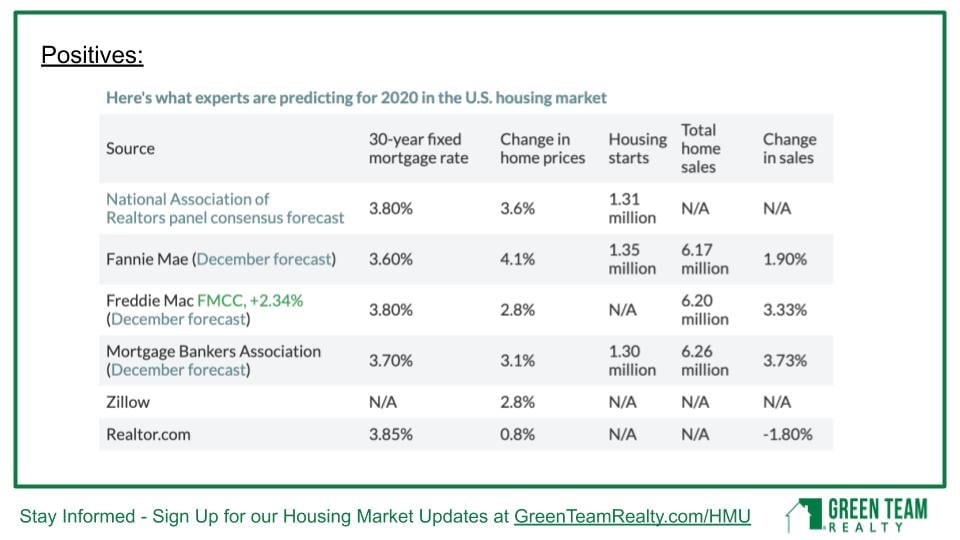 As shown above, rates are still historically low. It seems like the experts are in agreement that home prices are going to increase, though Realtor.com is the most pessimistic, predicting just a slight increase.  Housing starts (new housing analytic) appear to remain at about 1.3 million. And total home sales look like they may eclipse 6 million, indicative of a very strong 2020 housing market.
The hurdles…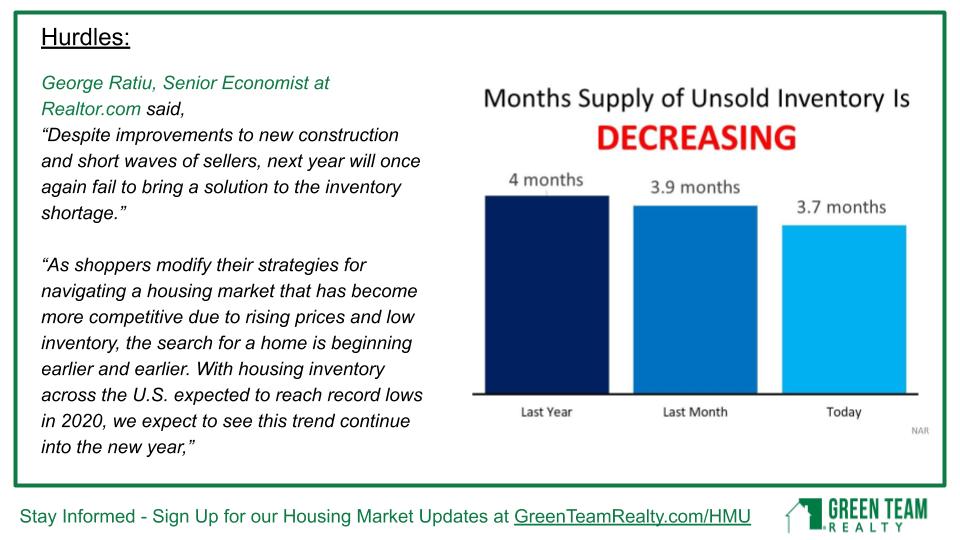 The issue of inventory we've been dealing with for some time is continuing. And it appears that it will keep on being an issue for at least 2020.
Promising news regarding national delinquency rate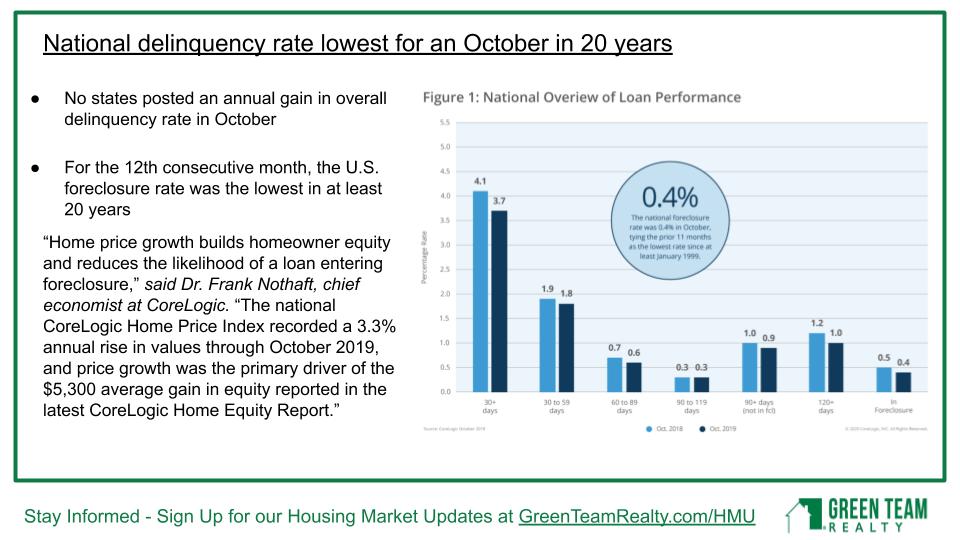 This is encouraging news. What lead to the major downturn in the 2007/2008 housing market and kept it at such a low level till 2016 was delinquency. Right now we are basically at 20 year lows as far as loans defaulting. This is a great analytic as it means people, even when it's difficult, are keeping up with their mortgage payments. A lot has to do with confidence as homeowners see their homes increase in value.
American Debt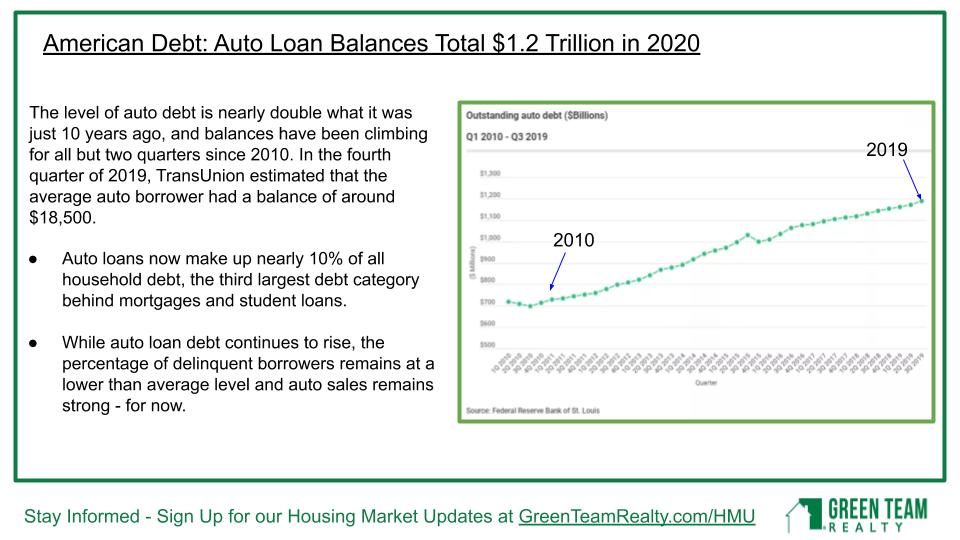 Thought to be a precursor in relation to the housing market; auto debt has doubled in the last 10 years. Even as auto loan debt continues to rise, the percentage of delinquent borrowers is still at a lower than average level and sales remain strong. However, it warrants watching.
Local – Combined Stats for Orange, Rockland and Westchester Counties, NY
Units Sold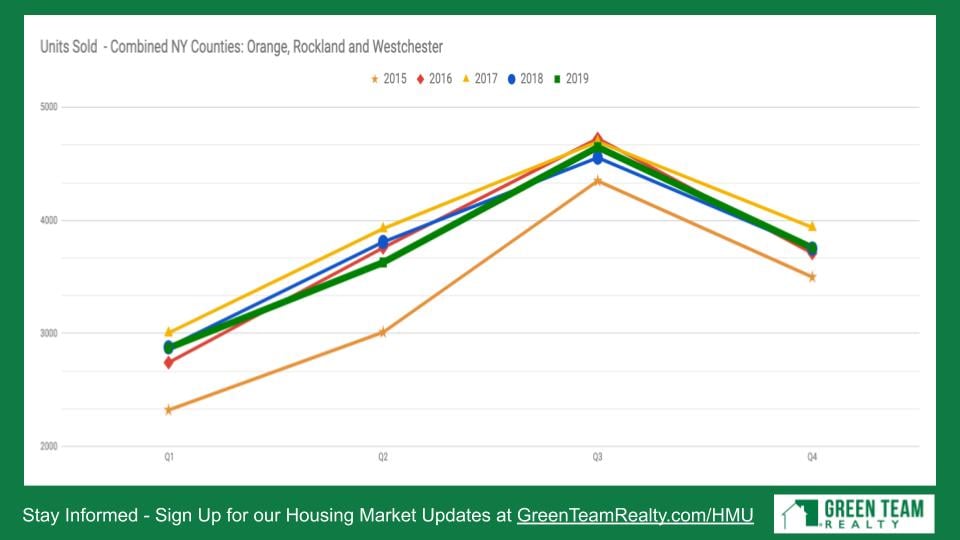 Broken down into quarters, it's evident 2017 was the peak, year over year.It's worth keeping track of these trends.
Average Price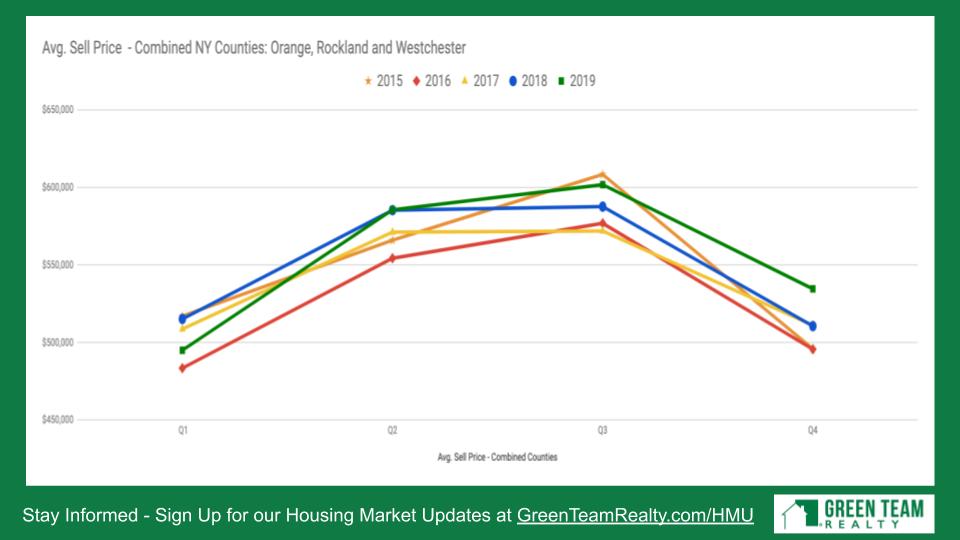 Prices are continuing to increase, showing an increase over the last four years at end of 4th quarter.
Ask to Sold Ratio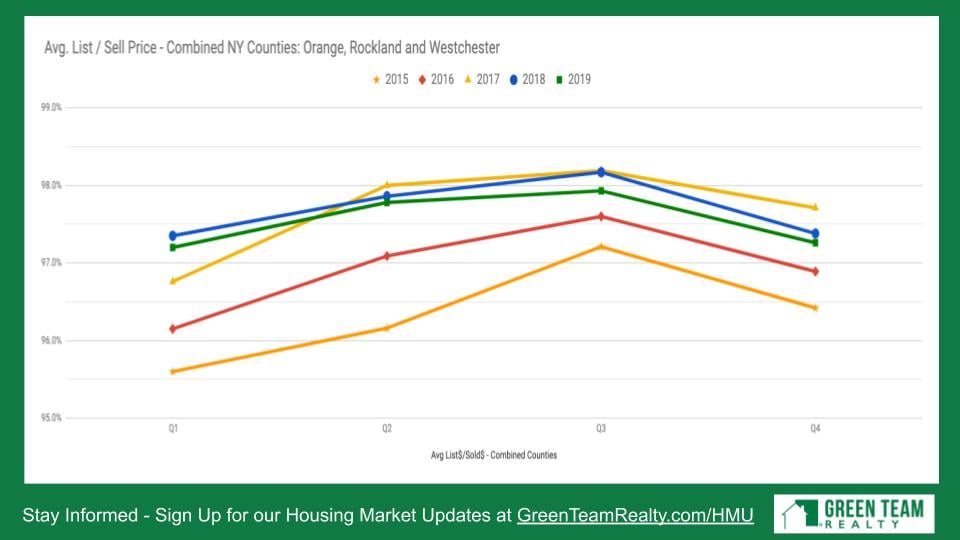 The last asking price versus what the home sold for. This is softening a bit. The higher the number, the better the sellers market is. As it cools, the better the market becomes for buyers.
Days on Market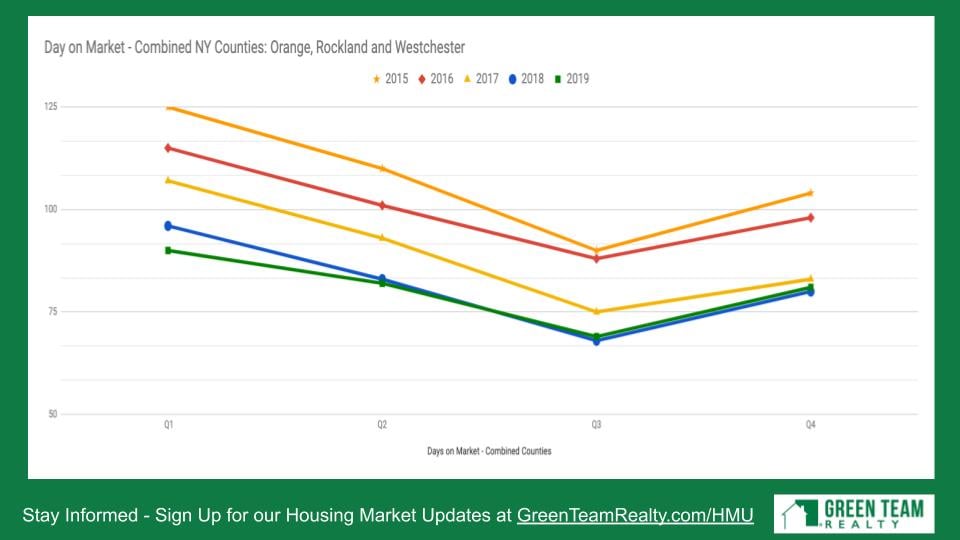 We're seeing days on market coming up, an indication that market is cooling.
Orange County, NY
Units Sold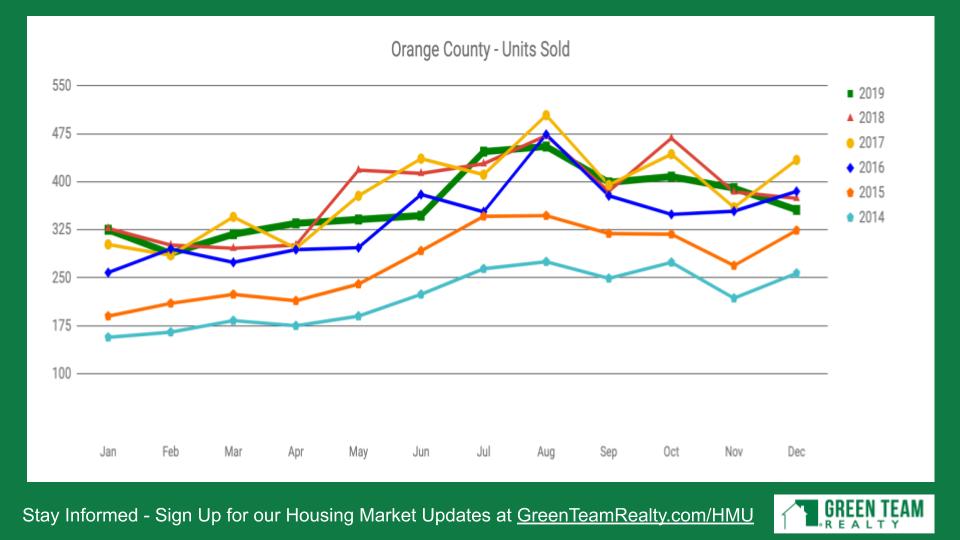 As opposed to quarterly format, these graphs show month-to-month variations. You can see where things started to fall off back in the end of 2017. While it could be argued that we've been in a cooling off period for almost 2 years, we haven't seen price follow suit.
Average Sales Price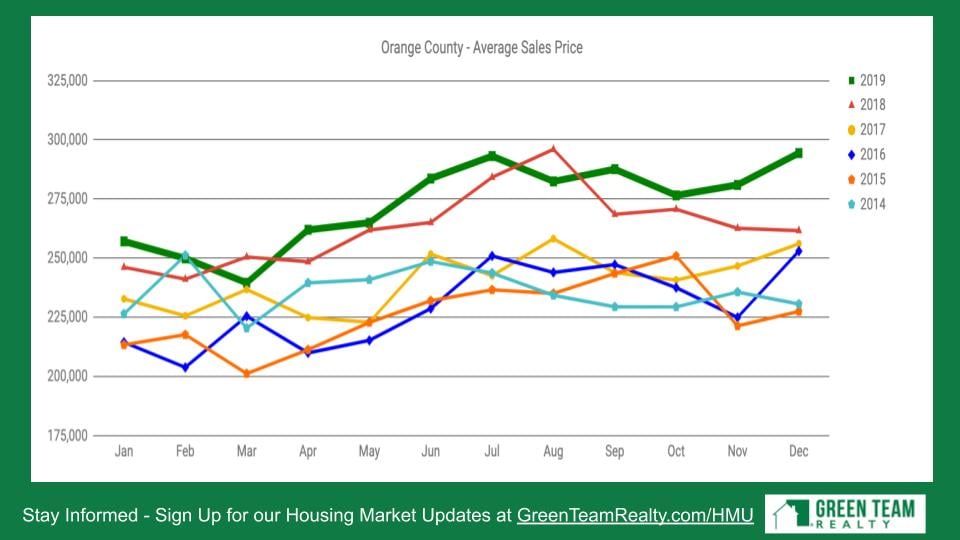 We have been seeing price increase over the last two years, in comparison to the units sold trend. Geoff reiterated that in his experience, price always lags units sold. Here we're looking at a two-year lag, but much can be attributed to low inventory.
Ask to Sold Ratio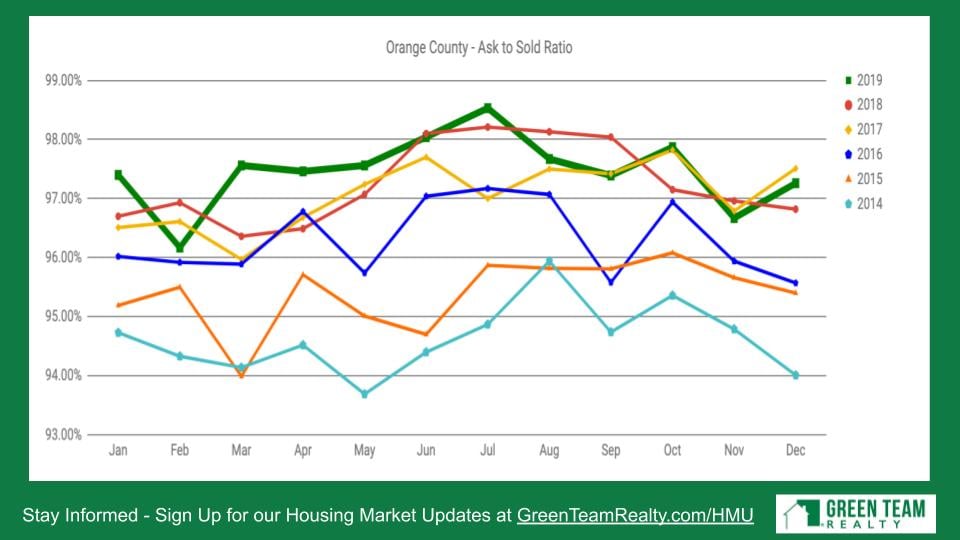 Days on Market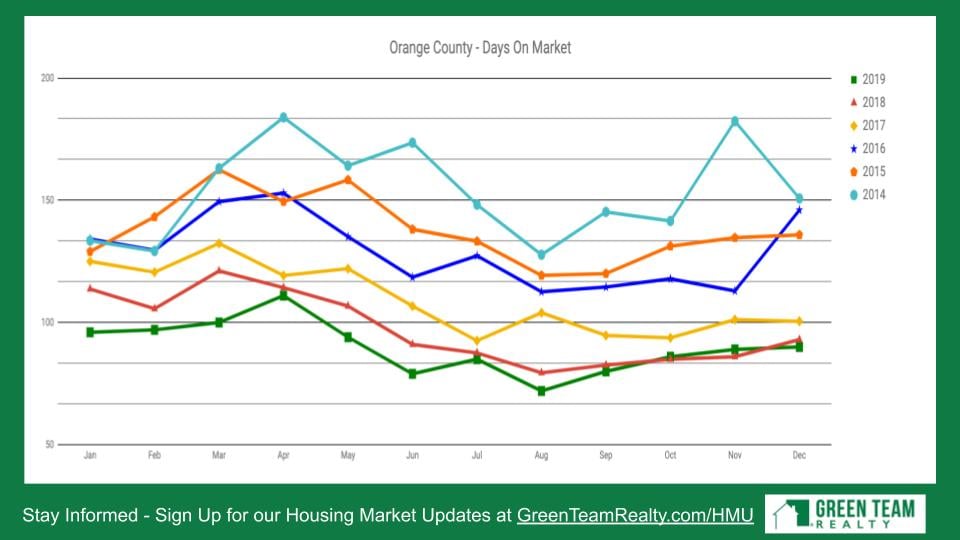 Local – Combined Stats for Sussex, Morris and Passaic Counties, NJ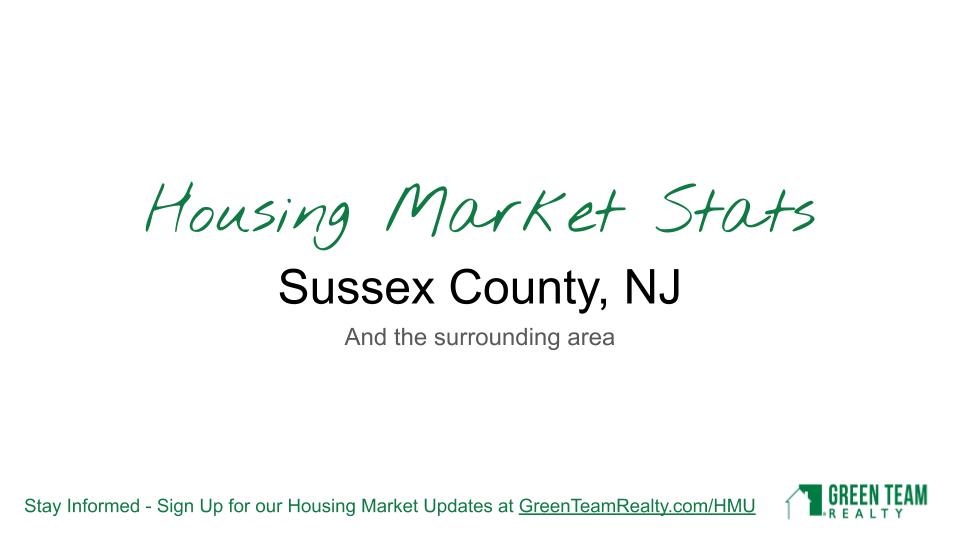 Units Sold
There is a significantly lower variance for 2019 in units sold.
Average Price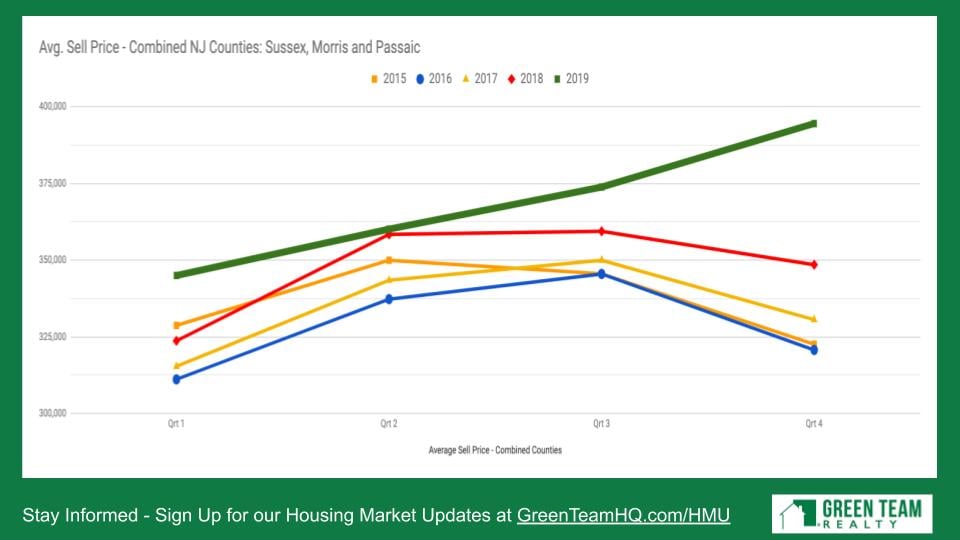 Here again, prices are rising, even though units sold is significantly down.
Ask to Sold Ratio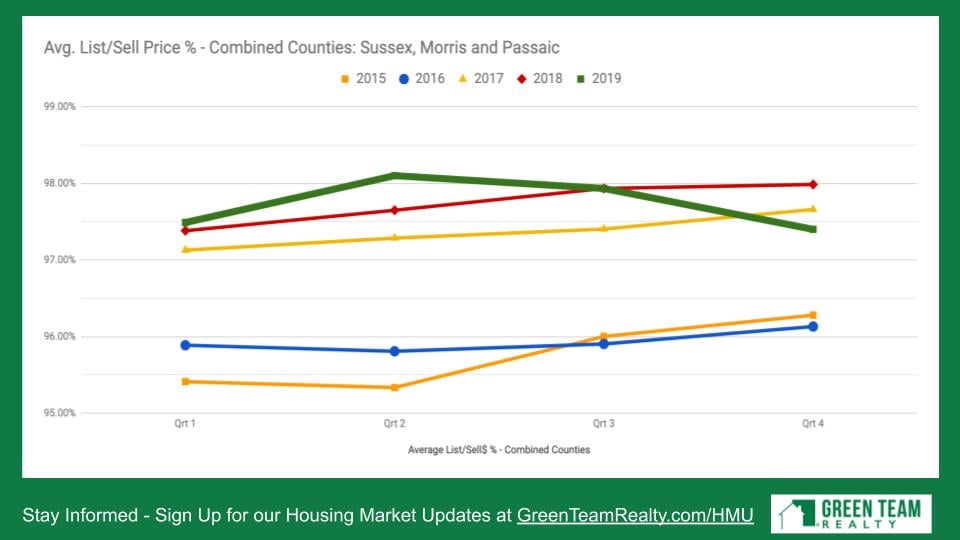 Average sold to list price ratio is slowing down, a sign that things are cooling off a bit. The higher the number, the hotter the market. The lower, the cooler, and trending towards a buyers market.
Days on Market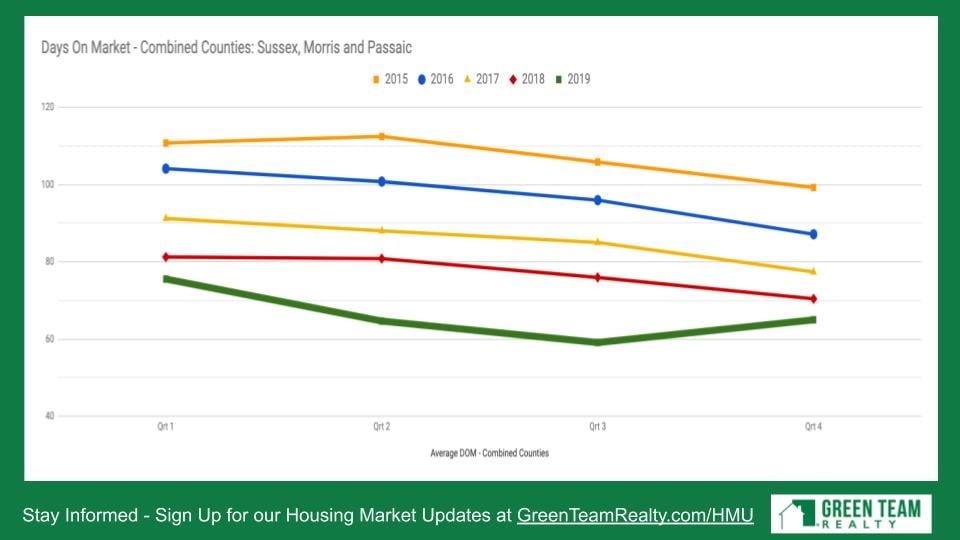 These numbers are still holding strong.
Sussex County, NJ
Units Sold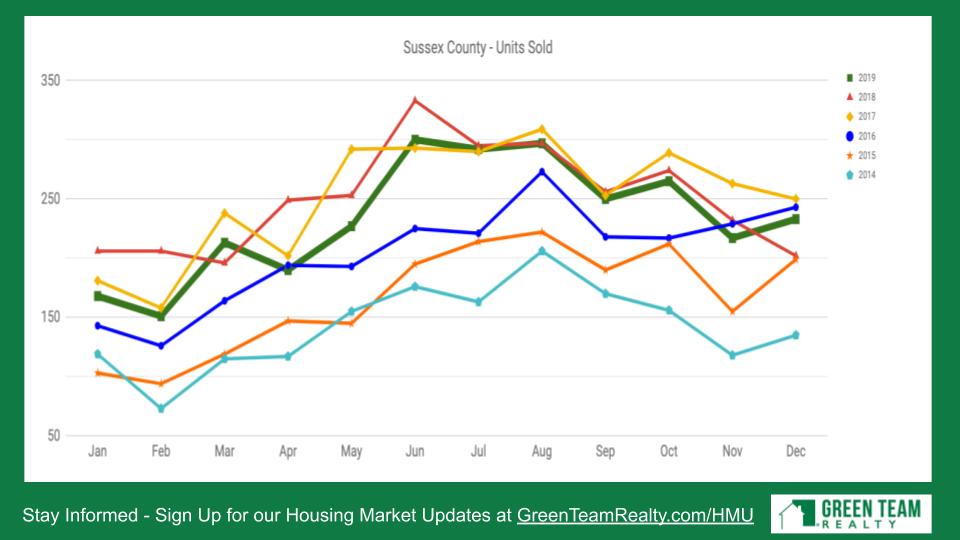 Per Geoff, these are really the most important numbers to look at. And again, in 2017 the numbers started to decline.
Average Sales Price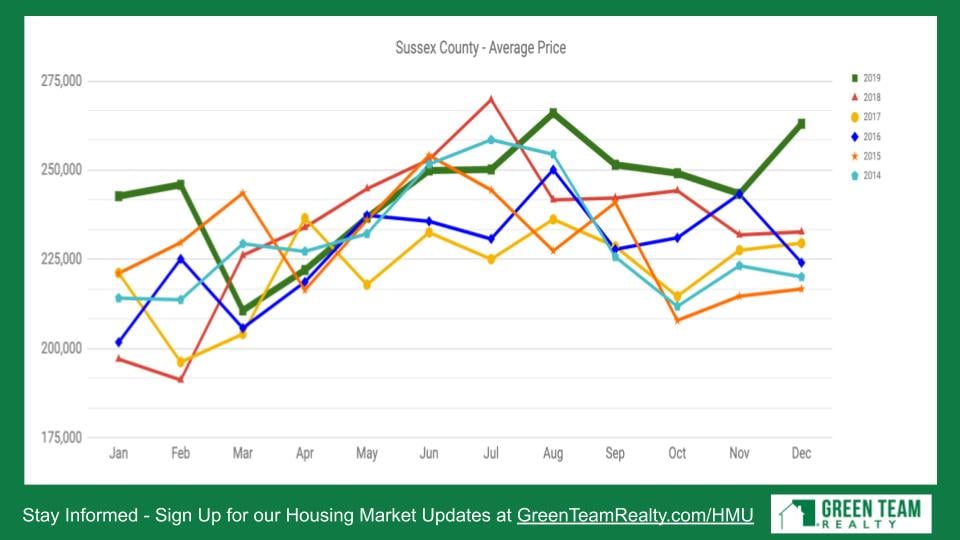 Ask to Sold Ratio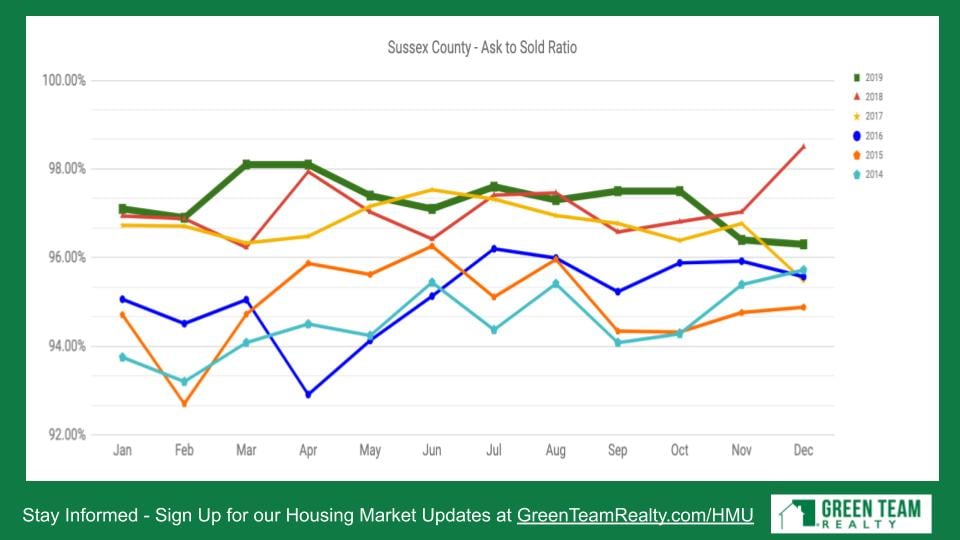 Days on Market
So, should you buy or sell a home in 2020?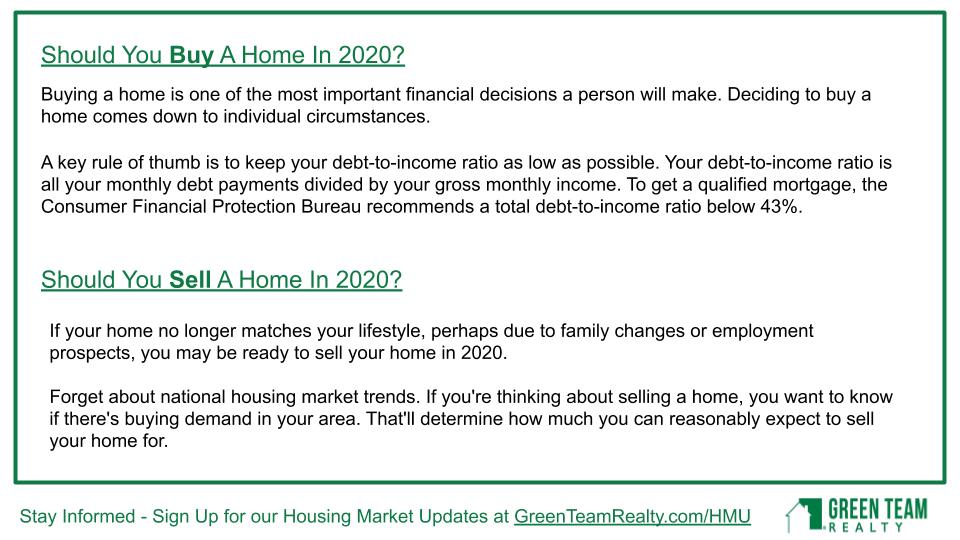 If you're considering buying a home in 2020, it comes down to individual circumstances. The Consumer Financial Protection Bureau recommends a total debt-to-income ratio below 43% to get a qualified mortgage.
Should you sell your home in 2020? Regardless of the advice here, Geoff says if the time is right for you, the answer is yes!  If you're a Baby Boomer and you have a place to go to but are waiting to see if the market is going to go a little bit higher, that may not be a game you should be playing. There are too many variables. Lots of stats show the market is entering a cooling off period. In an election year you never know what the impact will be. In other words, the market is about as good as it's going to get for the foreseeable future!
Click Here to Watch the recording of the live Housing Market Update
Housekeeping Items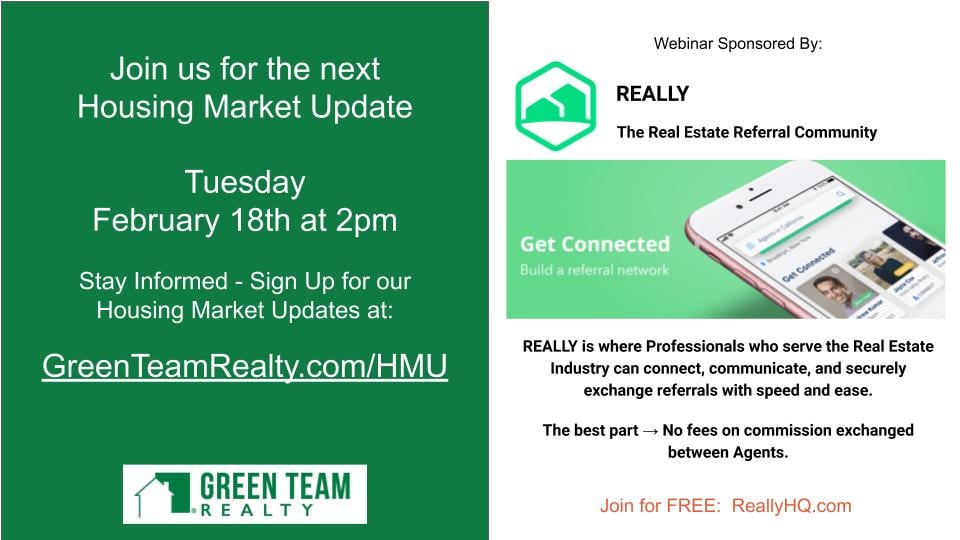 The next Housing Market Update will be on Tuesday, February 18 at 2 p.m You can sign up at GreenTeamRealty.com/HMU.
Thank you to our sponsor, REALLY, The Real Estate Referral Community. REALLY is where Professionals who serve the Real Estate Industry can connect, communicate and securely exchange referrals with speed and ease. And there are no fees on commission exchanged between Agents. Join for free at ReallyHQ.com
Meet Our Panel for the December 2019 Housing Market Update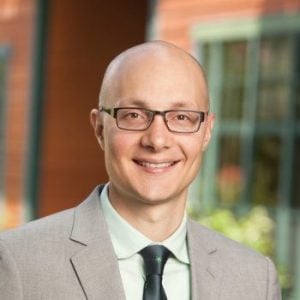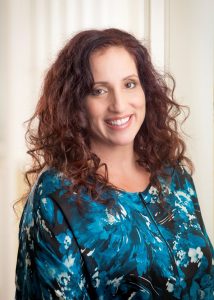 Our moderator is Geoff Green, President of Green Team Realty. Our panelists are Keren Gonen of Green Team New Jersey Realty.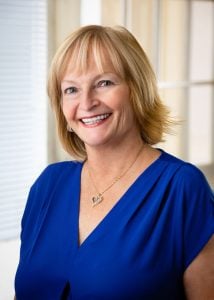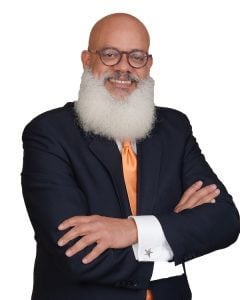 We also have Carol Buchanan and Wayne Patterson of Green Team New York Realty.
Geoff opened the discussion by asking the panelists how 2020 was starting off for them. What are they experiencing?
Carol Buchanan
Carol began by stating that she has never seen a January this active. She is working with clients who will be listing, buyers who are anxious to purchase. Again, inventory is still low so when a home comes on the market that is nice and priced well, it sells quickly. In January 2019 Carol predicted that 2019 was going to be a strong year. Geoff asked if she has the same sense for 2020. "Absolutely! Positively. No doubt about it," was Carol's response. " 2020 is going to be a very, very strong year in real estate."  Geoff added that Carol's predictions have proven to be more correct than anyone else's he knows, so he always listens to hers!
Wayne Patterson
Geoff then asked Wayne, who has been in the industry a long time, what his take-away was on the stats presented. Wayne replied that what immediately came to mind was that if a buyer is interested, and because inventory is so low, they should have all their ducks in a row. It's vital to be pre-approved, have all documentation ready to go, etc. Buyers have to be ready to move as there will be competition for homes on the market. "He who makes the offer first, wins!" Sellers who have been waiting to put their home on the market? Wayne's advice is do it now! It's going to sell quickly because there is an abundance of buyers.
Geoff's experience in listing homes is that often people say, "Well, we really don't have to sell it right now. Maybe we should wait another year because the market might come up another 5 or 6%, money that would come in handy for our retirement." Geoff asked Wayne his response to that line of thinking. Wayne replied that the homeowner is thinking of selling for a reason. They want to retire and move out of state and alleviate a lot of the expenses that go along with maintaining that home. Taxes, maintenance costs, etc. That money that you think you're saving by not putting your home on the market now will be spent in the upkeep of the house.  If you're thinking of selling  in the Spring because you hear that's the best time, you may have a better chance of selling your home now if it is in good condition and priced well.
Keren Gonen
Keren thinks that 2020 will be even better than 2019 because interest rates have now made it cheaper to buy a house than to rent. It's been trending this way for awhile, but not everyone has been aware of what's happening. In Sussex, Keren said, you can rent a home for $1,900, while a mortgage would cost $1,300!  As far as Sellers waiting to list their homes, Keren always advises them to watch Green Team's Housing Market Update so they can see what the truth is. We bring stats in from various sources; it's not just our opinion. So when people ask if they should wait for Spring, Keren lets them know she is out with buyers everyday, in the snow, in the freezing cold. And you know when someone is looking for a home in those conditions, they are serious buyers.
In addition, we never know what is going to happen in the future. So if you want to sell and move to a warmer climate, now is the time to do it. Geoff stated it's good to list now as it also puts you ahead of the competition, when most sellers put their homes on the market. Very often buyers have very definite time constraints. They have to purchase a home by a particular time and couldn't wait till Spring. And when more inventory comes on the market, there is less competition among buyers and more room to negotiate.
A Global Perspective…
Looking at the DOW, the market is very strong. It looks like the first phase of the US/China  Trade Deal is a done deal and seems to be favorable to the US. The replacement of NAFTA with the new trade deal has now gotten through our Congress, but that was causing some wariness in the business sector. So some things that had been hanging over the economy in 2019 seem to be resolving. However, we are in the midst of an impeachment process and election, so we'll be watching for the impact.
To Contact our Panelists:
Carol Buchanan:  845-705-9162 or [email protected]
Wayne Patterson: [email protected] or 845-313-5623
Keren Gonen: 551-262-4062
 We'll see you on February 18 at 2 p.m.