The Green Team  2021 Summer Social was about more than getting together and having a good time. It was also about having fun with a purpose. For many, this occasion marked the first time they had been able to socialize in a long time. There was a lot to talk about and catch up on. Therefore, Green Team Sales Associates, their families, and invited guests enjoyed a beautiful day together at lovely Spring Brook Farm in Warwick.  Of course, the food was great!  Furthermore, there was even a signature green cocktail. And, many stayed to watch the magnificent sunset and enjoy smores at the firepit. However, the occasion also included fun for an important purpose, and Green Teamers came through for a special cause…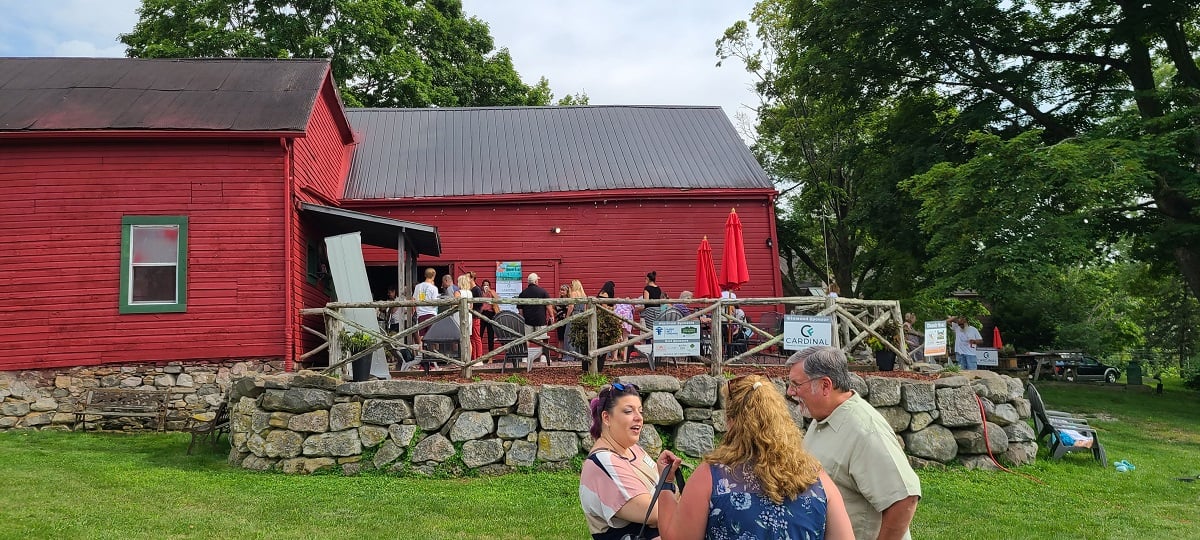 Team Up for Hope
Team Up for Hope, a non-profit organization founded by Geoff Green and Amy Green, was that cause. Its goal is to address the challenges of mental health, drug use, and suicide in our communities. This all-volunteer organization is currently made up of a small group of Green Team Sales Associates and Staffers. And, to raise money for TUH, Keren Gonen and Tiffany Megna manned the t-shirt table. Furthermore, they sold tickets for a 50/50 raffle, However, one of the main draws of the day was Dunking Geoff. Yes, the president of Green Team Realty and founder of Team Up for Hope, volunteered to get dunked!  A donation of $10 got you three throws. Finally, at the end of the day, Geoff had been dunked several times, and the Green Team 2021 Summer Social raised $740 for Team Up for Hope. 
NAMI
Team Up for Hope provides donations to NAMI (National Alliance on Mental Illness) local chapters in Orange and Sussex Counties. NAMI, an all-volunteer organization, provides peer support, education, and resources to individuals and families whose lives are impacted by mental health diagnoses. TUH makes donations to other local non-profit organizations that share their time and knowledge to help meet the challenges of mental health, drug use, and suicide.
We were honored to have Dhanu Sannesy, President of NAMI Orange, and Mary Anne McInerney, President of NAMI Sussex in attendance. Dhanu addressed the crowd. She told them how much the support that Team Up for Hope provides means to her organization. In addition, TUH  produces webinars that address various aspects of mental health, drug use, and suicide. And, while many of the resources shared are for local organizations, the topics covered are global in content, touching on the very real challenges that impact individuals and families living with these challenges.
Thanks to our Sponsors 
We would not be able to do events like the Green Team Summer Social without the generous support of our sponsors. They are:
Diamond Sponsor ($1,000 level)
Platinum Sponsors ($500 level)
Gold Sponsors ($250 level)
Thank you to our local vendors
We appreciate the services of the local businesses and vendors that helped to make the 2021 Summer Social a big success:
Scenes from the Summer Social
Here are some moments from the Green Team 2021 Summer Social. We are all looking forward to the next time we're able to get together like this.