Remembering Denise Schmidt with love
We often refer to Green Team Realty as a family. And the sudden, tragic passing of Denise Schmidt has left the Green Team family reeling in shock and disbelief. Yet in grief there is also a coming together.  And a desire to support Denise's children and siblings, as well as each other at this sad time.
Denise was one of the first sales associates to join what was then Green Team Home Selling System. And for the past 12 years, Denise has been a bus driver for the Warwick Valley Central School District. She was a friend as well as a business associate. And she was a vibrant member of the community. Denise's story is about a life well-lived and the impact she had and continues to have on those around her, inspiring heroism, friendship, caring and love.
The Warwick Varsity Tennis Team – Heroism in Action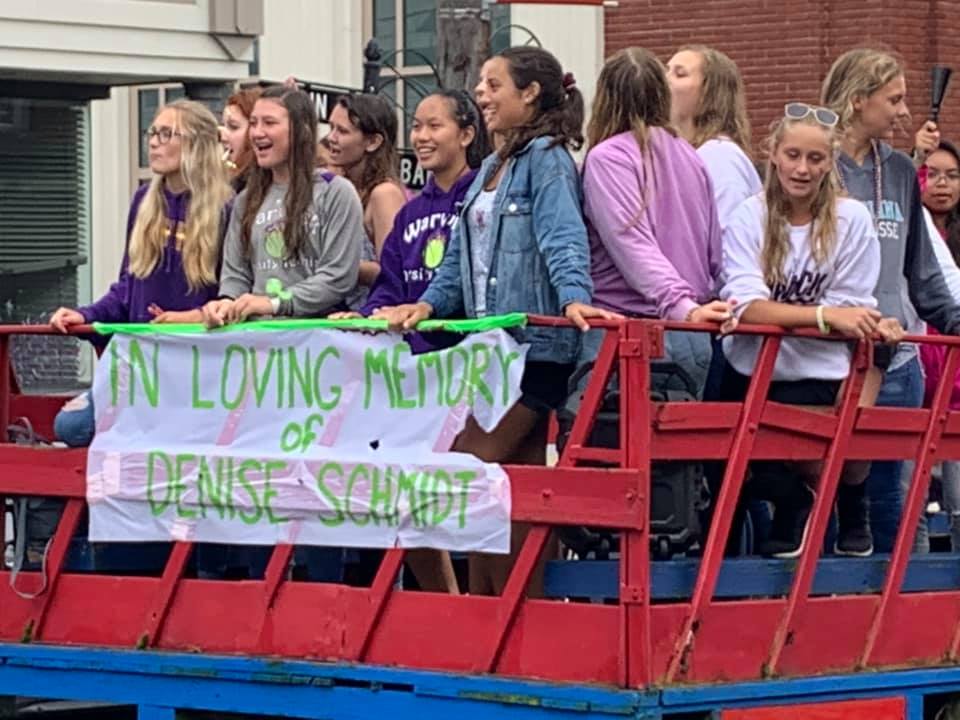 Much has been written in local media about Denise, and about the Warwick Varsity Tennis Team. Denise was the regular driver for the girls' away matches. They were heading home after an away game when Denise suffered a medical emergency, slumping over the steering wheel. The bus veered off the I-84 on ramp at Exit 28, down into a grassy ravine, and hit a tree. On that bus were 22 students and their coach. Thankfully, the students and coach were not injured. To many, it seemed that Denise was taking care of her team, making sure they'd be safe, even as she was herself in crisis. And her team took care of her. The coach and one of the students, who is studying nursing at BOCES, went into action. They provided CPR until the paramedics arrived. And despite the frightening experience, the girls remained focused on Denise and her condition.
While waiting for updates on Denise's condition, the team began making plans. They dedicated their next home game to honor Denise. Sadly, when she passed away the game became a memorial tribute. Team members wore green ribbons to remember Denise and to show support of her work at the Green Team.  The girls then created a memorial homecoming parade float. And they began selling green wrist bands to help raise money to Denise's family. As in most small towns, communities rise up to face challenges together. This group of young women has shown grace, courage and commitment to a woman who was dedicated to them.
Green Team Realty – A Call to Action
There is another truth about small towns. News makes its way quickly throughout the community. Geoff Green, President of Green Team Realty, and Lucyann Tinnirello, Broker Manager at Green Team New York Realty began receiving texts about the accident. Immediately they made their way to Orange Regional Medical Center to be with Denise's family. She was then transferred to Westchester Medical Center.  Geoff began sending updates and prayer requests to everyone at Green Team. And a fundraising effort was undertaken to raise money for Denise's children.
The Visitation and Memorial Service
The Memorial Visitation was held on Friday the 13th at Lazear-Smith & Vander Plaat Memorial Home in Warwick. Dennin, Donald, Derek and Dana graciously greeted those who came to pay tribute to their mother. And come they did. Denise touched many lives.
Her friends and co-workers from the Green Team gathered to gain comfort from each other, and to share memories of this remarkable woman. Amidst the tears there were smiles and there was laughter. Knowing that a tribute would be written for Denise, the question went around. What one word would you use to describe her? And the descriptions poured out. Kind. Caring. Amazing. Spitfire. Vivacious. Real. Ballsy. Determined. Humble. Feisty. Supermom.
Geoff Green stepped in to arrange for the location for Denise's memorial service.  On Saturday, September 14, family and friends gathered together at Spring Brook Farm to celebrate the life of this extraordinary woman.
The Green Team Remembers Denise
Geoff Green, President of Green Team Realty:
Denise Schmidt was the kind of Realtor who would never consider the paycheck, but would simply focus on who needed help.  There are a countless number of people in our marketplace who were in tricky Real Estate situations. And Denise would turn those situations into positive outcomes.  Her determination was remarkable.

But it didn't end there.  The determination with her children was even more impressive.  Denise did whatever needed to be done to provide a good environment for her four children.  She left the four kids in great shape.  They are all successful in their own right, but most importantly they are kind and caring individuals who will inevitably go out of their way to help others.

As a friend Denise was a "barrel of laughs".  Inevitably, after every Green Team social event, my wife and I would be convinced by Denise to continue the festivities.  The laughs never stopped.  Denise was a bus driver with a trucker's mouth!  One of her endearing traits was her ability to tell it the way it was.  I always appreciated that from her.  I could always count on her direct nature to give me feedback on things.

In the end, she worked until she died, and I don't think she would have had it any other way.  She always felt better when she was working to help someone and she did just that right until the end. She will be sorely missed by us all.
Donna Roberts, Agent Service Manager & Property Manager at Green Team New York Realty: 
She was this quiet angel. If you mentioned something to her, like you were having a tough time or needed something, she'd do everything she could to help you. I stayed after work one day to help her with a listing. Then, when I came home the next day, there was a bottle of wine and a thank you note that Denise had left on my front porch. And last year some of us had been talking about how nice it would be to have a small fridge in the office for our lunches. So, the next day she brought in a fridge for us. These are the kind of things that Denise would do for people. No fanfare, no accolades. She just reached out in kindness. I will miss that about her, along with her "tell it like it is" view on the world.
Karen Gauvin, Licensed Agent & Realtor, Green Team New York Realty:
As a friend of Denise long before becoming a business associate, and as a mom of one of the team members on the bus that night, there is so much to share. Parents of girls on the team were notified that there had been a bus accident.  We were told the kids were being checked at the scene and we could pick them up at the State Police barracks in Montgomery.  Denise had been driving, so I knew the team was in good hands. We didn't know much else at the time.

I was fortunate to have the help of another friend and co-worker, Tammy Scotto. Tammy drove me to pick up my daughter; I was too anxious to go on my own. We passed the site of the accident and just hugged each of the girls as they were released from the State Police to their families. It was truly frightening.

Learning what happened

We learned more details. Hailey told us what a happy time the team had with Denise prior to the crash. And, as their regular bus driver for their away games for the past several years, the girls knew her well. Hailey also spent a few minutes alone on the bus with Denise. She told me what a great mood Denise had been in, happy and chatty. I also learned how amazing the girls had been after such a terrifying event. Despite having gone through such a difficult and harrowing experience, the girls were strong, caring more about Denise's condition than what they had been through.

After learning that Denise had passed, the team wanted to pay tribute to her.  The girls dedicated their September 9 game to Denise's memory. And while they did win, the lessons learned from sudden and tragic loss were what really mattered. Appreciating what is truly important, cherishing memories, being kind. They also dedicated their homecoming parade float to Denise and have been raising money for her family to help with expenses. And they will continue to hold Denise's memory in their hearts. I'll be sharing information on future events as they are planned, so we can support our team in their efforts to remember Denise. Together we will keep her legacy alive. And we can all remind ourselves what really matters.
Lucyann Tinnirello, Broker Manager, Green Team New York Realty:
Denise was a special person, and that carried through to her professionalism. She was always willing to help, and to share her knowledge. She served as a mentor to several of the newer agents, teaching them what she knew. Denise was an incredibly hard working single mom, and there lies her greatest accomplishment. Four incredible children who share their mom's kindness and capacity for sharing.
Jennifer DiCostanzo, NYS Licensed Real Estate Associate Broker, Green Team New York Realty:
Looking through my photos I came across these and was filled with lovely memories. I had to smile, remembering years of wrapping Holiday Baskets for the food pantry with Denise and our group of volunteers.   Each year we waited for her to arrive after her morning school bus run. And each year we nominated her as our official Green Team Basket Wrapper. I know when it's time to wrap our Thanksgiving and Christmas baskets we'll be remembering Denise with love and laughter. And be grateful that we had this wonderful person in our lives.
Please share your memories of Denise 
Denise Schmidt made an impact on so many lives. We hope that your memories will become part of this memorial. She will always be a part of the Green Team family, always loved, never forgotten.