Is Mortgage Pre-Qualification Necessary?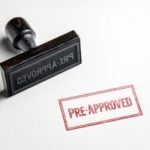 According to the Consumer Financial Protection Bureau, Pre-Qualification and Pre-Approval in practice both refer to a letter from a lender that specifies how much the lender is willing to lend to you.  While there are some legal distinctions, basically both specify a loan up to a certain amount, based on certain assumptions. These letters provide useful information.  However, loan offers are not guaranteed. Rather, the letter can help you make an offer.  It gives the seller confidence that you will be able to get financing to buy the home.
A buyer in today's market needs Pre-Qualification/ Pre-Approval. This is the preliminary step to the mortgage process.  Consequently, talking with a bank or mortgage lender is vital.  The lender will check your credit and ask specific financial questions regarding your income, employment and financial obligations.   As a result, the letter is generated based on a "snapshot " of the financials given.  It's the first step in understanding your eligibility when ready to look at homes to buy. And it keeps you in sync with your financial budget and means.
Are You Pre-Qualified?
"Are you pre-qualified?" is an important question your realtor will ask before showing you properties. If not and you're serious about buying a home, now is the time to start engaging in mortgage conversations with a lender.  A wealth of financial resources will be shared with you to get you started. And to keep you on track understanding the loan process, your eligibility, and working within your price range. The  importance of this question will determine if you're "ABLE" to buy… Now.
Understanding Loan Types is Important
The "loan type" you're qualified for is of equal importance for you to know and understand.  Because some homes, due to their condition, may not be eligible for all loan types. Thus, your realtor will be able to navigate the market for you, finding homes that best match what you are qualified for.
The goal and success of  buying a home when financing is to be Ready, Willing and "Able."  Working closely with your buyers agent and mortgage lender will help prepare you for navigating a challenging market for buyers.
My advice to buyers entering the market … understand the market you're about to enter.   Prepare yourself!   Have your financing in place, regardless if purchasing with cash or a loan.
Preparation is Key!
I can help you navigate your way through the process and connect you with the right mortgage lenders.  Contact Me Today.