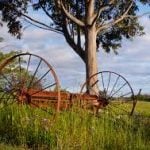 Living in the country allows people to have a healthy lifestyle with ease and comfort. This is one reason why folks are making the move to the New York Hudson Valley.
Noticing how fresh the air smells or the sights and sounds of nature are automatically enhanced in the countryside. You naturally relax and start to live in the moment.
There is no match for fresh produce than what you can grow in your own garden and the best eggs are the ones that come from your very own free-range chickens. In the country there is no escaping the endless stars at night or the golden sun as it sets behind the hills.
Although many people that live in the country work in the city, when at home they are able to take a step back, unwind and enjoy the peacefulness that surrounds them. Living in the country allows people to have a lifestyle that is well-balanced. There is nothing like the solitude of nature, so relaxing and serene.  Country living, it's simply good for your soul.
So come see this charming 1890 Farmhouse on 60 Little York Road in Warwick nestled in the picturesque setting of the black dirt region with beautiful property and barn. This country home or weekend retreat provides all the elements for relaxing, comfort and easy living. The home offers 1,287-sq.-ft. of space with 2 bedrooms/1 bathroom PLUS an additional room with closet on the main level and yet ANOTHER room on the second floor providing additional space and room for expansion. Feel at home in the sun drenched living room or spend time on the rocking chair porch as you soak in the peace and quiet of the countryside. With spectacular curb appeal on 3/4 of an acre of land your family and friends will love the property, ideal for gatherings and parties. The chicken coop is complete with a roosting loft and egg laying chicken nests. This home is close to parks, shopping, restaurants, farms & wineries.
Click here for more information: Farmhouse for sale in Warwick, NY