2022 is coming to an end and the holidays are upon us. We at Better Homes and Gardens Real Estate Green Team would like to take a moment to appreciate all of the wonderful experiences we have had this year.
5 years with our team
At the start of 2022, we celebrated a huge milestone when nine of our wonderful team members celebrated their 5 year anniversary with us. Our Agents Jaime Dalton, Robert Valentine, Theodore Van Laar, Barbara Tesa, Kim Lesley, Jim Moser, Tom Folino, and Walter Ross have all excelled in their careers with us and we are so thankful to have them on our team. Additionally, our Operations Manager, Lora Chandra is also celebrating 5 years with Green Team. Lora joined us in 2017 as a CSA and quickly became known for being reliable, positive, and dependable. She received the Team Player Award in 2018 and continues to be a very valuable member of Better Homes and Gardens Real Estate Green Team.
Welcoming new members
In addition to celebrating our long-term team members, we were blessed this year to welcome two new sales associates to BHGRE Green Team.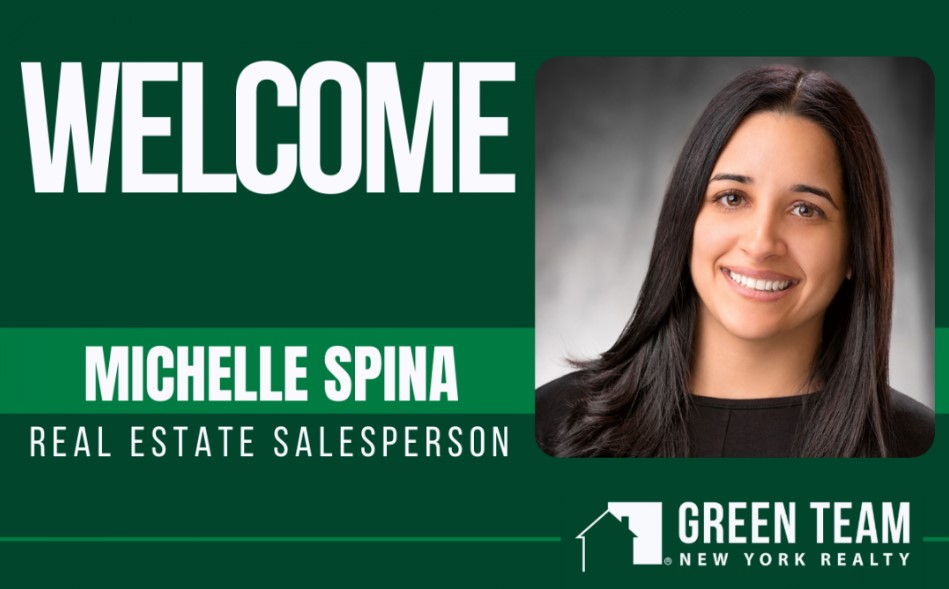 Michelle Spina joined our Warwick office in January as a new agent. Her extensive knowledge of sales and advertising paired with unbeatable communication skills makes real estate the perfect career for her.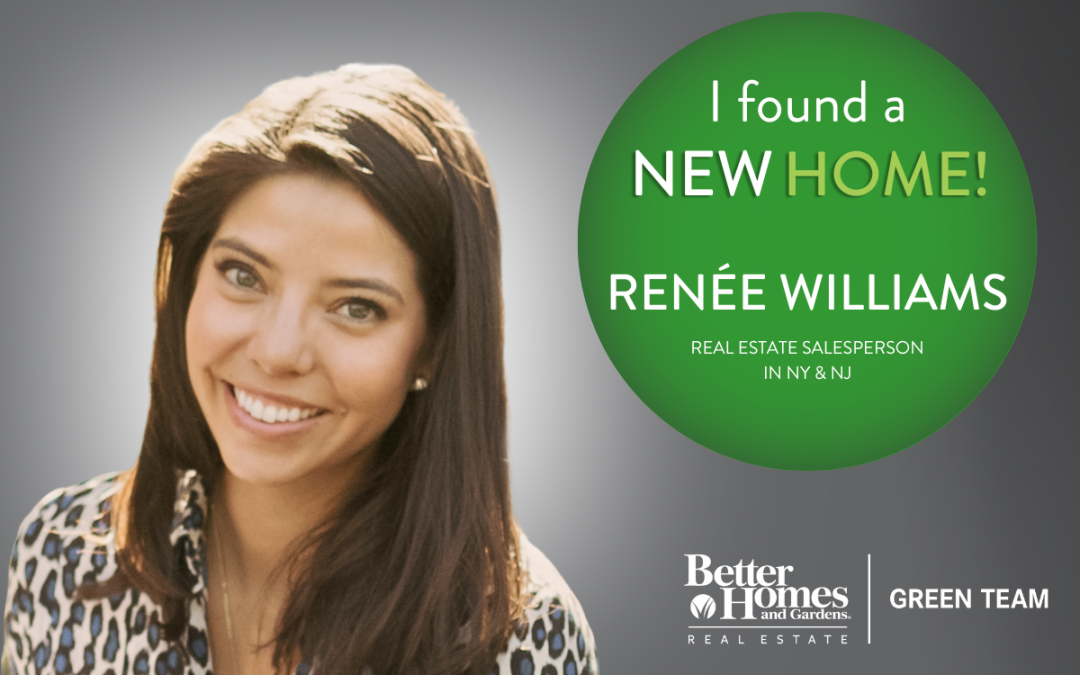 In October, Renee Williams became BHGRE Green Team's newest member. Her substantial real estate experience and dedication to her community make her a very valuable asset to our team.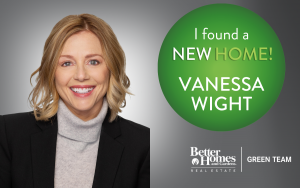 In December Vanessa Wight became BHGRE Green Team's newest member. Vanessa has a strong background in real estate but is looking to grow her business with Green Team starting the NEw YEar off on a new foot!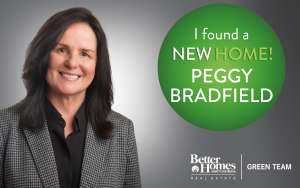 In December, Peggy became our newest addition to the team! Peggy is new to real estate but is looking forward to launching her new career forward in 2023!
We are so excited to watch the careers of these wonder agents continue to grow.
Exciting Events
Green Team's 2021 Awards Ceremony
Green Team's 2021 Awards Ceremony was held on Friday evening, April 1, at Crystal Springs Resort in Vernon. Celebrating together was especially meaningful, after two years of virtual events. COVID-19 created challenges, however, it also created opportunities. Green Team Sales Associates worked non-stop throughout the pandemic. Furthermore, they had to adhere and adjust to ever-changing COVID regulations while meeting the demands of the market; in so doing, many Green Team Associates achieved their personal best in sales. Thus, new categories of Sales Volume Levels were created. For all categories, Green Team New York/ New Jersey Realty recognizes the dedication, determination, and excellent client service that resulted in these sales volumes. These sales volumes resulted in Green Team New York Realty being #1 In Warwick NY. And Green Team New Jersey Realty #1 in Vernon NJ.
Circle of Excellence
On May 18th our agents were proud to attend the Annual Circle of Excellence Extravaganza Ceremony hosted by SCAR. This event celebrated Realtors who have achieved outstanding results. Kristi Anderson, Charles Nagy, Theodore Van Laar, and Barbara Tesa were all given awards to commend their dedication and hard work.
Our sales associates never cease to amaze us
Jennifer DiCostanzo is known to be an expert in marketing high-end luxury homes. By customizing marketing approaches for her selling clients, Jennifer understands the uniqueness of each property. That's why Jen was chosen as the listing agent for 30 Cardinal Lane. This magnificent home sold for an astounding $1,490,000 which made it the largest Green Team listing sale to date.
It isn't every day that you see a real-life castle on the market. When Karen Gauvin began working with Carlos in 2021 he originally dreamed of his very own rustic farmhouse. He wanted the ability to expand his business with a venue that would allow him to private, invitation-only events. Karen went above and beyond and found him his very own exclusive castle retreat. Thanks to her expertise Karen was able to not only fulfill her client's wishlist but find him a property that exceeded his expectations.
Exceeding expectations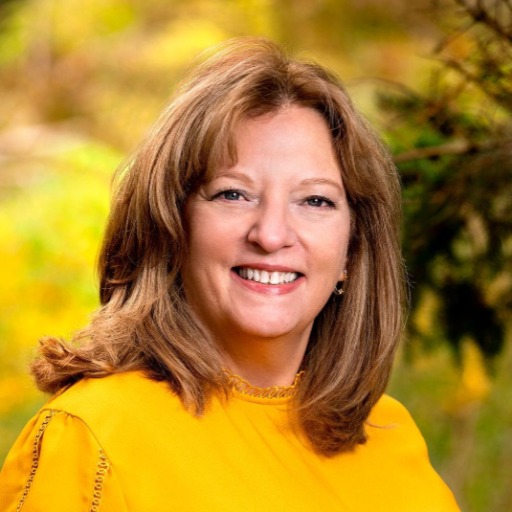 Kathy Moran has been a licensed agent for under 2 years and has already exceeded $1.5 Million in sales. When Kathy joined BHGRE Green Team she brought with her over 20 years of experience in the commercial/residential interior design industry. Her knowledge gives her buyers the ability to see every option, whether it be interior and exterior design and/or modifications. Her expertise is especially valuable to every seller she works with. Before listing a home, she assists sellers in preparing their homes for sale. In addition, Kathy's dedication to her clients is reflected in everything she does.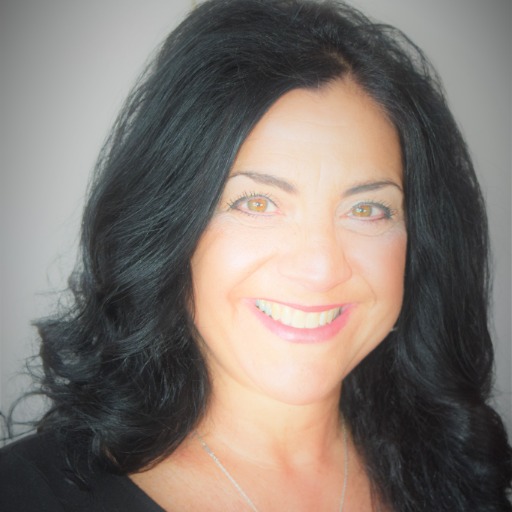 When Barbara Matchett joined our team in March of 2021 it would prove to be the start of a successful career. Barbara has excelled, reaching over $2 million in sales volume in just over a year of having her real estate license. Barbara discovered her love for real estate in 2019 after she purchased her 4th home. She has always had an incredible passion for fitness which led to her meeting BHGRE Green Team's Kristi Anderson in one of her fitness classes. Kristi would soon become Barbara's mentor and help guide her in this new successful career. 
In May of this year, we were excited to announce Vikki Garby as our new President. Since Green Team began, Geoffrey Green and his team have developed revolutionary operations for Realtors and their buyers and/or sellers from across the region allowing it to soar the ranks. That's why when it was time to take the next step in growing our organization he could think of no one more capable than Vikki.  
"We have proven over the course of time that we can deliver a great environment for Real Estate Agents to thrive, and for them to, in turn, deliver an exceptional experience to all of their clients.  Promoting Vikki Garby to President of Green Team Realty will allow us to seek out new opportunities for more Sales Associates in new locations.  Vikki is definitely the right person to help us achieve the intended growth we are seeking."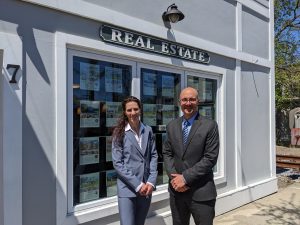 Lucyann Tinnirello Steps Down As Broker Manager
Lucyann began her career in 1984 with Geoffrey Green's father at ERA Joseph Green Real Estate; prior to she worked at several other agencies, including co-owning her own firm. Then, in 2008, she joined Green Team and 10 years later was elected broker manager. 
Although she is stepping down this is not the end of her Green Team career. LucyAnn is looking forward to having the ability to dedicate herself full-time to her clients. Many of our agents joined Lucyann at Warwick Thai to celebrate and thank her for all the dedication and support she has provided during her time as Broker Manager.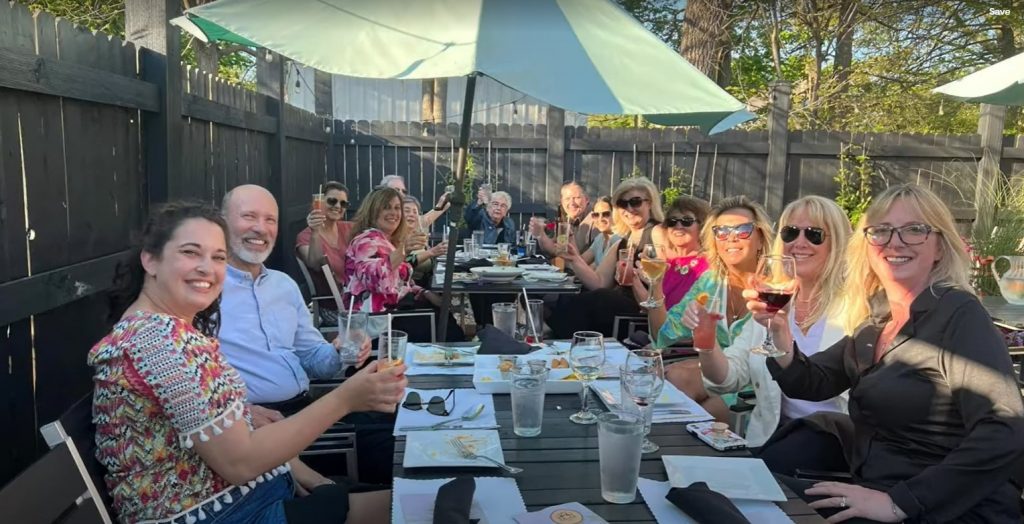 Carol Buchanan Promoted To Broker Manager
We were very happy to announce Carol Buchanan would be stepping up into the position of broker manager for our Warwick Office. Carol brings with her over 30 years of business experience and has been a part of BHGRE Green Team for four years. She has been described as one of the most professional Realtors in the business. Her goal for this new position is to not only meet expectations but to exceed them.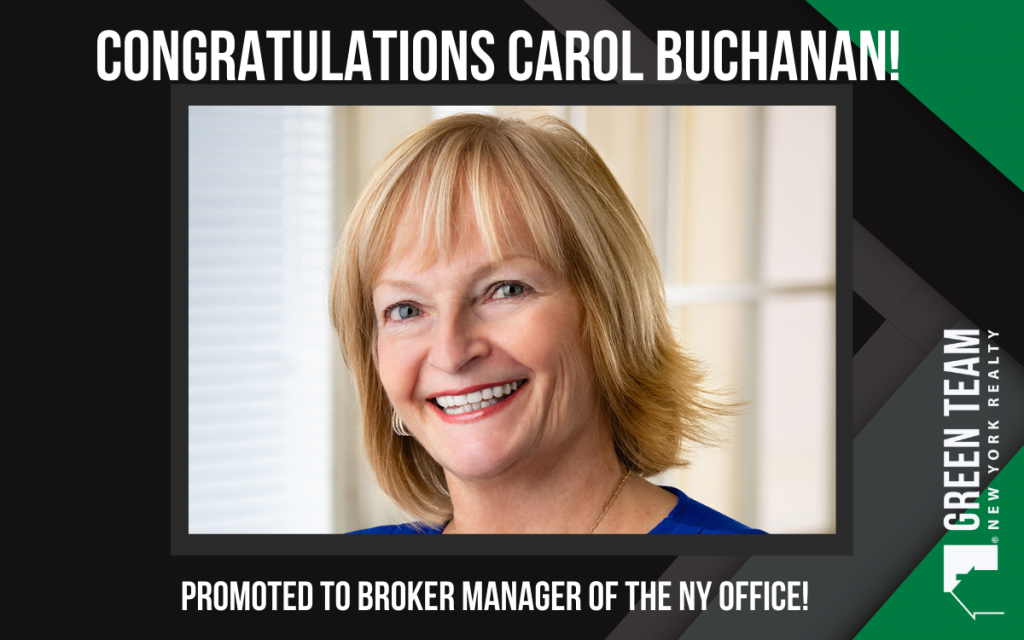 Our Team Always Loves to have a Good Time
Strike!
Throughout the year we've had many great opportunities for our team members to take a break and have some fun. 
In February our team got together for a fun-filled night at the bowling alley. While there everyone had a great time bowling with friends and sharing laughs. One of our Sales Associates Brian Cisek was proud to announce that he beat Geoff Green in a bowling match.
The Luck of the Irish
Saint Patricks Day is a great day for everyone to cut loose and our agents are no exception. They had a great time decked out in green to celebrate the day with a bar crawl. The bagpipers and great company made it a day to remember!
Pennings Cidery
In August many of our agents joined us for a fun night at Pennings Cidery. While there they competed in a cornhole tournament! They spent the night enjoying cider, old-fashioned cola, games, and spectacular views! 
Coffee Talks
While we love to have fun we always like to keep the line of communication open for our agents. We began having our Coffee Talks every month for our agents to be able to come in and discuss anything that might be on their minds. Although the bagels and donuts are definitely enjoyable, allowing our associates to voice their opinions and share information about the market is the most rewarding part of this event. 
Our much Anticipated Holiday Party
Green Team agents celebrated the Holidays at Silvio's Italian Villa. It was an amazing turnout which included a fun "White Elephant" Gift Exchange! The hot items of the night were a bottle of Jameson, a bottle of Whiskey, and 2 Holiday Gnomes. Krissy Many shocked us all when she took her husband, Kevin's, bottle of booze; Kevin went up to pick out a new gift which led him to take home a pair of holiday socks with Geoff's face on them. The steal of the night went to Vikki, who had the final pick of the day going home with her best friend's gnomes…it's still a sensitive subject.
Playing an active part in our community
BHGRE Green Team happily participates in many events throughout the year to benefit our community. Since many of our agents are local this is something that is important to every one of them.
Backpack Snack Attack and Vernon United Methodist Church Food Pantry
On July 31st we were honored to sponsor Backpack's Warwick Summer Music Festival. This event is hosted to support Backpack Snack Attack. They are an outreach program of the Warwick Reformed Church that feeds over 200 children in the Warwick, Greenwood Lake, and Florida school districts. The program is fueled by volunteers and supported by fundraising, donations, and grants. 
Additionally, in September we set up collections at our Warwick and Vernon offices to benefit WRC Backpack Snack Attack and Vernon United Methodist Church Food Pantry.
Applefest 2022
Applefest 2022 is the biggest event that Warwick, New York sees every year. Better Homes and Gardens Real Estate Green Team is always excited to take part in the fun. This year we had a beautiful photo op of an adorable faux house decorated with all different types of fall decor. It was a huge hit with hundreds of people stopping by to take pictures. Our agents handed out brochures, balloons, and goody bags that they created. Arguably the most exciting part of our day was announcing the winner of our raffle to win a brand new Apple Watch SE. Congratulations to Linda Zappala!
Furever Homes for Pets
On October 9th we hosted Furever Homes for Pets, this fundraiser benefited the Warwick Valley Humane Society. Our goal was to help get these loving animals seen and hopefully find their forever families. In addition, we aspired to raise funds and collect supplies for the shelter. Many people who came out for the fundraiser were also kind enough to donate blankets, food, and other necessities. In addition to these donations, Furever Homes for Pets was able to raise a total of $1,530 for The Warwick Valley Humane Society. We had over 40 adorable pets have their portraits taken and enter our pet portrait contest. People were able to vote on our Facebook page, @bhgregreenteam, for which pet they felt was the cutest. Our winners received fabulous prizes gifted by local businesses.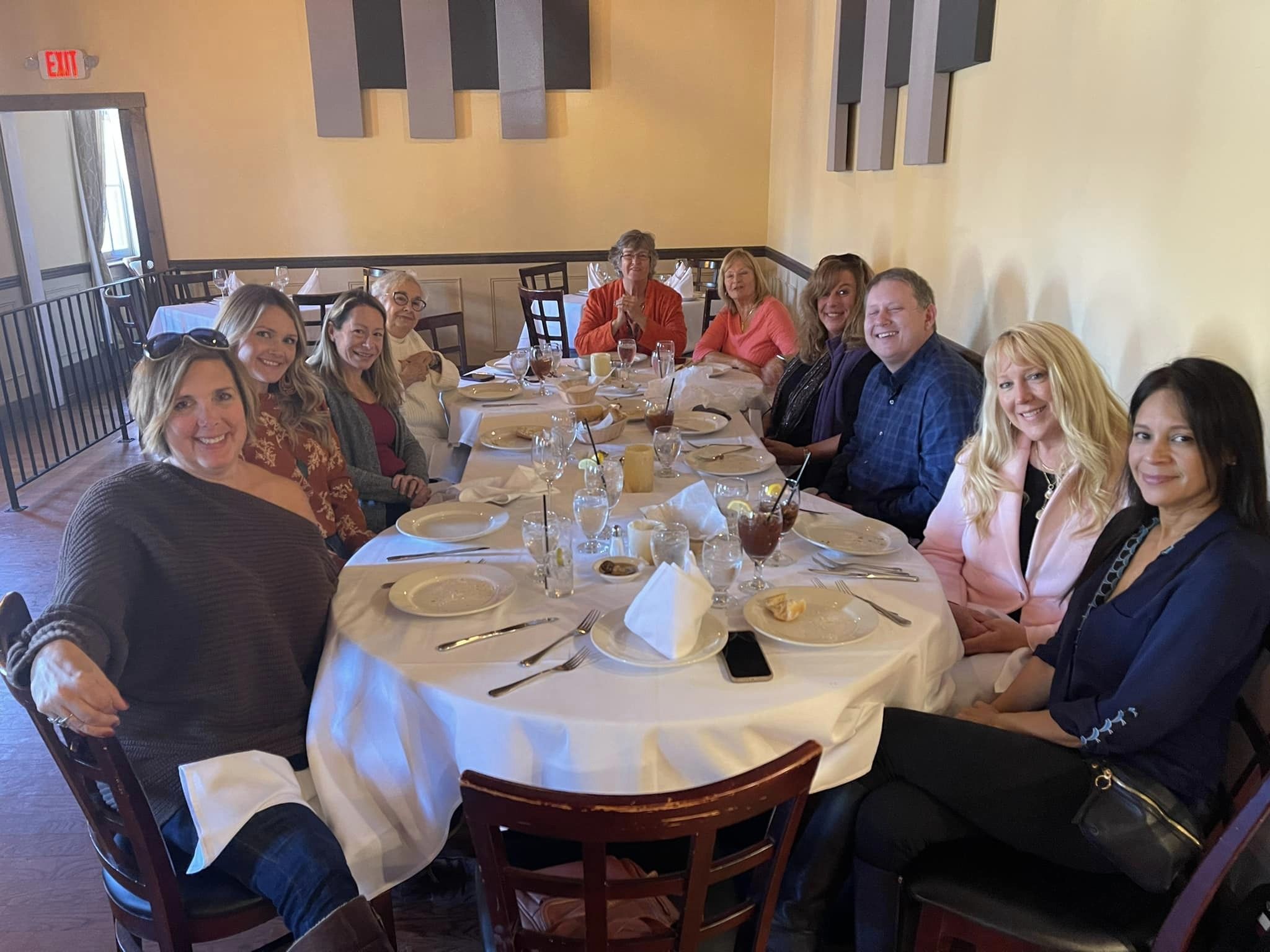 Applefest and Furever Home for Pets were hugely successful this year and our agents who volunteered were a major reason why. To show our appreciation for all their hard work we decided to unwind with a lovely lunch at Grappa Ristorante. We are so lucky to have such kind and dedicated agents on our team.
Thanksgiving Client Appreciation Pies
Our agents always like to show their appreciation to their clients. Every year they take part in Thanksgiving Reverse Pop-By Pies. Our agents purchase pies to give to their clients and invite them to our offices to socialize. Ensuring they are giving their clients the best-tasting pies is very important to our sales associates. That's why this year our agents were all invited into the offices to sample pies from different local bakeries. Pochuck Valley Bakery was declared the winner!
On November 22nd our Warwick and Vernon offices were filled with smiles as clients came to pick up their pies. Agents were so happy to be able to strengthen their bonds with not only their clients but their fellow associates as well.

There are hundreds of children in our community who have never owned their own pajamas. We wanted to help by collecting NEW pajamas for children ages Newborn to 18. This fundraiser will be running from November 14 – January 5th and donations can be dropped off at both our Warwick and Vernon offices. All pajamas collected will be distributed to children in need from various organizations throughout Orange County, NY and Sussex County, NJ.
Holiday Lights Tour
Many of you may remember "Light Up the Holidays" where Green Team went around awarding the best-decorated homes. This year we're doing a spin on it.
On our website, we will have a virtual map of all the Holiday Lights in the area! All you have to do is visit our website, click on the pin and get directions on where to go to see the best-decorated homes! Visit greenteamrealty.com/holiday-lights-tour-map/

Holiday Hoopla!
Playing an active role in the community is something our team works very hard to accomplish all year round. With the Holidays fast approaching, we knew we wanted to do something special to spread the joy during this cheerful season. What better way to make this a Holiday to remember than by hosting our first-ever Holiday Hoopla!
Seeing the happiness of every child while they created their holiday crafts and wrote letters to Santa could make any Grinch's heart grow. While the sounds of music and laughter filled our office it reminded us just how magical this time of year can be.
Our Affiliation with Better Homes and Gardens Real Estate
Last but definitely not least, this year we had one of the largest changes our agency has ever experienced. In July, after 17 years of being an independent agency, Green Team Realty made the decision to affiliate with Better Homes and Gardens Real Estate. This opportunity was unbeatable and the marketing tools and training they provide to our agents give us a huge advantage in the business. Our agents were all invited to celebrate this amazing news at the Warwick Conference Center. Our CEO Geoffery Green, President Vikki Garby, and marketing director Nicole McCormick all gave wonderful speeches about our company's newest journey. Afterward, everyone enjoyed a lovely brunch and some quality time with our fellow team members.
We couldn't wait to share this exciting news with our community so we hosted ribbon cuttings at both our Warwick and Vernon Offices. Many people came out to show their support and wish us luck on our newest adventure. Our CEO Geoffrey Green, made a wonderful champagne toast to our new affiliation and the future of our team.
Giving our Agents an Unparallelled Advantage
Following our affiliation, Green Team wasted no time bringing our sales associates up to date on the exciting new resources BHGRE offers them. Any real estate agent knows that it is important to have the best technology and training at their disposal. We are proud to be able to say that we offer both of these to every agent that joins our team.
Big and Bold Training
On July 15th we hosted Big and Bold Training. This session was held at Albert Wisner Public Library and gave us a great in-person lesson on BHGRE's extensive marketing tools. 
Not long after this training session, our agents attended another BHGRE Training session on Meredith Home Trends and the BHGRE Social Tool. This session gave our agents a great look into the latest Home Design Trends and Predictions from DotDash Meredith. They discovered how to use the power of BHGRE® tools and resources to energize their relevance and generate more business! While there they were all given a chance to win great prizes!
Unbelievable Marketing Advantages
On August 10th our agents got to see the marketing power of BHGRE up close. They learned how to Create postcards, flyers, social media graphics, banners, and other marketing pieces. They then were taught how to market it with the power of the DotDash Meredith database or their own CRM. These personal touches are a huge advantage to help capture a client's attention now and in the future. 
BHGRE Moves
This amazing program provides our clients with a discount and concierge service to aid them in their moving.  It also gives our sales associates an automated way to stay in front of their clients after the sale for referrals and repeat business.
BHGRE Pinpoint
Our agents now have access to an exclusive database of brand-loyal consumers to market their listings to thanks to PinPoint! This training session showed them how to search for those potential buyers, create eye-catching listing presentations, and customize their postcards to get a listing sold in record time.
The BHGRE Social Tool
Our agents were taught the best way to take advantage of their social media. BHGRE Social Media tool allows them to share BHGRE content, photos, their listings, and create original social media posts, all for no cost!
Virtual Grow
This training took place every Monday, Wednesday, and Friday for 4 weeks. This opportunity provided real-world best practices, tools, and systems to help our agents succeed and thrive in real estate sales. Our sales associates enjoyed an interactive and collaborative approach to learning designed to help build the fundamental skills and confidence needed to achieve immediate and sustainable production. Personalized goals, Call Time, and tracking using REScoreboard were key components of the course. Upon completion each agent who attended received their Certificate of Completion from BHGRE. 
Luxury Real Estate Certification
On November 9th some of our realtors attended a training session for BHGRE's Distinctive Collection. Following this 3 hour class every agent in attendance received their Luxury Real Estate Certification from BHGRE. Luxury real estate is one of the most coveted real estate niches and breaking into the market is far from easy. With this training, our affiliate agents will be able to hone their skills and distinguish themselves as an expert with their clients. 
BHGRE APEX Event 2022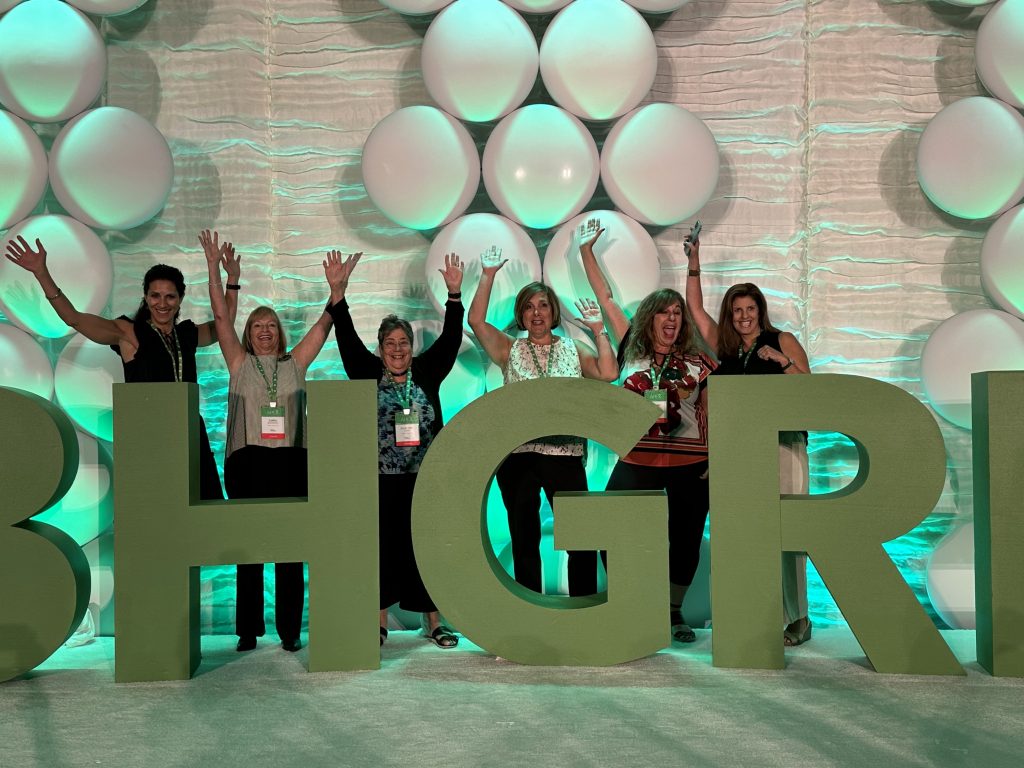 Better Homes and Gardens Training can not be beaten but they also know how to have fun. 
In October, top-selling agents were invited to Miami, Florida to take part in BHGRE's APEX Event. This annual, invite-only event is only offered to affiliated sales associates and teams who have achieved Silver, Gold, Platinum, Emerald Elite, or Excellence award status. While attending agents get to enjoy not only great food, drinks, and fun but also a sophisticated learning experience. 
Tammy Scotto, Carol Buchanan, Krissy Many, Pip Klein were all in attendance. As well as our President and Licensed Real Estate agent Vikki Garby who was invited to attend BHGRE Owner's Retreat prior to the APEX event.  APEX was filled with learning and social opportunities as well as lots of fun. Agents enjoyed a fabulous beach party dinner and Grand Princess Dinner Cruise. 
This experience was a wonderful way for our agents to explore more about our new brand while bonding with colleagues from around the country.
2022 was arguably our best year yet and we are so thankful for all the opportunities given to us.