The Green Team Realty Agent Spotlight is now on Dean Diltz.  A Warwick native, Dean is among the top-producing realtors in the Hudson Valley. Dean handles residential sales for both sellers and buyers, commercial sales and leasing, rentals of all types, foreclosures, short sales, new construction, and relocations.
Dean's reviews on Trulia and Zillow speak for themselves. Of course, his knowledge of this area and the most current real estate market conditions are great assets. In addition, there is his attentiveness to his client's needs, his communication and responsiveness, his negotiation skill. Add to that his diligence in representing his client's best interests in each and every deal.
It's why Dean's clients keep coming back to him when they need real estate assistance. And, it's also why so many of them refer friends, family, and co-workers, to him with regularity.
Dean graduated from the State University of New York at Plattsburgh with a degree in Communications (Broadcasting), and a minor in Geography (Urban Planning), There he captained the track and cross country teams. He originally attended Kent State University in Ohio on a track scholarship, and where he majored in Journalism.
Before real estate, 
He spent many years as a marketing and public relations executive in the sports and television industries with ESPN in Bristol, Conn.  He even had a fleeting role in one of the famous "This Is SportsCenter" TV commercials (titled "Injuries" . . YouTube it and don't blink at the 6-second mark, or you'll miss him!) — National Cable Communications (now NCC Media) in Manhattan, the Pacific-10 Conference (now Pac-12) in San Francisco, the athletic departments at the University of California at Berkeley and the University of Florida, thepit.com (which he helped launch) in White Plains, N.Y, and locally with Orange County Choppers of TV's "American Chopper" fame. He returned to his hometown of Warwick in 1999.
For Dean, it's about family… and giving back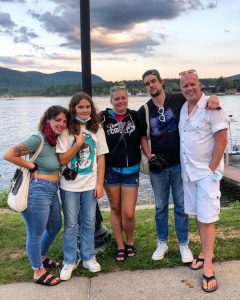 Dean is a proud dad to (from right to left) Timothy, Allison & Samantha (also pictured is his son's girlfriend Anna).  Being self-employed as a realtor allows him to spend time regularly up in Lake George (where this photo was taken). Actually, that is his favorite spot away from Warwick, and where he and his family also enjoy boating (also pictured here out on the water this past summer with Samantha).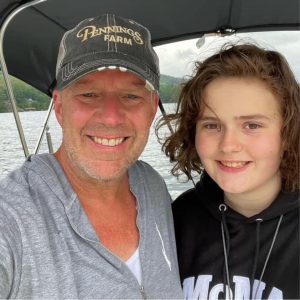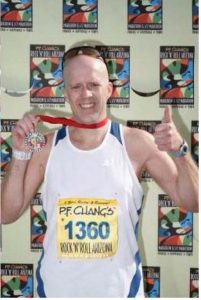 Giving back is also very important to Dean, as he's been a volunteer coach for the boy's and girl's outdoor track, indoor track, and cross country teams at Warwick Valley High School, his alma mater, and one of the most successful high school track and cross country programs in the nation year in and year out.  He's also coached with the Warwick Youth Track Club, as well as with Warwick Little League and the Warwick Youth Soccer Club, and delivers meals to children in need with the local Backpack Snack Attack.  During his time with ESPN, he was extensively involved with the Make-A-Wish Foundation.
Also pictured here is from a marathon he ran in Arizona.  Being a realtor also allows Dean to achieve the work/life balance he wants, giving him the opportunity to enjoy his life-long passion of running.
Before entering the real estate profession, what did you do?
Public relations & marketing — primarily in the sports and television industries — including several years as Director of College Sports PR for ESPN.
How and why did you become a real estate agent?
I was a marketing consultant and added The Green Team as a client in January 2013. I was growing tired of what I was doing and looking for a change anyway — I was quickly enamored with real estate as soon as I started doing marketing for Geoff.  He encouraged me to get my real estate license. Within three months, I was licensed and on my way. I continued with marketing consulting with The Green Team and other clients for about another 1 1/2 years before I went full-time as a realtor. I had never considered real estate for a career, and it's been my best and most rewarding job ever!
What do you like best about being a real estate agent?
Being self-employed, which gives me the freedom to achieve an ideal work/life balance. And helping people achieve their dreams (such as first-time homebuyers) is also incredibly rewarding.
What do you like least about being a real estate agent?
What was your most memorable/unusual real estate transaction?
It never ended up being an actual transaction, but it was sure fun while it lasted . . . a few years ago, I was contacted by the agent of a very well known actress (one of my favorites, in fact — a real Hollywood "A-Lister") looking to buy a home in the area, and for a substantial amount of money. I started working with her, and was excited to help her — then she changed her mind and decided to stay in California. I had to sign a non-disclosure agreement, so I'm still not at liberty to say who it was! And I'm still hoping she changes her mind!
But I'd have to say my most memorable actual transaction was my first one . . . I was in the office on uptime, and a couple from Brooklyn walks into our office looking to buy a vacation home in Greenwood Lake. We looked at three places, they put an offer in on one, and it was accepted. They were cash buyers, and we had NO inspection issues. It was the perfect deal and something straight out of the TV show House Hunters. Geoff joked that I'd never have another deal as smooth, and to this day (and several hundred deals later), he's right!
What is it like being part of the Green Team?
We have a great brand and reputation not just in Warwick, but throughout the Hudson Valley. People know of us and are always complimentary of our agency. This is a big part of why I'm able to continuously grow my business!
How would family and friends describe you?
Dependable, loyal, upbeat, positive-thinking . . . at least this is my hope!
What is your proudest accomplishment?
That's easy — my three amazing kids.
What does "home" mean to you?
Being happy and content where you are, but also still being excited to be there, and not yearning to be anywhere else. That's honestly how I feel about moving back to my hometown of Warwick in 1999 after living in other parts of the country for many years!
What advice would you give to someone thinking about selling their home?
Get the pricing right! With all due respect, we're seeing in this post-COVID era too many sellers thinking their home is worth more than it is. Then it sits on the market for too long, becomes stale, and often sells for less than my original recommendation. In short, listen to your realtor — it really works!
What advice would you give to someone thinking about buying a home?
I always tell my buyers "the right home will come along at the right time." And it always does! As we're currently in a seller's market, buyers are easily frustrated — and rightfully so. But if they're patient, it will be worth the wait!
What advice would you give to your younger self?
Be goal-oriented — keep your eye on the prize, and don't be afraid to take chances!