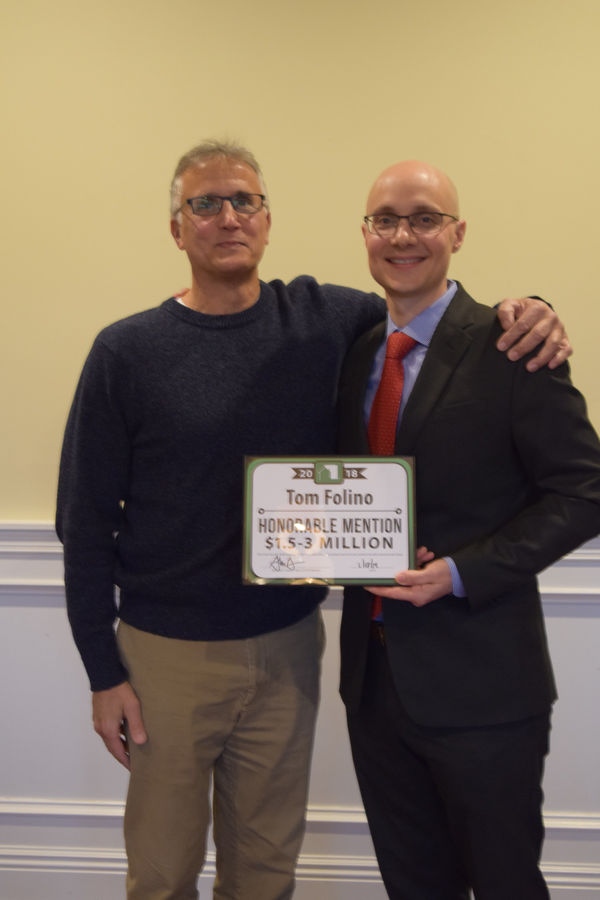 Upon retirement, this well-respected teacher and coach decided to turn his attention to a new career – real estate.  When Tom joined the Green Team, Geoff Green said, "There might not be a better person to get into Real Estate in the Warwick market than Tom Folino. A true example of someone who has a huge network, is extremely likable and always acts with integrity. What people might not know about him is that he is extremely diligent in his follow up and a very smart guy to boot. We are extremely blessed that Tom has decided to join our company."
Geoff's predictions are coming true.  In his first year as a sales associate with Green Team New York Realty, Tom received an Honorable Mention Award for 2018, for achieving $1.5 to $3 Million in sales volume. And, while awards are good, the true reward for Tom is knowing that he has gone above and beyond for his clients. It's now the former teacher who is being "graded," and by the looks of it, he's getting straight A's!
A Special Transaction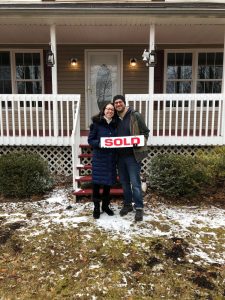 A very special transaction was with Claire and Nick Previdi. Claire was a former student of Tom's at Kings Elementary School. They purchased their first home in Chester, NY. Tom was also the listing agent for this home!  This property was listed on December 4, 2018 and closed on January 18, 2019.
Client Testimonials

Joe LaBarca –  Greenwood Lake. NY 10925 —
Jan 2019
I met Tom Folino from Green Team Realtors when I decided to sell my home. Tom was very personable and upbeat about the process. Our home went up for sale in July and closed in Nov. He worked hard on selling our home and his marketing skills and negotiations were the best.We had lots of conversations on selling the house He listens to all that is said to him He is fantastic. BIG Thank You Tom. with his help we are also in our new home 2500 miles away in Nov. also and I highly recommend Tom if you are buying or selling a house
Nicholas Mazzella – Warwick, NY —
Dec 2018
I am so thankful to Mr. Folino, he really helped me find and get a place that I absolutely love, answering all questions and putting in the time needed to help me. He was always in my corner from start to finish keeping me up to date and informed about any available homes and getting showings. He's a hell of a real estate agent and will give you nothing but the best in service and work his tail off to get you what you're looking for. Truly a pleasure to work with.

Kathleen Cisek – Warwick, NY —
Dec 2018
I've never worked with a real estate agent as skilled and kind as Thomas Folino. He didn't waste my time with rentals that weren't for me, and found me the perfect house for rent based on the guidelines I gave him from price, number of rooms, to bright kitchen. He knew exactly what I needed without my embellishing. As a woman, sometimes agents take advantage & waste time, but I'm happy to say Tom is not one of them! I was very happy with my experience. Tom was very thorough and helpful with any questions I had regarding paperwork, state regulations, rental procedures, the house, landlord & neighborhood. He helped me put in a strong application and the landlord chose me. With this competitive market, when I buy a house in the future I will definitely contact him. Thank you Tom!
Joanne Haberlin and William Schwartz – West Milford, New Jersey —
Dec 2018
Mr. Folino is the epitome of professionalism. He had a great knowledge of this area and several others. He also had the patience of a saint with my husband and I being so unsure of what exactly we really wanted. He stuck with us found us exactly what we needed and when this lease is up we will be using him again hopefully to purchase versus rent this time. I would highly recommend using him to anyone renting or purchasing!

Alberto Mata – Suffern, NY —
Dec 2018
Mr. Folino is a great human being. Always ready to help in any way he can. I will highly recommend him as your realtor. He will always go above and beyond to satisfy your needs.

Scott and Victoria Cable – Washingtonville, NY —
Nov 2018
Tom did a great job of helping us purchase our first house. He is a great negotiator and does a great job of communicating with the listing agent to expedite the whole entire process. He was very knowledgeable and informative which was fantastic since this was our first home. Tom is always there for us, responding to text or calls quickly no matter the time or day is! We went through other realtors before Tom and once we met Tom it was night and day in quality of service. I will recommend Tom a thousand times over!
Amanda Calabrese – Warwick, NY —
Jul 2018
I just wanted to reach out with some positive feedback regarding one of your agents, Tom Folino. I am not sure if this is the best forum to send this to you, but wanted to start somewhere. My husband and I have been working with Tom since April and he has shown us nothing but dedication, hard-work, positivity, and communication. Tom made himself available to us even on his own personal time, and followed up with every question in a very timely manner. I have had a few experiences with other realtors and Tom, by far, has exceeded all of these other experiences. Although we haven't bought a home yet with Tom I would not hesitate to use him in the future and would highly recommend him to everyone looking for an agent in Warwick, New York. Please let me know that you received this email and would love to put this in a more formal letter if that would be helpful. Thank you for your time, Amanda Calabrese