Jennifer DiCostanzo, First Recipient of Green Team's MVP Award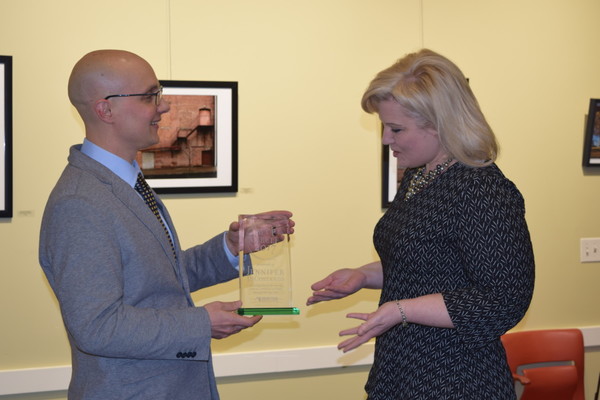 "Keep your eye on the prize."  These are words that many live by, their actions propelling them towards an arbitrary goal.  However, for Jen DiCostanzo, working towards that prize was never a consideration.  Rather, she kept her eye on her clients, the many people she helped buy or sell homes.  And, when she finally looked up at year end, she realized that she had exceeded $10 Million in sales volume, built on one sale at a time!
Jen is the first Green Team Agent to top Geoff Green's record of $10+ million in sales volume in one year.    And Geoff was delighted to pass on the crown, presenting Jen with an award created just for her.   The bar has now been set higher, for both Jen and for her fellow Green Team agents.  When asked how she was able to exceed $10 Million in sales, she replied, "You need tunnel vision; just focus on meeting the expectations and needs of your clients.  That is ultimately the goal, and in the end, everyone wins."
Of course it's not as simple as that.  Anyone who knows Jen DiCostanzo knows that she works non-stop.  She is always on the phone, either answering calls from her clients, or checking in with someone who has moved into their new home to make sure they're okay and seeing if they need anything.   And she is always on the move.  This level of success requires perseverance, dedication, and determination.  It also means staying on top of current trends, technology, and ways that she can best serve her clients.  In addition, it really helps to have a supportive family that gives her the flexibility she needs to succeed.  She couldn't have done this without them. They have become adept at organizing the household and their schedules around Jen's long and often erratic hours.
So, how does it feel to be the first agent to receive the MVP Award?  Jen stopped working long enough to consider the question.  "Rewarded," she replied.  "Humble, honored to be recognized for all the hard work and long hours I put in.  This is something you don't take lightly."   "When you love what you do," she added, "it's not work.  I can't imagine doing anything other than real estate.
Yearly Sales Leader
It's not surprising that Jen was also awarded the 2017 Yearly Sales Leader for the Warwick Office.  She is shown here with Keren Goren, winner of the Sales Leader award for the Vernon Office.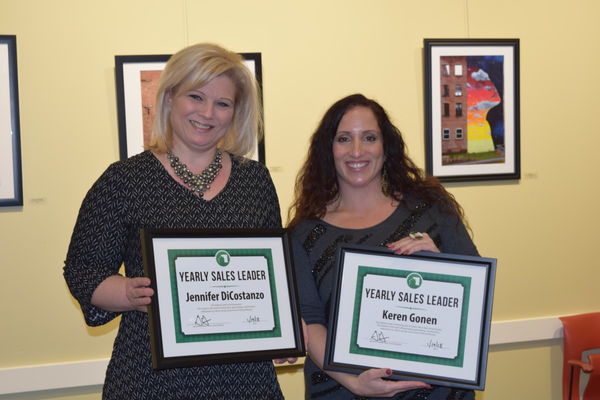 Citizen of the Year Award
The Green Team is not just about real estate … it is about giving back to the community, and acknowledging those who go that extra mile.