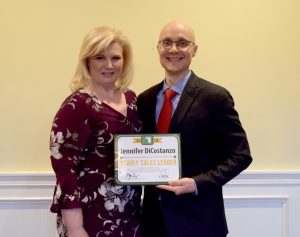 For Jennifer DiCostanzo, the third time's the charm…again!  2018 was a very good year. She was named Top Producer for the third successful year in a row .
Jen received both the Fourth Quarter Sales Leader and Yearly Sales Leader awards, closing millions in sales ending out the year.  She became a member of the President's Club, having achieved over $9.5 Million in sales volume. Furthermore, she was named Citizen of the Year by her peers, again for three years running. Jen believes in giving back to the community and has introduced fundraising events for local charities to the Green Team.
A Shooting Star… on her way to the very top of production charts
In 2016 Jen received the Green Team's Second and Third Quarter Sales Leader Awards and was named Yearly Sales Leader.  Geoff Green had this to say: "This shooting star is officially on her way to the very top of the production charts for all Realtors in our marketplace. What is most impressive is that Jennifer keeps integrity in focus at all times."
Geoff's prediction is well on its way to becoming reality. Last year Jen became the first recipient of the Green Team to win the MVP Award for over $10 Million in sales. This achievement didn't stop her from pursuing her Seller Representative Specialist Designation.  She constantly strives to improve her skills to provide her clients with an edge in this competitive market. Jen has received the benchmark of excellence designation of "ABR," Accredited Buyer's Representative. She constantly raises the bar, staying aware of any advances that will benefit her clients. In addition, she is a member of the New York State Association of Realtors, Hudson Gateway Association of Realtors (HGAR), National Association of Realtors and the Warwick Chamber of Commerce.
For this hard working Associate Broker, success is not measured by sales numbers. It's driven by her passion to help clients and build trustworthy relationships that exceed expectations throughout the home sale process. However, Jen admits that the continued support given by her family and peers keeps her laser focused and she is grateful to them.