Geoff Green is an Entrepreneur with a focus in Real Estate Brokerage, Investment, and Software Development.  One might also call him a visionary.  In 2005 Green created The Green Team Home Selling System which now operates successfully as Green Team NY & NJ Realty in two states.  Green's willingness to look to the future has led him to the creation of his latest venture, REALLY, Inc.  
Understanding the everyday problems facing Real Estate Sales Professionals, Green felt that some challenges could be addressed with creative software solutions.  Assembling a small team of talented professionals, he addressed the problems head-on.  REALLY is a software platform designed exclusively for Real Estate Professionals,  to connect them so that they can unite, collaborate and refer.  The App is currently in its beta stage and is ready to be launched via the App Store.  If Green's history is any prediction of his future, this App should be another big success.  (Learn more at www.ReallyHQ.com).
Green grew up in Warwick, NY and attended The Whittemore School of Business and Economics at the University of New Hampshire. After graduating in 2000, he moved back to Orange County to take a sales position with the Pyramid Management Group. He soon held the title of Regional Sales Manager, overseeing the specialty leasing programs in four of Pyramid's shopping centers in the Southern Tier of NY.  
In the fall of 2005 Green created a new business, the Green Team Home Selling System (now called Green Team Realty), based in his hometown of Warwick. (Learn more at www.GreenTeamRealty.com).  In 2016 Green Team Realty expanded into NJ and now the two offices consist of approximately 80 Sales Associates and six support staff.  In terms of Sales Volume, both offices are currently ranked in the top 10 of all Real Estate offices in Orange County, NY and Sussex County, NJ respectively.  Needless to say,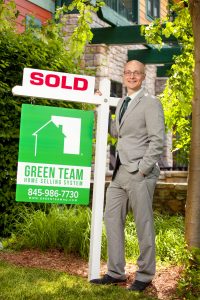 Geoff Green Sells Real EstateGreen Team Realty has been off to a successful, and fast, start.  "Being an entrepreneur has always been more instinctual for me as opposed to a learned behavior," says Green. "I absolutely love what I do and I get more and more excited as I look to the future."
Personally, Green is the proud father of Marco and Nico, and the loving husband of his beautiful wife, Laura who is a Teacher in Rockland County, NY.  Green and his wife Laura, also enjoy cooking, golfing, skiing, reading and being anywhere near an ocean. Favorite family destinations include Italy, Spain and San Diego, California. Most importantly, they love watching their young boys play youth sports.  Green had been nominated to West Point Military Academy, served as President of Sigma Alpha Epsilon Fraternity, is currently a member of Grace Community Church, is a St. Anthony's Community Hospital Charity foundation member, and leads Green Team Realty's philanthropic program called Team Up For Hope. He is recognized in the area for his contributions to the Real Estate industry and to his community.
Now read some of Geoff's Client Testimonials….
Anthony & Angela Minozzi (26 Creamery Pond Road)
Geoff, and the Green Team worked hard to deliver us a seamless process and experience. They were responsive and professional, and leveraged their team's talent to help our family. There are a lot of agents out there who can represent you on either side but few showed us the precision, forthrightness and commitment that Geoff did. This group is solid… great team. Many thanks
Ingrid Balsamo (31 Overlook Drive)
I wanted to thank you and your team for great job in selling and closing the family home. It was a difficult task for me to do under the family circumstances and your help was very much appreciated. Although my connections are limited in Warwick I would be happy to refer anyone in need of a real estate expert to you. Thank you again!
Clara & Mark Mazzella (20 Windmill Lane)
We just wanted to thank you for all you and your staff did to get us through the sale of our home. Even though there were a few hiccups that we had to work through, we knew we could always contact you for comfort!! Realtors sometimes get a bad rep, but we have total respect for how you conduct business. You are very professional, dependable, honest, easy to work with and just a downright great person!! We are really glad that we had the opportunity to work with you and will definitely seek you out if we are looking to buy in the future. You can be sure you will be highly recommended by us if we know anyone looking to buy or sell their home.
Thanks again and hope to run into you again soon!! Clara and Mark
Kristine Burrows (33 Horizon Farms Road & 28 Olde Wagon Road)
Geoff and the Green Team are the definition of patience and professionalism. It took us 8 months to find and choose our dream home and Geoff was there all the way, helping us along and offering sound advice. If you are going to buy in Warwick (or Orange County), you gotta go Green!The Green Team also helped us become landlords for the first time. Theresa and crew lead us through the process of renting our condo. It was smooth sailing all the way with their knowledgeable team.
Tom and Nancy Folino (16 William Close)
Working with the Green Team and in particular with Geoff Green was a great experience! His professionalism, work ethic, accessibility, knowledge and most importantly his trustworthiness are second to none! I highly recommend Geoff and the GreenTeam to any one looking to purchase a home! He made the entire experience very positive! Having Geoff as a former student and athlete when he was in school led me to choose him as our realtor! He was an outstanding student/athlete back then and he still possesses those same qualities today! Thanks to Geoff and his team on a truly wonderful experience!
Jonathan Morey (1 Kenilworth Lane)
Geoffrey was born and raised in the area. He has a vast range of contacts. He was especially helpful in pricing our home. After careful thought and discussion , we priced the house at a point where we received an offer within a week. Other houses in our area have been on the market for long periods of time. I was interested in selling our home quickly, so marketing knowledge was important to me.
Donna Zuckert (32 Little Brooklyn)
Geoff Green and the Green Team Home Selling System are the only way to go!! During the difficult process of selling my mother's home Geoff was there offering his expertise and knowledge. I never felt like "just a client." I felt like my property mattered, and that selling that property was Geoff's first priority. The whole team was absolutely fantastic!
William Hamer (7 Pine Drive)
With good counsel throughout the entire sale process. Always with good counsel throughout the entire sale process. Always available with good information and advice. The selling system employed impressed me as very efficient and most productive. Overall Geoff made a very stressful experience as pleasant as possible.
Kristine and Charles Burrows (33 Horizon Farms)
If you want to buy in Warwick, you HAVE to go Green! Always had my back, a good advisor, and a true local who knows the ins and outs of our town. Couldn't have asked for more.
Charlie Chatham (351 Pressler)
Let me be right-up front, this man is amazing. We have looked at 30 places and still he keeps his professional, positive attitude. Straightforward and respectful are just 2 of his many characteristics. I would never work with any other broker as long as Geoff Green was still breathing!
John Sandfort (19 Sandfort)
Geoff is a consummate professional. He is highly motivated; he has established the most cutting edge web presence and functionality in the region. He has built a great team at the Green Team, and he operates his business in a highly ethical manner. I would certainly use Geoff again for any of my real estate needs.
Jeffrey & Carmen Conklin (32 Sheffield)
The Green Team provided exceptional service through the entire process. Situation involved a relocation and they were great in taking the extra step to make sure the property was selling condition.
Tom & Diane Overby (10 Mayflower)
We had a very positive experience with Geoff Green and his team. We had a very long process to complete the sale, but Geoff was there all the way. We would highly recommend Geoff Green and his team to anyone.
John Toldi (277 Kings Highway)
There could not be a more attentive, focused, positive thinking, knowledgeable broker around. Answers every phone call immediately, has ideas to help you sell and has a local Rolodex of every person you may need to make sure your home is looking its best to sell. And honestly – an all around good guy – Geoff Green rocks!
Antonio Martinez II
Geoff is diligent, persistent, and tenacious. His can do, lets make this happen attitude helped a complicated short sale happen… I highly recommend Geoff and his team. He even helped with a fair and reputable mover who I will use in the future too…Thanks!!!!
Alan & Nicole Stein (115 Hoyt)
Our family recently moved out of the country and put our house up for rent with The Green Team. Geoff took all of our concerns and questions and put us at ease. From start to finish, Geoff treated us like we were his only clients. His diligence, professionalism and knowledge of the business, made the process seamless and stress free.
We would highly recommend Geoff Green and his team to anyone interested in buying, selling or renting a home. Thank you Geoff, we look forward to working with you again.
June Carson (25 Hudson)
This is the only agent to list with if you are selling a home in Warwick Grove. Here's why:
Downtown office on Warwick Main Street – Unsurpassed knowledge of town and market – Full team assistance from handyman (to do quick repairs you need or to remove or pick up furniture for staging); staging experts; professional photo shoot – Commitment to seeing the process through to a successful conclusion.
Jonathan Morey 1 Kenilworth Lane
Geoffrey was born and raised in the area. He has a vast range of contacts. He was especially helpful in pricing our home. After careful thought and discussion , we priced the house at a point where we received an offer within a week. Other houses in our area have been on the market for long periods of time. I was interested in selling our home quickly, so marketing knowledge was important to me.
Rick Lafreniere
Best broker in town! I had an expensive home in Warwick and received MORE than my asking price. The level of professionalism & expertise was second to none.
Tim and Sheila Whalen
My wife Sheila and I had the good fortune to have Geoff Green as our agent.When we decided to sell, we went to three local realtors in Warwick to introduce ourselves ad ask for an agent to come to the house and provide an appraisal. As you can imagine, the numbers were all over the place from a depressing low to an unrealistic high. Geoff's appraisal wasn't the lowest or the highest. What impressed me was he listened carefully and realized we were in no hurry to sell and were willing to price the house a little high and see what happened.Geoff marketed the house appropriately on a killer website and through his various contacts throughout the real estate community, constantly talking up our house. He came to re-shoot a few pictures at our request and even moved our picture in his front window when we asked to be in a more conspicuous location.Over the course of our involvement with Geoff and the entire Green Team, we were treated courteously and professionally every time. If Geoff couldn't respond to a call, someone at the agency office always did in a timely manner.Geoff never attempted to renegotiate the agreed upon commission over the course of a year and a half, even though it was advantageous to us and we appreciated that.As time went on, the experience of selling our house naturally became incrementally more stressful. The people at The Green Team and Geoff in particular were sensitive to this and were always available to discuss our concerns and options.As luck would have it, our buyers were brought to us by another agent from the Green Team, Lucyann. I'm not exaggerating when I say she was the only agent who took the time to learn about the house and actually take her time escorting prospective buyers around and make the sale. She was professional in her position as agent for the buyer, l and enthusiastic, even bringing her son (who was not looking for a house) for a tour just because she was so excited about the house.Look, if you are searching for an agency to handle a sale or purchase, I have seen The Green Team do both on our property. If you need straight, reasonable answers, accurate expectations, timely responses and a team effort, Geoff Green and his team should be your first call.
Nick Garlick
The Green Team was great. They found a buyer for the house in a very challenging market, worked with us through the closing process and were responsive to our every inquiry and need. I would highly recommend them.
Peter Ramon Jr.
Geoff, I would like to take a minute to express my gratitude in wrapping up some loose ends on our deal. In today's world it is hard to find people who offer the service your organization has displayed not to mention the extra personal touch. It's a dying characteristic. People realize this and will benefit as you well know. Please express our thanks and gratitude to the rest of the team. Job well done.
Ann Marie Cloutier
The Green Team's marketing, straightforward attitude, and very efficient teamwork were all reasons we chose to work with the Green Team. Also, as a Team that was born and raised in the area, they have the necessary information about the community to help buyers and sellers that other agents may not have. The Green Team works well with each other thus making the interactions with us, the clients, very seamless and enjoyable.One of the most helpful times spent in the process of finding a home, for us, was early in the process. Geoff helped us focus our search on the right criteria. Ultimately we found our home in an area of town that I may have overlooked if it were not for Geoff and his ability to point out desirable aspects about the home and neighborhood that we had overlooked in the early stages of our search.We will continue to let people know about this enjoyable experience and recommend the Green Team.
William Hamer
Geoff Green and his associates were always available, and responsive with good counsel throughout the entire sale process. Always available with good information and advice. The selling system employed impressed me as very efficient and most productive. Overall Geoff made a very stressful experience as pleasant as possible.
Robert & Elise Drew
Geoff and his team sold our home to one of their own buyers. They worked diligently on our situation and stayed in constant communication throughout the whole process. Their service was fast & friendly. We had a very positive overall experience and would recommend the Green Team to anyone.
Craig & Katie Giuliani
"My fiancée and I just purchased our first home using Geoff and his team. Everything was very quick and professional. We feel that Geoff negotiated a very fair deal on our behalf, and most importantly helped he helped us find exactly what we were looking for. Amy was very helpful on the closing process and was able to answer all of our questions. We are very pleased w/ our experience and are going to re-commend the Green Team to all of our friends and family."
Roger & Jessica Ward
My family has known Geoff and his family for years and we trust their experience. This is the reason why we chose to list our home w/ The Green Team. Everything went as planned and we are very happy with our choice. The two things that we truly benefited from was the constant communication and aggressive marketing. By working with a team as opposed to one agent they were able to handle both with great success. We would recommend selling your home with the Green Team to anyone who is trying to do so.
Jennifer Franck.
I have bought and sold several homes at this point in my life. The last time I went through the process it was literally painful. In the end I felt quite disappointed with my Agent. This time around we decided to work with Geoff and his Team on both the Buying and Selling end. What a difference. Geoff's tenacity and knowledge of deal making got us the exact home that we wanted in the midst of a bidding war. We would not have gotten this done with out the Green Team's focus. On the Selling end we were quite pleased as well. The Green Team sold our home relatively fast (61 days) and for top dollar in our neighborhood. Overall we were very happy with our decision to work with the Green Team.
Sandra Ansley
My experience was very positive. Geoff Green, my agent, was helpful, courteous and almost always available to answer any question I might have.If he wasn't immediately available, his staff would either answer my concerns, or contact Geoff right away. Geoff was always patient, pleasant and helpful. The same goes for the people who work for him. Selling one's home and buying a new one is an incredibly stressful and time consuming activity, but the Green Team made it as good an experience for me as possible, especially in this market.
GT & Sarah Devine
As first time home buyers, we had heard all the horror stories of just how stressful buying a home can be. Thanks to the knowledge and professionalism of Geoff and The Green Team, our experiance was not only stress free but actually enjoyable! Everytime there was a slight bump in the road it was taken care of fast an easy. Our transaction was smooth and we got a great deal on a beautiful home. Thank you Green Team!
Roger & Jane Johnston
Several people that we know recommended that we sell our home with The Green Team. Geoff articulated a good business plan, marketing program, and a superior internet presence when we first met him. The Green Team has a great reputation and we also liked the fact that they are a local business. We know that the commission dollars we spend will stay here locally. Throughout the process we were always informed so it made us feel comfortable. In the end the professional and business like manner in which The Green Team handled our transaction exceeded our expectations.
Jody and Deborah Korson
After meeting with Geoff, we were convinced we had a team of professional realtors on our side. Their communication with us was excellent! Not only did the Team go out of their way to return our calls but also showed concern for our entire family. They kept us updated, day by day with the progress of the entire home selling and buying experience. We feel as though we had a friendly relationship with the Green Team all along the way and would recommend them to anyone interested in selling or buying a home in Orange County.