Agents and staff of Green Team Realty gathered together on January 17 for their 2019 Award Ceremony. Warwick Valley Country Club was the perfect place to celebrate a year that was momentous in many ways.
2019 – A Year to Remember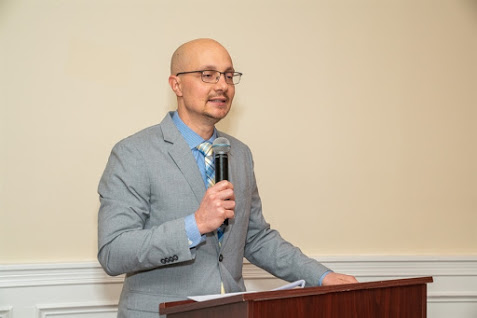 According to Geoff Green, President of Green Team Realty, the "Green Team 2019 Awards Ceremony is all about appreciation for our Sales Associates. They are the ones out there in the field doing the hard work of listing and selling homes. This is a tough business that puts many demands on their time and resources. The Green Team Award Ceremony is a way to say thank you, highlight their achievements, and get them ready for another busy year."
Geoff welcomed everyone and outlined some of the year's milestones. Once again, through dedication, hard work, support, creative marketing, and consistent training programs, many Green Team Sales Associates saw their businesses grow.
Green Team #1 In Warwick and Vernon for Sales Volume and Units Sold
It was with great pride that Geoff announced Green Team was #1 in Warwick and Vernon. Green Team New York Realty ("GTNYR")  was #1 in Warwick for sales volume and units sold. Furthermore, Green Team New Jersey Realty ("GTNJR") was #1 in Vernon for sales volume and units sold for the second year. Both did well in their respective counties, too. GTNYR was #8 out of 385 real estate offices in Orange County. And they were #9 out of 385 in terms of units sold.  GTNJR was #8 out of 388 in terms of sales volume in Sussex County. And it was #6 out of 388 in terms of units sold.
Award Presentations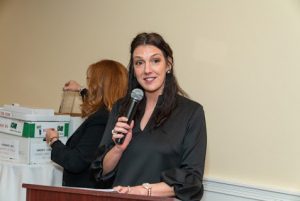 Geoff believes in acknowledging and rewarding both growth and achievement.  And what makes the award presentations so special is the support and pride that the whole Green Team family shows to the recipients. This year Green Team Realty had a special presenter. Geoff's wife, Laura, announced the winners in each category. She was aided by Donna Roberts, Green Team's Agent Service Manager for the Vernon office, and event planner extraordinaire.
MVP Award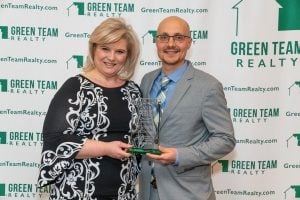 Jennifer DiCostanzo received the MVP Award for over $12 Million in sales for 2019.   Jen, the first and only recipient of this award, also achieved the MVP in 2017 for over $10 Million in sales. Geoff Green had this to say about Jennifer: "While everyone can stand back and marvel at Jennifer's accomplishments, what truly is the reason for her success is her work ethic. No one takes their business more seriously than Jennifer. She is a true professional in every sense of the word, and she works hard for everything she receives. There is no doubt that Jennifer will be at the top of Orange County, NY Real Estate Sales Associate production charts for many years to come."
Yearly Sales Leaders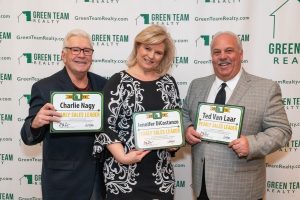 GTNJR's team of Charles Nagy and Ted Van Laar received the Yearly Sales Leader Award for the second year in a row
.
And Jennifer DiCostanzo received GTNYR'S Yearly Sales Leader award for the fourth year in a row.
President's Club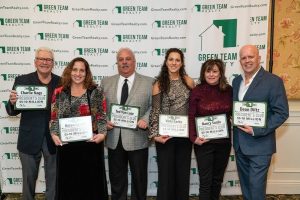 In 2018 a new level of achievement was introduced. The President's Club Award is given to those sales associates achieving between $5 and $10 Million in Sales Volume. For 2019, recipients of the award were, from left to right: Charles Nagy, Keren Gonen, and Ted Van Laar of Green Team New Jersey Realty. And Vikki Garby, Nancy Sardo, and Dean Diltz of Green Team New York Realty.
Captain's Club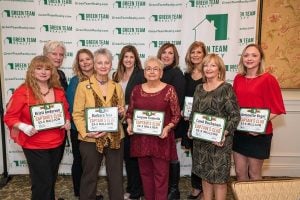 This established award is given to those who do $3 to $5 Million in Sales Volume. From left to right, recipients are Kristi Anderson, Heidi Hyland, Alison Miller, and Barbara Tesa of Green Team New Jersey Realty. And from Green Team New York Realty we have Tammy Scotto, Lucyann Tinnirello, Kristine Many, Angela Murphy, Carol Buchanan, and Toni Vogel. Not pictured is Chris Kimiecik.
Honorable Mention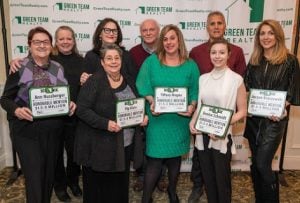 This category was created in 2018 to acknowledge those Sales Associates who had $1.5 to $3 Million in Sales Volume.  Recipients of this award, from left to right are Ann Nussberger and Cathie Witte of Green Team New Jersey Realty. Not pictured: Kimberly Lasalandra.  From Green Team New York Realty are Pip Klein, June Cosgrove-Hays, Walter Ross, Tiffany Megna, Tom Folino, and Jacque Kraszewski. Denise Schmidt was given the award posthumously, with the certificate accepted by her daughter, Dana. Not pictured: Guillermina "GIdget" Tavares, Kim Lesley, and Linda VandeWeert.
The Momentum Builder Award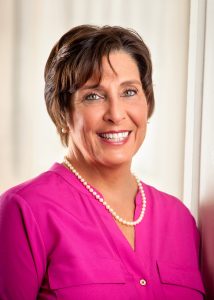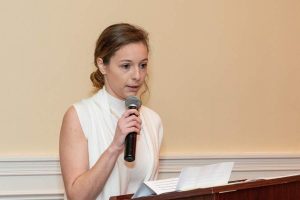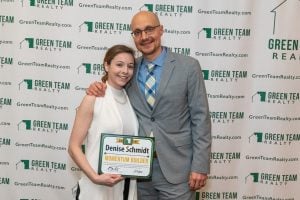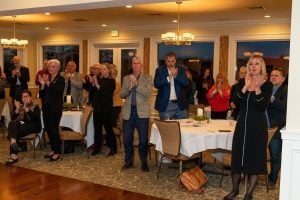 Every year Geoff Green selects a sales associate who has demonstrated hard work and determination while overcoming obstacles.  Someone who has come through a tough spot in life and turned challenges into great success; not just in real estate but in life.  A person who shows no signs of going backward. Because it's all about building momentum towards a brighter future. This year's Momentum Builder was Denise Schmidt, and there was not a dry eye in the house when Denise's daughter, Dana came up to receive the award on her mother's behalf.
Denise passed away suddenly in 2019, leaving family, friends, and co-workers in shock. She was much loved and is missed by all. Dana spoke movingly about Denise and her legacy. As a loving, hardworking single mom, Denise did whatever it took to provide for her family. In addition to being a sales associate with Green Team New York Realty, she was also a bus driver for the Warwick Valley Central School District.
The People's Choice Awards
The winners of these awards are selected by their peers.
Citizen Of The Year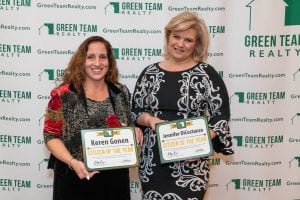 Recipients of this award are nominated by their co-workers. Both have made outstanding contributions to our local communities. This is the fourth year in a row that Jen DiCostanzo has been named Citizen of the Year by Green Team New York Realty. Jen originated Light Up the Holidays for Green Team to raise funds for local charities. The program evolved into Team Up for Hope, an initiative to raise funds and awareness of local organizations working in the fields of mental health, substance abuse prevention, and suicide prevention.
Keren Gonen has been named Citizen of the Year by her peers at Green Team New Jersey Realty for the third year. Keren has been instrumental in raising funds for local charities. She is also extremely active in Team Up for Hope.
These women truly believe in giving back to the community and put in the time, effort, and commitment to make things happen.
Team Player Award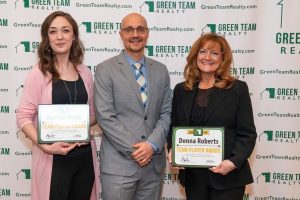 Recipients of this award are deemed the most reliable, positive and dependable. Furthermore, they work well with others and have great problem-solving skills. It is no coincidence that the award went to the Agent Service Managers of each office. Andrea Wynn was voted Team Player by her peers in the Warwick office. And Donna Roberts was voted Team Player by her co-workers in Vernon.
In addition to her position as ASM of the Vernon, NJ office, Donna is a talented Event Planner and Coordinator. Her skill was evident in the many details of the Award Ceremony on display.
A Special Thank You To Our Sponsors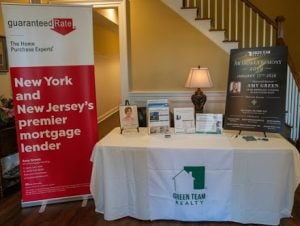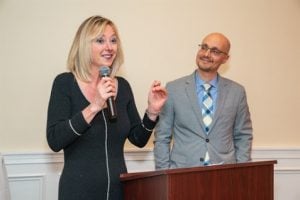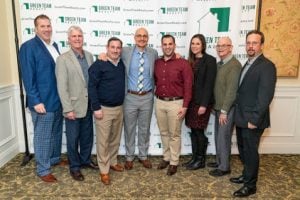 The event's sponsors helped transform the Awards Ceremony into an awards Celebration!
Amy Green, VP of Mortgage Lending at Guaranteed Rate, was a Diamond Sponsor. Geoff Green watched with pride as his sister, Amy, addressed the gathering.  Douglas R. Stage, Esq..of Stage Law Firm, LLP (formerly Stage & Nathans) was a Platinum Sponsor. And Gold Sponsors were: Joe Mayers of Septic Experts, LLC; David Willner, Pillar to Post Home Inspections; Kenneth Flood, Quest Financial Services; Jamie Fiscus, Allied Title, LLC, and Frank Frasco, Home Inspection LLC.  As is usually the case when real estate professionals get together, there is "shop talk."  The Awards Ceremony provided an opportunity for Green Team Sales Associates to discuss local market conditions and community with sponsoring companies.
There was also the opportunity to dance! DJ Freddie Z kept the crowd entertained and energized. And George Tsakanias and Klaus-Peter
However, there was something else evident in the room. There was a sense that this was a TEAM. And as members of a team, there was pride, support, friendship, and respect for each other's accomplishments. What's more, you could tell that plans, goals, and dreams were beginning to take shape and would see the members of the Green Team through the coming year.