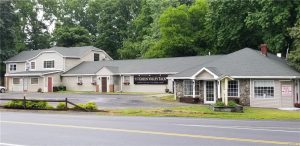 Twelve thousand years ago, the hamlet of Pine Island, NY was literally underwater as part of an inland sea created by the last ice age's glacial retreat. It took many centuries to produce the sulfur rich soil that lies beneath as it also trapped Mastodons and fossils for posterity. But finally at the turn of the twentieth century, savvy European and Polish farmers used their knowledge and figured out how to drain the vast "mucklands" and convert it into viable farmland.
Today, Pine Island, well known for its "Black Dirt," is a thriving hamlet on the brink of becoming one of the area's top destinations. With the visual appeal of hundreds of scenic acres created by the draining of those "drowned lands, "Pine Island offers a backdrop for locals and visitors alike. Nearby are wineries, craft breweries, golf course, sports center, shops and restaurants – all making Pine Island a great place to live and work.
792 County One, being offered for sale for the first time in decades, sits right at the heart of this community. With the unique layout of this 8,000 square foot+ building, there are numerous options for the investor with vision. Set on more than an acre at a prime intersection, currently there are five retail/office spaces and two residential apartments in its footprint. With a history that dates back to 1930 when it was a popular eatery, this renovated mixed use property has so much potential.
With easy access to Vernon, NJ, Warwick and Middletown, it is ideal for someone with a vision to continue to invest in the community right in the heart of Orange County, one of NY State's fastest growing counties. What are you waiting for? Now is the time!